Articles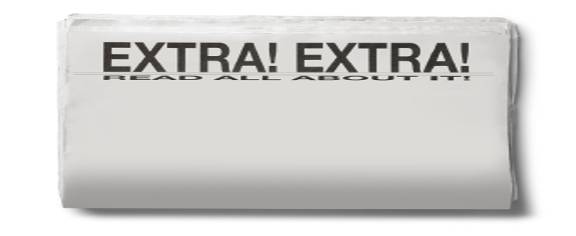 ---
Barossa Valley
posted July 28 2009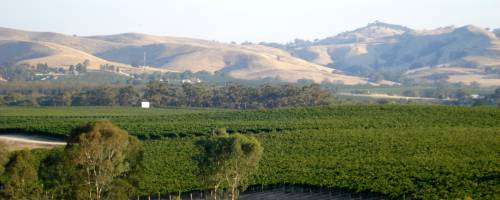 The most recognizable of all Australian wine regions, Barossa is, in many ways, the king. I had an incredible time visiting some of the worlds most famous wineries, and revisiting some friends I had met previously. After a fantastic visit in McLaren Vale I headed north, from Adelaide, on a 75 minute drive to Barossa Valley. I had a busy schedule planned.
Barossa Valley, (as you will be told) like its home state of South Australia was free settled, unlike the convict colonies of New South Wales, Tasmania and Victoria, in 1836.
Its name, derived from mountain of roses, was later misspelled and the region became known as Barossa. And surprisingly, there is a large German Lutheran culture, still very obvious in the Barossa Valley. In 1838, looking for a refuge, a congregation of "Old Lutherans" settled here rather than abide by the new Lutheran services put forward by Prussian King Frederick William III. Many of the village names around Barossa reflect this German heritage.
The combination of British and German settlers turned the region into one of self-sufficiency, that included the growing of vines and making of wine. Today, nearly 9000 hectares of vineyards planted at elevations between 200 and 600 meters above sea level
The Barossa is known for its Shiraz - in fact the oldest Shiraz vines in the world - but the surprising antithesis of Shiraz grows in its higher sub-region of Eden Valley, Riesling. Iit's not just Shiraz and Riesling that make a statement in the Barossa though, my favourite - Grenache as well as Cabernet Sauvignon, Mourvèdre, Viognier and Chardonnay can all take a bow too.

Below - read about; Saltram, Wolf Blass, Yalumba, Peter Lehmann, Grant Burge, Jacobs Creek, Elderton, St. Hallett, Burge Family, Glen Eldon, Henschke, Langmeil, Murray Street & Thorn-Clarke

Saltram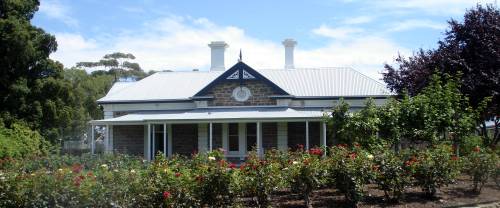 Mamre Brook house built in the 1840s by William Salter - still in use at Saltram in Barossa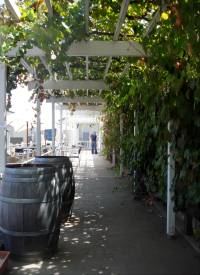 My first day in Barossa was free, so I arranged a Sunday visit to Wolf Blass and to Saltram.
Saltram, in a word, is quaint. A warm and inviting cellar door/tasting bar and restaurant called Salter's Kitchen greets visitors. They have a private function dining area and you can wander through a small, historical self -guided cellar tour.
William Salter arrived in Australia in 1839, purchased his Barossa Valley estate in 1844 and planted vines in 1859. He built a family cottage named Mamre Brook after a verse in the Bible, in Genesis, and in 1862 he made his first Shiraz - suitably labeled No.1. Since that first vintage only two names have been associated with the title "Chief Winemaker" at Saltram - Salter and Dolan.
Nigel Dolan, whom I spent a day with in the Hunter Valley then flew to Adelaide with early in my trip, (read here) was the last of the Dolan's to make wine at Saltram. Dolan was not only born in in Saltram's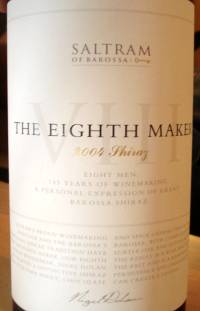 Mamre Brook cottage but returned there when he become chief winemaker. He lived there until his recent departure. The Saltram website still states Nigel as the winemaker, although he is not, and today, Saltram is owned by the Fosters Group.
I was more than happy to taste Nigel's wines. When I met him at Wyndham Estate (where he is currently chief winemaker) I was tasting the wines made by the Wyndham's previous winemaker, now I was tasting Nigel's wines at Saltram. Saltram's current winemaker, Shavaughn Wells, who took over from Nigel Dolan, is the first female winemaker Saltram has ever had.
After a brief tour of the estate I set up to the bar to taste some wines. It was very busy on that hot Sunday in February, people tasting and enjoying lunch at the adjoining restaurant as two young musicians sang and played guitar. After my tasting, Fosters Winery Visit Ambassador, Simon Blacket and I sat under umbrellas on the patio at Salter's Kitchen and relaxed with a delicious lunch of wood oven pizzas, salads and frites.
If you are visiting the Barossa I would highly recommend stopping at Saltram.


Some tasting notes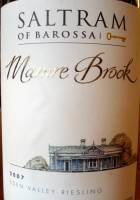 Saltram 'Mamre Brook' Riesling, Eden Valley, 2008 shows typical taut, Eden Valley character with bright tree fruit, chalky minerality, and plenty of lime with lip-smacking acidity.

Saltram 'Shadowood' Semillon, Barossa Valley, 2007 showed plenty of passion fruit and lanoline, green figs and citrus notes. The acidity is impressive although the texture has a creamy/oily quality it has plenty of crisp citrus flavours and mouth-watering finish.

Saltram 'Shadowood P.V.T', Eden Valley~Adelaide Hills, 2007 is a fantastic blend of Pinot Gris, Viognier and Traminer with fruit-cup aromas, abundant stone and tropical fruits, flint, smoke and hints of spice. Exceptionally easy quaffing, fresh with a creamy
texture and spice lingering through the finish.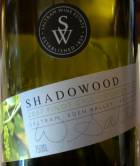 Saltram 'Pepperjack' Rosé, 2008 is a fresh rosé made from 80 year old Grenache vines. The aromas are maraschino cherries, citrus zest and spice. The palate is robust with loads of cherry/berry and citrus flavours and a seam of tannin throughout.
Saltram 'Pepperjack Stylus'. Barossa Valley, 2008 is a juicy, unoaked red blend with 45% Grenache that shows fragrant red current/strawberry and crushed floral notes. Smooth and bright on the palate with red fruit, chocolate, cedar and spice flavours, powdery tannins linger.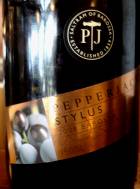 Saltram 'Mamre Brook' Shiraz, Barossa Valley, 2006
is a richly coloured wine with fantastic aromas of sun-warmed blackberries, bittersweet chocolate and coffee grounds. The palate is opulent, laden with lush dark fruit and cedar box with fine spice. Great acidity throughout, and fine tannins on the finish.
Saltram 'Mamre Brook' Cabernet Sauvignon, 2006 shows juicy red berries and cassis, graphite, tobacco and some leafiness. The palate is creamy with abundant juicy fruit. Lush and elegant.

Saltram 'No.1 Shiraz', Barossa Shiraz, 2005 is what they call
quintessential Barossa Valley with its massive, coffee,
chocolate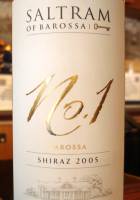 and mulberry aromas and a potpourri of cedar
chips and dried flowers. The palate is luscious, with a supple texture, bright fruit and plenty of mocha flavours, the tannins are fine but quite
angular.
Saltram 'Eighth Maker' Shiraz is named for the eighth winemaker - Nigel Dolan and is made from grapes from three vineyards, from vines up to 100 years old. Less than 500 8-bottle cases are produced which sell for about $200 Aus. This is a powerful and focused wine with rich, dark fruits, smoky spice, licorice, espresso and chocolate. The texture is almost glycerol, the acidity fantastic, the tannins firm but ripe. The finish is impressive and extensive.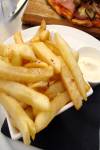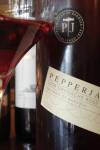 delicious lunch on the patio at Saltram: roasted veg, pesto and arugula 'za, frites with aioli & rosé
For more information on Saltram click here
Wolf Blass

Gateway to Wolf Blass in the Barossa Valley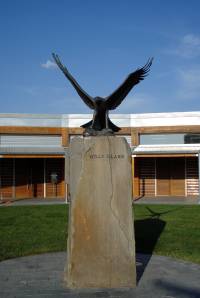 Wolf Blass is undoubtedly one of the most famous names of Barossa.
In fact, I doubt any wine lover, who has been drinking wine for at least a decade, has not had a sip or a thousand from the classic. Wolf Blass Yellow Label. My own husband I drank the local government liquor store dry of the Wolf Blass Yellow Label Cabernet in our first week of dating in 1995.
So obviously, a visit to Wolf Blass was a must.

It was a quiet Sunday in February and my guide for the day, Simon Blacket took me in-through-the-back-gate tour (not romantic unless you are a wine geek). We drove though a massive compound of 3000 tanks. I had stop to appreciate the modern crush pad (which can crush up to four tonnes of grapes per minute) and the mechanized open-top fermenters before we drove through a Cabernet vineyard on the way to the fantastically designed cellar door. Simon also pointed out the water waste treatment that Wolf Blass has implemented. Much of that waste water is
recycled to the nearby Nurioopta Golf Course for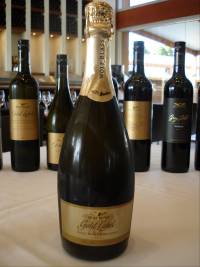 irrigation - and if you've been to the Barossa in the summer you'll appreciate how much a golf course requires irrigation.

Wolf Blass was born in East Germany in 1934. After becoming a winemaker in Germany he found himself with a job offer to make bubbly in Australia in 1961. In 1969 he purchased a meager 2.5 acres of land, near Nurioopta in the Barossa and immediately adopted the Eaglehawk as his logo. The rest is a history of awards and phenomenal growth, all of which makes Wolf Blass wines one of the most recognizable wine labels in the world. Today Wolf Blass (now owned by the Fosters Group) has vineyards all over South Australia.
What I didn't know prior to my visit, was it was Riesling that first put Wolf Blass on the radar.


Some tasting notes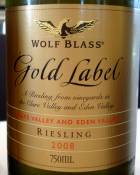 Wolf Blass Gold Label Sparkling, Adelaide Hills Australia, 2005 is made from Pinot Noir with 30% Chardonnay. This rich, mousse-y bubbly has leesy aromas with honey and crushed floral, berries and nectarine with talc and straw tones. The palate has a kiss of berry sweetness, a creamy edge with a bright citric core. Crisp and fresh!

Wolf Blass Gold Label Riesling, Clare Valley/Eden Valley, 2008 shows crisp, taut lemon curd and nectarine aromas with mineral undertones. The palate is snappy, there are flavours of lime and talc and pristine white fruits. Cheek-sucking acidity on a clean finish.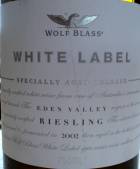 Wolf Blass White Label Riesling, Eden Valley, 2002 The 2002 vintage of this specially aged release is the current vintage available to purchase (wish I had a bigger suitcase) and only 500 cases were made. The colour shows yellow into golden glints and fantastic brilliancy. The aromas are musk and wild honey, lemon meringue, grapefruit and beeswax. Zippy on the palate with loads of lime, flint and talc and a substantial finish.

Wolf Blass Gold Label Chardonnay, Adelaide Hills, 2007 is a very refined Chardy that was released just two weeks prior to my visit. It showed tropical fruits, honey and citrus blossoms with hints of vanilla caramels and leesy, toasty hints. The palate featured figs, loads of citrus and

brulee and plenty of pear flavours. The finish mouth-watering. Impressive.

Wolf Blass Grey Label Cabernet Sauvignon, Langhorne Creek, 2007 shows amazing lifted raspberry, blueberry and spearmint aromas with chocolate and vanilla.On the palate, expect abundant berry fruit, menthol, fruit cake and sweet spice lingering on the finish. Fantastic acidity and focus.
For the current 2005 review on WineScores.ca click here

Wolf Blass Platinum Label Shiraz, South Australia, 2006 expect load of blackberry aromas, chocolate mint patties with savoury/earthy undertones and sausage. The palate is plush, flavoured with chocolate, spice and sweet berry fruit. Juicy and elegant on the palate.


for the 2005 current WineScores.ca review click here

Wolf Blass Black Label Cabernet Sauvignon~Shiraz, Barossa Valley, Langhorne Creek and McLaren Vale 2005 shows a lot of savoury tones. The aromas are sweet plums and berries with meaty hints, chocolate, a potpourri of flowers and cedar chips, fruitcake and mint. The palate is opulent, almost glycerol with dark berries, vanilla and spice. The acidity is fabulous, the tannins firm but ripe. Primarily French oak with some American this is a fantastic wine that needs time.

For WineScores.ca reviews of the following, click on the wine.
Wolf Blass Yellow Label Sparkling Brut NV
Wolf Blass Yellow Label Pinot Noir 2007
Wolf Blass Gold Label Shiraz, 2006
Wolf Blass Yellow Label Cabernet Sauvignon, 2007

For more information on Wolf Blass click here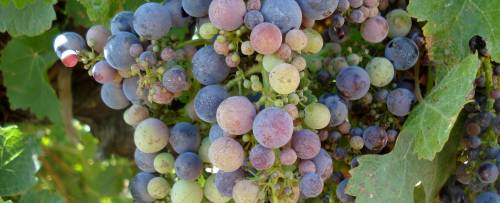 Wolf Blass chicks'n hens - Cabernet in the Barossa vineyard.
Yalumba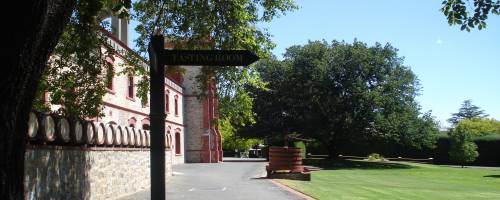 Yalumba grounds and offices - the cellar door and tasting room are to the right.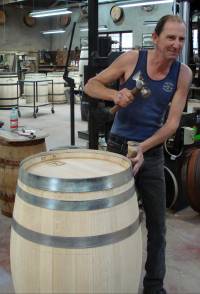 Yalumba is Australia oldest family owned winery - they just celebrated their 160th birthday.
But the person, besides owner Robert Hill-Smith, most of us associate with Yalumba is Jane Ferrari - not a family "member" but certainly a member of the family.
I have to admit, my visit to Yalumba was highly anticipated. I had met Yalumba's self-proclaimed "talking head", ambassador Jane Ferrari on several previous occasions during her loops though Vancouver while telling the story of Yalumba and their wines. We had already, tentatively, planned my visit over brunch six months prior to the trip. This plan was to include Jane's specialty - a tailgate tasting. She's extremely efficient when it comes to packing a journy (journalist) into her big white truck and hauling butt across Barossa packed up with a cooler full of wine. Jane aimed the truck toward Eden Valley. Climbing up into the Eden we waved as we passed Phil Lehmann going the opposite direction - he was out checking the status of the berries on his growers vines. a cooper at Yalumba
As we continued climbing, Jane pointed out some of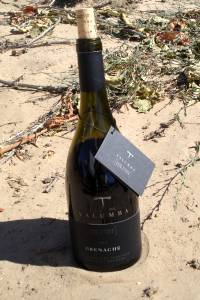 the best Viognier and Chardonnay vineyards owned
by Yalumba and Robert Hill-Smith.
Our first stop was Pewsey Vale, the punch bowl shaped, crater vineyard hidden topside in Eden that was first planted with Riesling in 1861. This is the most awesome vineyard I have ever seen. As we followed the recognizable contoured vineyard we watched a single kangaroo hopping between the Riesling vines before Jane pulled over and dropped the tailgate. Out of her cooler she liberated four Rieslings : The Yalumba "Y Series" Riesling 2008 with bright grapefruit and stone fruit, loads of minerality and citrus with hints of floral. Next, the fantastic Pewsey Vale Riesling, 2008 which showed plenty of pretty floral, peach and lemonade and then the Mesh 2008 with snappy lime and lemon curd aromas with loads of minerality and lip-smacking finish. Finally the current release Pewsey Vale "The Contours" Riesling Museum Reserve, 2003 which showed plenty of honey and marmalade that was moving into toasty aromas. The palate was smooth,
creamy and weighted with flavours of marmalade, sandy soil for Grenache, Barossa floor
mineral and buttery/toasty notes.
(Read the Mesh 2007 review here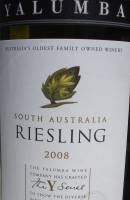 )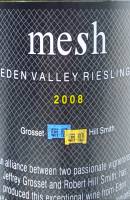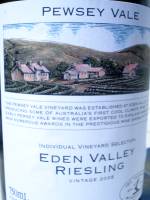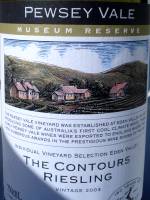 Not a bad way to taste these wines, standing in one of the worlds most famous vineyards, contemplating the series of events that had to have taken place in 1842 in order for Joseph Gilbert to find this utopia of terroir and, how Riesling came to gain entrance.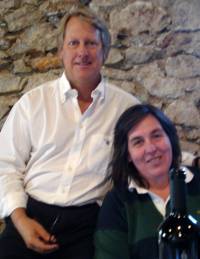 Next, we returned to the Barossa Valley floor to drive through the sandy soils (above right) that are home to Yalumba's stunning old Grenache vines. These gnarled vines, planted around 1889 make up the Yalumba Tricentenary Grenache. This wine is gorgeous, laden with juicy berry fruit and crushed floral, I love the delicate character of Grenache, this one is focused and elegant with fantastic acidity and silky tannins.

At the end of our tailgate trip we headed to the historic buildings of Yalumba. Beautiful manicured lawns and offices greeted us. Jane took me on a tour through Yalumba's own cooperage (where they make wine barrels) and finally to their small tasting cottage where she had me try a few more Yalumba wines. Owner Robert Hill-Smith, recently here for the Vancouver Playhouse International Wine Festival, stopped by to say hi as we were having lunch. I was
able to capture a rare (albeit poor quality on my part) photo of the two of them together. above: Robert Hill-Smith & Jane Ferrari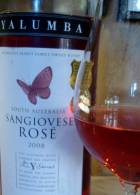 Some Tasting Notes
Yalumba Sangiovese Rosé, 2008 is a fresh alchemy of strawberries, cherries and floral notes with plenty of snappy citrus, cherry and peach flavours. A crisp rosé we need to have available here in BC.

Yalumba 'Y Series' Viognier, South Australia 2008 is the Viognier that introduced many of us to this varietal- consistently aromatic - apricot, mango, lime oil, wild honey and exotic floral notes with undertones of forest floor/mushroom. It's crisp but with a slick texture with flavours of citrus, stone fruit, saline/bath salt and savoury undertones with a spiced finish.



Yalumba Viognier, Eden Valley, 2007 has gorgeous aromas of honeysuckle, stone fruits and orange peel. I love this elegant, focused Viognier it has plenty of minerality, citrus and fine spice lingering on the finish. It's bright, yet plush at the same time.

Yalumba 'The Virgilius' Viognier, Eden Valley, 2007 This is the diva of the trio, her aromas are rounder, deeper and more earthy - there is plenty of peach, orange oil and exotic floral and citric notes. But the Virgilius has more minerality, bath salt and mushroom undertones than the other two. The flavours echo the aromas with floral and peachy flavours and spice lingering.
Weighty and ripe with an almost unctuous texture.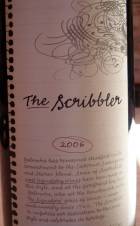 Yalumba Bush Vine Grenache, Barossa Eden, 2007 is one of my favorite, feminine reds with its glorious purple-ish hue. The aromas are sweet red berries, crushed flowers, mocha and cedar. The palate is fresh, medium-bodied, a dance of sweet berries and allspice.

Yalumba 'The Scribbler', Barossa Valley, 2006 is a delicious blend of Cabernet with 40% Shiraz. The aromas are plums and ripe berries and a very pretty potpourri of cedar and dried floral notes. The palate is plush with flavours of chocolate, berry fruits and a hint of bell pepper.

Yalumba 'The Signature', Barossa Valley, 2004 Cabernet Sauvignon & Shiraz (67/43%) come together again in this generous blend. Black currents, eucalyptus, chocolate and

espresso. The palate is supple with surprising power and
intensity, fantastic acidity and tight tannins - spice lingers on the finish.

Yalumba 'Patchwork' Shiraz, Barossa Valley, 2007 the fruit is plummy with mixed briary berries, eucalypt and spiced chocolate and earthy undertones. The palate is plush with intense liqueur-like flavours, fruitcake and plums with sweet spice. The tannins are powdery but mouth-filling.

Yalumba 'The Octavius' Shiraz , Barossa Valley , 2004 a masculine wine with dense aromas of cocoa, dried fruits and powerful spice, smoked plums and a hint of orange peel. The palate is creamy, almost glycerol in texture and weight with plums and bittersweet chocolate and espresso. This Yalumba icon has wonderful balancing acidity and fine tannins

To read more about Yalumba and its history click here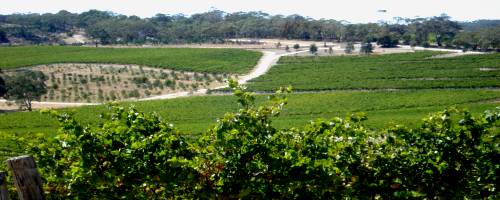 The famous Pewsey Vale Vineyard in Eden Valley
Peter Lehmann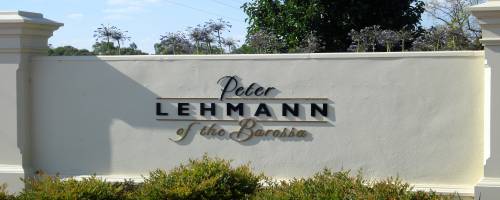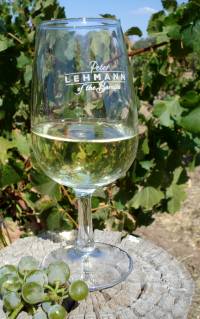 We love the labels, we drink the wine. Peter Lehmann understood early, how effective fun, bright labels could be to consumers. His trademark "Queen of Clubs" card labels reflect his humour, his love for the gamble, and for the card. But the juice inside is what brings consumers back, again and again...

After the grape glut in Barossa in the 1970s, winemaker Peter Lehmann (he'd been a winemaker at Saltram) decided he needed to assist the grape growers who were staring financial devastation in the face. By taking a gamble and quietly gathering a consortium of investors, Lehmann was able to build winery to process grapes in order to relieve the local growers while providing bulk juice to purchasers.
He initially named this company Masterson, after a favorite fictional gambling character. Things morphed over time until the early 1980s when Lehmann turned to producing his own wines under the Peter Lehmann label. He continued to purchase the fruit from Barossa farmers.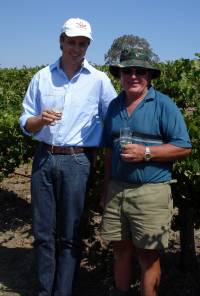 This is Lehmann's legend and his legacy.
Since 2003, Peter Lehmann Wines has been part of the Hess Family Estates, who also has estates in South Africa, California and Argentina (three of those estates I visited between September '08 and February '09). Andrew Wigan is still the Chief winemaker and they continue to purchase grapes from 169 growers around Barossa. Peter's youngest son Phil Lehmann (also a winemaker at PLW), met me on a hot Barossa summers day toting a hat and sunscreen, small barriers against the blazing Aussie sun. Phil, like Jane Ferrari at Yalumba, wanted to show me how important site is for the wines they make, and to introduce me to the growers who own the all important vineyards.

First we drove up to Eden Valley where I met Kevin Roesler, (photo right: Phil Lehmann left, Roesler right)
who proudly showed me his 60 year old Riesling
Vines. Vines that Phil claims make some of the
best Rieslings in Eden Valley. The chilled Riesling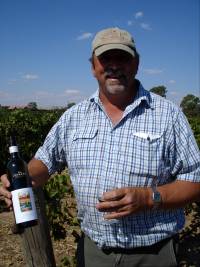 went down extremely well, as we chatted among
the vines in Eden but I was at a loss how such snappy wines could be produced in such heat - the answer, cool nights. This premium Ambassador range Wigan Eden Valley Riesling 2003 showed fantastic minerality and bright citric notes, honey and stone fruits with a toasty edge combined with lovely weight. Elegant.

Next stop, back down to the valley floor to meet a gentle-giant of a man named Peter Scholz (right), whose soil we were standing on. This was home to his fantastic 70 year-old Semillon vines.
Peter and his brother Michael (both are winemakers) own the Willows Vineyard and also make wine under their own label. With Peter, we tasted the Ambassador range Margaret Semillon, 2003
which showed amazingly snappy acidity, aromas
of figs, lanoline lemon oil and toasty/honeyed tones
lounging atop a seductive mouth-feel.
This wine, named after Peter Lehmann's wife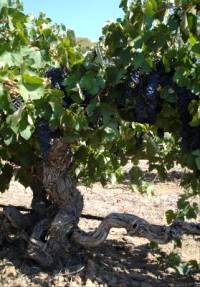 Margaret is released after five years of ageing.

Our final stop that day was in the Ebenezer region of Barossa where we visited Bon View Vineyards owned by the Schrapel family. Angela Shrapel (below right)
bright smiles, blond hair and coppery-bronzed face booted it out to greet us on a all-terrain vehicle, dust flying behind her. We were standing in the famous 1885 vineyard, planted with the most glorious, most massive Shiraz vines I may ever see.
The grapes from this 125 year-old vineyard (right)
go into the Peter Lehmann 1885 Shiraz. The trunks are the size of my waist, the soil is red-brown clay and alluvial, these vines produce low yields of incredible fruit.
We cracked this very special 2006 1885 Shiraz
open releasing affluent aromas of spice cake and
plums, espresso and chocolate with undertones
of blueberry and raspberry.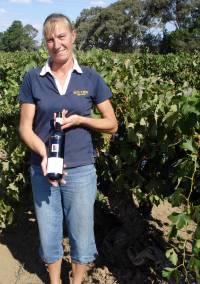 The palate - opulent, laden with ripe berries, mocha and sweet spices. Utterly delicious!

For more recent Peter Lehmann reviews on WineScores.ca click on the wine below.
Peter Lehmann, 'Clancy's Legendary White' 08
Peter Lehmann 'The Futures' Shiraz, '05
Peter Lehmann Grenache Rose, '07
Peter Lehmann Barossa Cabernet Sauvignon
Peter Lehmann "The Seven Surveys", '06
For more about Peter Lehmann wines click here


Grant Burge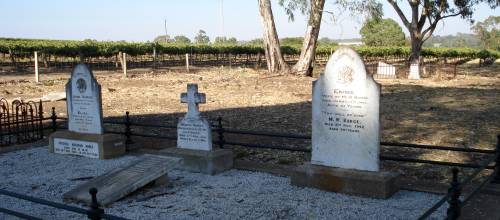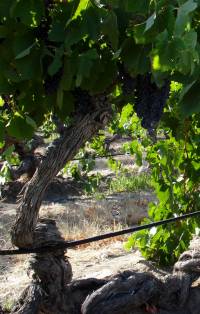 Sitting beside Helen Burge at a small dinner gathering in Vancouver a couple of years ago
I was completely charmed by Grant's extroverted wife and her tales of how they met.
Earlier this year, certain I had visitation rights to the Burge Estate planned into my Aussie itinerary I was looking forward to meeting up with the Burge's on their home turf.
A Burge employee, by the name of Olivia Barrie picked me up from the Novotel Barossa early one February morning and drove me to, of all places, a cemetery. I'm a bit quirky about graveyards, generally not a fan, except from a distance where I can appreciate their quietness and stony serenity. But, over the years, due to my love of history, I have traveled to some of the most famous and dramatic burial grounds in the world in; Asia, the Middle East, India and Europe, and this small Barossa cemetery was a direct historical link to the German Lutherans who settled here, and directly to Grant Burge's ancestors. Grant Burge is the fifth generation Burge to live in Barossa, his family were some of the first settlers here
(see my Barossa intro above).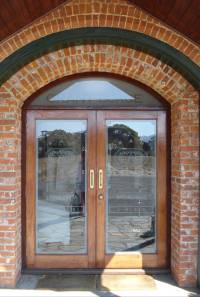 The cemetery sits at Holy Trinity Corner on the Barossa Valley floor, where quiet country rounds come together amid massive, stately Gum trees. Across the road from the cemetery sits the Holy Trinity Vineyard, namesake of The Holy Trinity wine (a blend of Grenache, Shiraz and Mourvedre). We drove from The Holy Trinity Vineyard to the Filsell and Meshack Vineyards, stopping along the way to taste the grapes from bush vines of 40 to 110+ years of age.
That, my wine-geeky friends is history.
After a vineyard tour, we drove to the Burge cellar door and tasting room, a simple brick building reminiscent of a cottage, from the back side. It wasn't until I met up with Grant Burge inside and tasted through the wines that I had the opportunity to view the estate and tasting room from the front gardens...
What a stunning building and surrounding grounds. No wonder so many couples want to get married here.
right : entrance to the Grant Burge cellar door. Although Grant Burge Wines was only established in 1988 Burge's ancestors were some of the first to settle in Barossa.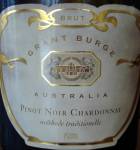 Some Tasting Notes

Grant Burge Sparkling Pinot Chardonnay Brut, NV hails from Eden and King Valley. Made in the traditional method using Pinot Noir and Chardonnay. It has effusive nectarine, berry, honey and floral notes. The palate is snappy with a vibrant mousse and creamy texture. The flavours are lemon, tree fruits and honey with citrus zest on the finish. Lovely!

Vineyards Range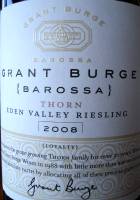 Grant Burge "Thorn" Riesling, Eden Valley, 2008 is from the hot 2008 vintage producing nectarine, lime, citrus blossom and mineral aromas. The palate is quite weighty, almost slick with snappy acidity and a long clean finish.

Grant Burge 'Zerk' Semillon Viognier, 2007 is made from 70 year old Semillon vines in the Zerk Family Vineyard added to 20% Viognier. The aromas are apricots, honey, figs with waxy and floral undertones. It has surprising power in the mouth, buttery, savoury, lanolin in texture with plenty of citrus lingering on the finish.

Grant Burge 'Summers' Chardonnay, 2007 has incredibly toasty aromas, pineapple, spices and browned butter. Creamy on the palate, the fruit pops first followed by toasted, spiced flavours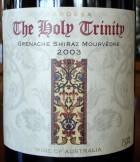 and clove and star anise lingering on the finish.

Grant Burge 'Cameron Vale' Cabernet Sauvignon, 2006 features mint chocolate and red berries, spice, leather and herbal undertones. The palate is fresh, laden with bright cassis then chocolate and fine cedarbox spice.

Wines of Distinction Range

Grant Burge 'The Holy Trinity' GSM, 2003 has an earthy complexity with loads of savoury garrigue-type notes amid mixed berry fruit, pepper and cocoa. The palate has a powdery texture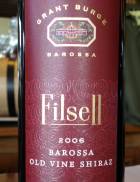 with intense dark fruit, spice, chocolate, espresso and minerals.
Good acidity, concentration and power with a substantial finish.


Grant Burge 'Filsell' Old Vine Shiraz, 2006 Expect smoky/earthy aromas beneath plenty of blackberry and plummy aromas, chocolate and a hint of raspberry. The palate is focused, intense dark fruits, spice and savoury flavours throughout with bittersweet chocolate flavours lingering on the finish.



Icon Range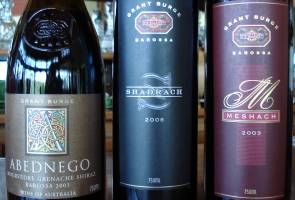 Grant Burge 'Abednego' MSG, 2003 is a blend of Mourvedre, Shiraz and Grenache from Barossa Valley vines averaging 110 years old. Expect plenty of ripe purple fruits, intense earth and chocolate aromas with minerals, dark floral notes and spice. Impressively fresh and quite feminine on the palate. Lifted berry fruit a velvety texture and fine tannins lingering.

Grant Burge 'Shadrach', Cabernet Sauvignon, Eden Valley, 2006 was just released when I tasted it in February. High-toned red fruit, crushed violets, exotic spice, mocha and vanilla. Juicy on the palate, a fine-grained texture with black current, mint and cedar flavours, great acidity and powdery tannins. There will be no 2007 of this wine, only the best years are produced.

Grant Burge 'Meshach' Shiraz, 2003 is made from Barossa Valley Shiraz vines approaching 100 years old. Complex aromas of fruit cake and saddle leather, vanilla and sweet spices with warm berry compote. On the palate, the minerality of the vineyard shows - plenty of fleur de sel, dark earth and spice, potent and supple with pepper lingering on the finish. There will also be no 2007 of the Meshach produced.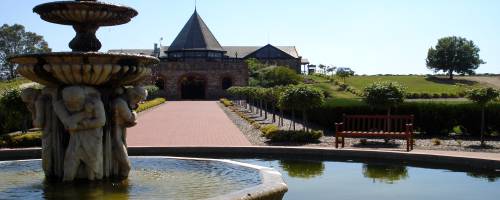 The Grant Burge estate and grounds at Jacobs Creek, Barossa Valley

For more information on Grant Burge Wines click here
Jacob's Creek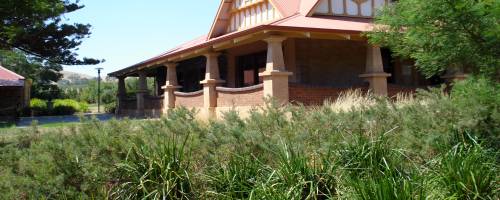 Jacob's Creek, the homestead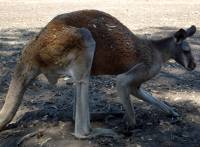 This particular visit was also my first (finally) up-close to a kangaroo.
From Grant Burge's Jacob's Creek location, James Keane of Orlando Wines picked me up and took for a quick spin through Jacob's Creek Australian Wildlife Enclosure where a Big Red eyed me up from about three meters away.
Part of the company's environmental commitment is to revitalizing Jacob's Creek with native plants and amphibians, the wildlife enclosure was built to help
protect the larger species, like kangaroos and
curious emus as well.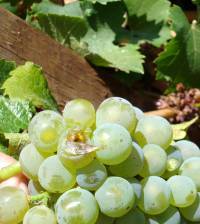 From there we headed to a tasting room at Jacob's Creek (not to the stunning new visitors center and restaurant) but to the original estate, to the cottages and cellar the Jacob brothers built alongside the creek in the 1840s. Here Orlando Wines has renovated one of these historic buildings into a private tasting room, kitchen and dining area where I met two more key players in the Jacob's Creek team, Chief Winemaker Bernard Hickin and a flamboyant Veronica Zahra, Jacob's Creek Executive Chef who cooked us a truly inventive and remarkable wine
paired lunch.
right: Riesling on the banks of Jacob's Creek


Riesling Vines sloping down into Jacob's Creek, white Cockatoos watch over them at the homestead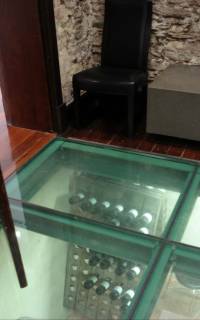 In 1847 a Bavarian by the name of Johann Gramp planted German Riesling vines on some of the 80 acres he purchased alongside Jacob's Creek in the Barossa Valley. This is close to when Reynell and Hardy where making viticultural strides in McLaren Vale. A handful of years later those vines began producing wine and today Riesling is still planted along the creek by the cottages. Jacob's Creek is owned by Orlando Wines, which also owns Wyndham Estate (among others) and Orlando was bought by Pernod Ricard in 1989.
Without doubt, Jacob's Creek produce an immense amount of wine, they are recognized around the world as easy-drinking and affordable Australia wine. The brand has only been around for 33 years and it was when they were purchased by Pernod Ricard that their international distribution took off. We only see a small portion of their wines and it's easy to write off a big company that produces such quantities as a mass consumer product. That is true, but they obviously fill the need for consumers who want to drink wine and don't want a degree to chose one. Like Yellow Tail, these wines are consistent and priced affordably. But in an era of fickle consumerism and fast-changing trends, I wonder who suffers the most when the mighty dollar shifts to a new flavour? Is it the large companies like Jacob's Creek or is it the smaller producers down the road from them? Perhaps it is both.
Either way, my job is to share my experiences and tasting notes, and for you to make the decision where to spend your dollars and what to drink. As long as there is enough to go around and we are all enjoying wine...I'm happy.

above right: the modern glass floor added to the homestead to view the cellar below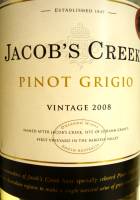 Some tasting notes - premium wines you may not have discovered from Jacob's Creek

Jacob's Creek Sparkling Chardonnay~Pinot Noir is a non-vintage blend of Chardonnay with 25% Pinot Noir. It has plenty of tree fruit, melon, citrus and white blossom aromas with a hint of leesy/toasty notes. The palate is crisp with berry hints and bread dough, dry and refreshing but with a creamy texture thanks to 8-12 months on the lees.

Jacob's Creek Pinot Grigio, 2008 shows apple and peach stone aromas, citrus and talc with undertones of creamy Bosc pears. Clean on the palate with snappy acidity, it's very easy sipping with a creamy edge and a bright finish.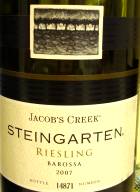 Jacob's Creek Reserve Riesling, 2008 is the mid-tier Riesling from Jacob's Creek's premium vineyards in the Eden and Clare Valley's. The aromas are snappy - marmalade, minerals, green apple, honey and orchard blossoms.. The palate is focused and vibrant with taut acidity. Very good.

Jacob's Creek Steingarten Riesling, 2007 is a premium Riesling from very select blocks of Riesling that grow in slate soils. Focused lemon drop, petrol, floral and slate minerality aromas, the palate is taut with cheek-sucking acidity, an almost viscous mouth-coating texture and zesty, lime-y finish with hints of smoke and minerality.



Jacob's Creek Reeves Point Chardonnay, 2005 is a premium white Chardonnay, made from Tasmania and Adelaide Hills "cooler-climate" fruit. The nose expresses minerality, brown butter, toast and lemons. Its an elegant example of Chardy with fantastic acidity, spice and buttery flavours and a creamy texture.

Jacob's Creek St. Hugo Cabernet Sauvignon, 2005 hails from the renowned Cabernet region of Coonawarra. Expect vibrant cherry cough drops (eucalypt and menthol), cassis and dusty cocoa. The palate is medium-full bodied with dark berry flavours, mint chocolate and cedar chips. The tannins are ripe but still have grip.

Jacob's Creek Centenary Hill Shiraz Barossa Valley, 2006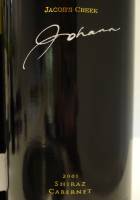 is a very unique Shiraz from the Centenary Hill vineyard planted more than 60 years ago. Amazing intensity, loads of earthiness and savoury notes - dill, spice, prune and mixed dark fruits. The palate is supple with a velvety texture featuring dried marinated fruits, espresso and spice with savoury herbal flavours. Fine tannins and a substantial finish.

Jacob's Creek Johann Shiraz~Cabernet, 2001 is Jacob's Creek icon wine that is cellared 4-6 years prior to release. The aromas are substantial, plush and sweet - chocolate covered berry fruit, fruit cake spices and vanilla, earthy truffles, hints of blueberry and eucalypt notes. Intense, powerful palate, bittersweet chocolate, toasted spices, black currents and again blueberry. The finish lingers impressively, the tannins ripe but firm.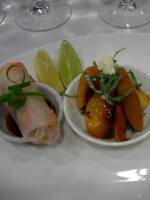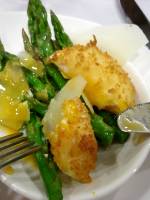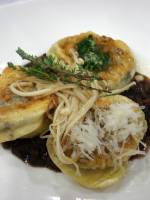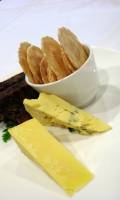 a fantastic wine paired lunch prepared by Executive Chef Veronica Zahra my favorite was the battered, soft deep fried egg on asparagus with shaved parmesan with Riesling

To read more about Jacob's Creek click here
Elderton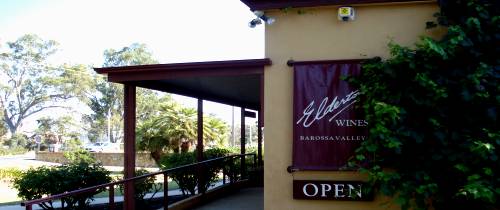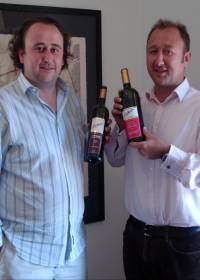 For some reason, when talking about Elderton wines, what comes out of my mouth is "the Elderton boys" which is funny, because "the Elderton boys" are not boys at all and their last name is Ashmead. The name Elderton is derived from Samuel Elderton Tolley, the man who originally planted the Elderton vineyard on the Barossa Valley floor near Nurioopta back in 1904. The late Neil Ashmead and his wife Lorraine purchased the estate in the late 1970s. Like many others, the family was assisted in those early days by Peter Lehmann, now, the "boys" Cameron and his younger brother Allister run the show. and there is little doubt how committed they are to it. Allister picked me, and my obvious pink suitcase, up on my last day in Barossa to take me on a tour of the 72 acre Elderton vineyard and specifically the 100+ year old Shiraz planted Command block. The Elderton estate is comprised of three vineyards including one in Eden and one that is leased (but tended by the Ashmead's) bordering the Elderton
vineyard. The remainder of their grapes are sourced
f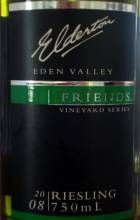 rom more than half-a-dozen other contracted vineyards.
Like so many Australian producers I met, the environment is hugely important to the Ashmead's. They taken a carbon neutral stance in the form of vehicle emissions, flight travel, and electricity use during production as well as water recycling, solar power, local river conservation and organic certification. Like me, I'm sure the Ashmead's look forward to the day when these things are a given, not the exception.

above right: "the Elderton boys" Allister (left with the Command Shiraz) and Cameron Ashmead.

Some Tasting Notes

Elderton Unoaked Chardonnay, 2008 has fantastic plush
aromas - ripe pineapple, melon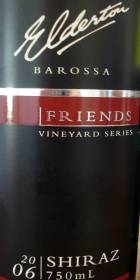 and hints of creamsicle.
The palate is fresh and lively with clean citrus and tropical fruit flavours. Incredibly easy sipping.

Elderton "Friends" Riesling, Eden Valley, 2008 shows typically fantastic minerality, lime oil, talc and honey blossoms. Snappy and taut on the palate with mouth-watering acidity and lime peel flavours lingering on the finish.

Elderton Cabernet Sauvignon, 2008 shows lovely lifted eucalypt and plush chocolate covered cherries, green olive and peppery aromas. The palate is velvety and provides cherry/berry flavours, chocolate and loads of spice with savoury herbal undertones.

Elderton "Friends" Shiraz, Eden Valley, 2006 the aromas in this higher altitude Shiraz are smoked with plummy/berry fruit, rich dark earth, spiced cocoa and leather. The palate is supple, the plum and chocolate reappear in the mouth, it's juicy with lifted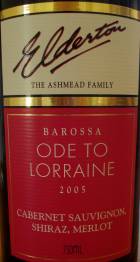 acidity and powdery tannins throughout.


Elderton Shiraz, 2005 will hopefully be coming available in BCLDB stores. The current 2004 is $35. This is a very fragrant wine with mulberry, cedar chips and dried floral notes and mocha. Supple and mouth-filling on the palate with juicy berry fruit and spice lingering. Nice finesse.
The 2006 of this wine will sport a new label - inside you'll find aromas of plums and berry, fine earthy tones and leather with great acidity to lift the palate and powdery tannins.

Elderton "Ode to Lorraine", 2005 is a 49/39/12 of Cabernet, Shiraz and Merlot blended in a tribute to "the boys" mother Lorraine. It was a birthday surprise (apparently she would not have approved) and has a label so pink it puts my WineDiva website to shame. It's all estate fruit with aromas of berries,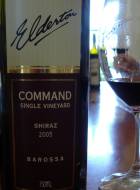 vanilla, crushed dark floral notes and leather. On the palate it's supple on the entry, grows in power with hints of mint, mixed sweet spice and pepper. Elegant and polished with fine but firm tannins on the finish.

Elderton Command Single Vineyard Shiraz, 2005 from the Elderton estate's 100+ year old Shiraz vines this powerful Barossa Valley floor shiraz is dense and earthy. Aromas of dried fruit, chocolate and saddle leather, the palate shows the minerality - a slight salinity, with dense chocolate, espresso and dark fruit. One for the Aussie section of your cellar.

For more information on Elderton click here

St. Hallett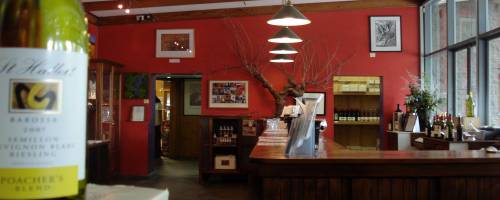 The tasting room/cellar door at St. Hallett with Poacher's Blend in the foreground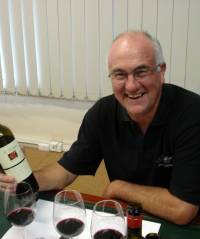 St. Hallett is Stuart Blackwell. The Senior Winemaker (Blackwell has been at St.Hallett for 35 years) is the face of this world well-known Barossa estate. He travels endlessly (seemingly) to share St. Hallett's story, and that of Barossa with the world.
When Stuart is at home though, he loves to cook and if you are looking for pairing options to go with his wines he has plenty of recipes to share.
All though he has plenty of recipes Stuart also has plenty of stories to share, my favorite is how the name Poacher's Blend came to be. From my own recollection of the story, Stuart had agreed to crush several tonnes of grapes for a local grower. After doing so, the man not only reneged on payment but disappeared entirely. Some time later Stuart was driving by the man's home and vineyard and noticed a vineyard full of white grapes doing admirably well
and he investigated. When the grapes were ready to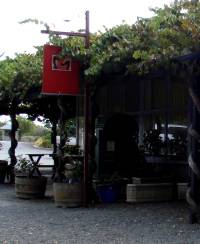 harvest Stuart brought in the harvesters and divested the vines of their fruit to use in his own wine. Now, it sounds like I shouldn't be getting him into trouble by retelling this story but as it seems, when the man's father found out he had reneged payment on work done he felt so bad he could do nothing but allow Stuart to make use of the grapes in whatever way he saw fit. Ergo, Poacher's Blend was poached, but ultimately with approval. A good name for this fresh, affordable white "Poacher's Blend" I think.
Established in 1944 by the Lindner family. Hallett is derived from the name of an early South Australia surveyor, the St. part though is uncertain. During the 1980s when vines were being pulled out with government support many producers like St. Hallett, Yalumba, Henschke, Burge, Lehmann and more took a stand to ensure many of these old vines remained. St. Hallett is known for their Shirazes but
perhaps mostly for their "old vine" Shiraz made from
vines around 100 years old.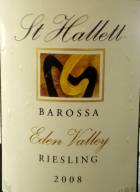 Some Tasting Notes

St. Hallett Riesling, Eden Valley, 2008 part of what I loved most about Barossa were the Eden Valley Rieslings. This one has gobs of honeysuckle, lime and stone fruit aromas. The palate vibrates with citrus and mineral flavours, fit has antastic acidity and a long snappy finish.

St. Hallett Poacher's Blend 2008 is made from Semillon, Sauvignon Blanc and 10% Riesling it has lively aromas of grapefruit, tropical fruit and herbal notes, beeswax, and hints of white floral. The palate has a creamy edge alongside vibrant acidity and flavours of nectarine and lime.
read 2007 vintage currently available here



St. Hallett GST, 2006 is not as we Canadian would believe to be Goods and Services Tax but a blend of Grenache, Shiraz with 7% Touriga Nacional. It has fantastic aromas of fragrant dark flowers, cherries, cedar chips and rose oil with undertones of smoke, chocolate and sausage. The palate is supple and rich laden with gorgeous sweet fruit, smoked spices, mocha and pepper. Delicious.

St. Hallett Game Keepers's Reserve, 2007 read current available vintage reviews here.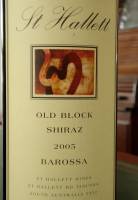 St. Hallett 'Faith' Shiraz, 2007 has high toned fruit, cherry, blueberry and raspberry aromas and fruit cake spices. Sweet and velvety on the palate with plenty of juicy fruit and fine spice flavours dry, powdery tannins linger.
Read more on current available 2007 review here


St.Hallett "Old Block" Shiraz, 2005 is a masculine, concentrated Shiraz with aromas of cedar, bacon fat, dried fruit, mulberry and green olives. It's an elegant wine, the palate is supple with plenty of chocolate and savoury flavours. Focused and impressive, one for the cellar.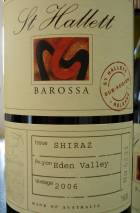 St. Hallett "Sub-Region" Release Shiraz, Eden Valley, 2006
is a new direction for St.Hallett and part of a trend toward Australian winemakers producing wines from distinct sub-appellations to show the uniqueness of each terroir and how it is evident in the finished wine. This wine shows dark purple fruit, it's earthy and smoky with obvious meaty tones. On the palate expect sweet, juicy fruit - youthful but showing fine bones and potential for fantastic elegance. I love the acidity and it's lifted fruit.

For more information on St. Hallett click here



Burge Family, Glen Eldon, Henschke, Langmeil, Murray Street & Thorn-Clarke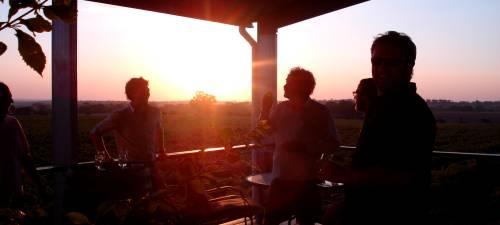 Sunset in Barossa, centre to right: Johann Henschke, Rick Burge, Shannon Macaitis and Dru Thomas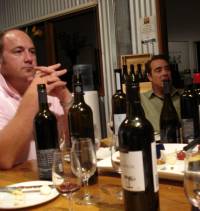 There are worse things a gal can do than to sit down with a roomful of Aussie blokes, taste fantastic wine, share a family meal (Aussie style) and discuss about our place in the world, that is, the world of wine and our roles within it.
The camaraderie of the wine industry never fails to warm me and a sit-down with a group of friends, for lively conversation about wine, is the best way to learn the inner-workings and cohesion of a region.
Without doubt one of my most memorable evenings Down-Under was at Glen Eldon in Barossa with several members, and a couple executives of Barossa Grape & Wine.

(above right: Richard Sheedy & James Lindner)
(below right: Rick Burge)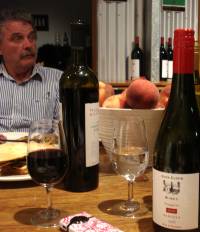 Richard Sheedy of Glen Eldon was our host.
He's set up a massive table and
brought in fantastic local breads, cheeses and arranged for a simple wine country dinner that was sublime.
Joining us was; Johann Henschke from Henschke, James Lindner from Langmeil,
Rick Burge of Burge Family Winemakers,
Shannon Macaitis from Thorne-Clarke and
Dru Thomas of Murray Street Vineyards.
It can be daunting to sit down with that many people as you taste their wines but smartly, they left me alone with an hour to cut a swath through nearly 30 wines as they relaxed with a few cool ones on the patio. From a purely journalistic point of view there
will also be wines that stand out above others
for a variety of reasons, but it's rare to not
find a bad one in the bunch.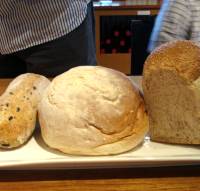 Here are some tasting notes of the impressive wines
I tasted that evening

Henschke "Tilly's Vineyard", Barossa Valley, 2007 is a blend of Semillon, Sauvignon Blanc and Chardonnay with fantastic acidity, loads of lemon/lime, herbs and beeswax lanolin notes. The texture, weighted, oily with vibrant fruit, minerality and citrus flavours lingering on the palate.

Henschke "Julius" Riesling, Eden Valley, 2007 Made from 20-30 year old vines it has the focused character one expects in Eden Rieslings - loads of minerality,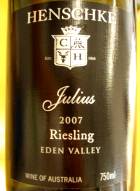 lime oil and marmalade with a slick texture and taut acidity.

Glen Eldon Riesling, Eden Valley, 2007 expect clean, mineral and citric notes, white fruit and hints of spring blossoms. Great acidity, not as bracing as the "Julius" but crisp and well balanced with a lovely weight and texture.

Langmeil "GWH" Viognier, Barossa Valley, 2008 Ripe peachy aromas, bright citrus and exotic floral notes with spiced undertones. A gorgeous round, ripe texture with plenty of peachy/apricot flavours, bright acidity but with a creamy edge and long crisp finish.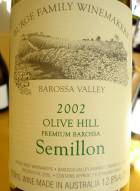 Glen Eldon Viognier, Barossa Valley, 2008 The aromas in the Glen Eldon are more restrained than the Langmeil but still very typical, peach, lime oil and floral with citrus and spiced undertones. Slick on the palate with gorgeous stone fruit, citric and spice flavours and an interesting herbal/mineral finish.

Burge Family Winemakers Olive Hill Semillon, Barossa, 2008/2002 Typical Semilon character, lanoline, green figs and citrus with plenty of mineral aromas. The palate is slick with snappy acidity and pristine citrus flavours. The 2002 provides a rich golden colour with fantastic flavours of honey, melon and waxy lanolin hints and the beginning of war toasty, nutty flavours and an elongated finish.



Murray Street Vineyards "Sophia" Shiraz, Barossa, 2005 Densely hued with blackberry, plummy fruit aromas, saddle leather and cocoa. The palate is masculine and savoury, black cherry/berry, loads of spice and pepper, mocha, smoke and earth with some meaty/rubbery suggestions on the finish - definite old world character.

Burge Family Winemakers "Draycott" Shiraz, Barossa, 2005 Dusty cocoa, tar and leather aromas, cedarbox spice and minty tones that lift the aromas out of the glass. Juicy red fruit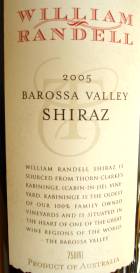 dominates the palate, pepper and earthy flavours, restrained power begins to show itself mid-palate, it's a focused wine with powdery, cocoa-like tannins clinging to the finish.

Thorn-Clarke "Terra Barossa" Shiraz, Barossa, 2007 shows prevalent sun-baled earth and tar aromas mixed with dark berry fruit. The palate smooth with juicy red fruit, pepper, chocolate and espresso flavours, it has great acidity and grippy youthful tannins.

Thorn-Clarke "Shotfire" Barossa, 2006 blends Cabernet Sauvignon with Cabernet Franc, Merlot and Petit Verdot in this restrained red. Aromas are red berries with darker fruit hidden beneath, dark earth, minerals. The high toned fruit pops on the palate followed with fine peppery spices, leathery flavours and mocha.


Thorn-Clarke "William Randell" Shiraz, Barossa, 2005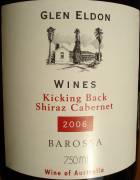 expect smoke, dark earth and minerality under plenty of blackberry and bittersweet chocolate aromas. Opulent, gorgeous almost glycerol texture on the palate but the fruit is bright, spiced mocha and fine peppery spice linger.

Glen Eldon "Kicking Back" Shiraz~Cabernet, Barossa, 2006 plums and red berries, rich chocolate, sweet spice and plenty of pepper. The palate is elegant, supple and fine grained with vibrant berry, lifted acidity and powdery tannins.

Glen Eldon Cabernet Sauvignon, Barossa, 2005 Loads of fresh cassis, menthol and hints of tomato leaf. The cassis pops back on the palate, bright acidity and flavours of leather, green olives,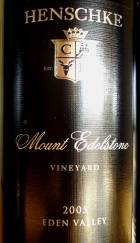 cedarbox and fine sweet spices. It gains more power as it
finishes and lingers impressively.

Henschke "Euphonium" Keyneton Estate, Barossa, 2006 blends Shiraz with Cabernet Sauvignon, Cabernet Franc and Merlot has loads of red berry and red cherry aromas, leather, tobacco and fine spice with undertones of mineral and tar. The palate is elegant, savoury and quite earthy with a rounded palate with smooth, integrated tannins.

Henschke Mount Edelstone Vineyard Shiraz, Eden Valley, 2005 is a potent single vineyard Shiraz with purple fruit, chocolate, leather and mineral tones with interesting hints of green olive and orange peel. The palate is elegant and smooth, both sweet and savoury with juicy fruit, spice, leather and herbal flavours and smoked meaty hints.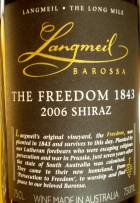 Langmeil "Hanging Snakes" Shiraz~Viognier, Barossa 2007 has blackberry lifted with obvious peachy/apricot aromas and lots of fresh spice. It is supple and sweet on the palate with great acidity and lifted berry, menthol and cola spice flavours.

Langmeil "Blacksmith" Cabernet Sauvignon, Barossa, 2006 has gorgeous cassis and eucalyptus, cedar chips and crushed dark floral tones. The cassis returns on the palate, high-toned and vibrant, with menthol and sweet spice. Fantastic acidity remains on the palate, the finish is smooth.

Langmeil "The Freedom 1843" Shiraz, Barossa, 2006 is from a 3.5 acre dry-grown Shiraz believed to be planted 165+ years ago. The aromas are sweet, liqueur-like in intensity, juicy sun-warmed berries, allspice and eucalypt notes. Opulent yet juicy, bright fruit and spice with a weighted, almost glycerol texture and bright acidity. Excellent.






View, climbing into Eden Valley looking over the Barossa Valley Floor


Read about McLaren Vale
Read about Barossa Valley
Read about Clare Valley
Read about Adelaide Hills
Read about Hunter Valley, New South Wales
Read about Yarra Valley, Victoria