Articles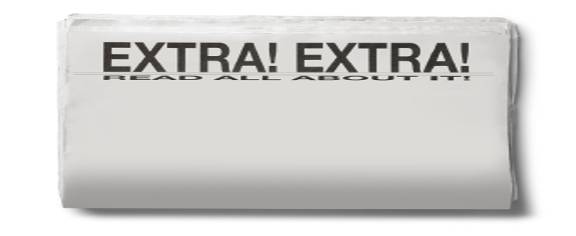 ---
Clare Valley
posted August 26 2009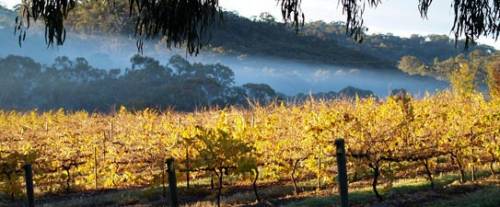 A vineyard at Skillogalee in Clare Valley
Clare is a hidden gem in South Australia.
Just a bit farther than Barossa, and without the benefit of being anchored to Adelaide city it doesn't reap the same wine tourism traffic that Adelaide Hills or McLaren Vale do.
Which is too bad because its a beautiful region with a very small town feel and plenty of treed sub-valleys which open up into broad plains. Clare is actually a plateau at the northern portion of the Mt. Lofty Ranges. Located about 140 km, almost straight-as-the-crow-flies from Adelaide and receives the benefit of cool nights to elevate the brightness in its grapes as well as the hot days to ripen them. What you find here are multitude of varieties but Riesling, Shiraz and Cabernet dominate - the terroir lends a distinct character that differs from lower altitude and warmer climate versions.

Settlers first arrived in Clare in the 1840s from England, Ireland and Poland and many of the buildings from that early era are still standing and in use in Clare, which lends a quaint air to the region. I was also intrigued by what I had read of the Riesling Trail. The Riesling Trail is a 27 km stretch of highway along Main Road North that dissects the North-South running Clare Valley. Basically it runs from Auburn in the south to Clare city in the north. Although I was hoping it was a lineup of Riesling for me to sample, it turns out it's an easy, outdoor biking and hiking trail that take visitors past wineries, artist studios and restaurants.
And although I would have loved to had hopped onto a bike and ridden through Clare Valley, I had a short time to visit, and a lot of wine to taste...

read about Skillogalee, Taylors/Wakefield and Pikes below
Skillogalee


Skillogalee Trevarrick house cellar door and restaurant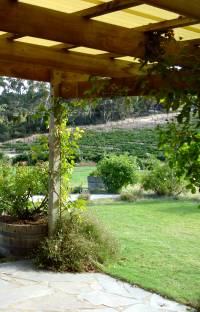 Not only did I visit the Skilogalee winery and vineyards I also stayed at their fantastic, luxury bed and breakfast called Skillogalee House (patio right)
located in a quiet corner, adjacent to the vineyards.
This is the place you want to bring a loved one and relax. Unfortunately, I had little time to enjoy the grounds, the kitchen and the spa bathroom, so I am yearning to return.
Skillogalee wines popped onto my radar upon arrival into the BC market a couple of years ago. The Riesling, sparkling Riesling and Shiraz impressed me with their vibrancy.
Dave and Diana Palmer purchased Skillogalee and it's 50 acres of land 20 years ago after discovering that the winery, making the wines they so loved, was up for sale.
Coming from a life of international residences (Dave worked for an accounting firm and Diana was a teacher) the Palmers thought Clare would also be a good place to raise their children and slow their pace.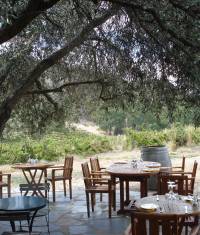 Located on the western side of Main North Road between the villages of Penwortham and Sevenhill, the building that house Skillogalee's cellar door and restaurant was originally built in 1851 (you can tell by the low heights of the roof and doorways) by a Cornish miner who called it Trevarrick Farm. Planted in the early 1900s with a mix of fruit trees it was not until 1970 that grape vines were planted by the previous owners. Now, from a total of 125 acres, primarily Riesling, Shiraz, Cabernet Sauvignon & Franc Chardonnay, Malbec and Gewurztraminer (with a number of other varietals scattered), Dave and his grown son Daniel make wine in their small boutique winery. Meanwhile Diana Palmer, who retrained as a chef and opened Skillogalee restaurant (the first winery restaurant in Clare Valley) oversees the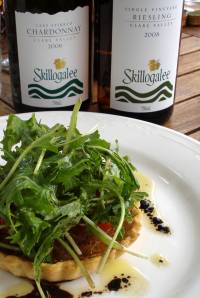 restaurant and the accommodations and daughter Nicola runs the cellar door and works in the restaurant.
A real family operation.

After my night in the Skillogalee house (it has the quaintness of a cottage and the luxury of an inn) Dave toured me through the meandering, rolling vineyards carved between gum tree forests. We visited drove by the Palmer's home, adjacent their small hilltop winery where we tasted some barrel samples then back down to the restaurant where Diana was waiting to meet us for lunch.
A lovely patio with a view of the vineyards is exactly what you want to see in wine country - anywhere. We tasted wines and then enjoyed a very fresh lunch before I scooted off to my next appointment. Such is often the situation when you are traveling to write about wine (rather than holidaying). You are constantly moving from one place to the next and every time you feel like you have just settled into your chair, its time to move on....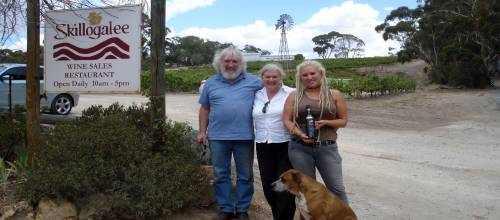 Dave, Diana, Nicola Palmer

Some tasting notes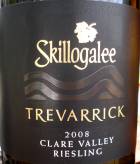 Skillogalee Trevarrick Riesling, 2008 is part of the premium Skillogalee range, only 250 cases made and it's bottled under Vino-lok glass stoppers...gorgeous stone fruit, white blossoms, green apple loads of mineral and citrus with lively acidity. It's taut and bright with a long, fine finish. Fantastic.

Skillogalee Gewurztraminer, 2008 The nose is fragrant rose water, orange blossoms, sweet spice, exotic citrus and lychee. The palate combines a smooth creamy texture with snappy acidity. Great Gewurztraminer character and a tight, bright finish with plenty of sweet spice.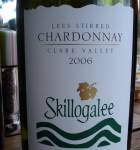 Skillogalee "Lees Stirred" Chardonnay, 2006 was lees stirred and one-third put through Malolactic fermentation. Creamy pear/apple, a hint of melon and lemon curd, warm spice and a full, creamy texture but it maintains a crisp finish.

Skillogalee Rosť, 2008 is a blend of Cabernet Sauvignon and Malbec it has cotton candy and sweet berry aromas, with smoky/spicy undertones. It's off-dry with cherry and vanilla, citrus and cedary flavours. A tasty, easy sipping patio quaffer or serve with spicy summer plates.



Skillogalee Basket Pressed Shiraz, 2005 I have always liked this bright Shiraz which benefits greatly from the cooler Clare nights. Blackberry and blueberry, fruitcake spices, cedar and chocolate aromas. The palate is very fresh, the entry provides a spicy lead, bright purple fruit follows with spiced mocha and powdery tannins on the finish.

Skillogalee Basket Pressed "The Cabernets", 2005 Blends Malbec with Cabernet Sauvignon and Cabernet Franc to achieve this earthy, spiced wine with leather, red plums, cassis and hints

of dried fruits. The palate is sweet, plush and loaded with espresso lifted fruit, spice and eucalyptus and a long, spicy and juicy finish. Great acidity and a smooth lengthy finish.

Skillogalee Trevarrick Single Contour Cabernet Sauvignon, 2004 You've heard of single vineyard but imagine a single contour parcel of a slope being harvested into one wine. Less than one tonne per acre is the yield and it produces an opulent, fragrant wine with aromas of cassis, blueberry, raspberry, sweet allspice, eucalypt notes and cedar. Fantastic, bright fruit, juicy cassis, sun warmed purple berries and plenty of spice. Supple with an impressively long finish.

Skillogalee Harvest Gold Late Harvest Riesling, 2005 is the ripe colour of wild honey with aromas of candied citrus, ginger and stone fruits. The palate is toffee/caramel with hints of orange peel, apricot and sweet muscat-y flavours with praline and tea leaf flavours lingering. Great acidity cleans it all up and balances this fantastic dessert wine.

Learn more about Skillogalee wine, their accommodations and restaurant here
Taylors (Wakefield)


Pickers harvesting Pinot Gris in Taylors, Clare Valley vineyard
This was my first taste of the family owned Taylors wines.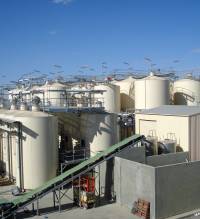 They make wine on a much larger scale than the boutique sized Skillogalee, and are in the process of building an even larger winery. Taylors produces a large selection of wine under several labels but if you have purchased their wines in the Northern Hemisphere you will have purchased them labeled under the Wakefield label. Taylor's, the famous port house in Portugal, owns the name in the Northern Hemisphere, but Wakefield continues to use its original name Taylors in the Southern Hemisphere.
I had a very relaxed dinner at a local pub the night I arrived with Taylors, Cherry Stowman, a big city gal who was just settling into the much slower Clare lifestyle. We tasted wines and talked about the region for several hours. When we got up to leave Dave and Diana Palmer were sitting at the table behind us Taylors new winery
dining with friends...I told you this was a small region.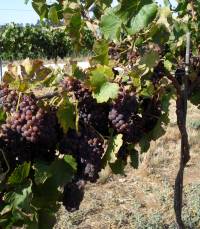 But arriving at the Taylors winery, the next day, it was Senior Winemaker Helen McCarthy who met me. We drove through some of the vineyards and watched some pickers harvesting Pinot Gris. Before heading back to the winery to taste some wines Helen took me on a quick spin past their new tanks and winery, still under construction. It looks like Taylors (Wakefield) is not slowing down.
Moving into their fourth decade making wine in the Clare Valley, the Taylor's have managed to keep it in the family. Started by Bill Taylor Senior and sons Bill and John in 1969, it continues to grow with Bill Taylor and his sons.

Some tasting notes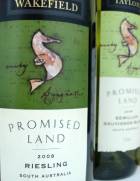 Taylors Gewurztraminer, Clare Valley~Adelaide Hills, 2008 Loads of exotic floral and grapefruit, a whiff of spice and Turkish delight. The texture is slick with a snappy edge and flavours of lychee, rose oil and spices pop onto your palate.

Taylors "St. Andrews" Bottle Aged Riesling, Clare Valley, 2001 Still vehemently fresh on the nose - lemon drops, petrol and lime oil with plenty of minerality that carries through onto the palate. The texture is weighty and rounded with marmalade and petrol notes lingering. Showing well!

Taylors Riesling, Clare Valley, 2008 expect plenty of green apple, white blossoms and honey notes. The palate is snappy
and crisp with flavours of marmalade and minerals.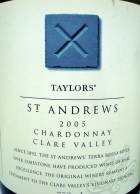 Fantastic acidity and a long clean finish.

Wakefield "Promised Land" Riesling, South Australia, 2008 is their entry level Riesling with pretty peachy, honey and citrus peel aromas. The palate is rounded, quite creamy with citrus and stone fruits and mineral salinity on the tongue. The finish is mouth-watering.

Taylors "St. Andrews" Chardonnay, Clare Valley, 2005 This wine spent 12 months in French Oak and was lees stirred for eight. Grilled pineapple, creamy, yeasty notes and buttered toast aromas. Lovely, soft and rounded on the palate, great minerality and citrus flavours, lees and spice but the crisp citrus-y flavours linger.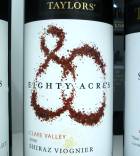 Wakefield "Eighty Acres" Chardonnay~Viognier, Clare Valley, 2007 The "Eighty Acres" has a fantastic label with the "80" written with Clare's Terra Rossa soil from the first 80 acres Bill Taylor planted in 1969. The Chardy-Vionier blend smells of peach jam and creamy pears, hints of figs, citrus and spice undertones. Again, the mineral salinity pops up on the palate of this wine, its spicy and lush with impressive acidity.

Wakefield "Eighty Acres" Cabernet~Shiraz~Merlot, Clare Valley, 2008 Plums, cassis and spice, some lifted menthol aromas, spice cake and espresso with hints of prune. Plums and dark berries reappear on the palate, spice and mocha.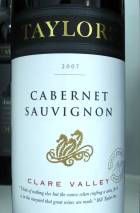 A powdery texture with coffee flavoured tannins on the finish.

Wakefield Shiraz~Viognier, Clare Valley, 2006 has loads of dark, ripe fruit, spice and earth with just a hint of floral. It's juicy and elegant, fruit, chocolate, spice lingers, it has sweet and salty components and bright acidity to it that make it a fantastic pairing for savoury dishes.

Taylors "St. Andrews" Cabernet Sauvignon, 2008 Plush black current and chocolate aromas, saddle leather and mineral/earthy notes. Vibrant fruit on the palate, fine spice and cigarbox. Supple and creamy with powdery tannins lingering.

For more information on Taylors Wakefield click here





Pikes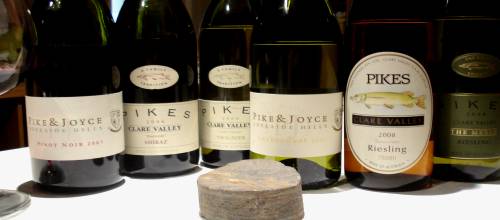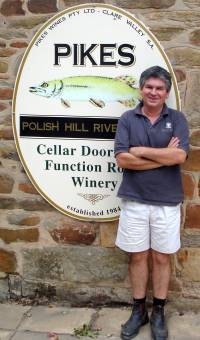 In the slowly rolling hills of Polish Hill River is where you will find a quaint family named and owned winery. The Pikes come from a brewing background. In 1886 the family made H.Pike & Co. Oak Bank Beer. Henry Pike arrived, as so many immigrants did, by ship and landed in Oak Bank in the lovely Adelaide Hills in 1878 and started a drinks business called H. Pike & Co. with the Pike fish on the label. Although it was sold in 1972, making beverages did not stop there. His great grandson Edgar Pike studied winemaking at the famous Roseworthy Agricultural College in Adelaide and his sons Neil (right) and Andrew followed suit and started Pikes in Clare Valley in 1984. And, as a nod to their great, great grandfather the brothers Pike have now resurrected the Pikes Oak Bank Beer.

The tasting rooms, cellar door and offices are in a historical brick building that was at one time a shearing shed, the modern winery is attached out back where they now produce 60,000 cases per year.

I spent a brief time at Pikes, my entire stop in Clare
seems like a whirlwind but as I tasted with Neil we

talked about the first vintages they made and he pulled a couple of lovely ones out of his cellar and some of the Pike & Joyce wines the produce in partnership with Joyce wines in Lenswood in the Adelaide Hills. Together and on their own, Pikes are making some fantastic wines.

Pikes Clare Valley Riesling, 2008 Quince and lemon drops, mineral and white blossoms. The palate is snappy, there is citrus, pear and nectarine flavours with honey lingering on the elongated finish. Very good!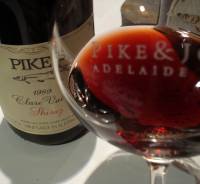 Pikes "Gill Farm" Viognier, 2008 Fantastic opulent aromatics, exotic spices, lemon, apricot, white peach with musky/honeyed undertones. The palate is lush a fruity sweet, pear and quince and juicy acidity. Slick and clean with a hint of cloves lingering on the finish. Very good!

Pikes "The Merle" Reserve Riesling, 2008 only 800 6packs of this wine are produced. It has impressive minerality, orchard fruits, citrus and leesy, honeyed aromas. The palate is almost sweet, it's slick weighty and mineral laden, absolutely silky but does not lack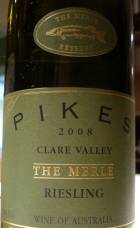 taut acidity. One for my cellar!

Pike & Joyce Chardonnay, Lenswood Adelaide Hills, 2006 Aromas of melon, pear and apple pie, brown butter, clove spice and leesy/yeasty tones. A fantastic creamy mouth-feel with plenty of white fruit, citrus, fresh minerality and warm spice lingering on the finish. Elegant!

Pike & Joyce Pinot Noir, Adelaide Hills, 2007 Sweet and tart aromas raspberry, sour cherry, blueberry hints too, tobacco and herbs with a core of saddle leather, fine spice and cedarbox. A clean, alluring palate, silky texture, soft spice and juicy red berry flavours, great acidity and powdery tannins.

From the cellar
Pikes Polish Hill River Rhine Riesling, Clare Valley, 1988
this back vintage was still under

cork was a bit off but we c
ould overlook that. Pikes started using stelvin in 2002. Richly coloured with earthy musky honey tones and dried stone fruit aromas The palate - rich yet bright - quince, honeycomb/waxy flavours, a soft, leaner finish and just a hint of tannin on the tail end.

Pikes Clare Valley Shiraz, 1989 Sweet and earthy - saddle leather, blueberry, cherry, peppery spice and wild herbs with a whiff of ammonia. The texture silky with bright lifting acidity, forest floor, blackberry liqueur, orange peel and smoke. Very impressive length.

For more information on Pikes click here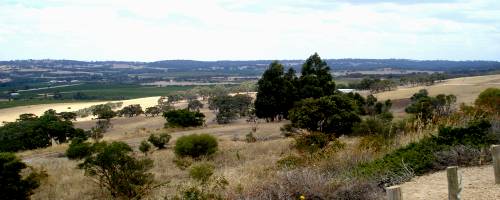 a view of Polish Hill River on the Plateau region of Clare Valley
Read about McLaren Vale
Read about Barossa Valley
Read about Clare Valley
Read about Adelaide Hills
Read about Hunter Valley, New South Wales
Read about Yarra Valley, Victoria