We all want to score

What is a wine score?
What is a wine score and how do wine reviewers (because I donít like to call myself a wine critic, I review wine, I don't criticize it) decide on that score?
A wine score is a numerical rating wine reviewers give to a wine based on a series of elements. Every wine reviewer (or wine critic) has their own method of getting to a conclusive number even if they use similar guidelines to one another.


The 100 point scale
What is the 100 point scale? For example, many writers/critics start at a base of 50 points out of a possible 100 as an even platform. The theory is, its all wine so letís give it all the same opportunity by starting it off with the same benefit. From that 50 point base score a number of other elements in the wine will give it additional points i.e.: colour-5 points, clarity-5 points, aroma-10 points, taste-10 points, finish-10 points, typicity-5 points ageability-5 points or overall quality- 5 points. Each of these elements is allotted a certain amount of points (see previous examples), the better the quality of each of these elements the more points the wine will get.


Iím not convinced that any one reviewerís method is best. It is whatever works for each individual. Itís a method we rely upon to give the public a ďnumberĒ that we feel is worthy and to the best of our knowledge and experience will be fair and unbiased.
I like to rate wines in comparison to their like. Prosecco to Prosecco, Champagne to Champagne, Cabernet to Cabernet....
Seriously, not all wines can be compared to another highly-sought, "iconic" vintage wine of a completely different parentage.
How would you compare a Vinho Verde to a Super Tuscan?
The individual palate will vary from reviewer to reviewer because like you, all of our palates have preferences (some people like chocolate snacks and some like potato chips) but ultimately it is our job to appreciate the quality or recognize flaws in all wines whether itís a wine we would order in a restaurant or not. I believe this is a common trait in all good reviewers.



What is the philosophy of WineScores.ca?
I review wines based on similar criteria that most wine reviewers/critics do;
colour, clarity, aroma, taste, finish, typicity and overall quality.
I believe wine is personal and individual, it is made to drink not just analyze, that wine is about the person and the occasion and the company Ė not just the score. But I also respect quality, workmanship and the passion that goes into making wine. I donít do this job to find fault. I do it because I love wine and I look for the positive in something that is part of my every day life.


What do the Wine Scores ďscoresĒ mean?
0-85 No published reviews
86-89 Good wine - easy drinking wine of good quality
90-94 Very good-excellent wine - delicious, well made, overall superior quality and typicity.
95-100 Exceptional quality wine, balanced, classic and probably highly sought after. Exceeds expectations, an epiphany, the juice that dreams are made of.
Cheers,
Daenna Van Mulligen
---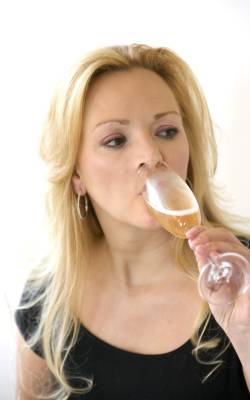 Who is behind WineScores.ca?
Daenna Van Mulligen is a Vancouver based wine writer.
She is an accredited sommelier and has published her sister site Wine Diva since February 2004.
These two popular sites are now the
top ranked wine websites in Western Canada.

Travel
Daenna has traveled extensively, including such wine regions as; Abruzzo, Friuli, Marche, Tuscany, Veneto and Umbria, Nahe, Rheingau, Rheinhessen, the Pfalz, Oregon, Washington, Okanagan Valley in BC, Niagara Peninsula, Constantia, Walker Bay, Paarl and Stellenbosch in South Africa and Bairrada, Dao, Estremadura and Alentejo in Portugal and to Aconcagua, Maipo, Casablanca, Cachapoal, Colchagua, Curico and Maule in Chile as well as Napa Valley and Sonoma County in California.
Also to Hunter Valley, Riverina, Barossa, McLaren Vale, Adelaide Hills, Yarra Valley and Clare Valley in Australia and to Cava, Penedes and Priorat Spain.

Judging
She has judged wines at the worlds largest wine fair, VinItaly, for Cornucopia's Top 25 and at ViniPax in Portugal, InterVin international wine awards in Ontario and The Okanagan Wine Festival wine awards.

Presenter
Daenna has been a presenter and a panelist at Whistler's well known international wine festival Cornucopia.
She has spoken for peers in the wine trade and media on Portugal for ViniPortugal and at the Vancouver Playhouse International Wine Festival.
She also hosts the wine stage at each year at
Eat!Vancouver and Eat!FraserValley.

Contributer Other Media, Radio & TV
You can read Daenna's 'tongue-in-cheeky pink' reviews on winediva.ca. Daenna is a regular contributor to the Canadian Wine Magazine Vines and has contributed to BCLDB's Taste Magazine.
Listen to her wine reviews each Saturday on Terry David Mulligan's (no relation that we are aware of) radio show am1150 "Talk Radio" in the Okanagan, on am1410 The Buzz (CFUN) radio in Vancouver am1260 "The Team" in Edmonton and am740 the "Best of the Best" in Toronto, or on TheTasting Room Radio.com .

You can also catch her on CityTV Vancouver regularly

Daenna also contributes to FoodVancouver.com