Articles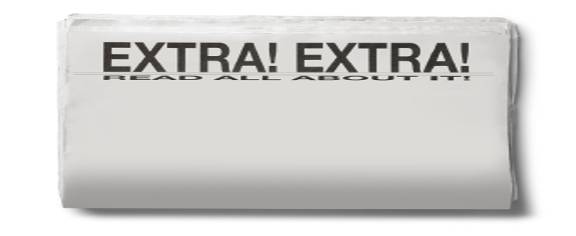 ---
Yarra Valley- Victoria
posted: October 14 2009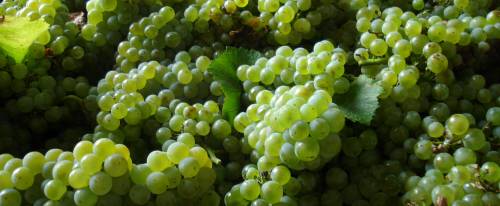 Chardonnay grapes just harvested at Domaine Chandon in Yarra Valley

Nearly two weeks after first setting my foot down on Aussie soil I flew into the city of Melbourne in the southeastern state of Victoria. The day I arrived in Australia was also the day the fires in Victoria started making headlines around the globe with their speed and devastation. In fact as I traveled across Australia I followed news that grew increasingly horrifying. I spoke to Wines of Australia to see if my final destination of Yarra Valley, would even happen, or was I to be diverted to another region altogether? Did my scheduled visits have the wherewithal to see me? As it turned out, everyone I was scheduled to see responded back with a resounding yes.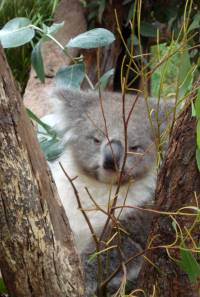 I was extremely pleased to hear that as Yarra was one of the first places I'd requested to visit in Australia.
Sadly, as it turned out, I had very little time there. I flew into Melbourne late in the day and spent the night in the city. The next day I took the Eastern Highway into the Valley, heading toward the central town of Yarra Glen. Veering off onto Maroondah Highway and then onto the northerly Melba Highway stretches of burned out fields began to appear. My driver, anticipating a possible fire closure on the Melba Highway up ahead, veered off onto Steels Creek Road, which ironically took me through some of the worst destruction in this area. Homes and cars were burned out shells, fields and trees blackened, sooty and some still smoldering. Firefighters working alongside the road were looking for smoldering logs and trees to prevent sparks from re igniting. Arriving on the back road into De Bortoli, I could see how close the fire had come to the winery. Not unlike Yering Station and Punt Road just to the south.
That day was difficult for me, to arrive into ashen turmoil and to witness the inhabitants taut emotions. When everyone was a little weary of the fires and a little leery of visiting journalists seeing only the smoke and ashes and in essence tarring the region and the vintage, black. I was told that even Aussie journalists, wine writers who had not even come to Yarra to see what had happened, to visit the wineries and taste the grapes had began smearing the region, writing off the vintage and it was causing stress. So here I was, arriving from across the world, from Canada, and what was I going to write about, what would I say?
I tasted grapes, I tasted juice, I spoke to winemakers and came to the conclusion that all of what I tasted was fine. But, as smoke taint goes, often the damage is not seen (or tasted) until the wine is made and in bottle. There was testing being done and the wineries seemed eager to know the results. Why would they want to make wine, go through all the cost (and loss of reputation) to make and possibly ship bad wine? Precisely, they wouldn't. It is up to the individual winery to put their reputation on the line with their own product. The onus was on each, yet also on the region as a whole.
Those vineyards that had been burnt or smoke damaged were not harvested. There were a couple of wineries lost in the fires and a machine shed I photographed at Punt Road was destroyed - so close to the Punt Road tasting room I think the paint peeled.
De Bortoli lost several acres of vineyard and winemaker Matt Steel from Chandon worked into the night throwing bucketfuls of water onto a fire that threatened the winery and his onsite home.
Perhaps a bigger issue that Yarra Valley has to deal with now is Phylloxera. There are protocols in place to help prevent the spread of the disease, which some locals believe was brought in by a very large, very well-known corporation who shares the use of their vineyard equipment between regions. That though, I believe, remains unsubstantiated. Signs and rope fencing divert visitors from walking in the vineyards and vineyards vehicles/equipment are cautiously washed down. All in all, it was a tough slug in Yarra Valley this year but those from the region are determined to let the world know it is business as usual.
This too will pass and the wines of this region will continue to impress, to shine.
Of this, I have no doubt.

above right : on the bright side, the evacuation of the wildlife at the Healesville Sanctuary went fairly smoothly and all were back home, safe and sound. I highly recommend a visit to this rescue sanctuary if you are ever in Yarra. There are more than 1500 dingos, koalas, reptiles, kangaroos and more injured and orphaned animals cared for here each year.
De Bortoli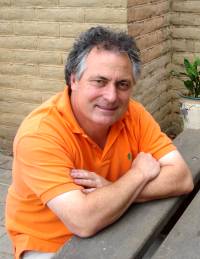 De Bortoli is a prominent family-owned Australian producer that has been in existence since 1928. The De Bortoli family emigrated from Northern Italy to Australia and are now a third generation winemaking family in Australia with vineyards in New South Wales and in Victoria. Leeann DeBortoli, who met me upon arrival runs the De Bortoli Winery & Restaurant and is married to winemaker Steve Webber (right).
I had met Steve Webber, DeBortoli's chief winemaker, previously in Vancouver. But the exhausted Webber I met in Yarra the morning I arrived was, understandably, a cautious man. It was Webber, who seemed to be the most outspoken about journalists painting Yarra in a negative light. I was taken aback but quickly explained, in no uncertain terms, that my trip to Yarra Valley was planned out of a personal desire to see this region months prior to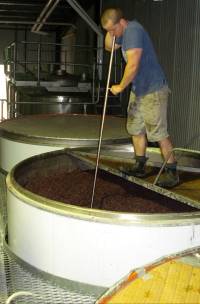 t
he fires. And, my arrival in Australia simply
coincided with the day the fires started. I was not here to do investigative journalism on the possibility of smoke tainted wines. I was here to visit a region I had a good deal of respect for and taste the wines I had fallen in love with.

Webber and I tasted a number of fantastic wines that morning before heading into the winery to taste several more fermenting tank samples of Yarra Valley Pinot Noir harvested just days earlier. I wrote positively about those fresh tank samples and the just harvested Chardonnay grapes I snagged off the sorting table in the 2009 September/October issue of Vines Magazine in an article about cool climate Aussie wines called "Cool Down Under".

right: punching down Yarra Pinot Noir at De Bortoli

De Bortoli Estate Grown "Sauvignon" Yarra Valley,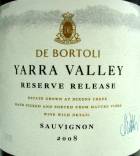 2008 this Sauvignon Blanc, simply named "Sauvignon"
has snappy lemon and floral notes with plenty of minerality. The palate is bright with flavours of ripe white peach and nectarine, citrus and minerals but it is also has a wonderfully creamy texture with a lovely weight on the palate.

De Bortoli Reserve Release Sauvignon Blanc, Yarra Valley, 2008 is a single vineyard Sauvignon Blanc from 25 year old vines. Seductive citrus compote, creamy white fruit and hints of praline on the nose. The palate is delicate, with soft fruit, citrus and minerality. It has lively acidity with generous fruit lingering on the finish.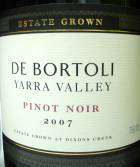 De Bortoli Estate Grown Viognier, Yarra Valley, 2008 Expect aromas of juicy pink grapefruit, sweet exotic spices and stone fruits. On the palate it is crisp and clean with mineral, stone fruit and lime peel flavours and spice lingering. A snappy, mouth-watering finish.

De Bortoli Reserve Release Chardonnay, 2007 This elegant Chardy has aromas of lemon-butter, toasted praline and caramel. The palate is smooth with a nice weight and bright acidity but it is also fine-boned and complex with lees, fine spice and mineral flavours and a substantial finish.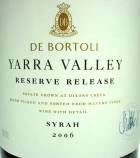 De Bortoli Estate Grown Pinot Noir, Yarra Valley, 2007 This wine has engaging blueberry and cherry aromas, candied violets with a smoky/earthy core. It is a lovely wine, silky and harmonious with bright berry, cedarbox and tobacco notes and fine tannins lingering on the finish.

De Bortoli Reserve Release Syrah, Yarra Valley, 2007 smells of ripe blueberries and allspice, it presents high-toned sweet aromas with floral perfume. Blackberries and spice appear on the palate, plummy hints too alongside bittersweet chocolate and a long, fine finish.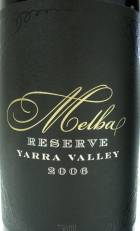 Melba 'Lucia' Yarra Valley, 2006 is primarily Cabernet Sauvignon with Sangiovese, Merlot and Petit Verdot. The Melba label wines were names after opera diva Dame Nellie Melba who had for a time lived in the Yarra. It is a plush wine with aromas of sweet cherry and iodine a hint of rose petal and a core of saddle leather, spice and rich dark earth. The palate echoes the aromas with cherry and leather, it's undoubtedly rustic with fine spice, fantastic acidity and soft tannins.

Melba Reserve Yarra Valley, 2006 is an elegant Bordelaise blend of Cabernet, Merlot and Petit Verdot. It has interesting layers of juicy red and ripe dark berries, saddle leather, smoke and savoury/bacon fat undertones. The palate tastes of currents, fine spice and some herbal flavours with espresso lingering on the finish.

For more information on DeBortoli click here
Yering Station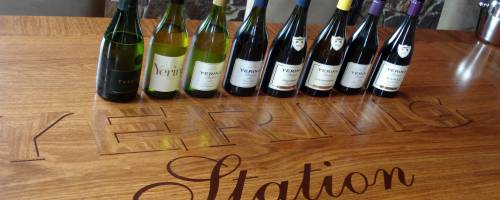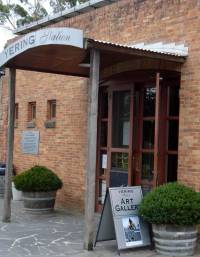 Mark Cunliff from Yering Station picked me up at De Bortoli on the morning of February 21.
Yering Station, the oldest winery in the state of Victoria is a lovely dichotomy of old and new. Old being the original Yering Station building, a quaint brick and wood beam cellar door with plenty of wine and goodies to purchase as well as an upstairs bar called Matt's (right).
And new being the inspiring modern architectural winery and restaurant that marries glass, stone and water in a clean and peaceful design. Despite the fires still burning off in the distant hills, wealthy tourists were starting to arrive while I tasted wines. A bright red helicopter landed on the lawns brining lunch guests to Yering Stations soaring, elegant Wine Bar Restaurant. (below right)


Yering Station began as an outback cattle station.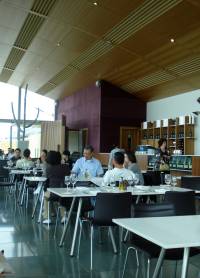 In 1830s Scottish brothers, moving their cattle south from Syndney took a license out on 43,000 acres of grazing land in Yarra and planted the first vines in Victoria in 1938. These non-noble varieties were a white grape called Sweetwater and a red called Black Cluster. In the 1850s a Swiss immigrant bought the land and with it planted cuttings from Chateau Lafite. After several changes of ownership Yering Station was purchased again in 1996 by the Rathbone family who also own; Xanadu in Margaret River, Parker in Coonawarra and Mt. Langi Ghiran also in Victoria. A new addition, winemaker Willie Lunn had recently joined Yering Station, having arrived from Oregon's Argyle, who also specializes in Sparkling and Pinot Noir.
Yarrabank Brut, 2004 is a joint venture between Yering Station and Champagne Devaux. It is a 55% Pinot Noir with Chardonnay making up the remainder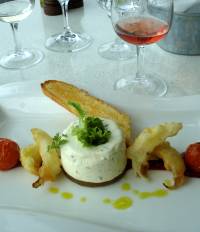 of the assemblage sourced from Upper Yarra and
Mornington Peninsula. It has four years on the lees
and has alluring aromas of sweet pears and honey apples, juicy citrus notes and plenty of mineral and leesy undertones. The palate does not disappoint - it's creamy on the palate with flavours of nectarine and honey, apple skin and brioche mouthwatering citrus on the finish.

Yarrabank Creme de Cuvée, Yarra Valley, NV is a blend of Pinot Noir and Chardonnay and has four years on the lees plus a decent sweet dosage. It's a fantastic pinky-salmon hue with typical forest floor/woodsy Pinot notes, lees and juicy berry notes. The palate is divine - earthy and creamy yet crisp and complex with a sweet fruity entry but plenty of bright acidity to balance and a seam of citrus running throughout the palate with a snappy finish. Delicious.



Little Yering Chardonnay, Yarra Valley, 2008 very aromatic with candied citrus, fruit cup and pear compote and butterscotch. Snappy on the palate despite its luscious aromas, the palate is slick and creamy but flavours are clean and the acidity is bright through the finish.

Yering Station Chardonnay Reserve, Yarra Valley, 2006 plenty of upfront oak aromas, spiced vanilla and citrus.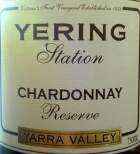 Lively on the palate with buttery, mineral notes and praline with
leesy complexity. An elegant style.

Yering Station Pinot Noir, Yarra Valley, 2007 although 2007 was not a strong vintage for Yarra Valley this wine still shines with bright raspberry, cranberry and cigarbox spice aromas with pretty floral notes. Tart but juicy fruit on the entry moving into richer berry flavours cedar and fine spices lingering on the finish.

Yering Station Pinot Noir Reserve, Yarra Valley, 2006 aromas of black cherry and currents, saddle leather and spices with a supple cherry palate with a core of earthy, woodsy flavours.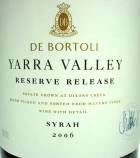 This wine was still tightly wound when I tasted it in February '09
and will benefit from additional age.

Yering Station Shiraz Viognier, 2006 Made with 5% Viognier this wine presents gorgeous jammy fruit aromas of ripe blackberry and sunwarmed raspberries, warm spice and floral notes. The palate is smooth, supple with juicy berry fruit, spice and earth. This is a lovely wine balanced with very good structure.

Yering Station Shiraz~Viognier Reserve, Yarra Valley, 2005 Ripe blackberry and blueberry aromas with crushed floral notes and sweet spices with a savoury core. The palate is opulent, a mouth-filling wine presenting rich fruit, peppery spices and dark chocolate. The tannins are firm and grippy. A fantastic wine that is a good contender for your cellar, or decant a couple hours prior to drinking.

For more information on Yering Station click here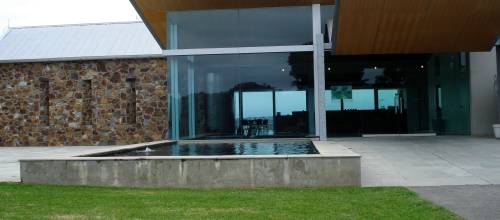 Yering Station Wine Bar and Winery

Domaine Chandon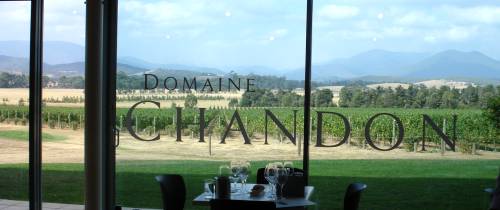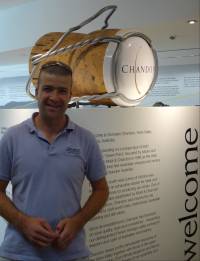 Domain Chandon is located on the Green Point Estate in the Coldstream appellation of Yarra. It was purchased by Champagne house Moët & Chandon in 1986 specifically to produce traditional method sparkling wines. It really is a lovely estate with the original 1880s homestead and the more modern winery, tasting room and restaurant overlooking sprawling lawns and vines.

Senior winemaker (right) Matt Steel (who I have heard has now moved on) took me on a tour around the estate before we sat down to taste a selection of Domaine Chandon and Green Point wines.
Matt, who was living on site at that time, in a house next to the winery, showed me how close the fires had come to destroying not only the winery but his home. He had worked late into the night tossing a lot of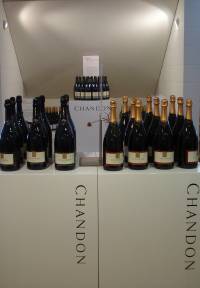 buckets of water.
Like everyone else I spoke to during my trip, he
explained his fire fighting efforts in a very
matter-of-fact way.

Chandon Brut, Yarra Valley, 2005 expect plenty of toasty notes, apple pie and praline with orchard fruit undertones. The palate is intricate and creamy with a crisp lemony edge, leesy flavours and white tree fruits dominate and the finish is long and zesty.

Chandon Rosé Yarra Valley, NV a lovely pale pink colour with bright red berry aromas, candied citrus notes and chalky minerality. The palate is creamy with a rich mousse and flavours of peaches and berries, it has a kiss of sweetness and lively acidity.
Very tasty.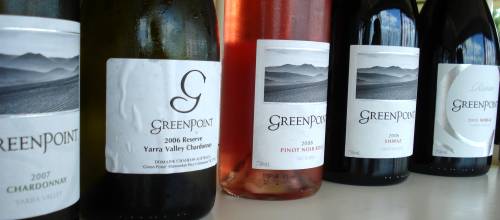 GreenPoint wines are made from grapes sourced from their own vineyards plus those of about 50 independent growers around Victoria. Their goal is to make cool-climate wines utilizing the strength of different vineyard sites suited to certain varietals rather than having one appellation supply all of their varietal needs. But going back through my notes there seems to be some confusion as to Chandon and Greenpoint being the same wines, only packaged under different label names to avoid confusion in some markets - which makes it all the more confusing. Unfortunately these wines were not, and are not available in Canada as far as I know and the GreenPoint website leads you back to Domaine Chandon's.
GreenPoint Chardonnay, Yarra Valley, 2007 has aromas of Bosc pear and honey, some fragrant white floral notes, candle wax and toasted nuts. The palate has lovely soft acidity and plenty of warm spice and orchard fruit flavours with a zesty finish.

GreenPoint Reserve Chardonnay, Yarra Valley 2005 has fantastic aromas of pear and honeydew melon, beeswax and toasted brown sugar with nutty undertones. The palate is rich, rounded and weighted but finishes crisp. Flavours of pear and lemon with a long finish laced with honey and caramel flavours. Very good.

GreenPoint Shiraz, Heathcote Victoria, 2006 this wine is laden with juicy purple berry and ripe cherry aromas with hints of prune and fruitcake with baking spices. It is supple and rich on the palate, the ripe berry fruit reappears with chocolate, espresso and warm spices and a long, smooth finish.

GreenPoint Reserve Shiraz, Yarra Valley, 2005 This is an intriguing Shiraz with opulent purple berry aromas with a savoury core of nutmeg, Szechwan peppercorns, smoke, espresso and earthy undertones. The palate is dense, smooth and features molten chocolate, mint and exotic spice and white pepper. The finish is lengthy and supple.

For more information on Domaine Chandon click here




Domaine Chandon in Yarra Valley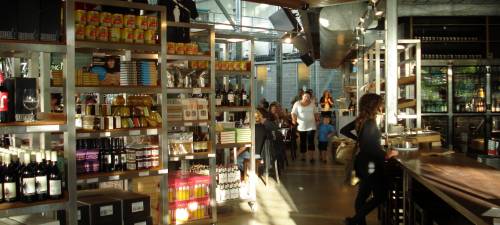 Innocent Bystander & Giant Steps an all in one winery, bistro cheese shop, tasting room, bakery...

On my last night in Australia I had a wonderful dinner with a group of small producers in Yarra Valley at a fun and funky winery/bistro in Healesville called Giant Steps & Innocent Bystander (it's like Disneyland for adults).
In typical casual Aussie style we ate family style and shared wines and stories.
Here are some of the impressive wines I tasted that night.

Punt Road Wines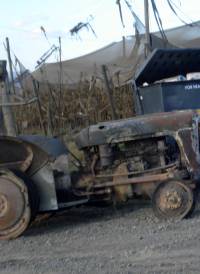 Punt Road is named after a historical road in Melbourne where vines were once planted in the 1800s. But the winery itself, located not far from Yarra Glen, an hour from Melbourne city is owned by the Napoleone's a family of long time fruit growers.
The Punt Road label was launched in 2001.
I had met Cameron MacKenzie from Punt Road Wines in Vancouver a year prior to my trip Down Under and was eager to catch up with him again on his own turf. Cameron picked me up at Balgownie Estate where I was staying and before dinner took me on a quick tour past Punt Road to show me how close he and his associate came to not escaping the recent fires.
The flames literally skimmed the side of the winery and burned down a shed and tractors (right) next to the tasting room. Cameron had gone back to check on the winery and on an associate and the next thing they knew they were trying to outrun it.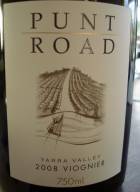 But a sign, that despite all the recent losses, Yarra was putting on a brave face and showing the world it was business as usual because there I was, only ten
days later and repairs were fully underway and clean up
was in full swing.
You may recognize Punt Road Wines tattooed label bottles
"Little Rebel" from our local wine shelves.

Punt Road Viognier, 2008 Luscious apricot, lime oil and lemon meringue with loads of mineral and beeswax aromas. Clean and zippy on the palate with an impressive backbone and assertive acidity. Very good.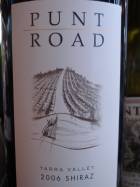 Punt Road Shiraz 2006 expect rich blackberry and lifted eucalypt aromas with secondary chocolate, blueberry and leather notes. The palate is sweetly ripe and juicy with purple summer berries, spiced chocolate and pepper lingering on the finish. Supple and delicious.

click here for more about Punt Road





Giant Steps & Innocent bystander
These two names are more than a winery, they are a bistro an artisan bakery, a cheese shop and tasting room (oh, and a new microbrewery next door now too) all in one. You can see the barrels and the winery behind a wall of glass as you dine. It's a fun, fantastic idea from the brain of owner Phil Sexton who wants wine and food to be fun and accessible.
Giant Steps the label was released in 2001, Innocent Bystander was released in 2004 and the fantastic gravity flow winery, bistro and all in one sensory experience (Disneyland for adults) was completed in 2006.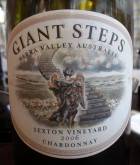 Bravo I say, I look forward to a return visit.
Giant Steps Chardonnay Sexton Vineyard, 2006 This Chardonnay was somewhat closed when I approached it - primary flinty/mineral notes, lemon butter with some warm leesy hints. The palate popped though tossing crème brulee, pineapple and melon onto my tongue with a creamy, buttery texture, hints of cashew nuts and a crisp citrus-zesty finish.

Giant Steps Pinot Noir Sexton Vineyard, 2006 Vibrant cherry and raspberry aromas, warm exotic spice, dark floral, forest floor and cedar chips. It has sweet and juicy berry fruit on the palate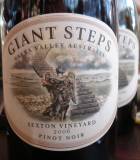 with a silky texture, a hint of herbs and leather and a bright finish
with cedar and fine spice flavours. Bright and delightful.

Giant Steps & Innocent Bystander is located in Healesville in Yarra Valley
Click here for more information



Seville Estate
Graham and Margaret Van Der Meulen purchased this small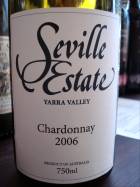 family owned estate in 2006. Graham's business card says
"owner" and Maragaret's card says "Director of Everything".
Seville Estate is located in Upper Yarra, (ironically if you look at a map it looks more like lower Yarra) but sits 200m above sea level. The Van Der Meulen's have about 20 acres of Chardonnay, Pinot Gris, Pinot Noir, Shiraz and Cabernet under vine and most of those vines are at least 35 years old.

Seville Estate Chardonnay, 2006 this Chardonnay is a lovely golden yellow with bright citrussy aromas, some matchstick, toast and mineral notes. The palate is smooth and presents ripe melon and pear flavours, honeycomb and fine spice with creamy/leesy hints and an impressively long finish.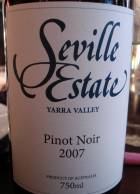 Seville Estate Pinot Noir, 2007 A sweet and savoury combination of aromas greet you- red cherry and red berry aromas, forest floor and leafy notes. The palate is softly rounded with delicate fruit and floral hints, bacon fat, cedar box and woodsy/mushroomy flavours followed by spice on the finish. Fantastic food wine.

Seville Estate Shiraz, 2006 is from a vineyard planted in 1972. It's a savoury, intriguing wine with saddle leather and plums, dark berries and bittersweet chocolate with smoked spices and plenty of pepper. The palate is smooth with molten chocolate and plum cake flavours, leather, espresso and a spiced cocoa finish.
click here for more on Seville Estate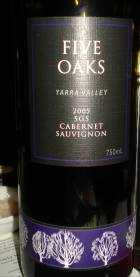 Five Oaks Judy and Wally Zuk purchased this small estate in 1995.
It is located just south of Seville Estate in Seville in Upper Yarra. It seems I am not the only one who is impressed with their efforts by the medals they are winning.


Five Oaks SGS Cabernet Sauvignon, 2005 Wally told me me the SGS stands for "Seriously Good Start" or perhaps it was "Seriously Good Stuff" by that time of the evening. But it is, in all seriousness a supple, intense wine with black currents, saddle leather and graphite aromas underscored by mint and chocolate notes. Powerful and elegant on the palate and although dense it has fantastic acidity and plenty of cassis and chocolate flavours
lingering.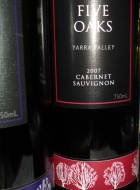 Five Oaks Cabernet Sauvignon, 2007 a mere babe still, having only been bottled a few months prior to my visit this wine is nonetheless fragrant. Crushed dark floral, cassis and black berries, sweet spices and mocha. Plush and ripe on the palate, again great acidity in this wine, plenty of spice and powdery tannins on the finish.

For more information on Five Oaks click here






winery owners and representatives from (left to right); Wally Zuk of Five Oaks, Giant Steps, Judy Zuk of Five Oaks, Phil Sexton of Giant Steps, Cameron MacKenzie of Punt Road Wines and Graham & Margaret Van Der Muelen of Seville Estate
Read about McLaren Vale
Read about Barossa Valley
Read about Clare Valley
Read about Adelaide Hills
Read about Hunter Valley, New South Wales
Read about Yarra Valley, Victoria