Articles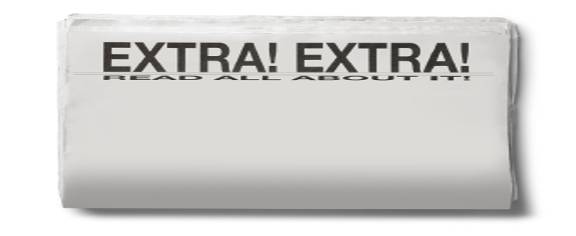 ---
Australia - New South Wales
Posted - May 19 2009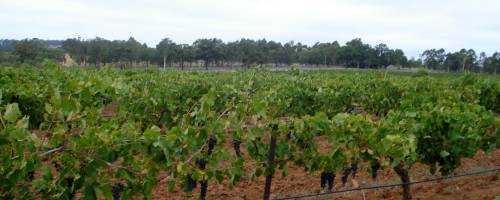 The Graveyard Vineyard in Hunter Valley NSW

Located in the southeastern portion of the great island continent of Australia and home to the stunning harbor city of Sydney, is New South Wales. However, NSW is not necessarily, foremost in consideration of international wine drinkers. Yet it's here that the first vines, brought to Australia were planted, in Sydney, and it's also here, just two hours drive north, the historic Hunter Valley lies.
Hunter Valley became a wine region based on its proximity to Sydney – not due to its perfect growing conditions. A flat valley in the Brokenback Range (the coastal mountain range) Hunter Valley is, without question a beautiful destination and is a favorite weekend destination of Sydneysiders. Ironically, this is traditionally a mining region. And, there is a fairly obvious disparity between the perceived prestige of the wine industry (and those who travel to wine regions to enjoy the finer things in life) and the understated blue-collar locals.
Although its one of the warmest (and most humid) wine regions in Australia the significant amount of rain it receives falls during the growing/harvesting season - sometimes causes dire repercussions. I arrived just after the Semillon had been harvested in early February. That night the rain started and didn't let up. I heard it was still raining almost a week later.
Brokenwood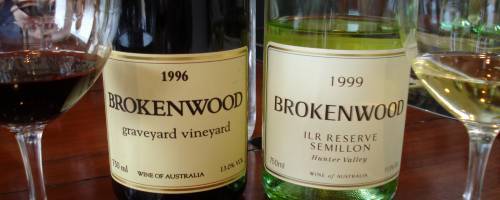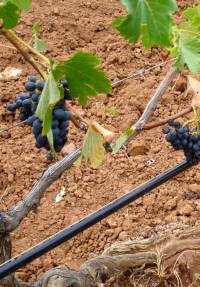 After being picked up by Brokenwood General Manager (and one of its 23 partners), Geoff Krieger in Sydney we drove north, into this verdant coastal range until we rolled into the town of Cessnock then continued north along Highway 82, also known as Wine Country Drive. By the time we passed the legendary Lovedale Vineyard there was no doubt we were in wine country as row upon row of vines painted the horizon. Turning onto Broke Road, then MacDonald Road we made a brief stop in the Graveyard Vineyard to taste the berries before taking the back way into my first Hunter Valley stop, the highly acclaimed Brokenwood winery.
A combination of dance and reggae music was pounding out of the winery where a handful of young, Blundstone shod, apprentice winemakers from around the world labored on the 2009 vintage. Semillon was fermenting in stainless steel tanks
and the presses were rolling out discarded Semillon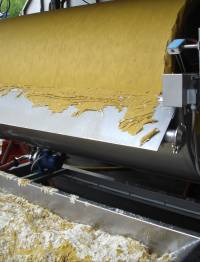 skins into golden sheets.
I sat down with Chief Winemaker Iain 'Riggsy" Riggs to taste a selection of what makes the Hunter Valley (and Brokenwood) famous – Semillon – plus a trio of Shirazes. Riggs is not only well-known but also very well respected winemaker and wine judge in Australia. He is also the successor to Len Evans as the Chairman of the Hunter Valley Wine Show and makes a mean Semillon. Working alongside Riggs is young Kiwi winemaker P.J. Charteris. P.J. seems to be the one who keeps an eye on the motley crew of winemaking trainees, he looks as though he could be one of them.
I spent the better part of morning with the Brokenwood team, until the lunch bell rang I sat down to a delicious, healthy, buffet-style lunch prepared by an in-house chef, specifically to feed the crew and
keep their energy levels up.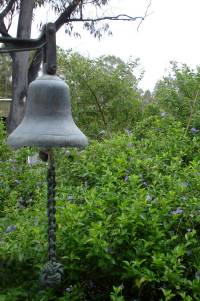 Even better were the bottles of wine, shared around this picnic table with lunch – a tasty glass of wine with lunch – very civilized.

Brokenwood wines can be found in some markets in Canada.

Brokenwood Semillon, Hunter Valley, 2008 has creamy sweet citrus and gooseberry with snap peas, minerals and herbal tones. Taut, snappy acidity with loads of lemon/lime and zesty flavours.

Brokenwood Semillon Oakey Creek Vineyard, Hunter Valley, 2004 has interesting toasty, honey and brown sugar notes with undertones of minerals. The palate has a lovely rounded texture with lime citrus and honey flavours and a crisp, clean finish.

Brokenwood Semillon Stanley Park, Hunter Valley, 2007 has gorgeous, bright fruit – apple and pear, passion fruit and honey with lovely floral tones.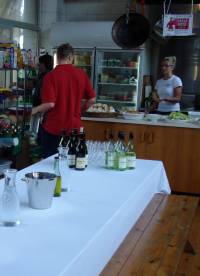 On the palate it's a gorgeous balance of crisp and creamy with flavours of citrus, honeycomb and figs. Delicious

Brokenwood Semillon ILR Reserve, Hunter Valley, 2003 ILR stands for its maker….Ian Lesley Riggs. The aromas are smoky, sweet – caramelized figs, vanilla praline. It has ripe creamy fruit, citrus peel and toasty flavours on the palate - very elegant.

Brokenwood Semillon ILR Reserve, Hunter Valley, 1999 shows aromas of asparagus and honey, roasted figs, and honeycomb. Smooth and creamy on the entry with flavours of brown butter and sage and a long citrus finish – clean and bright.

Brokenwood Shiraz Hunter Valley, 2007 shows briary fruit, blackberries, dark chocolate and leather with hints of dill and green olive. It's somewhat austere on the palate with fine dusty tannins throughout,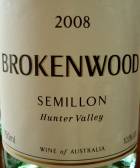 earthy, leathery hints and a dry finish.

Brokenwood Shiraz McLaren, Hunter, Beechworth, 2006 is primarily McLaren Vale fruit and presents sweet cherry, warm spice, crushed dark floral tones and hints of dried fruit. Great acidity on the palate with creamy plums, black cherries, dark chocolate shavings and fine, firm tannins.

Brokenwood Shiraz Graveyard Vineyard, Hunter Valley, 2006 is an elegant Shiraz from Brokenwood's darling, the Graveyard Vineyards next to the winery. This icon Shiraz shows primary cherry aromas followed with espresso and mixed berries.
The palate is smooth with harnessed power, spice tobacco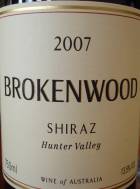 and leather. The tannins are ripe and the finish is bittersweet.


Brokenwood Shiraz Graveyard Vineyard, Hunter Valley, 1996 has youthful, bright berry/cherry aromas, leather and savoury/meaty tones with hints of celery salt. Like the 2006, old-world elegance is noticeable, complex with fine peppery spice and silky tannins.
for more information on Brokenwood click here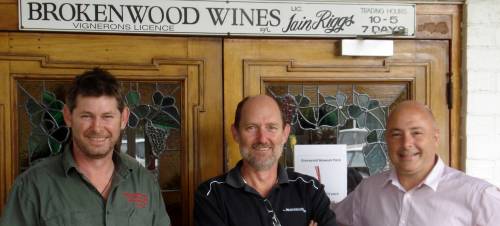 Brokenwood trio - winemaker P.J. Charteris, Chief winemaker Iain Riggs, partner Geoff Krieger

Hungerford Hill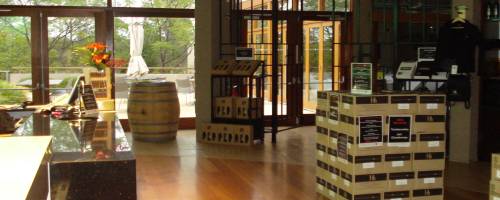 Hungerford Hill tasting room and cellar door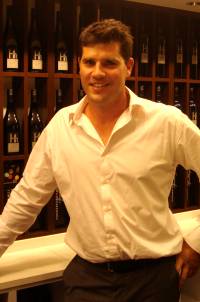 Hungerford Hill is a landmark building in the Hunter. An architectural winery across from the Lovedale Vineyard and the tiny Cessnock airport and just down the road from the Hunter Valley visitor's center it was one of the first buildings I saw when I drove into the region. Although Hungerford Hill was established in 1969, the current owner James Kirby had this new winery built in 2003, complete with a beautiful, modern restaurant and tasting room.
During my visit, the restaurant was under a change of chef and management so I was unable to dine there, but I look forward to returning and checking out the new, Muse.
Like Brokenwood, Hungerford Hill had already harvested Semillon. But unlike the controlled wildness at Brokenwood it was a quiet evening when I tasted the Semillon ferments with winemaker Michael Hatcher (right) at Hungerford Hill.
Hatcher gave me a tour of the winery before we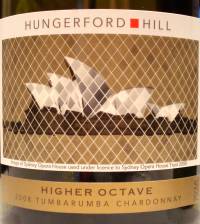 headed up to the tasting room. It was here that I discovered a region I had never (as with many outside of Australia) heard of - Tumbarumba. Although Hungerford Hill is a proudly Hunter Valley winery, like many in the region they source fruit from other wine regions around Australia. Hatcher has been enamored of the cool climate Tumbarumba fruit from his days back in Waga Waga, the oenology school in southern NSW. Although Tumbarumba is a newly recognized winegrowing region (vines were first planted three decades ago) its mountainous cool-climate terroir is creating a lot of interest.

*You can read more about this winegrowing region and other cool-climate Oz regions in my article in the July/August 2009 issue of Vines Magazine.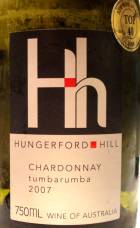 Hungerford Hill relies on the pristine fruit from Tumbarumba for some of its regional and icon series wines as well as grapes from South Australia - Adelaide Hills, Coonawarra and Barossa as well as New South Wales regions – Orange and Hilltops. But the wines you may recognize in Canada are the Fishcage Series wines.
A selection of Hungerford Hills wines are available in Canada, the Fishcage series are available in BCLDB stores.

Hungerford Hill Sauvignon Blanc, Tumbarumba, 2008 has very pretty, pleasing aromatics – orchard blossoms, white fruits and citrus. There is a kiss of sweetness on the palate and is fresh, easy drinking wine with a crisp finish.

Hungerford Hill Semillon, Hunter Valley, 2008 shows snappy white fruit, jalapeno and sweet citrus with hints of spring blossoms and cut grass. The palate is lovely and zingy fresh
with loads of citrus peel flavours.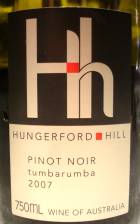 Hungerford Hill Chardonnay, Tumbarumba, 2007 although this Chardonnay sees oak, there is no malo-lactic fermentation and shows crisp white fruit, hints of caramel and warm spices with plenty of minerality showing through. Good oak balance.


Hungerford Hill "Higher Octave" Chardonnay, Tumbarumba, 2008 is superbly fresh with alluring, creamy caramel, sweet spices with loads of juicy fruit and citrus. It's elegant and complex and with a deft use of oak. Previously made from Adelaide Hills fruit Hatcher now sources the grapes for this wine from Tumbarumba.

Hungerford Hill Pinot Noir, Tumbarumba, 2007 there is good intensity of aromas here – bright cherry, cranberry and raspberry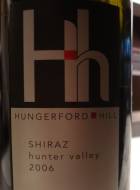 aromas, sweet spices and dark floral notes. The palate is silky it has very good structure with juicy red fruit, spice and cedar flavours, there are fine tannins on the finish.

Hungerford Hill Shiraz, Hunter Valley, 2006 There are plush, fragrant aromas of blueberry and cherry fruit with warm spice. The acidity is lovely and lifts the fruit, while the earthy, chocolate flavours anchor it, the tannins are fine and dry.
Very good.


Hungerford Hill Cabernet Sauvignon, Hilltops, 2006 – Hilltops is a region close to Tumbarumba in southern New South Wales.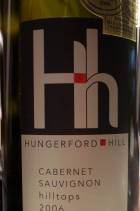 This particular vineyard is 600m above sea level. It features bright, cassis and hints of chocolate with lifted eucalypt/green olive aromas and just a touch of blueberry on the nose. The palate is sweet and ripe, supple and brimming with berry fruit – the tannins are fine and lingering, the finish dry.
Link to previous reviews Hungerford Hill:
Fishcage Chardonnay~Viognier 2006 here
Fishcage Shiraz~Viognier 2005 here
For more information on Hungerford Hill click here


McWilliam's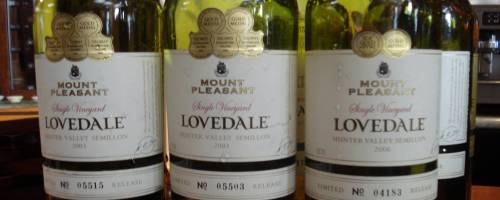 McWilliams is, without doubt one of Australia's most recognized names.
And, with 130 years behind them it's a well earned designation. McWilliams has vineyards all over Australia - in Hunter Valley, Riverina and Hilltops in NSW; Margaret River in Western Australia; Yarra Valley in Victoria and Coonawarra in South Australia. Hunter Valley's Mount Pleasant is of course the most important, here is where the venerable Lovedale Vineyard is located. Mount Pleasant is a lovely location on a grassy knoll on Marrowbone Road not far from the Lovedale Vineyard. Lovedale, planted in 1946 by celebrated winemaker Maurice O'Shea, is said to produce the best Semillon wines in Australia and possibly, the world.
But for the last 30 years the McWilliam's Mount Pleasant wines (including Lovedale) have fallen under the custody of Phil Ryan. (right)
McWilliam's Greg West toured me through the mostly Semilllon planted Lovedale Vineyard, we talked about its sandy, loam soils and history before heading back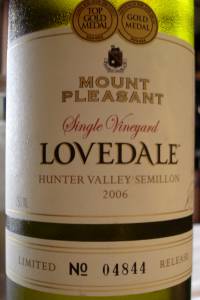 to Mount Pleasant to taste. In a twist of irony I missed Phil Ryan during my visit but met him two months later in Vancouver.
It was at both Brokenwood and Mount Pleasant I began to realize the iconic status of Semillon from Hunter Valley, and that they truly are wine-geek wines. These are wines that have such unique qualities, bracing acidity and tart, pristine aromas (often confused with Riesling or Sauvignon Blanc) when they are young and toasty, figgy, honeyed aromas as they age. And Semillons will last decades. These are wines that need to be cellared, thoughtful, revered wines those of us in Canada rarely see, and if we do, sadly, we don't really understand them.
The McWilliams Hanwood Estate and Mount Pleasant wines are available in select markets in Canada.
McWilliam's Mount Pleasant Lovedale Semillon, 2000 interesting cut grass and lemongrass, hints of spice and toast. A gorgeous texture, supple and weighty with grassy, citric and herbal flavours with a toasty, nutty linger.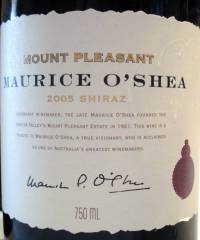 McWilliam's Mount Pleasant Lovedale Semillon, 2001 the aromas here are somewhat closed but suggest sweet honey, candle wax and citrus aromas. There are nutty flavours on the palate, a supple texture and tart, crisp finish.

McWilliam's Mount Pleasant Lovedale Semillon, 2003 The 2003 vintage is the current release of this wine. Its more earthy than the other vintages, smoke, toasty/nutty, honeycomb, some mushroomy/forest floor and citrus. Creamy, soft and nutty on the palate with citrus peel and honey flavours and a very long finish.

McWilliam's Mount Pleasant Lovedale Semillon, 2005 like 2006, 2005 was a hot vintage. The aromas here are surprisingly vibrant - loads of juicy green apple and lemon with grapefruit. A creamy, oily texture on the palate - loads of body.

McWilliam's Mount Pleasant Lovedale Semillon, 2006 shows 'oily' aromas, lime and citrus blossom aromas with figgy, honeyed tones and just a hint of toast. Crisp citric, gooseberry and mineral flavours. 2006 was a very hot year...

McWilliam's Mount Pleasant Lovedale Semillon, 2007 the aromas on the 2007 are very waxy, lemon zest and lime oil with exotic/tropical notes and snap peas. The palate is supple with loads of bright, tart citric flavours and grassy hints but it's still tight.

McWilliam's Mount Pleasant Lovedale Semillon, 2009 - gorgeous creamy aromas, candle wax and honey, floral tones with hints of cut grass. Tart on the palate, young and taut with lip-smacking acidity. This wine won't be released for several more years.

Mount Pleasant "Maurice O'Shea" Shiraz, 2005 combines sweet, dark fruit and spice, aromatic dried floral and cedar chips with earthy, savoury, smoked aromas. The palate is elegant, has gobs of spice, dense dark fruit and brooding power - potent with fine, grippy tannins. A wine that will leave an impression..

For more information on McWilliams click here

Wyndham Estate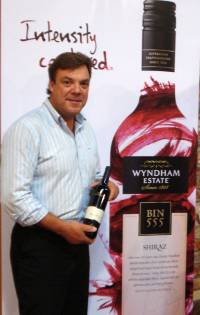 Although my positive experiences in Australia are to numerous to count, my visit to Wyndham introduced me to someone who left an amazing impression on me.
The rain, which had started the night prior, continued to fall and we were all wishing we could send it south to drench the fires still devastating Victoria.
A gentleman, by the name of Nigel Dolan picked me up to drive me to the northern tip of the Hunter, to Wyndham Estate. I didn't know Nigel's history before that day - he had only recently joined Wyndham and had flown up to the estate from his home in Barossa to check the status of the vintage. Dolan (right) had previously been the winemaker at Saltram in Barossa and had then become chief red winemaker for the Saltram owned Foster's Group. In fact, Dolan was the eight generation Dolan to make wine for Saltram, and a wine, named in his (and his Dolan predecessors) honor called "Eigth Maker" is (was) a tribute to that. (More on this in an upcoming story on Barossa).
Nigel and I sat down to taste a range of the Wyndham Estate wines, those made by the previous chief winemaker.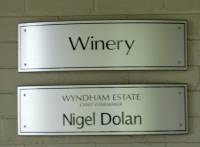 Little did either of us know, he going to be spending the day with me. As it turned out, he gave me a lift back to Sydney and we ended up not only on the same flight, but Nigel was gracious enough to take me into the Qantas Lounge with him while we waited for out flight to Adelaide. Brave man. But I was happy to spend the time with him and pick his brain about winemaking in Australia.
I truly look forward to meeting him again someday.

Wyndham Estate is sprawling estate set on lush, manicured grounds and was known as Dalwood wines from 1828 until 1970 when the name was changed to honor the man who started it all, George Wyndham. Wyndham, a wealthy Englishman was in Sydney when he heard about a property for sale. He walked ten days, to the Hunter Valley, intrigued by the news of the alluvial soil to plant vines. Wyndam built his home (this and the estate like much of NSW was built with conflict labour) in 1830. His first vine plantings died. Not one to give up, Wyndham replanted in 1832 and by the 1860s, had 65 acres of "Hunter Riesling" aka Semillon and Shiraz planted. The rest, as they say, is history...

Wyndham's presence is mostly recognized by their Bin series of wines but I did taste some of their premium wines, George Wyndham and top tier Black Cluster as well. They source grapes from around South Eastern Australia.
The Bin range sells for $12.50-$18 across Canada, The George Wyndham Range is approximately $20-$25.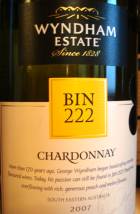 Wyndham Estate Bin 222 Chardonnay South Eastern Australia, 2007 has tropical fruit and rich spiced buttery tones - pineapple and melon. The palate is creamy and ripe but with a snappy citric finish.

Wyndham Estate Bin 333 Pinot Noir South Eastern Australia, 2007 cherry cola aromas with hints of earth and leather and crushed floral notes. Fine tannins on the palate, the flavours here are leaner than expected after the overt aromas but it has bright acidity.

Wyndham Estate Bin 444 Cabernet Sauvignon, South Eastern Australia, 2005 has aromas of currents and green peppers with smoke, bacon fat and earthy undertones. The palate is bright, quite juicy with red fruit, spice and cocoa, finishing with fine tannins.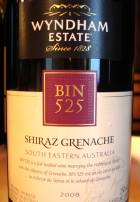 Wyndham Estate Bin 515 Shiraz~Viognier, South Eastern Australia, 2006 has sweet cherry 'lolly' aromas and allspice with just a hint of lavender. Bright berry fruit and lifted spice on the palate.

Wyndham Bin 555 Shiraz, South Eastern Australia, 2006 is the most popular wine in the Wyndham Estate portfolio. Aromas of blackberries and leather, spice, chocolate and meaty/savoury undertones. The palate is fleshy, the texture is soft and spice lingers.

George Wyndham Semillon~Sauvignon Blanc, South Eastern Australia, 2008 is 52% Semillon and had lovely candle wax and sweet honey aromas, tropical fruits, exotic citrus and vanilla,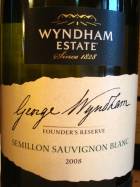 tart kiwi and snap peas. The palate is concentrated with grassy, figgy flavours, snappy acidity and lingering flavours of lemon peel.

George Wyndham Shiraz~Grenache Mclaren Vale/Barossa Valley, 2006 has gorgeous mixed berries, licorice and allspice, lifted eucalyptus and blueberry tones. The palate is supple, the texture creamy, its loaded with berries and spiced chocolate with fine dusty tannins on the finish.

George Wyndham Shiraz~Cabernet, Limestone Coast, 2006 bright cassis, menthol, chocolate and forest berry aromas. The minty/eucalypt returns on the palate layered with pepper and chocolate.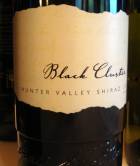 Wyndham Estate Black Cluster Shiraz Hunter Valley, 2006 this wine has terroir written all over it - plush dark berries, hints of red cherry and plum, espresso, chocolate, savoury hints of bacon fat and mint. The palate is supple and dense, the minerality pops here - slightly saline - it is focused and elegant with dusty tannins on the finish.
For more information on Wyndham Estate click here
Riverina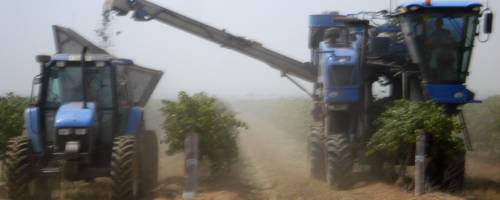 harvesting Merlot in the heat of February on a 500 acre vineyard
Knowing little about Riverina, except that it produces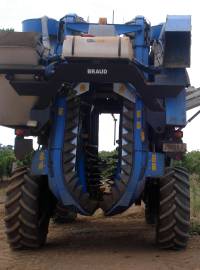 an enormous amount of juice consumed around the world, I was excited to hop onto a small commuter plane and fly over an hour into the outback. Heading west , out of Sydney, over the blue-green of the Blue Mountains (part of the Great Dividing Range which runs from the northern tip of Queensland to Victoria in the south) across kilometers of desert, out of nowhere appeared a greenbelt swaths of water.
My day was to be spent at the home of the Aussie wine phenom - Yellow Tail. As we circled toward the tiny Griffith Airport I noticed the tanks - large white tanks standing like soldiers in the mid-day sun, I'd seen rows of tanks like that before, at the giant, Gallo in Sonoma, so I was pretty sure we had arrived in Riverina - also known as the "engine room" of Australian wine production. From Griffith we drove to Yenda, home of the Casella family and of Yellow Tail wines, who also happen to be the largest employer in that small town.
Yellow Tail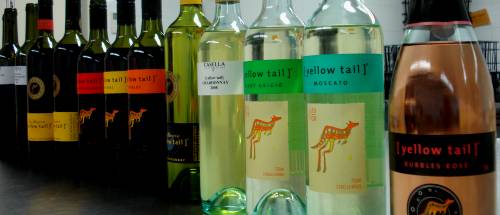 Yellow Tail is a wine geeks nightmare. It dumbs down wine, they wail, it's the cola of wine they moan and turn up their nose, and the favorite...those wines show no sense of place, no terroir....
Perhaps.
I will admit, one hundred 1.1million liter tanks are enough to scare any wine lover, or intrigue them as it did me. How does an Italian family, who settled in the Riverina agriculture belt, in the middle of New South Wales in the early sixties, go from making small amounts of wine, loading it into barrels and traveling weeks per year to Queensland to sell it, end up with the phenomenon of Yellow Tail? Timing, marketing, hard work and quality for the price... John Casella says. John would often make the trip to Queensland with his father, sleeping in the car and bathing in the rivers on their trek north to sell their wines.
He has not forgotten those days and as a tribute, smack in the middle of the Yellow Tail factory/winery is the original house he grew up in. It's somewhat dilapidated and tiny but its a tribute to where the Casella's came from.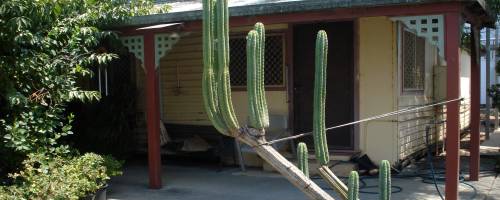 The Casella house still stands, alongside the original winery in the midst of the massive compound

It's hard to believe that YT was started less than a decade ago, it grew so rapidly. The name and it's recognizable wallaby launched the "critter" phase in wine labeling. Yellow Tail is what it is, an alcoholic beverage made from grapes. It's affordable, unpretentious and the packaging is happy. That is not a crime. But from my own perspective, traveling around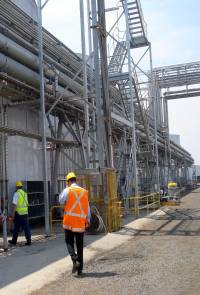 Australia and meeting winemakers and owners from large wineries and small, there is a time for everything and a wine for everyone. Most people will graduate from YT wines as their palate becomes more sensitive, as they become more curious and want to learn more about wine. And trends also change more rapidly than ever before. What goes up must come down. I found the stress among large Australian producers was palpable. Australia can no longer rest on its laurels and reap the benefit of juicy, fruity Shiraz, not when there are new kids ready to knock them off their block and new flavours for consumers to quaff. The big guys like YT realize this, sales are no longer what they were at their peak. But, in order to keep us interested, they continue to developed new products. Products like the [yellow tail] bubbles and the newer yet, [yellow tail] bubbles rose as well as a new candied sweetie, [yellow tail] Moscato that I tasted in Yenda and of course their [yellow tail] Reserve range of more substantial, premium wines.

I arrived in Australia at the tail end of the February heat wave, at the same time the fires were burning in the south, in Victoria. And, standing at the edge of a 500 acre vineyard watching half-baked Merlot grapes being machine harvested, I watched the smoke weave its way, from over a thousand kilometers away, across the Riverina sky. It was a hot, windy day, dust coated everything, the harvesters were running non-stop to get fruit in before more heat damage could occur. This was just one vineyard, of 650 growers (from around South Eastern Australia) Yellow Tail buys grapes from, if that puts it in perspective.
If not, 2008s production was 15 million cases...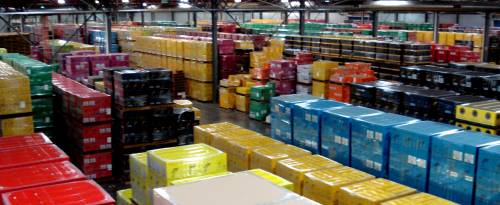 the warehouse in Yenda NSW at Casella Wines - filled with [yellow tail]
Some recent Yellow Tail reviews on WineDiva.ca

[yellow tail] bubbles
[yellow tail] bubbles rose
[yellow tail] pinot grigio
[yellow tail] shiraz~cabernet
[yellow tail] the Reserve Shiraz
Read about McLaren Vale
Read about Barossa Valley
Read about Clare Valley
Read about Adelaide Hills
Read about Hunter Valley, New South Wales
Read about Yarra Valley, Victoria
- end -