Articles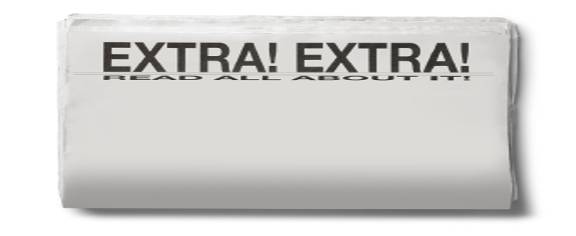 ---
Napa Valley
posted April 6 2009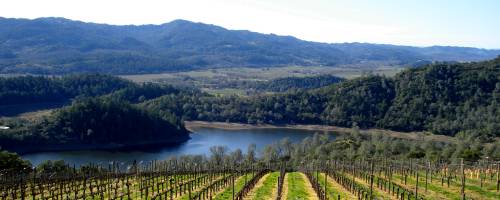 View from the high up Viader winery just south of Howell Mountain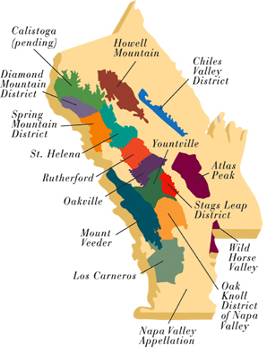 One would expect the Napa Valley to be about ten times its size based on its perception of producing powerful Cabernets, world-wide. Even the word Napa conjures power.
But it's not large – as you fly down the Silverado Trail or Hwy 29 – one stunning property after another (names well-known) are signed by the road. Some of these properties are jaw-dropping, architectural pieces of functional art while others are low key farmhouses. Driving through Napa is like walking down Hollywood's walk of Fame and pointing out one famous name after another, "Look there's Rubicon Estate and Cakebread and Robert Mondavi...and look there's Opus One and Far Niente..." and so on and so on...
When I say Napa is small, I mean small....Hemmed in on both sides by mountains, it's a mere 30 miles in length and is only five miles wide at it largest point. The Napa River runs through the center of this maritime climate region, its semi-fertile soils support the vineyards that are very much part of this regions history and future. Within the Napa Valley AVA there are 14 sub-appellations consisting of; Atlas Peak, Chiles Valley District, Diamond Mountain District, Howell Mountain, Los Carneros, Mt. Veeder, Oakville, Rutherford, St. Helena, Spring Mountain District, Stag's Leap District, Yountville, Wild Horse Valley and Oak Knoll. The pending Calistoga AVA will make it 15 in total.

I came across the Maycamas Mountains from Sonoma, into the upper western portion of Napa – into Calistoga and then headed down Hwy 29, skipped to the parallel Silverado Trail and down to Cliff Lede in the Stag's Leap District. It was just another sunny, warm January day, one in a series that was making California winemakers nervous. The diurnal temperatures swung between very low single digits at night and into the mid-twenties during the day the week I visited. Despite the warm, welcoming sunshine – no one in Napa or Sonoma wanted it to continue. Rain and cooler temperatures was badly needed to prevent early bud break. Some vineyards were already showing signs of early bud break – and January is a couple months too early. The repercussions from a spring cold snap and possible frost could be devastating.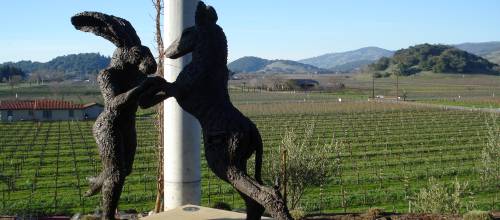 Cliff Lede the winery with art gallery and sculptures looking over the Napa vineyards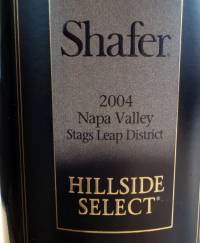 At Cliff Lede a fine line-up of big, gorgeous Napa Cabs awaited. Doug Shafer from Shafer Vineyards, Delia Viader from Viader and Bill Dyer from Dyer Vineyards poured a stunning lineup of wines – some were 100% Cabernet and the remainder contained small amounts of other varietals. Afterward, heading down the road into the Lede art gallery, I was able to taste wines from a number of Napa producers; Heitz and Hendry, Joseph Phelps, Hooper Creek and Lail, Kenwood and Signorello and a few from producers I had never heard of like Rocca Family Vineyards and Robert Craig.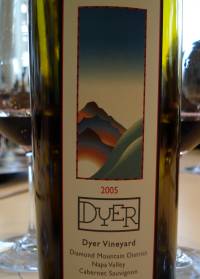 Shafer Hillside Select, Napa Valley, 2004 is a gorgeous sweet red & black currents, allspice, rich earthy and ripe. Supple on the palate, ripe and creamy chocolate, warm spices, powerful but with great acidity and fine tannins.
approx $215

Dyer Vineyard Calistoga Hillside Cabernet Sauvignon, 2005 is oozing sweet, ripe blueberry and raspberry aromas. It has loads of bright fruit on the palate, spice and tobacco with grippy, dusty tannins and more blueberry lingering on the finish.
about $75


Viader, Napa Valley, 2004 is Cabernet Sauvignon
with 40% Cabernet Franc.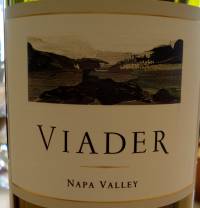 The aromas are bright red berry, loads of fragrant
floral notes, warm spices, savoury hints and cedar.
Plush on the palate with lots of spice and juicy berry fruit, chocolate and fine tannins.
about $85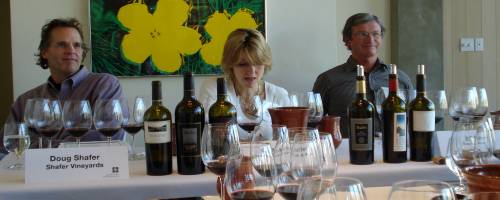 Doug Shafer- Schafer, Delia Viader - Viader, Bill Dyer - Dyer Vineyards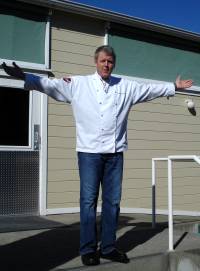 Winning the award for "most fun" was to Trinchero in the St Helena AVA. It's a family owned winery that, like many in California was built on handshakes.

Trinchero purchased Folie a Deux/Napa Cellars in Oakville several years ago and that is where they are currently building their new winery and visitors center complete with state-of -the-art kitchen specifically to feature wine and food pairing events and classes.
Under the Trinchero umbrella are about 20 different labels including; Napa Cellars, Folie a Deux, Terra d'Oro, Menage a Trois, the Show, Sutter Home and the Bandit wines in California as well as Angoves in Australia.

The fun came when we met Trinchero celebrity Chef and Culinary Director - Jeffrey Star (right) who led us through a sensory tasting with a sugar coated apple, a lemon and salt. We tasted each with a white
Zinfandel, a Sauvignon Blanc and a Cabernet to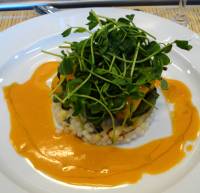 judge the reactions of each food on each wine - the results vary somewhat depending on the individual but the white zin certainly fared better with both the sweet apple and the lemon. The Cabernet suffered the least with a pinch of
salt/lemon and sweet fruit.

My favorite pairing was when Jeffery poured us a glass of the Trinchero Family Riesling from Monterey. The floral, tropical citrus and apricot fruit, slightly off-dry was perfect paired with a fresh, spicy dish of Napa Cabbage slaw.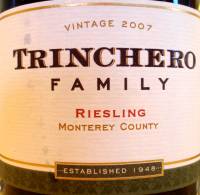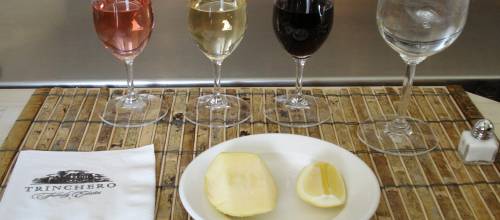 a sensory tasting, three wines with sweet, sour and salty flavours...
Breaking Bread at Cakebread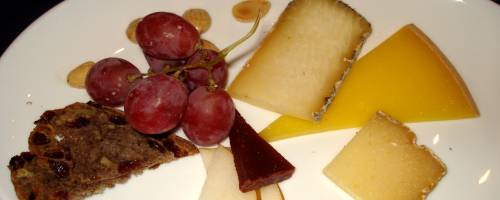 Cheese plate at Cakebread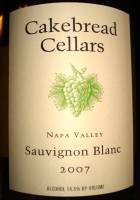 Always, some of the highlights of my travels include sitting down to break bread, to relax and talk to wine producers while I see what local cuisine they pair with their wines.
During my trip to Napa, one of those was a visit to Cakebread Cellars in Rutherford.
Dennis Cakebread, Margaret Duckhorn and representatives from Spelletich Cellars Laird Family Estate , Silverado Vineyards and the very historic Martin Estate Winery joined us for a delicious Cakebread dinner.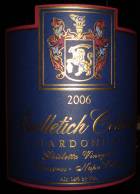 We started with the Cakebread Napa Valley Sauvignon
Blanc 2007, a ripe aromatic style with a touch of Sauvignon
Musque added in and the Silverado Vineyards Sauvignon
Blanc 2007 with its sweet peachy and melon aromas,
loads of citrus and crisp grapefruit and minerality on the
palate |with spiced hints.

Over the course of that evening I tasted a number of wines paired with dinner like the
Spelletich Carneros Chardonnay, 2006 a buttery but fresh, lees-stirred style with loads of spice, tropical fruit and butterscotch. The Laird Mast Ranch Cabernet Sauvignon,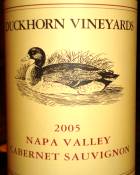 2005 presented smoke, bright raspberry and cherry, leather and minerals aromas - the palate, a silky texture and sweet fruit flavours with integrated tannins.

The Silverado Vineyards Cabernet Sauvignon, 2005
is a brawny Cabernet with rich dark fruit, cedar, and earth.
The red fruit appears on the palate with a hint of green beans
and sweet spice lingers on the finish.

As Margaret says, her Duckhorn Howell Mountain Red, 2004, made of Merlot, Cabernet and Petit Verdot is
the very best blend they can make from Howell Mountain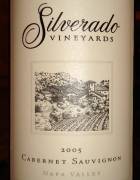 fruit. It's delicious, sweet blend with laden with ripe berries, mocha and spice.

Cakebread's 200 acre Dancing Bear Ranch on Howell
Mountain sits above the fog line between 1200-1900 feet
and holds 30 acres of vineyards.
The Cakebread Dancing Bear Ranch, 2005
has unique, terroir-driven aromas of, smoke
and herbs, rooibos tea and chocolate. Bright berry fruit
leads the palate with chocolate, hazelnut and hints
of bacon fat.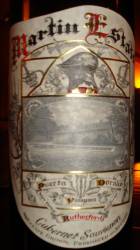 Martin Estate, an estate built by Napa County Sheriff Henry H. Harris in 1887 was first named the H.H.Harris Wine Cellar. The name Martin Estate came into play in 1996 when Greg Martin and his wife Petra purchased it. I tasted two wines from Martin Estate including the Bacchanal, 2005
made from Cabernet and 5% Merlot. Earthy and dark,
this wine showed fresh berries, cedar and spice with
plenty of dill, green olive and jalapeno on the nose and on the palate.
The Martin Estate Collector's Reserve Cabernet Sauvignon, 2004 a powerful yet plush Cabernet presented high-tone fruit, coffee and chocolate with jalapeno.

The "H's"
Hess, Honig and Hendry
Showing the diversity of Napa Valley, three of my favourite experiences begin with "H".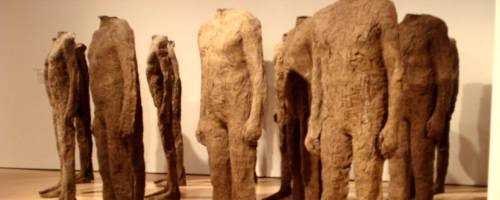 The Hess Gallery in Napa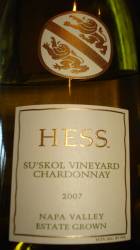 The Hess Collection Winery is one stunning piece of uber-wealthy Swiss businessman and art collector Donald Hess' empire. Hess also owns Peter Lehmann (which I visited in February 2009) in Barossa, Australia and Glen Carlou (which I visited in September) in Paarl, South Africa as well as Colomi in Argentina.
High up on the southwestern Napa AVA of Mt. Veeder a stunning winery, art gallery and visitors center sits. This estate is tribute to Napa Valley, to wine and art and Hess believes firmly in sustainable winemaking and being a responsible citizen of the earth.
He's been practicing (without preaching) for over thirty years. Cover crops, dry farming, 600 acres of wildlife dedicated land, energy conservation, natural cork, unbleached paper and cardboard and a commitment to only working with other 'green'
producers are only some of the positive things Hess practices.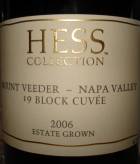 The Hess Collection Napa Valley Chardonnay Su'Skol, 2007 has bright citrus, pear and sweet vanilla aromas. On the palate it's buttery - creamy honey, pear, vanilla and light spice flavours.

The Hess Collection 19 Block Cuvee, Mount Veeder, 2005 showed chocolate, sweet spices, vanilla and blackbrries. The spice, chocolate and creamy berry fruit return on the palate - its supple with fine tannins. A blend of Cabernet Sauvignon, Malbec, Syrah, Merlot, Petit Verdot and Cabernet Franc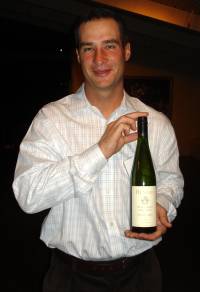 In a completely different vein, Hendry, located below the Mount Veeder AVA is a small family winery - a winery built by Napa farmers. In 1939 George Whiting Hendry and his wife Margaret purchased the ranch. An Agronomy professor, Hendry like the convenient location of the property which was home to plum trees and six acres of vineyard.
His son expanded the vineyards in the 1970s recognizing their importance and the Hendry ranch began supplying grapes to other California wineries like Mondavi and Rosenblum. It wasn't until 1992 when the Hendry's held back enough Zinfandel to produce their own wine under their own label - released in 1995. Some Zinfandel still goes to Rosenblum but most of it remains in the Hendry Winery which was built in 2000.
I sat with Mike Hendry, the third generation Hendry, during a dinner at the Mondavi Estate where I was able to taste some of the wines he produces - many of which are sold in Vancouver at Marquis Wine Cellars.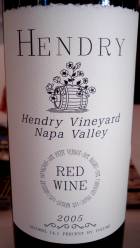 The Hendry Vineyard Napa Valley Red, 2005 is a blend of Petit Verdot, Malbec, Cabernet Sauvignon, Cabernet Franc and Merlot. Its a wine with ripe black berries and cherries, mint and leather with smoky, meaty undertones. The palate is juicy and smoothly textured with firm but ripe tannins.


The Hendry Vineyard 'Block 13 Merlot', 2005 comes from Hendry's single acre of Merlot, Mike explained the one barrel was made for their wine club members. A powerful, masculine Merlot with chocolate, mint, leather, smoke, red cherry and dark plums. The palate is supple with excellent extraction and intensity coffee and fruit flavours, good acidity and mouth-filling tannins.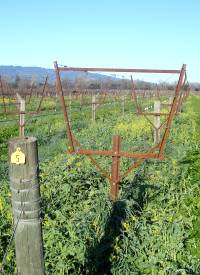 Honig is a small estate smack in the middle of Napa, in Rutherford, with a very quaint tasting room and visitors center. Here, in the Honig vineyard, I learned how to prune. Clippers in hand, on a very warm January day I proceeded to chop my way through a couple of lyre-trained (aka Geneva Double Curtain) vines alongside my group of other newly tutored journalists.
Honig Vineyard & Winery is home to a group of enthusiastic, fun loving folks (a visit to their website will prove it) they consider themselves more than a family, but an extended family who truly seem to love what they do. Honig means 'honey' in German which is a telling when part of their sustainable practices includes bee hives. I have learned in my travels around the world, how important bees, butterflies and other beneficial insects are to a healthy ecosystem.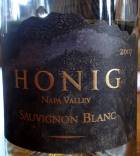 I loved their Sauvignon Blancs - the 2007 Honig Napa Valley Sauvignon Blanc has oodles of exotic citric aromas with honey and melon aromas - fresh, with rounded acidity on the palate with honey and grapefruit lingering on the finish.

The Honig Rutherford Sauvignon Blanc 2007 presented creamed honey, lemon drops, and hints of spiced butter from malolactic fermentation and oak contact. The palate is creamy and silky, spiced with butterscotch flavours.

Honig also makes a Late Harvest Sauvignon Blanc, the 2007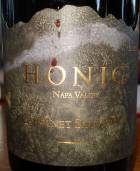 shows ripe apricot, honey and sweet herbal aromas.
It's sweet and unctuous on the palate.

The Honig Napa Valley Cabernet Sauvignon, 2006 has aromas of ripe dark fruit - berries and plums, chocolate, herbs, spice and red bell pepper. Fine tannins throughout on the palate linger through the finish with hints of dried cherry and cocoa flavours.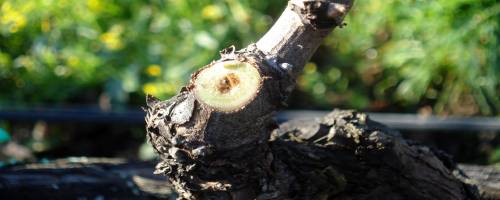 Wine Diva makes the cut at Honig in Rutherford - two buds per spur must remain
Lunch on the mountaintop - Barnett Vineyards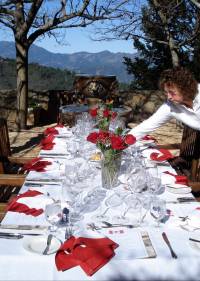 ...without a doubt, along the way when you travel one place sticks out - somewhere you want to stay and wish you could but your itinerary is set in stone. Barnett Vineyards is where I would have lingered....

Perched at 2000 feet above the Napa Valley Floor on Spring Mountain sits Barnett. The terraced, mountainside vines roll along the contours of the ridge - just one aspect of the awesome vista you witness from this stunning location. After a quick tour through the cellar and a few photo-ops we sat down with our gracious host Fiona Barnett for a fresh lunch alfresco on the patio.
Fiona and Hal Barnett purchased 40 acres of untamed mountain top back in 1983, cleared it and planted 6000 vines the following year. Sitting here, high above the fog line allows up to three hours of additional sunshine per day for the vines to soak up. But Barnett makes wines from both Napa and Sonoma -
wines I was able to taste that day with lunch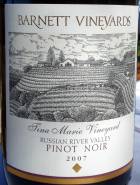 Spring Mountain became an AVA in 1993 and is home to
vineyards situated between 400-2600 feet above sea level.


Barnett Pinot Noir Tina Marie Vineyard, Russian River Valley Sonoma, 2007 seduces with its blueberry, raspberry, smoke and crushed floral aromas. The palate is sweet, warm and laden with berries - delicious.


The Barnett Pinot Noir Viento Valle Vineyard, Anderson Valley Mendocino, 2007 is very different from the Russian River Valley
Pinot. Juicy red cherries, more tart fruit, allspice and cedar that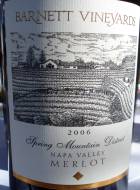 follows through on the palate with hints of blueberry flavours.


The Barnett Merlot, Spring Mountain District Napa Valley, 2006 showed sweet cherry, espresso, berry liqueur and crushed flowers. Powerful, fruit driven and spiced on the palate - excellent structure and acidity with fine, lingering tannins.



terraced, contoured vineyards at Barnett on Spring Mountain and a massive gnarled vine

More to come - stay tuned.