Articles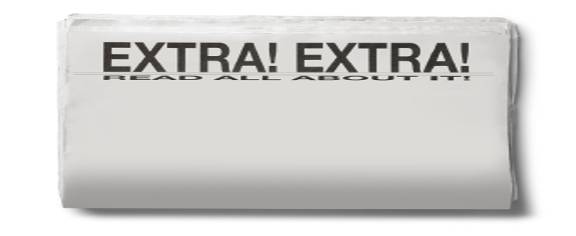 ---
Australia - McLaren Vale
posted June 2 2009



Adelaide city

After the rain in Hunter and the dust in Riverina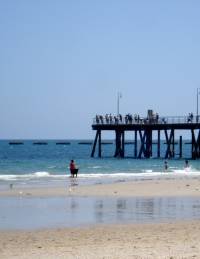 I flew from Sydney in New South Wales to the city of Adelaide. In contrast to the stunning harbours, undulating coastline and architecture of Sydney, Adelaide is flat, a long, coastal city in the southeast corner of the state of South Australia, above McLaren Vale and the Fleurieu Peninsula. But it also has Barossa, McLaren and Clare Valleys nearby, as well as Adelaide Hills. The city is protected by the Gulf St.Vincent and is the fifth largest in Australia with a little over one million people. It is known as the city of festivals - music, arts, sports and wine - in fact the South Australian vehicle license plates say, SA - The Festival State. Of course those in South Australia will also be quick to tell you that they are the only free settled British state in Oz. Adelaide was built in 1836 as the capital city of this south-central state, its city center is easy to pinpoint, designed in a square mile grid and surrounded on four sides by parks (or terraces), although those original parameters have
long since been breached by Adelaide's growth.
I had a day of freedom to browse around, so and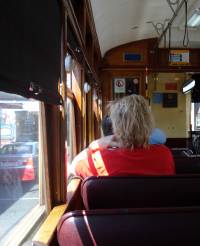 I hopped onto a streetcar right outside of my hotel and took the half hour trolley ride to the gorgeous white sand at Glenelg beach (above right). Later I sampled a number of recommended Thai dishes during a trip down the well-known Gouger Street. But of course, my first stop was to Adelaide's neighbor, McLaren Vale.
Just south of Adelaide on the Fleurieu Peninsula, McLaren Vale was established only two years after the city of Adelaide, when settlers John Reynell and Thomas Hardy planted South Australia' first vines.
By 1850 both the Hardy and Seaview wineries were in full operation and producing wine for consumers.
It is not a large region, there are only around 75 cellar doors in McLaren Vale, but its a quaint region making damn good wine. The Vale prides itself on it's environmental sustainability, in 2007 they developed an Environmental Management Plan as a way of setting goals to diminish their footprint - as a whole. And as a side, McLaren Vale produces a substantial amount of excellent olive oil.
Wineries below: Wirra Wirra, Chateau Reynella, d'Arenberg, Gemtree, Coriole and Shingleback, Kangarilla Road and Penfolds Magill Estate...

Chateau Reynella and Hardy's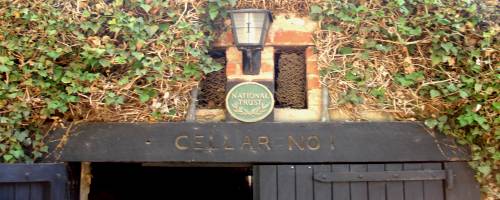 Chateau Reynella in McLaren Vale - historic estate Cellar No 1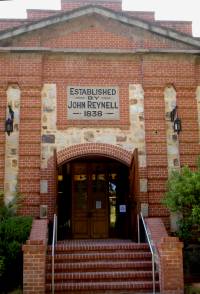 My was my first stop in McLaren Vale was at Constellation's historic Chateau Reynella on the edge of McLaren Vale. Alix Hardy (daughter of Bill, ancestor to the same Hardy's who planted vines in McLaren Vale alongside John Reynell in 1838) picked me up in Adelaide and drove me to Chateau Reynella where she also works. Thomas Hardy & Sons (aka Hardy's) purchased the estate and restored the old winery in 1982. Of course later, in 2003 Hardy's was acquired by the international beverage giant, Constellation. If you are familiar with the wine industry you will have either heard of, or met, Bill Hardy. Despite ownership change, Bill remains the Hardy Wine Company's corporate oenologist and travels the world spreading the Hardy word. They are lucky to have him, he's not only a endless source of information and a direct descendant of Aussie wine history but an ambassador of Australian wines and an utterly charming man.

I tasted a number of wines from Hardy's, Barossa Valley Estate
and Tintara from McLaren Vale.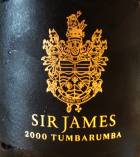 Hardy's Sir James Sparkling Brut, Tumbarumba, 2000 is a stunning example of what Tumbarumba can do. Hardy's, McWilliams and Hungerford Hill pull most of the fruit from this new cool-climate mountainous region and the Chardonnay and Pinot Noir that makes up this tasty traditional bubbly has seductive aromas of peaches, honey and brulee and berries, loads of leesy aromas and flavours and a smooth, creamy mouth-feel. It has a kiss of sweetness and extended crisp finish.

Hardy's, The Gamble' South Australia, 2008 is part of the "Chronicals" series and is a blend of Pinot Gris (40%) and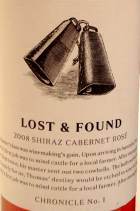 Chardonnay (60%). It's a great patio-style quaffer with fruit-cup aromas of sweet pear and white blossoms with hints of peach. On the palate its creamy and ripe with plenty of bright citrus to crisp it up.

HDB is a Hardy's label that has been revived from 25 years ago. It's a premium selection of wines, sourced from regions all around Australia. HDB stands for Hardy's Reserve Bin.

Hardy's HDB D639 Riesling Clare Valley & Tasmania, 2008 shows off the pretty stone fruit and lime aromas of Clare and the lifted notes of cool-climate Tasmania. Tart, taut and tasty!

Hardy's HDB D638 Chardonnay, Adelaide Hills & Margaret River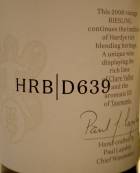 2007 has aromas of sweet brown butter and caramel, smoked, grilled pineapple and melon. It is smooth and creamy on the palate, laden with sweet spices, citrus and vanilla with minerals and a snappy finish. Very good.

Hardy's HDB D636 Cabernet Sauvignon, Coonawarra & Margaret River, 2006 has plenty of complexity. Aromas of garrigue (savoury herbs) and mixed berry fruit, espresso and mint, spice and a suggestion of bacon fat. The palate is fresh on the entry, it's slightly brooding with restrained power, it's earthy and spice with grippy tannins on the tannins.

Hardy's Eileen Hardy Chardonnay, 2006 is a stunning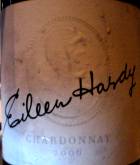 Chardonnay, creamy, leesy, buttery and toasty with ripe tropical and crisp citric fruits and honey roasted nuts. Elegant on the palate, the flavours are minerals, fine spices, honeycomb and citrus with an extended finish.

Tintara Single Vineyard Shirazes showed of the diversity of terroir in McLaren Vale. There is nothing more fun (and educational) than to taste a number of wines, same winemaker, same region and the same vintage grown in differing terroirs like the following trio.

Tintara Upper Tintara Shiraz, McLaren Vale, 2004
comes from Shiraz vines grown in loamy, clay soils with some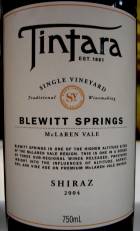 gravel. This wine is the most reserved of the three - least expressive possibly...Fine aromas, cherries, cocoa, loads of minerality and finally mixed berries. The palate is also quite fine grained but supple and sweet with smooht spiced chocolate and pepper linger...

Tintara Blewitt Springs Shiraz, McLaren Vale, 2004 was my favorite of the three sub-regional Shirazes, this one hailing from sandy, limestone soils. Elegant, sweet summer berry fruit - raspberry and blueberry, sweet spices and meaty smoky hints with plenty of pepper and crushed violets. Supple with lifted minty flavours,with loads of berry followed by, spiced chocolate espresso and more minty freshness on the finish - surprisingly powerful, it'll sneak up on you and stick with you. Blewitt Springs is only one kilometer from Upper Tintara.

Tintara McLaren Flat Shiraz, McLaren Vale, 2004 from the valley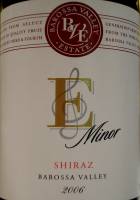 floor, the alluvial soils show in the wine. The aromas are juicy
purple and ripe red fruits, sweet, addictive dark aromas of sun ripenend berries, crushed dark flowers and chocolate. The palate is fine grained, supple and fresh with both power and balanced acidity.

The famous Barossa Valley Estate (BVE) wines made by the incorrigible Stuart Bourne who is responsible for the BVE cult wine E&E Black Pepper Shiraz.

Barossa Valley Estate E Minor Shiraz, 2006 is a fairly easy wine to find at about $20 in BC Liquor Stores and $18 in Ontario. Its a plush wine made from 40-50 year old vines. The aromas are smoked black fruits, leather and forest floor, dark and earthy and slightly meaty. The palate is smooth, juicy and very masculine
- dark fruit, spice, leather and loads of pepper with fine tannins.

d'Arenberg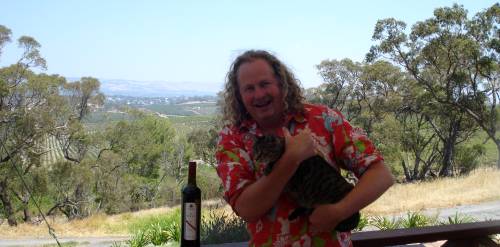 Chester d'Arenberg Osborn on the patio at d'Arenberg's "d'Arry's Verandah" winery restaurant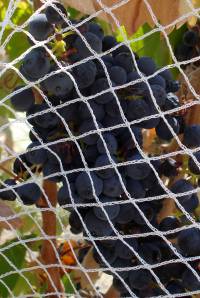 "The art of being different..." The motto of McLaren Vale's consistently quirky winery is bang on. D'Arenberg is a wonderful mishmash of serious wine and caricatures, modern technology and a graveyard of antiquated winemaking equipment. Their relaxed atmosphere is the essence of McLaren Vale - casual lifestyle and a firm commitment to making great wine.
D'Arry (Francis d'Arenberg) Osborn was born on the estate in 1926, fourteen years after his father (also Francis or "Frank") and his grandfather purchased the 64 hectares in McLaren Vale, which included 22.5 hectares of vines planted in the 1890s. Prior to the winery being built in 1927 the family sold their grapes until deciding to produce their own wines in 1928.
The name d'Arenberg is actually Francis' (d'Arry's) mothers maiden name and in 1959 upon planning a new label, the name d'Arenberg and its recognizable bold red stripe were born.
right: old bush vine Grenache protected from birds

D'Arry's two children Chester and Jaqueline have since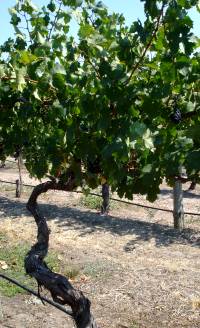 taken the reins, and in 1996 Chester renovated the estate and included a wonderful restaurant called d'Arry's Verandah attached to the cellar door. I was fortunate to tour the winery and then sit down for lunch on the patio at d'Arenberg in Chester's company. Enjoying a delicious lunch on a gorgeous, clear day from our hilltop position the d'Arenberg vineyards and McLaren Vale valley was a feast for the all of my senses.
I highly recommend you stop there if you are ever in the Vale - and come hungry....It's a healthy menu but one with far too many tasty options.

D'Arenberg has a dizzying assortment of wines. Some hail from the stunning, gnarled Grenache and Mourvedre bush vines, others from younger (the past decade or so) Viognier, Marsanne, Rousanne and Tempranillo. right: The Dead Arm vineyard

d'Arenberg 'The Stump Jump' Riesling, 2008 this series, also known as the "stumpies" in typical Aussie vernacular
are good value entry level wines.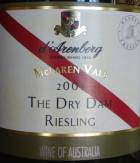 The Riesling has sweet peachy
and exotic citrus notes. It's dry with plenty of minerality, bright acidity and stone fruit flavours lingering on the finish.

d'Arenberg 'The Dry Dam' Riesling, 2008 has taut Riesling aromas, tangy lime oil, floral and lemon zest aromas. It's focused and bracing on the palate with loads of white fruit and citric flavours.


d'Arenberg 'The Hermit Crab' Viognier~Marsanne, 2008 has aromas of peaches, brulee, and vanilla. It has a lovely texture, rounded and weighty on the tongue with flavours of minerals,

stone fruits, exotic citrus and warm spice lingering. A very tasty white with an impressive finish.

d'Arenberg 'The Last Ditch' Viognier, 2008 comes from fruit from Adelaide Hills and McLaren Vale. Its laden with stone fruits and sweet spice, floral and citrus aromas. On the palate it is smooth, slick and nicely weighted with fine spice, citrus and tropical fruit flavours.

d'Arenberg ' The Monkey Spider' Rousanne, 2008 Snappy citrus and green papaya aromas, plenty of minerality - fleur de sel - hints of floral and spice. Great focus on the palate, lavender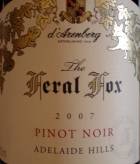 and nectarine pit with bath salts or "fleur de sel" flavours
lingering on the finish.

d'Arenberg 'The Feral Fox' Pinot Noir, Adelaide Hills, 2007 is a spicy, peppery style of Pinot with tart red fruits, red cherry and cedar box aromas. The tart red fruit returns on the palate, it's medium-bodied, earthy and spiced with fine drying tannins.

d'Arenberg 'The Footbolt' Shiraz, 2006 is named after the family owned money maker race horse named Footbolt, whose sale helped bankroll the estate in 1912. Aromas of blueberry and
raspberry, espresso and chocolate with white pepper on the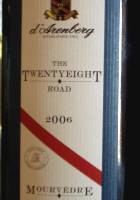 finish, easy drinking, a consistent wine...

d'Arenberg 'The Twenty-Eight Road' Mourvedre, 2006 is part of "Chester's Champions" series of super-premium wines. The Mourvedre has aromas of purple berries and plums, it has an earthy, savoury sausage-y element with some crushed floral. On the palate coffee, cherry, savoury herbs, minerals and sweet spices. It has good acidity and fine firm tannins.


From the d' Arenberg Icon Series...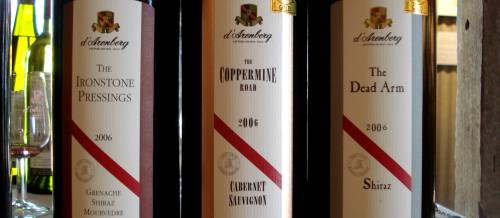 d'Arenberg 'The Ironstone Pressings', 2006 is a blend of Grenache, Shiraz and Mourvedre, that is earthy and brimming with aromas of plums and briary berry fruits, chocolate and spice with cedar notes. The palate has power and focus, great acidity and a silky texture. Flavours of briary berries return on the palate with herbs and spice and fine, firm tannins.

d'Arenberg 'The Coppermine Road' Cabernet Sauvignon, 2006
Has gorgeous aromas of juicy cassis, espresso, leather and graphite with hints of green bell pepper. Fresh on the palate with a silky texture and plenty of berry and mocha flavours and fine dusty tannins on the finish.

d'Arenberg 'The Dead Arm' Shiraz, 2006 is named for a disease, the fungus called Eutypa Lata (aka Dead Arm) which needs to be monitored as it will take over a vineyard. One arm drops off leaving the other arm carrying fruit of more intensity but greatly diminished quantities. Aromas of purple berries, crushed dark floral and spice with cherry and leathery notes. Lifted berry fruit on the palate, eucalypt and smoked hints - powerful and yet quite elegant with firm, tight tannins gripping the finish.




lunch at d'Arry's Verandah at the d'Arenberg winery in McLaren Vale

For more information on d'Arenberg click here
Coriole Vineyards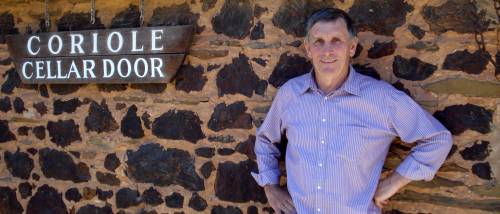 Mark Lloyd whose family started and owns Coriole Vineyards in McLaren Vale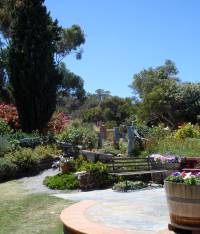 Coriole was a absolutely lovely surprise on my trip to McLaren Vale.
Although it was a winery I had never heard of, I enjoyed my visit immensely. Coriole is a boutique winery, quaint and warm, that has created a niche for itself in the Vale. At the heart of this small family winery are the restored 1860s farmhouses, comprised of gardens and a lovely patio - perfect for the wine country picnics they prepare on site. Besides making their own olive oil, they also have a small artisan cheese dairy in Adelaide Hills where they produce delicious, traditional, cow and goats cheese called Woodside Cheese Wrights.

The Lloyd family purchased the estate in 1967 and produced their first vintage in 1970. During the past forty years they have come to specialize in varietals not often recognized with Australia; Chenin Blanc,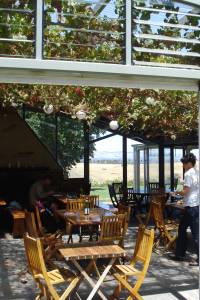 Fiano, Barbera, Montepulciano and Sangiovese. Rachel Whitrow, the cellar door host and Coriole's marketing department, picked me up at nearby Chateau Reynella and drove me along the back roads, via the vineyards, to Coriole. I was greeted by Mark Lloyd who told me about the history of Coriole and led me through a tasting of their wines. Although some of predominantly Shiraz vines had been planted in the early 1900s a few of the Coriole plantings are merely a handful of years old. And, almost all of their vineyards are comprised of terra rosa soils, like those made famous by Coonawarra.

The wines fall into several categories; classic, Italians, estates, reserves and their cellar door wines. All are made from their McLaren Vale fruit.

Coriole Chenin Blanc, 2008 is young and fresh with snappy citric aromas and white blossoms. It is bright on the palate with plenty of citrus and a hint of herbs, mouth-watering acidity and a slightly oily texture.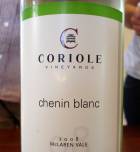 Coriole Chenin Blanc, 2000 Mark pulled this out of their
cellar to show me how well his wines age. The colour has evolved into a golden hue, the aromas smoked honey, candle wax and earthy mushroomy/musky undertones. The flavours echo the aromas, the texture is oily, rich, supple - the acidity is still bright and the finish is substantial.

Coriole Fiano, 2008 features sweet luscious aromas - a fruit cup of tropical and stone fruits with underlying tones of minerality. The palate has ripe tropical fruits and melon with loads of citrus
peel and mineral flavours. It has snappy acidity and a
gorgeous creamy texture. Delicious!


Coriole 'The Optimist' Reserve Chenin Blanc, 2005 this already four-year-old wine was just released. Aromas are honeyed, and toasty with passion-fruit and earthy, mushroomy/musky undertones. Oily, almost unctuous on the palate, excellent structure and acidity, flavours of herbs and creamy lemon with a gorgeous lime toned finish that lingers. Wonderful.
Coriole Sangiovese, 2005 shows rustic but plush aromas
of chocolate and bright cherries, herbal tones and leather.
Smooth and supple on the palate, more cherry and chocolate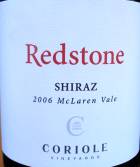 appear on the palate, great acidity and a long finish with flavours of cedarbox and fine spice.

Coriole 'Red Stone' Shiraz, 2006 shows a mix of dark plum and red berry aromas, mocha and sweet spice. Supple and smooth on the palate entry with mocha and bitter-sweet cocoa, roasted flavours lingering in a dusty texture.


Coriole 'Lloyd Reserve' Shiraz, 2006 is made from a single vineyard of Shiraz planted in 1919 on an eastern facing slope right in front of the winery. It's smoky plums, rich dark earth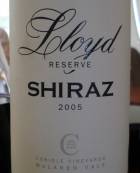 with blackberry fruit and leather. The texture is lovely, supple and smooth with balanced acidity and flavours of black fruits and chocolate. It has fine, but youthful grippy tannins and a substantial finish.

Coriole 'Mary Kathleen' 2005 was named for Mark's mother. It is made from Cabernet Sauvignon with 25% Merlot and features aromas of red berries, crushed floral and obvious minerality. The palate is fresh and has a lovely fine-grained texture, typical Cabernet lifted 'green' flavours and juicy red fruit again with obvious minerality. Elegant.




Coriole ' The Soloist' Shiraz, 2006 is a single vineyard, limited quantity, ultra-premium Shiraz.. Smoked plums and black cherry aromas, brooding and earthy with leather-y notes and meaty/savoury undertones. The texture is supple and chocolaty with plenty of black fruits and warm spices, balanced acidity and youthful, ripe tannins.

some of the Coriole wines are available in LCBO & SAQ stores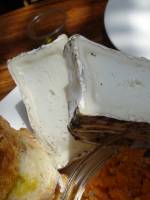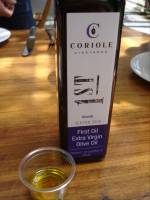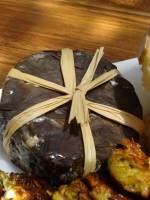 For more information on Coriole click here




Lunch, a stunning, freshly prepared antipasti platter on the patio at Coriole with their artisan cheese
Gemtree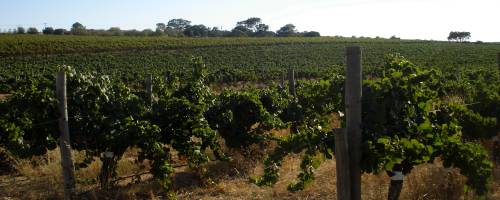 Gemtree's biodynamic Albarino vineyard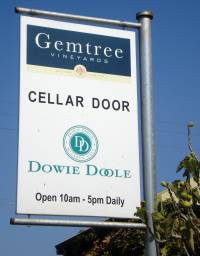 Having a fairly new presence on the BC wine shelves I had been introduced to Gemtree and a selection of their wines over the months prior to my trip to Australia. In other words, I was already a fan.
So, when Andrew Buttery picked me up early on a sunny McLaren Vale morning, in typical Aussie winemaking gear (shorts and Blundstones) and told me I was going to tour the vineyards, I was more than happy to jump right in despite my typical un-Aussie winemaking gear (sundress and thongs).
(right: Gemtree cellar door shared with Dowie Doole)
Gemtree is a small to mid-sized family owned winery that is making a big impact. In 1980 Andrew's parents tossed it all in and purchased land in McLaren Vale on Tatachilla Road, a few years later they bought another vineyard near the McLaren Flats and named it Gemtree. In 1997 Andrew, who had been living in Melbourne, moved to McLaren Vale to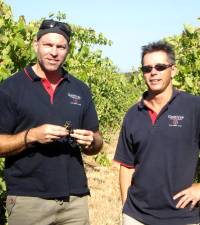 work with his parents and sister Melissa, a viticulturist, and together they launched their label, Gemtree. Meanwhile Melissa's boyfriend (now husband), Mike Brown, who had previously been at d'Arenberg came on board as winemaker and eventually Andrew's wife joined the team in marketing. So it really is a family affair.
(right: Mike Brown, Andrew Buttery)
Winemaking is the result of a lot of hard work and as the Gemtree folks know, unless its sustainable it sure isn't going to work out in the long run. As of 2007 all of the Gemtree vineyards are biodynamic and they have proudly converted 10 hectares of Gemtree land to wetlands - which are much needed in this part of the world. Environmental sustainability is important to them so they are working with Greening Australia
to create an area of biodiversity which will be home to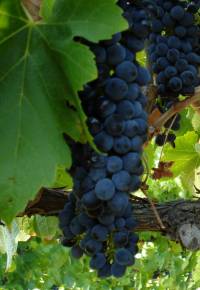 native plants, birds and frogs. The area is used as a educational park for school children and they are building pathways for locals to enjoy. But of course I was there to see the grapes, taste the wine and see what, if any damage the recent heat wave had done. Across the board, I saw very little vineyard damage in my travels. Often one side of a vine (the side that received the majority of the suns later day rays) the grapes would be slightly shriveled, but this was sporadic. (right; gorgeous healthy Tempranillo)
Mike Brown showed me some Petit Verdot, which was pretty much decimated but in general like most other vineyards I saw, there was little damage. But one of the most interesting parts of my vineyard tour with Mike and Andrew, was the trials they were doing on vines, side-by-side rows of conventional, organic and biodynamically grown grapes. The appearance and flavour of the berries was far more subdued in the conventionally tended vines than that of the organic, and especially the biodynamic. A stunning insight. While tasting Tempranillo berries in the vineyard, Mike also said that they have found, by year three of organic or biodynamic farming. the grapes tend to ripen ten days to two weeks early. The visit provided me with much needed insight into organic (and biodynamic) agriculture in Australia and more food for thought in support of sustainability around the world.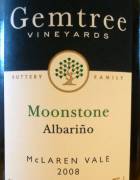 Gemtree 'Moonstone' Albarino, 2008 has crisp, bright aromas of citrus, stone fruit and a hint of floral. It's snappy on the palate with citric and mineral flavours and a long clean finish.

Gemtree 'Citrine' Chardonnay, 2008 isn't a buttery brut but shows plenty of citrus, white fruit and minerals with leesy tones. The palate is rounded, slightly creamy with spice and citrus peel lingering on the finish.
Read my 2007 vintage review here

Gemtree 'Bloodstone' Shiraz~Viognier, 2007 read review here

Gemtree 'White Lees' Shiraz, 2006 the white lees is an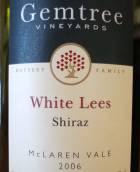 important indicator into something I'm hearing more and more about in organic and biodynamic winemaking. In order to use less (or no additional sulpher) conscientious winemakers are adding the lees of white grapes to wine. It helps inhibit bacteria, preserves and gives some lift to, in this case the Shiraz. The aromas are interesting - leesy actually, with dark berry fruit and plum, dark chocolate and chalky minerality. The palate reflects the aromas with plums and berries, sweet spices and pepper, mocha and and a hint of dough. The tannins are fine, drying and quite mouth-filling.

Gemtree 'Uncut' Shiraz, 2007 has alluring aromas of eucalyptus, blueberries, raspberries and cherries with
sweet allspice notes. The palate is supple and generous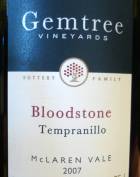 with lovely acidity. The flavours are juicy berry fruit, chocolate and espresso but the blueberry spice lingers through the finish. The tannins are fine but firm.
read my 2006 vintage review here

Gemtree 'Tatty Road', 2007 is a blend of Cabernet Sauvignon, Petit Verdot, Cabernet Franc and Merlot. It is a young and powerful wine with layers of berries, dark chocolate, leather, graphite and herbal/minty tones. It is supple with excellent structure - young but well balanced.
Read my 2006 vintage review of here

Gemtree 'Bloodstone' Tempranillo, 2007 is brooding and
dense - meaty, smoked aromas, mixed berries, chocolate
and red cherry, The tannins are fine but young and grippy, it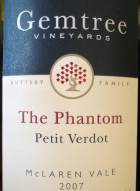 has spice and dried fruit flavours that linger through on the finish.

Gemtree 'Obsidian' Shiraz, 2007 Gorgeous eucalyptus aromas pop out on the nose followed by purple berry and cherry fruit, chocolate and allspice/star anise. Supple on the plate with white pepper, mint and dried fruit. Excellent structure.

Gemtree 'The Phantom' Petit Verdot, 2007 the colour in this wine (dense and dark purple) give you insight to what's going to hit your senses. Sweet, fleshy, grape-y and purple fruit aromas with some minty/eucalypt undertones and crushed floral. Opulent and powerful, coffee, cocoa and liqueur-like flavours. The finish is peppery and dry, substantial too. Very good, although a would love to have a drop more acidity and the tannins
are grainy and start right on the entry.
For more information about Gemtree click here

Shingleback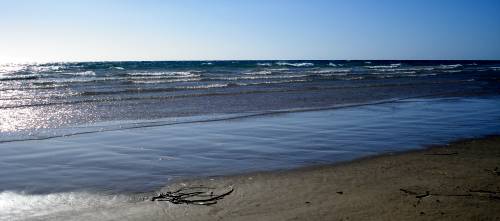 Sellicks Beach - Port Willunga, McLaren Vale South Australia - seems like the edge of the world...

Some visits stick with me.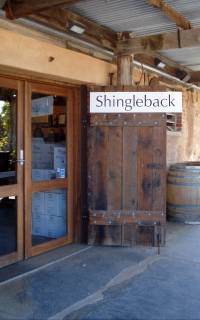 And, ingrained in my memory bank, in my "happy place" I have filed the evening I spent with the Davey family and their head of marketing Carey.
Carey picked me up from Wirra Wirra late one afternoon and told me we would be going to the beach. I though he was joking. As it turns out we did take a turn around McLaren Vale, visiting a very healthy looking Shingleback vineyard, the winery as well as their newly (still unfinished in February) renovated circa 1890s barn, now a cellar door. Shingleback, named after the common mid-sized garden lizard found in Australian backyards, was launched in 1998 by Kym and John Davey. John, an established winemaker in southern Australia and Kym a businessman and avid motorcycle racer co-manager the company. They have 320 estate acres in the southern end of the Willunga Basin - within sight of the sea - which was purchased in 1959 by their grandfather. Primarily Shiraz, the Davey's also grow Cabernet, Chardonnay and Semillon that go into both the Shingleback label and a very sexy consumer
brand called Red Knot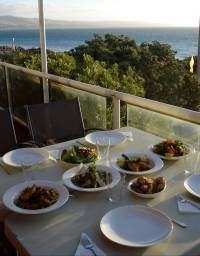 (famous for its peel-off
Zork cork).
I didn't get the opportunity to meet Kym as he was "gallivanting" about in America (I assume he was working) but I did get to spend the evening tasting wines and having dinner in his Port Willunga, Sellicks Beach house with Carey and John and his wife, Public Relations Manager, Kate Davey.
It was a casual evening, delicious catered take-away paired with the Shingleback wines and a delirious view down-under.
right top - Shingleback's cellar door, middle - dinner at the Sellicks Beach house; bottom -John Davey

Red Knot Chardonnay, 2008 John has held off on the oak in his Red Knot Chardy and it makes for a crisp refreshing wine. Loads of mineral, citrus and orchard fruits on the nose with sweet, tropical fruits bordering on lush - great flavours and a snappy clean finish.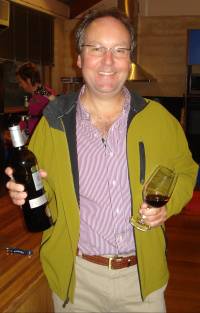 Red Knot Shiraz, 2007 chocolate lounging in ripe
dark berries, leather and cherry aromas. The palate
is supple - plump, fleshy fruit, coffee, leather and bitter-sweet chocolate. Easy drinking and fun.
Shingleback Chardonnay, 2008 leesy, mineral and typical 'wild yeast ferment' aromas, crisp white fruit and citrus with hints of melon and pineapple. The palate is creamy with gorgeous fruit and buttered nut flavours, pineapple and juicy citrus, some caramel and licorice flavours on the tail end with a snappy finish. Lovely.

Shingleback Shiraz, 2005 Upfront sweet berry fruit aromas with warm spices like cloves and licorice, chocolate and blueberries with earthy undertones. The palate is plush - smooth fruit and creamy chocolate flavours and bittersweet tannins. The 2006 shows more restraint, lifted acidity with ripe berry fruit and chocolate, mixed spice throughout and a peppery finish.


Shingleback D Block Reserve Shiraz, 2005 fantastic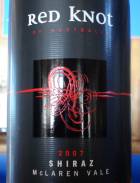 eucalypt and briary fruit, sweet spices and cocoa with
savoury undertones. The berry fruit pops on the palate,
its quite opulent but with great balancing acidity. Fine mouth-filling tannins throughout and a substantial finish.

Shingleback D Block Reserve Shiraz, 2006 Creamy blueberry, fruitcake aromas, chocolate and warm spice aromas. The palate has plush fruit and plenty of peppery spices, the tannins linger, they are ripe but still grippy when I tasted it in February '09.

Shingleback Cabernet Sauvignon, 2006 Lovely, typical Cabernet cassis aromas with lifted leafy/minty aromas and appealing blueberry and crushed floral notes. The blueberry continues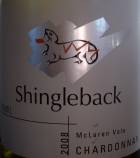 on the palate with tobacco and cedar-box spices followed
by cocoa and lifted with bright red fruit.

Shingleback D Block Reserve Cabernet Sauvignon, 2006 Lifted eucalyptus, blueberry and crushed floral with loads of chocolate. The palate is sweet and smooth on the entry, its bright and fresh with mixed berry and spice box flavours and fine tannins linger on the finish.

Shingleback D Block Reserve Cabernet Sauvignon, 2005 is more restrained than the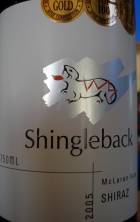 2006, more savoury too with aromas of smoked/meaty tones, garrigue and black currents and a nose-full of chocolate mint patties. Powerfully structured on the palate but the entry is smooth, very lifted acidity and flavours of cassis, purple berries and clove. The finish extends with firm tannins.


For more information on Shingleback - click here



Wirra Wirra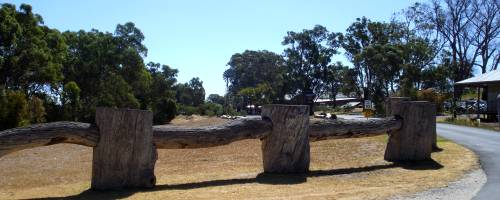 The massive woodhenge (also the name of a wine) that greets you at Wirra Wirra
It's easy enough to find out about the colourful history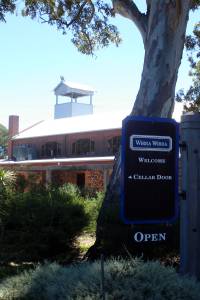 of one of the Vale's most famous wineries. Google does the trick nicely. You will discover that Wirra Wirra was started by an eccentric Cricket player (with an amusing name) called Robert Stangways Wigley in the late 1800s. When Wigley passed away in 1924 his beloved winery fell into poor condition and essentially abandoned. It was not until 1969 when Greg Trott and his cousin Roger saw the possibilities in this sad estate that it's history began again.
In the aboriginal tongue Wirra Wirra means, "among the gum trees" and part of what makes you fall in love with Australia are those stunning, majestic eucalyptus trees. But if you do get to Wirra Wirra, it's not the gum trees that make you say "wow" when you arrive, but the simple, rustic comfort of the winery combining old-original and new. I loved the stately 3/4 tonne Angelus bell and tower, the stone and beamwork, but mostly, I loved the fantastic wood post and rail fence (called the Woodhenge) that greets you before you traverse the front yard (the Scrubby Rise) to the winery.
Of course that is the visual part, the family of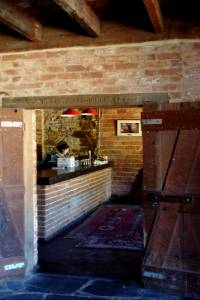 employees inside (known as the tribe) is a big part
of the Wirra Wirra picture and despite Greg Trotty Trott's death in 2005, the camaraderie continues.
The winemaking team is led by Samantha Connew (she won international red winemaker of the year in 2007) who made a point to pop by to say hi despite being smack in the middle of harvest. Together they make a very congenial group of folks who make damn good wine. About 160,000+ cases of of it...

above right: Wirra Wirra's sign with the old/new winery in the back ground and the Angelus bell tower.
right: the old winery looking into the cellar door/tasting room
Wirra Wirra Scrubby Rise White, 2008 is a blend of Sauvignon Blanc, Semillon and Viognier that is a consistent favorite amongst BC wine drinkers. Great aromatics - peachy/apricot a mixed fruit-cup of citrus, mineral and bright floral notes. The palate is snappy with plenty of ripe fruit, spicy hints and a zesty linger.
$16 BC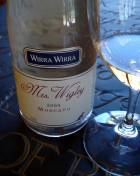 Wirra Wirra Mrs. Wigley Moscato, 2008 follows a trend I saw in Australia of sparkling, sweety Moscato wines which are fun and refreshing, and great with spicy dishes or patio sipping.
The Wirra Wirra one was the best I tasted emitting fragrant stone fruits, candied citrus peel, abundant honey and floral/muscaty notes. The colour is the softest kiss of pink, like a blossom, and it's made from a blend of white and red Frontigniac grapes.
Fun!

Wirra Wirra Mrs. Wigley Rosť, 2008 I'd like to see this Grenache Rose available here. It's got lots of cherry and ripe summer berry aromas with dark floral notes. Off-dry with bright citric and strawberry flavours. Summery and refreshing.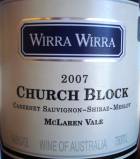 The Lost Watch Riesling, Adelaide Hills, 2008 Very different from those more austere versions from Eden Valley, this bright Riesling has stone fruits and mango with some chalky mineral aromas. On the palate it's fresh with an almost oily texture with crisp green apple flavours and a clean finish.


Wirra Wirra Church Block, 2007 is 52% Cabernet with Shiraz and Merlot with loads of mulberry, blueberry and cassis, espresso, pepper and chocolate mint patties. It is loaded with juicy berry fruit, vanilla and cedar flavours. Very tasty.
$25 BC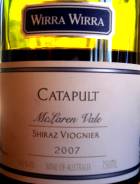 Wirra Wirra Catapult Shiraz, 2007 The late Greg Trott had a desire to build a trebuchet (Catapult) which unfortunately never came to fruition before he died in 2005, but the wine did and still continues. Viognier adds very appealing aromas to this Shiraz., expect plum cake and mulberry, dark floral and some peachy notes with a suggestion of orange peel. The palate is plush - expect spice cake, sweet fruit and chocolate flavours, fantastic structure and bright acidity with fine-lingering tannins. Yum.
$25 BC


Wirra Wirra Dead Ringer Cabernet Sauvignon, 2006 (aka Angelus Cabernet in Australia) I like the dichotomy in this wine -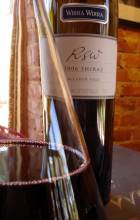 savoury/meaty/leathery tones presented with fragrant potpourri - cedar chips and crushed flowers, cassis and chocolate, mint and fine spice. Fantastic acidity, a silky texture, loads of cassis, cedarbox, vanilla, coffee and spice lingering on the finish.
$60+ BC

RSW Shiraz, 2006 aptly named for Wirra Wirra's father Robert Stangways Wigley features gobs of chocolate. briary berries and camphor aromas. The palate is plush, laden with mulberry, espresso and chocolate and the camphor/eucalypt returns to the palate. Fresh and elegant with all the opulent fruit cake and decadence you desire.
$60+ BC
For more information on Wirra Wirra click here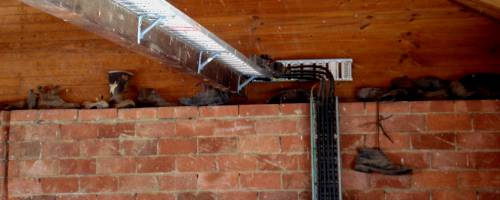 What do you do when harvest is over at Wirra Wirra and the wine acid has eaten through your boots? Toss them on the wall of course, then buy a new pair

Kangarilla Road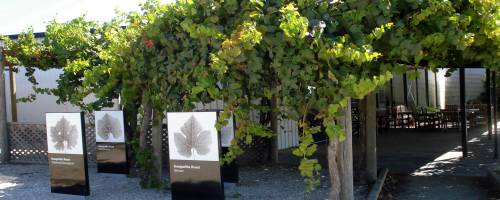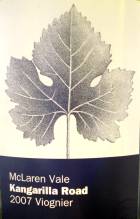 I spent a very short time at Kangarilla Road on my last day in McLaren Vale, just prior to heading to the Magill Estate on the outskirts of Adelaide. But I did thoroughly enjoy their wines, and some are available here Canada. Interestingly enough, the sharing of facilities was something I was really impressed with in McLaren Vale. Sharing either a tasting room with another winery or the winery and it' cellars. It makes perfect economical sense if everyone gets along and follows the rules. Kangarilla Road shares their winery with one of my favorite producers - Gemtree. But Kangarilla's large on-site tasting room is all theirs. Kangarilla Road is a very young winery, started in 1996/97 by oenologist Kevin O'Brien and his wife Helen. The winery and tasting room, like their labels are elegant and minimalist, and I love the slight modifications of the leaf on each label. If you pay close attention they are all different, each represents the leaf from that particular varietal. Kangarilla Road also grows and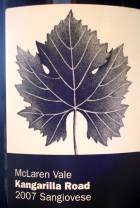 produces a few unique (not quite as typical to McLaren Vale)
varietals like; Sangiovese,
Primitivo (and it's DNA equivalent) Zinfandel.
Kangarilla Road Viognier, 2007 shows loads of spiced butter and stone fruit (especially peaches and mangos) aromas. The palate is creamy, rounded and features peach, warm spice and zesty citrus peel with lingering spiced caramel.
$23+ BC

Kangarilla Road 2Up Shiraz, 2006 this may be the entry level wine that Australian's themselves guzzle, but you'll be more than happy to drink this fruit-bomb-in-a-glass. Plenty of dark berry and plummy flavours vanilla and smoked spices. The palate is supple with generous ripe cherry and fruitcake flavours.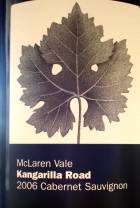 There are soft tannins on the finish with plenty of creamy
chocolate and spice flavours lingering.
$17 BC

Kangarilla Road Shiraz "The Devil's Whiskers", 2006 The "Devil's Whiskers" refer to the small lines of inky purple juice that remain in the corner of your lips after consuming copious amounts of red. I find that's easily alleviated by drinking good wine that makes me want to lick my lips. This savoury wine is only sold domestically and has plenty of meaty, earthy, spiced aromas with cola spice and mocha. The palate is supple with juicy berry fruit and fine drying tannins. Elegant.


Kangarilla Road Cabernet Sauvignon, 2006 This McLaren Vale
Cabernet shows lovely cassis and floral aromas, there is an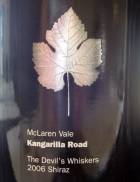 obvious leafy component as well as chocolate and cedar notes.
The palate is silky and very bright with red fruit. Great acidity
and fine angular tannins.
$24

Kangarilla Road Sangiovese, 2007 this single vineyard Sangio may be coming to BC soon. It has very appealing aromas of red cherry, raspberry and crushed rose petals, sweet spices, vanilla and orange peel. It's medium-full and creamy on the palate with plenty of bright red fruit, cedar and spices lingering. Very tasty.


Kangarilla Road Fleurieu Primitivo, 2006 this wine is more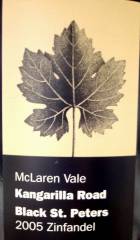 reminiscent of "Primitivo" than its DNA cousin Zinfandel.
The aromas here are dusty, sunbaked earth and peppery spices
and fresh red fruits. The palate here is smooth, the pepper and red fruits return with flavours of tobacco. It is full-bodied but not jammy with a long, spicy finish.


Kangarilla Road Zinfandel "Black St. Peter's", 2005 is a very, savoury and earthy version of Zinfandel, there is an abundance of dark fruits, chocolate and warm spices, bath salts and leather. The palate is opulent - fruitcake and exotic spice, but it still has a lovely freshness and very good structure.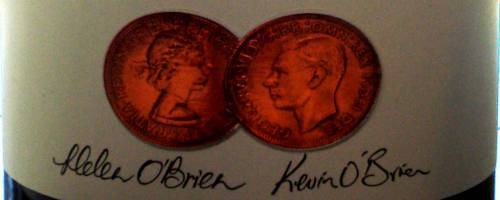 The label from Kangarilla Road's 2Up
For more information on Kangarilla Road click here


Penfolds Magill Estate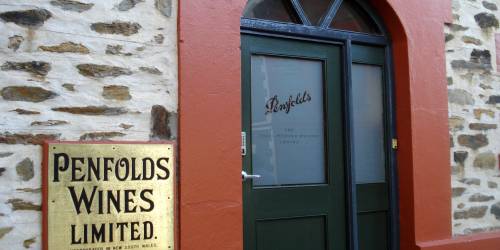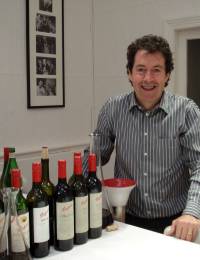 There are worse things you can do on your last day touring McLaren Vale than to enjoy a tasting and dinner at the illustrious Magill Estate. With a free Friday evening on my hands, I was tickled pink to have the opportunity to sample the wines and tour the cellars at this Adelaide city estate.
Although the Magill Estate is a combination of offices, a museum that illustrates the history of Penfolds in this region, and a fine dining restaurant, as well as 12 acres of vineyard, the primary winemaking facility is in Nurioopta, in the Barossa Valley that was built in 1911.
A British doctor by the name of Christopher Rawson Penfold, upon arriving in Adelaide, planted cuttings he brought from France around his Magill area cottage on the city's outskirts in 1845. Now, besides the tiny Magill Estate Vineyard, Penfolds owns vineyards around South Australia in Adelaide Hills,
Coonawarra, Barossa, Clare, McLaren Vale and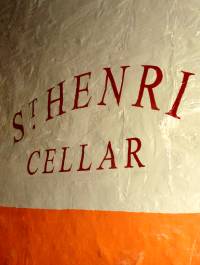 more. They also source fruit from over 200 independent growers.
I arrived at the Magill Estate on a warm, breezy Friday evening. The modern day estate is surrounded by a subdivision of homes on a soft rise above Adelaide. The view from here is nice, a setting that makes a wonderful backdrop for the uber-chic Magill Estate Restaurant. But first I took a small tour into the historic buildings to view the St. Henri Cellar and a display library of Penfolds wines, including many that pre-dated me.

My next stop was to Peter Gago's on-site office above the cellars where I was privileged to taste a selection of new Penfolds releases with Peter.
Peter Gago really needs no introduction to wine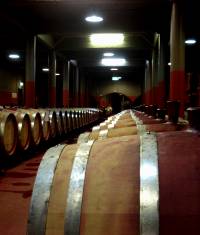 aficionados. When you are the chief winemaker for some of the worlds most sought-after wines people
know of you.
But he is a refined, soft-spoken man, and former teacher, who I discovered shares my love of Champagne, (or I share his), which is a curious dichotomy when you think about the powerful and concentrated red wines he and his team create.
The sun was beginning to set as Peter and I wandered over to the Magill Estate Restaurant and it cast a warm, orange-y glow over the Shiraz vineyard and the Adelaide city outline in the distance. Joining us on this evening was Paul Georgiadis, the Grower Relations Manager
who works closely with Peter and with the 200+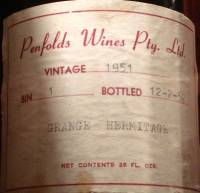 independent growers Penfolds deals with. The conversation, of course revolved around the recent February heat wave (I arrived in Australia right on the tail of it) and its effect on the grapes. But, like elsewhere I had visited in Australia, my sense was that Aussie's learn to roll with it. Staying vigilant and sourcing grapes from a variety of terroirs (if possible) is simply part of their grape growing and winemaking philosophy. As it turned out, despite the heat, those Shiraz vines I was staring at over dinner were only harvested a couple days earlier than the 2008 vintage.
My entire trip through Australia was a series of fantastic, fresh, casual meals (Aussie style) which
I appreciated - greatly. Often too many long travel


dinners and multi-course meals leave me longing for simple, light fresh fare that seems strangely out of reach. But Australia provided some of the best, and simplest fare I had ever tasted. The Magill Estate Restaurant was the one truly elegant meal I had during my trip and it was a nice departure to be fussed over for an evening. The food is fusion, perhaps a bit selective for some - expect some foams and artistically layered dishes - but it was all quite delicious. Besides, the company was fabulous, what more can a gal ask for besides that stunning bottle of 1990 Grange, and Great Grandfather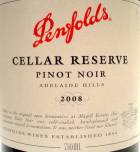 Tawny we shared?

Some tasting notes
Penfolds Chardonnay Reserve Bin 07A, Adelaide Hills, 2007 this wild yeast Chardy was just released (June 2009) and has plenty of aromas to reflect that wild yeast component. Lots of leesy, toasted and spicy aromas, citrus peel, white fruit and minerals on the nose. The texture is lovely - it's creamy yet crisp - with bright citric and mineral flavours. Elegant.

Penfolds Yattarna Chardonnay Bin 144, 2006 is the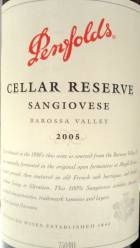 Penfolds icon white, first released in 1995, that was developed due to the success of Adelaide Hills fruit in the 80s. The 2006 is about 1/3 Adelaide Hills fruit and shows mineral, lemon meringue, honey and white fruit aromas. The palate is snappy and pristine with a substantial finish.

Penfolds Pinot Noir Cellar Reserve, Adelaide Hills, 2008 is earthy with plenty of forest floor aromas yet features substantial ripe fruit - cherries, wild blueberry - lifted with minty tones. The palate isvelvety laden with berry fruit, dark earth, licorice and cedarbox spices. Fine, mouth-coating tannins throughout.

Penfolds Sangiovese Cellar Reserve, Barossa Valley, 2005 expect super sweet aromas of wild berry fruit, cherry and crushed floral notes, leather and fine spices with bittersweet cocoa. A mouth-filling wine, supple and powerful
with firm tannins.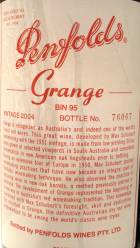 Penfolds RWT Shiraz, Barossa Valley, 2006 features plenty of brambly, plummy fruit and spiced chocolate. It has superb intensity, lifted by bright purple berry and spice flavours. A firm lengthy with sweet, ripe tannins.

Penfolds Cabernet Sauvignon Bin 707, 2006 is sourced from Barossa, Coonawarra, Adelaide Hills and Wrattonbully. Typical sweet Cabernet cassis, leather, espresso and graphite. On the palate, expect a fine grained wine with harnessed power, lots of chocolate and mint and firm ripe tannins.

Penfolds Grange Bin 95, 2004 is comprised of Shiraz with 4% Cabernet in the 2004 vintage. It is made of fruit from Barossa Block 42 (the oldest Shiraz vines in the world, McLaren Vale and Magill Estate fruit. It emits fragrant notes of plum, wildberry and cherry fruit, molten chocolate, floral and savoury undertones. The palate is sweet, supple blueberry and ripe blackberry fruit, leather minerals and a plush, creamy texture and weight. The tannins are mouth-filling but ripe and well balanced. Fantastic.

For more information on Penfolds and Magill Estate click here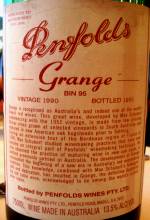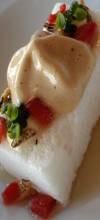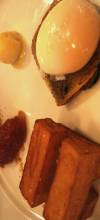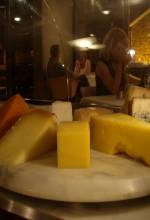 At the Magill Estate Restaurant, 1990 Grange, a couple courses and of course the cheese cart.
Coming Next
My visits to Barossa Valley, Clare Valley, Adelaide Hills and Yarra Valley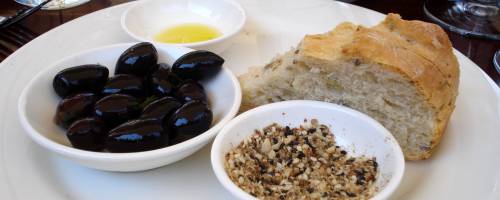 something you'll eat a lot of in South Australia - house made dukkah (spice and nut blend you dip your bread in after dipping in olive oil) served with bread and marinated local olives - at d'Arenberg
Read about McLaren Vale
Read about Barossa Valley
Read about Clare Valley
Read about Adelaide Hills
Read about Hunter Valley, New South Wales
Read about Yarra Valley, Victoria
- end -