Articles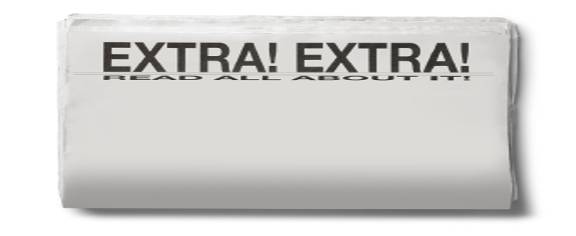 ---
South Africa
Posted - October 15 2008
By Daenna Van Mulligen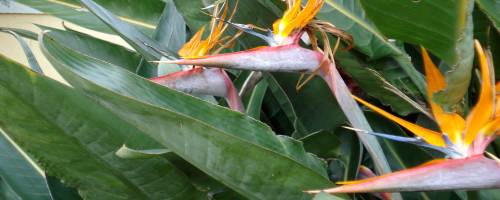 Read Daenna's article Pinot Paradise about Walker Bay SA in Vines Magazine Summer 2009 here
Like any other wine producing country in the world South Africa is made up of grape growing regions. In South Africa, these regions are divided up into districts and then again into smaller wards. The most recognized of the major regions being the Coastal Region – which includes in part, Swartland, Paarl, Stellenbosch, Cape Point and the tiny ward Constantia. The Coastal Region surrounds Cape Town, blanketing it to the east and north. Farther east are a several districts not part of a region – the cooler climate plateau of Elgin (Overberg) which I passed through quickly one day, the picturesque Hermanus in Walker Bay and the more southerly Cape Agulhas. In Hermanus we stopped to watch the Southern Right whales frolic in the bay near the shore (a tourist requirement) after visiting the small district of Walker Bay – where we tasted the pinnacles of Pinot Noir in South Africa. Above and slightly east of Walker Bay is the Breede River Valley which is home to Robertson and Worcester and farther east yet is Keine Karoo. Far north of Cape Town, above the Coastal region district of Swartland is the Oliphants River Region. Although I was able to taste wines from almost all of these regions during the three-day Cape Wine Festival, my trips were limited to Paarl, Stellenbosch, Constantia and Walker Bay.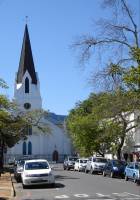 I stayed in Stellenbosch – a lovely university town for a couple days before heading into Cape Town. That first day I was happy to regroup after a thirty hour trip from Vancouver so I checked out the local shops and restaurants where I was pleasantly stunned at the affordable prices – a glass of sparkling wine about $3 Cdn and lunch for about $1 more.
Stellenbosch has clean, quaint streets filled with students, cafés and shops – the architecture is classic whitewashed Cape-Dutch style – it's a place where South Africans want to live.

right top: Stellenbosch Mother Church bottom: River Manor Inn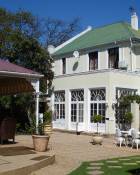 There were a number of planned events during my trip, including an alfresco dinner at Kevin Arnold's new villa-style winery of Waterford Estate at the base of the Helderberg Mountains in Stellenbosch on my second night in this spectacular country. Earlier that day we'd made the hour long drive to the town of Hermanus on Walker Bay where we tasted some remarkable Pinot Noirs and Chardonnays from that cooler climate ward. Wines with and old-world elegance and an honest charm of which I had never seen from South Africa before.

Glen Carlou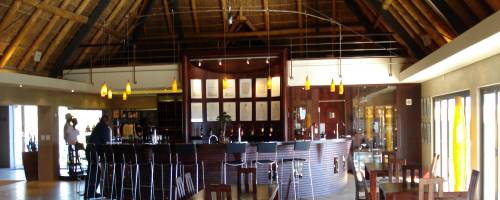 Glen Carlou the tasting room

Day three took me toward Paarl to visit the newly renovated Glen Carlou where I tasted through their portfolio of wines, from the entry-level Tortoise Hill to the ultra-premium Glen Carlou Gravel Quarry. Glen Carlou is located in the ward of Simonsberg-Paarl, in the northern foothills of the Simonsberg Mountains between Paarl and Stellenbosch.
Walter Finlayson established this winery in 1985 and although Glen Carlou is only a quarter century old it obviously made an impression on Donald Hess – the Swiss born Hess also owns the Hess Collection Napa Valley and Peter Lehmann in Barossa Valley, Australia – because he invested in Glen Carlou in 1996. And as of 2003 the Hess Group took over ownership the estate. David Finlayson, Walter's son remains at Glen Carlou, as winemaker.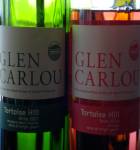 The Tortoise Hill White 2008 a fresh blend of Sauvignon Blanc and Viognier with plenty of tropical fruit, lemongrass and honey aromas. Crisp and refreshing its perfect sipping solo or with light-bodied dishes.
The Tortoise Hill Red, 2005 is a blend of Zinfandel and Tempranillo showing blueberry and graphite aromas, savoury herbs and currents with earthy, cocoa flavours on the palate. And the Tortoise Hill Rose 2008, made from 100% Pinotage has candy floss and strawberry aromas, underscored with smoked spices.
The Glen Carlou Chardonnay, 2007 is lush and aromatic with pear, melon and floral notes with buttery undertones. Sweet spices laced with clove linger and the freshness remains throughout.
The Glen Carlou Syrah has long been a favorite of mine – click here for my 2005 review – the 2006 has Syrah and some Mourvedre and Grenache and is filled with rich smoky dark fruit, allspice, pepper and blueberry notes. It's smooth and creamy on the palate, the fruit emanates freshness.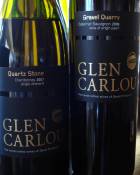 The Glen Carlou Quartz Stone Chardonnay 2007 is a small production Chardonnay (500cases) with rich, buttery aromas, sweet honey fruit, caramel, citrus and spice with a fresh, silky palate.
The Glen Carlou Gravel Quarry Cabernet Sauvignon, 2006 (also limited to 500 sold-out cases)
is an organic wine with aromas of bright red currants, sweet cedar and gravel/mineral notes. Sweet creamy fruit, spices, vanilla and bittersweet chocolate shape the palate with bright acidity throughout and ripe, drying tannins on the finish.
For more on Glen Carlou click here

KWV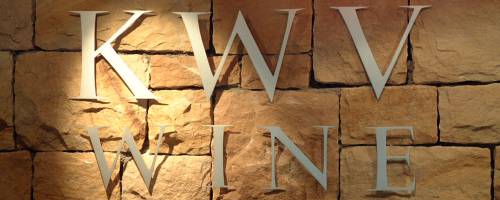 Unfortunately, although I didn't get a chance to visit the KWV winery in Paarl I did have the opportunity to taste through several of their wines. KWV encompasses a number of labels, most are available in major regions in Canada – some you may recognize and some you may not. But whether you do or not you can expect consistency and quality in all of the KWV wines, be they entry level or the harder to find premium and ultra-premium wines.

KWV was born in 1918 as a co-operative to assist the South African wine industry in uncertain times - company shares were available only to those in the wine industry. KWV is also where the father of Pinotage (the man who developed this cross of Cinsault x Pinot Noir) Abraham Perold became chief oenologist in 1927.
In 2003 the ban on wine industry only owned shares was lifted and KWV stock was now available for anyone to purchase. KWV's history continued, and in 2004 KWV become a black-empowered company when 25.1% of its stock was purchased by Phetogo –this resulted in one of the largest ever black-empowerment purchases in the South African agriculture industry. Following that, in 2005, Laborie, one of the oldest French Huguenot wineries in South Africa (started in 1691) became part of the KWV empire. An empire which includes; KWV Lifestyle (Roodeberg), KWV Reserve, Cathedral Cellar, Café Culture, Golden Kaan, Laborie, Roodeberg and the ultra-premium Perold.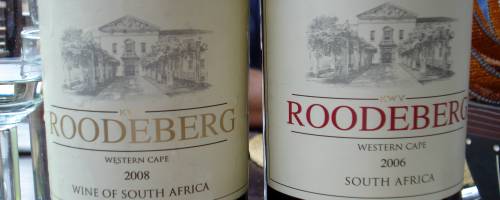 While in South Africa I tasted new vintages of wines that will available in Canada over the next six months or so.
And I also tasted some new wines including the Roodeberg White 2008,
a new blend of Chardonnay, Chenin Blanc and apparently a hint of white Pinotage and Viognier. It's an easy drinking white with loads of melon, citrus, minerals and white tree fruit and a hints of nuts and grass clippings. The palate crisp and refreshing yet has a creamy, rounded texture.
Will make a debut at the 2009 Vancouver International Playhouse Wine Festival $14.95 BC



The Roodeberg Red, 2006, a mysterious blend of noble red grape varieties has been a Canadian staple for decades. It's a good value red wine – tasty and juicy with mixed berry aromas, chocolate and some minty tones. On the palate, its smooth chocolate and ripe berries, savoury and spiced with hints of espresso and tobacco on the finish.
Read my review on the 2005 vintage here
$14.99 BC, $13 Ontario



Café Culture Pinotage, 2008
This is what consumers need to make the transition to Pinotage - easy drinking and affordable, it will make you a Pinotage convert and have you clamoring for more. Coffee, dark chocolate and mocha, sweet black cherries, warm spice and underlying herbal notes. Ripe rich berries and gobs more choco-mocha on the palate followed by leather and smoky spices.
Will make a debut at the 2009 VPIWF price $16.42
Ontario 2007 $13.95

Cathedral Cellar Chardonnay, 2007 has loads of fresh, creamy fruit – pear and melon with citrus and butterscotch tones. Delicious! Read my review on the 2005 vintage
The 2005 is currently available in BC $16.99 and in Ontario for $14.95




Laborie Jean Taillefert Shiraz, 2005 in a fly-by tasting showed sweet ripe fruit and espresso with pepper and creamy chocolate with ripe tannins.
Will make a debut at the 2009 VPIWF price $65.50
$44.65 Ontario previous vintage
And the ultra-premium Shiraz, Perold 2003 hails from a high mountainside vineyard – powerful and smooth with plenty of fresh fruit and ripe tannins. Not overpowering mind you, but elegant with layers of dark fruit, peppery spice and chocolate.
Will make a debut at the 2009 VPIWF price $106.75
$89 Ontario previous vintage

For more on KWV click here
Nederburg


View of Nederburg vineyards
My next stop was to the long-standing Nederburg Winery in Paarl where the classic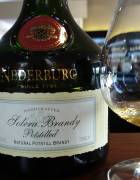 whitewashed Cape-Dutch architecture holds court. Established in 1791 by a German immigrant who planted the first vines and the rest they say, is history. Ownership has, of course changes of the centuries but Nederburg remains a landmark of the South African wine industry. The Nederburg portfolio falls into several categories- the Foundation wines, the Wine Master's Reserve, the Manor House and Ingenuity (as well as a particularly tasty potstill Brandy).
Some highlights.
Wine Master's Reserve Chenin Blanc, 2007 has pretty, sweet aromas of creamed honey and vanilla with exotic floral hints. The palate shows fresh fruit flavours supported


with brown-sugar (cookie dough) caramel, vanilla and warm spice tones.
Wine Master's Reserve Rhine Riesling, 2007 shows honey blossoms, peaches as well as petrol and slate undertones. Crisp and zippy with crisp green apple and lime zest flavours its dry and mouth-watering.
Wine Master's Reserve Pinotage, 2006 is typical Pinotage juicy red berry and cherry fruit, dark floral and char with pepper spice aromas. The flavours echo the aromas - earthy and smoked with some savoury herbs and berries. The tannins are firm.
Wine Master's Reserve Baronne, 2007 a 50/50 blend of Cabernet and Shiraz. The Baronne features chocolate covered cherries, pepper, licorice, jalapeno and savoury herbs in both aroma and palate.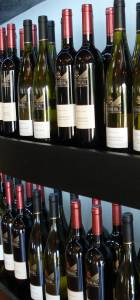 The Manor House Sauvignon Blanc, 2008 is rounded and aromatic with tropicalaromas, elderflower and some grass clippings. Loads of bright citrus on the palate with powerful acidity – it's the aromas that really shine in the wine.

The Manor House Shiraz, 2007 is oozing wild berry aromas – bramble fruit and chocolate with blueberry hints. It's warm and creamy on the palate with loads of fruit, spice and mint.

The Manor House Cabernet Sauvignon, 2007 has fresh cassis and blueberry, vanilla, sweet spices and chocolate. Smooth cassis on the palate, meaty, charred tones and bittersweet chocolate and earthy flavours with a nice balance of acidity.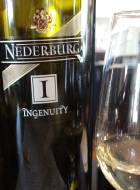 Ingenuity White, 2007
is a loaded blend of Sauvignon Blanc Chardonnay, Viognier, Chenin Blanc, Semillon, Nouvelle, Rhine Riesling and Verdelho. Aromatic, yes, but the Sauvignon Blanc strong arms this wine with grass clippings and herbal tones followed by honey and spice, orange rind and minerals. The palate is rounded and creamy with soft acidity and spice.

Ingenuity Red, 2006 is only the second vintage of this wine. It's an Italian ragu of Sangiovese, Barbera and Nebbiolo. Bright cherry and purple berry aromas, violets, saddle leather, iodine and spice.
Velvety and elegant on the palate with bright acidity and youthful, firm tannins.

For more on Nederburg click here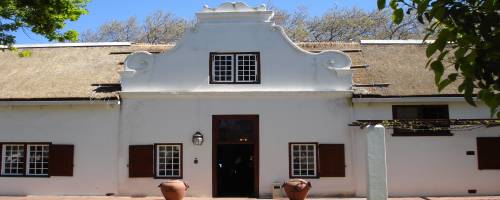 at Nederburg

To read about Cape Wine Festival and more reviews click here
To read about Pinotage click here

To read my introduction on South Africa click here
To read WineDiva reviews on SA wines available in Canada click here
- end -