Articles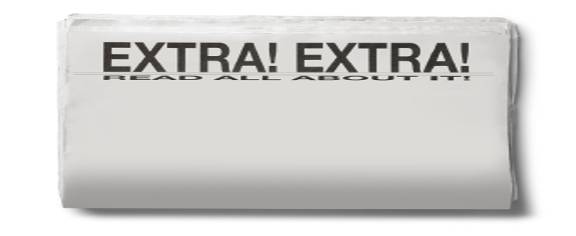 ---
(Re)Discovering Chile - Maipo Valley
Posted January 14 2009
By Daenna Van Mulligen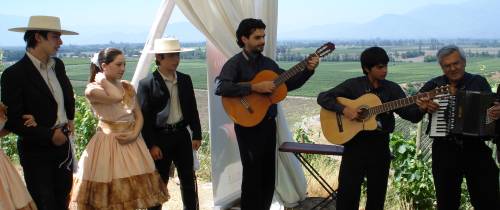 Hilltop at Vina Maipo with local traditional folkloric performers

The Maipo valley, although nowhere near the largest DO in Chile is certainly the most densely packed with wine producers. The region is anchored by the capital city of Santiago, which depending on what day and whom you ask, is home to between six and seven million people. So, in a country with a population of roughly sixteen million, you have a pretty good idea where everybody lives…

Santa Carolina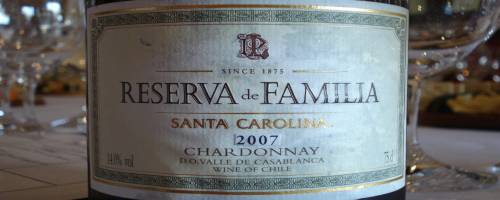 Reserva de Familia at Santa Caroline - the same name at the wine that wowed France in 1889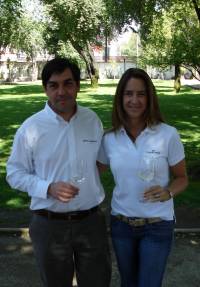 Santa Carolina is a name with historical ties. And, like many of the well established producers in Chile it has multiple layers of wines, labels and vineyard sites.
Santa Carolina was established in 1875 by Luis Pereira with vines he had brought directly from France and he named it after his wife, Carolina. In 1889 one of the wines called "Reserva de Familia" took first place at the world's fair in France – the same year the Tour Eiffel was inaugurated – impressive to say the least. And it begs the question, could that "Reserva de Familia" actually be the fist Chilean icon wine?
The Carolina Brands has four winemaking facilities in - Maipo Valley, Curico, Colchagua and in Argentina in Mendoza. The brands are Santa Carolina, Viña Casablanca, Antares, Ochagavia in Chile and Finca el Origin in Argentina. The historic estate, a winery and the original house of Luis Pereira are still within the city limits of Santiago.

winemakers Alejandro Wedeles & Magdalena Sosa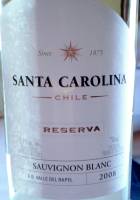 Santa Carolina Reserva Sauvignon Blanc, Rapel Valley, 2008 classic bright Chilean style of Sauvignon with ripe tropical fruits, peaches, snap peas and sweet grass. It has a creamy edge on the palate with loads of juicy citrus and sweet herbs. The vineyard the Sauvignon grapes are harvested from is a cooler region (Rapel in generally warmer) and 15% comes from Casablanca fruit.
This wine is about $13 in Canada
Santa Carolina Reserva de Familia Chardonnay, Casablanca Valley, 2007 named from the original line of wines in the 1800s this Chardonnay is nothing but fresh, Ripe tropical fruit aromas,
caramel and cream, pineapple and exotic floral notes.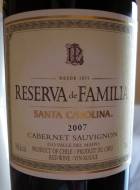 The flavours echo the aromas and the finish lingers with hints of
soft spice.

Santa Carolina Reserva Cabernet Sauvignon, Colchagua Valley, 2007 is a very easy drinking Cabernet with aromas of summer berries and cassis. The palate is soft with gentle power and balanced acidity showing flavours of cocoa, roasted coffee and red fruit with fine tannins on the finish. This wine is about $13 in Western Canada.

Santa Carolina Reserva de Familia Carmenere, Rapel Valley, 2007. Carmenere excites me, its hints of 'green' or vegetal is not only intrinsic in the varietal but I think quite appealing.
It's the balance that counts and if there is absolutely no 'green'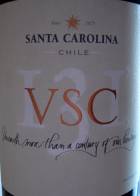 to a Carmenere isn't not typical. This wine has violet tones to the colour and the aromas are spicy black fruits – black berry and black cherry – licorice root, savoury herbs and roasted red peppers. The savoury flavours follow through onto the palate, this is a young wine (getting ready to be bottled when I tasted it) with fruit that is still a bit tart and loads of spice and tobacco flavours.
This wine is about $20 in BC and will be arriving Spring 2009.


Santa Carolina VSC, Maipo Valley, 2006 – The VSC is a commemorative wine to celebrate 130 years since
the founding of Santa Carolina. 2005 was the first vintage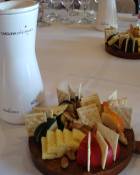 of this icon wine which blends Cabernet Sauvignon, Carmenere and Petit Verdot.
The colour is a dead giveaway – dense. The aromas follow suit with red berries and dried fruits, spice, crushed dark flowers and blueberry. Superbly fresh and complex with very good balance and structure and a long finish with ripe, grippy tannins that will soften in time – pairs well with spicy cheeses.
This wine is $30 in LCBO Vintages

Casablanca Nimbus Sauvignon Blanc, Casablanca Valley, 2008 this single vineyard Sauvignon Blanc has a lovely balance between ripe, tropical fruit and minerality that is rounded out with, pretty floral, soft citrus and herbal notes. On the palate the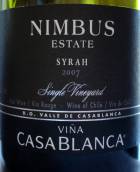 minerals and citrus return bringing snappy pink grapefruit and peach flavours that pop on the finish. Delicious.
This wine will be $20+ in BC/AB private wine stores


Casablanca Nimbus Syrah, Casablanca Valley, 2007 is unfortunately only 500 cases because it's a winner. The addition of 3% late harvest Riesling may seem odd except that that's the amount (generally) that winemakers add of Viognier to Syrah. Smoky aromas a bit of bacon fat, fresh blackberries, pretty violets and some interesting minerality. On the palate it's smooth, ripe and peppery with more of the smoky aromas appearing on the
palate – bright and elegant.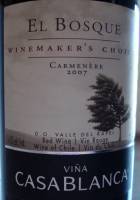 This wine is a steal for $25 at BC Liquor stores

Casablanca El Bosque Carmenere, Rapel Valley, 2007 is a very tasty Carmenere showing sweet berry fruits, licorice and spices, smoke and tobacco and hint of char grilled peppers. Well integrated flavours, rounded and plush on the palate with perceptible tannins. $17-$20 in BC private wine stores and in Manitoba.



Cousiño-Macul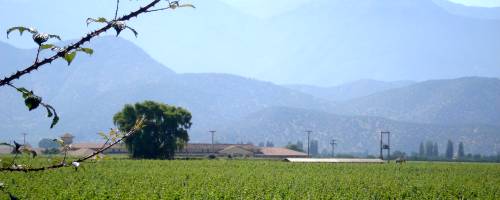 Cousiño-Macul - the lush Buin vineyard and winery in Maipo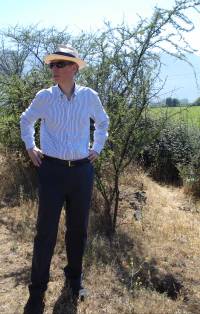 Cousiño-Macul is one of the most impressive producers I visited in Chile. The wines are consistent, elegant and extremely well-made - classic Cousiño-Macul style rather than trendy.
History tells that grapes have been cultivated in the Macul region around Hacienda Macul since 1564. But t wasn't until 1856 that the Matias Cousiño family, specifically to grow wine grapes, purchased it. In 1860 his son Luis Cousiño went to Europe (like those of Errazuriz, Concha Y Toro, Carmen and others) bringing back pre-phylloxera rootstock from Bordeaux, Burgundy and Rheingau that was inevitably, and perhaps ironically, saved by its reposition to Chile. Those initial varieties have remained the only ones planted in the Cousiño-Macul and Cousiño Buin vineyards until Syrah was planted three years ago. The company has remained in the Cousiño family ever since. But the historic Macul site, which had been outside of Santiago, is now in the middle of a subdivision, and with nowhere to grow,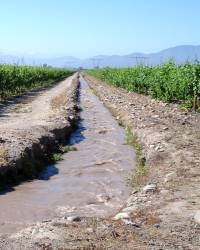 Arturo Cousiño (right) made the decision to move
the winery to the new vineyards near Buin in the south of Maipo.
The sun was high in the sky, sizzling, as Arturo guided us through the vineyards at Buin showing us the traditional irrigation ditches running through the vineyards.

Cousiño-Macul Sauvignon Gris, Maipo Valley, 2008 – The uncommon Sauvignon Gris is planted in both of the Cousiño vineyards. Its an utterly alluring combo of Pinot Gris and Sauvignon Blanc-ish aromas featuring peaches, floral tones, loads of exotic citrus and grass clippings woven together with fresh minerality. The texture is lovely – almost oily – rounded and soft with snappy acidity and flavours of peach, grapefruit and pomelo, sweet herbs and minerals with a zesty finish. Delicious! Limited - about $18 in BC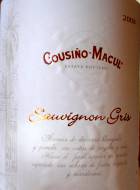 above: raditional irrigation ditches

Cousiño-Macul Riesling, Maipo Valley, 2008 has always been a favorite of mine, although it is ahrd to find as quantities are quite limited in BC. If you felt the heat in the Buin vineyardsas I did you would wonder how something like Riesling could survive. Survive it does – vibrant aromas of stone fruits, lime oil, lemons and minerals. The aromas return on the palate – creamy stone fruit and citrus flavours. Excellent fruit expression, its dry with mouth-watering acidity leading to a zesty, lip-smacking finish.

Cousiño-Macul Antiguas Reservas Merlot, Maipo Valley, 2007 is a gorgeous Merlot, perfumed with dark floral aromas,
juicy plums and blackberries with undertones of pepper,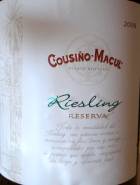 chocolate and mocha. The palate is sophisticated – smooth and fresh with excellent structure, black fruits, savoury undertones and toasted spice flavours on the palate. Fine tannins linger on the palate. About $20+ private wine stores in BC


Cousiño-Macul Finis Terrae, Maipo Valley, 2006 is 60% Cabernet with Merlot and has loads of savoury characteristics – mixed spices, fleur de sel, pepper and bright red fruits. It is complex on the palate – with layers of fresh, smooth fruit, spices and tobacco. Elegant.
Approx $35 in BC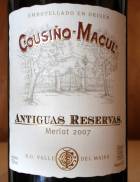 I also tasted the Finis Terrae 2003 which has the same characteristics as the 2006 – seasoned with spices, menthol, chocolate and meaty hints. Fresh, and the tannins are still powerful on the palate, the fruit is more mature showing a bit of age.
The 1999 Finis Terrae showed juicy fruit, savoury herbal tones, fleur de sel, minerality and mixed spices and finally the Finis Terrae 1995 is less savoury than the previous tasted – the aromas were dried cherries and dried berries and spice. Excellent structure on the palate – the flavours echo the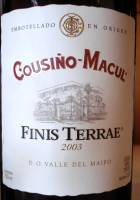 aromas with some mineral, cedar box and saline hints
and still powerful tannins on the finish. New world fruit and old world elegance.

Cousiño-Macul Lota, Maipo Valley, 2005 is the Cousiño-Macul icon wine – which blends 75% Cabernet and 25% Merlot from the Buin vineyard. It is intense but not overwhelming with appealing aromas of dark berries, savoury herbs and chocolate, licorice and allspice. It's silky on the palate with great acidity – smooth and elegant with ripe tannins which longer on the palate. The grapes from this wine come from vines which are 15-40 years old.
Limited in Canada approx. $70+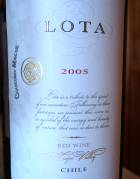 For more information on Cousiño-Macul click here

Santa Alicia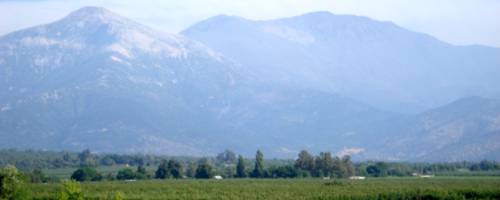 Vineyards and Andes Mountains from Santa Alicia in Pirque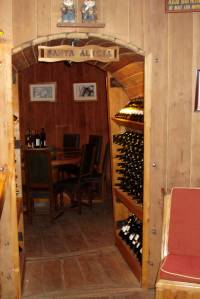 I had never heard of Santa Alicia before this visit to Chile but they are actively seeking agents to bring in their wines so you may see them soon. Santa Alicia is an interesting winery like a mini-village of artisans making furniture from old oak barrels, wrought-iron workers and tile painters, woodcarvers and an in-house graphic design and print shop. I was so entranced by what I was seeing – including, as always the adorable dogs that roam freely around Chile – that I forgot I was there to taste wine. When we finally did wander into the tasting room I was impressed not only by the more premium wines of Santa Alicia but the people that are part of and work for Santa Alicia.
Located just south of Santiago, Santa Alicia was founded by Maximo Valdes, a businessman in 1954 under the name Casas del Pirque. The Valdes family is still partners in the winery. The grapes are all from
the Maipo Valley including the winery vineyard Pirque,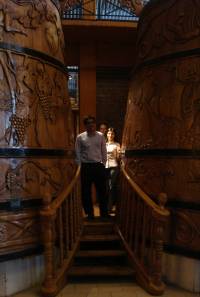 which at 687meters above sea level sits so close to the Andes it takes your breath away. In the Pirque vineyard Chardonnay, Cabernet Sauvignon and Sauvignon Blanc is planted. The second vineyard Melpilla sits in the valley - suited to the Syrah, Malbec, Petit Verdot and Carmenere that grows there. The third vineyard – closer to Casablanca is named Maria Pinto and at 188 m above sea level is where they grow Cabernet, Sauvignon Blanc and Merlot.

Carved wine barrels outside and in - a small condominium

The wines that impressed me.

Santa Alicia Anke 1, Maipo Valley, 2006 is a blend of Cabernet Franc 64% and Petit Verdot. It has very appealing blueberry and black berry fruit aromas, pretty floral and chocolate, coffee and spice undertones. The palate is supple and ripe with sweet fruit, spiced chocolate and espresso liqueur. The tannins are powerful but ripe, the finish long. Very impressive.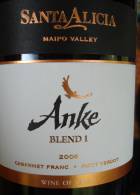 Santa Alicia Gran Reserva Merlot, Maipo Valley 2005 showed plummy and earthy aromas with chocolate undertones. The nose was a bit closed when I tasted it but the palate had a very silky texture with spice and tobacco lingering on the finish.

Santa Alicia Gran Reserva Carmenere, Maipo Valley, 2005 has appealing dried cherries, kirsch and blueberry jam aromas with earthy and balsamic undertones. On the palate its smooth, with fantastic layers of spice, fruit, chocolate, cedar box and berry fruit. Elegance and power with fine drying tannins on the finish. Delicious!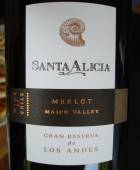 Santa Alicia Millantú, Maipo Valley, 2005 is a blend of Cabernet Sauvignon (60%), Carmenere (30%) and Cabernet Franc. Millantú means "golden sun" and I can assure you it is golden. Opulent aromas – sweet, smoked dark chocolate, blackberries and spice, vanilla and café au lait. Layered and dense. Spice and fruit on the palate – savoury and succulent with a plush texture, great acidity with unending fruit, spice and sweet tannin on the finish. Wonderful!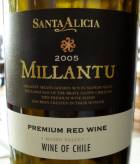 The LCBO does sell some of the Reserva wines (entry level) including the fresh, bright Carmenere rose.

For more information on Santa Alicia click here




Concha Y Toro


Gardens at Concha Y Toro in Pirque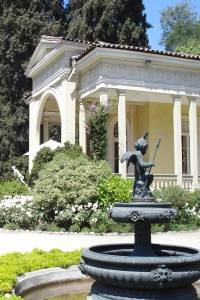 Just past the city limits, south of Santiago is the Concha Y Toro Estate in Pirque.
In 1883, Don Melchor de Concha Y Toro, the Marques de Casa Concha started a vineyard planted - like all of that era – with classic French varietals brought from Bordeaux. The estate in Pirque is 57 acres of beautiful lawns and gardens, a winery and restaurant and the Casona or country house (which was built as the family home in 1875). Don Melchor's wife Doña Emiliana Subercaseaux oversaw the building of the gardens and the lovely Casona. Of course since that original planting, Concha Y Toro has grown to encompass over 7000 hectares around Chile and Argentina in the Maipo, Maule, Rapel, Colchagua, Limari, Curico and Casablanca Valleys. And with their 1988 partnership with Banfi Vintners have become a powerful force in the world of wine
.
Tours are big at the Pirque Estate, wine lovers come to see the grounds, take pictures at the Casona and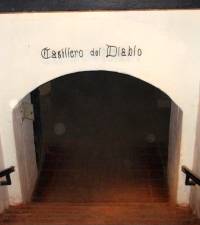 of
course visit the Casillero del Diablo – the "Devil's Wine Cellar".
It is said that Don Melchior himself started that rumour to keep others from siphoning off his best wines - which he would place there.

above right - the Casona, right the "Devil's Wine Cellar"

Concha Y Toro Trio Sauvignon Blanc, Casablanca Valley, 2008 as wonderfully ripe aromas – pineapple and sweet floral notes. It's quite full on the palate yet zippy and fresh with cut grass and citrus zest, minerality and a bright finish.

Concha Y Toro Marches de Casa Concha Chardonnay, Rapel Valley, 2007 is a butterscotch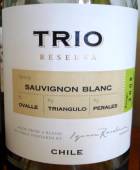 lovers dream – caramel and sweet spices with warm pineapple aromas. Rounded and full on the palate with oak spice and toasted nutty flavours and of course more butterscotch but brightened up with a good dose of fresh acidity. Very tasty – about $23 in BC


Concha Y Toro Maycas de Limari Reserva Especial Chardonnay, Limari Valley, 2007. The Maycas de Limari label wines come from vineyards bought by Concha Y Toro in the quite northerly valley region of Limari in 2005.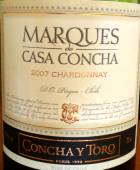 The first release for this wine was this 2007 vintage. A unique terroir driven wine with loads of smoky minerality rounded out with 2nd and 3rd use barrel 'spiced oak' aromas. The palate shows pear, apple and citrus, more minerality and a bright clean finish. These wines fall into the category of ongoing search for unique terroir and wines with a sense of place that is happening in Chile and around the world.


Concha Y Toro Maycas de Limari Reserva Especial Syrah, Limari Valley, 2005 is a perfect example of uniqueness from a specific terroir. Its an elegant wine with aromas of chocolate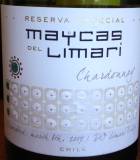 cherries, purple flowers, some herbal tones but all in all a gorgeous bouquet. Lush, almost creamy on the palate with impressive intensity, great acidity and gobs of berry and spice flavours. The tannins are integrated and the finish just keeps going….Excellent wine.


Concha Y Toro Casillero del Diablo Shiraz, Rapel Valley, 2007 has upfront blueberry jam and bright mixed red berry aromas, lush chocolate and pepper. Juicy yet smooth on the palate with loads of berry fruit, chocolate and spice. The tannins are ripe and powerful – the finish impressively long. About $14 in BC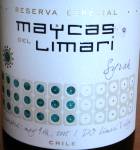 Concha Y Toro Winemaker's Lot Carmenere, Rapel Valley, 2007 shows sweet red berries, coffee, roasted red peppers and balsamico and peppercorns. The balsamico, roasted pepper , summer berries and spice returns on the palate with chocolate, menthol and smoke – the finish lingers with sweet fruit flavours in tow and the acidity pops.
Read winescores.ca review here $19.99 BC


Don Melchor Cabernet Sauvignon, Alto Maipo Valley, 2005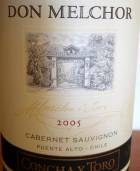 Don Melchor is Concha Y Toro's icon wine (read more link here) which comes from the Alto Maipo appellation within Maipo. The Alto Maipo is closest to the Andes Mountain Range with its rough, colluvial soils and natural irrigation resulting from the melting mountain snowcaps that drag rich minerals into the vineyards below. The still youthful 2005 vintage has mixed red berry aromas with a creamy element to the nose, graphite, spices, bittersweet chocolate and espresso tones. It has layered, fresh flavours and some herbal hints with amazing acidity, powerful tannins and a finish that won't quit.
Read winescores.ca article on Don Melchor icon wine here

The Cocha Y Toro wines are widely available across Canada

For more information on Concha Y Toro click here


Santa Rita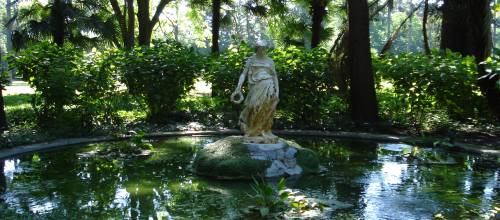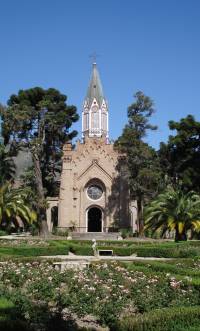 Santa Rita is the mother company of Carmen – in fact they reside right next to each other.
Of course, Santa Rita is a historic estate, founded in 1880, by Domingo Fernández Concha.
It's a stunning estate with gardens, a restaurant, the Casa Real Hotel (estate home refurbished in 1996) and a neo-gothic chapel built in 1885 specifically for the wedding of Domingo Fernández Concha's daughter.
This exquisite chapel was recently restored and the workmanship is striking.
After Domingo Fernández Concha's time, up to the mid 1970s, Santa Rita was under ownership of Vicente García Huidobro until1980 when Grupo Claro purchased the Santa Rita property and invested in its modernization. Located in Alto Jahuel just south of Santiago, both the Carmen and the Santa Rita estates are worth a visit – their diversity is obvious.

Santa Rita Reserva Sauvignon Blanc, Casablanca Valley, 2008 is a typically fresh Sauvignon Blanc with interesting complexity – minerality with a leesy character, loads of citrus fruits, grass clippings and
snap peas. The palate has a lovely creamy charm,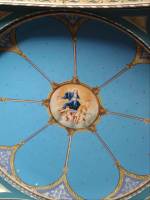 but the vibrancy wines out in the end and finishes with a zesty snap.
About $15

Santa Rita Medalla Real Cabernet Sauvignon, Maipo Valley, 2006 has delectable aromas – sweet and juicy, blueberry and cherry cola, eucalyptus and allspice with chocolate. Supple and velvety on the tongue – fruit forward and super easy drinking with licorice and mint flavours and fine tannins on the finish. Yum.
About $22


Santa Rita 'Triple C', Maipo Valley, 2005 Suitably named, this
three 'C' blend of Cabernet Franc, Cabernet Sauvignon and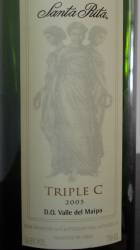 Carmenere is a fruit bomb in a tux. Dense berry fruit aromas, balsamico, chocolate, dill and fragrant purple floral notes. The palate is silky, the entry is spiced and warm. Its laden with fruit, pepper, licorice and molten chocolate flavours. Excellent structure and acidity, this is a wine to impress people with.
About $50
.
The Santa Rita Casa Real Cabernet Sauvignon, Maipo Valley, 2005 has intense mixed berry aromas – blackberries and currents spiked by sweet warm spices, woodsy, forest floor and earthy notes. It's plush on the palate with flavours of ripe berry fruit, mint chocolate and licorice. Excellent structure and power, a wine that makes you say wow!
About $60

For more information about Santa Rita click here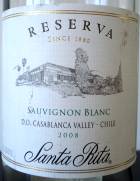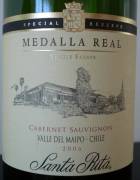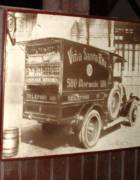 Carmen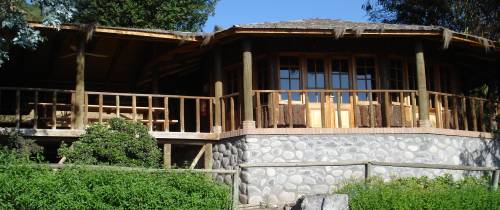 the Carmen tree house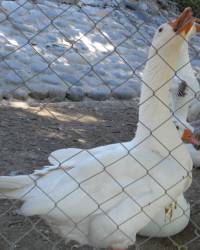 Carmen is said to be Chile's oldest wine house.
It sits next door, (in Chilean distance) somewhat overshadowed by its parent winery Santa Rita. And although Carmen is a fully modern winery, the tasting room I visited resembles a tree house out of Swiss Family Robinson. Surrounded by vegetation, organic vineyards, grumpy geese and curious Alpacas, it's a complete contradiction to the grace of Santa Rita - but not in a bad way. Its uniqueness suits Carmen.
I'm a big supporter of the Carmen wines – I think they over-deliver. I like their value and their flavour profiles and their consistency is very appealing.
Christian Lanz who named it in honour of his wife, Carmen, founded Carmen in 1850. Purchased by Grupo Claro several years after they acquired Santa Rita, Camen now has vineyards in the Maipo, Curico,

Rapel and Casablanca Valleys in total, more than 650 hectares.
Carmen also owns a bottle production plant and in an effort to reduce their carbon footprint are moving from 490 gram bottles to a new 420 gram bottles under screw-cap. And, if you are familiar with the Carmen Nativa Organic wines, they will now be a separate brand with its own vineyards and winemaking team


Carmen Reserve Cabernet Sauvignon, Maipo Valley, 2005 presents bright red berries, cassis and eucalypt aromas, hints of chocolate, chalky minerality and tobacco. Mouth-filling with creamy fruit and spice flavours lingering on the palate.
About $22

Carmen Reserve Petit Sirah, Maipo Valley, 2005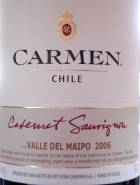 has jammy blueberry and chocolate aromas minerals and sweet espresso. The berry fruit – blackberry/blueberry – reappears on the palate with warm spice, coffee liqueur, leather and licorice. Weighty and dense with super ripe tannins.

Carmen Winemaker's Reserve Red, Maipo Valley, 2005 blends 45% Cabernet Sauvignon with, Carmenere (25%), Merlot, Syrah and Petit Sirah. Aromas are ripe dark fruit, espresso, dark chocolate, and licorice notes. The texture is superbly silky with dense flavours of coffee, chocolate and sun-ripened berries. A powerful but balanced wine with ripe youthful tannins on the finish. Release is January 2009 – its about $52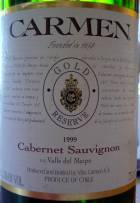 Carmen Gold Reserve Cabernet Sauvignon, Maipo Valley, 2005 this single vineyard, ultra premium Cabernet is brimming with ripe berries, espresso, chocolate syrup and cassis with sweet, exotic spice aromas. Velvety on the palate with dense berry and mocha flavours, the tannins are powerful but ripe and the linger is substantial.
Gold Reserve 1999 – the Gold Reserve is only made in the best vintages (although Chile has very consistent vintages) 1999 is considered one of the best vintages in 20 years. It presents sweet red berries, spice and tobacco notes with caramel, dried fruits, spice and cedar box flavours. The finish lingers with hints of coffee, the acidity is balanced, the tannins smooth.

For more information on Carmen click here

Tarapacá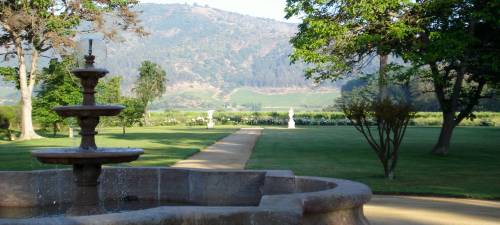 The Tarapaca Estate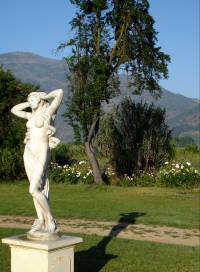 Viña Tarapacá is part of the Southern Sun Wine Group. They own six properties in Chile and Argentina, but in 2008 a partnership between Tarapacá and another Chilean group named Viña San Pedro (who also has six wineries in Chile and Argentina) made them the second largest wine company in Chile – the completion of which took place a week prior to my visit in November.
But you won't see the enormity of Southern Sun when you visit the beautiful Tarapacá ex Zavala estate. Founded in 1874 under the name of Viña de Rojas, makes Tarapacá one of the most historic wineries in Chile. The name Zavala came into place many years later under the ownership of Antonio Zavala. Tarapacá ex Zavala came about soon after, named in honor of Mrs. Zavala's lawyer who won her the Zavala winery in the divorce settlement. The estate house -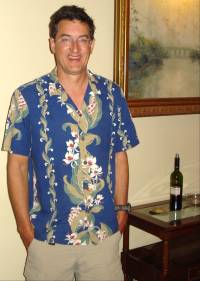 renovated several years ago – boasts raked drives, rolling lawns, palm trees and fountains, a pool, guesthouse, golf field and an obligatory airstrip. There is also a museum, a winery built in the mid-90s and extensive cellars – much of which has been updated. California ex-pat (and previously of Errazuriz) Ed Flaherty (right), head winemaker for Tarapacá,
Vina Mar and Casa Rivas – showed up for dinner in one of his signature flamboyant shirts – to taste some of the Tarapacá wines and lead the tour.

Tarapacá 'Terroir La Isla' Sauvignon Blanc, Leyda Valley, 2008 is the first time Leyda grapes have been used and bottled under this Tarapacá label. This costal region (within the San Antonio Valley DO) is getting to be well known for its Sauvignon Blanc, Syrah and Pinot Noir. It's a snappy Sauvignon Blanc smelling of grass clippings, jalapeno, tropical fruits and citrus with a very interesting smoky/flinty minerality. The palate shows appealing minerality,
peaches and fresh herbs with loads of zest on the finish.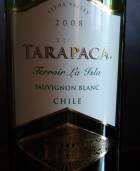 Tarapacá 'Terroir Piritas' Chardonnay, Maipo Valley, 2007 like the La Isla Sauvignon Blanc, the Piritas Chardonnay is part of Tarapacá's 'Terroir' series made to showcase individual character and quality from different regions around the Maipo. This wine has lovely pure fruit aromas and flavours – pear, tropical citrus and hints of young golden pineapple with undertones of butter and caramels. I love the combination of fresh flavours housed in a round, creamy texture.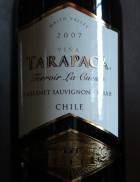 Tarapacá 'Terroir La Cuesta Cabernet~Syrah', Maipo Valley, 2007 is a 50/50 blend. Sweet Cabernet berry aromas drift out of the glass followed by the Syrah's blackberry and pepper and finally some smoky/meaty undertones. The palate has mixed berry fruit flavours, savoury herbs, minerality – a slight salinity and loads of spice. Nice acidity, integrated tannins and a lingering smoky/char finish.

Tarapacá Late Harvest Sauvignon Blanc~Gewurztraminer, Maipo Valley, 2007 is such a unique flavour amalgamation of Sauvignon - grassy and lemony superimposed on
Gewurztraminer - honey, lychee, rose oil and warm spice.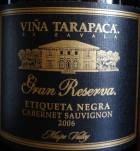 The palate is juicy and lemony with loads of citrus peel and chamomile tea with honey flavours. Sweet and tart with a fabulous zesty finish. Pairs well with dulce de leche cake.


Tarapacá Gran Reserva Etiqueta Negra, Maipo Valley, 2007 is a blend of Cabernet Sauvignon, Syrah and Cabernet Franc. It presents ripe fruit aromas – plums, blackberries, cherries, spice and saddle leather. Plush on the palate with very good structure and smooth tannins showing dark fruits, bittersweet chocolate and earthy flavours.
Should be available in Canada soon.



Tarapacá Zavala, Maipo Valley, 2007 is considered a Premium Plus wine. The Zavala was also one of my Top 50 picks of 2008 in the $20-$50 category. A blend of Cabernet, Syrah and Merlot this wine is juicy! Purple fruit aromas - forest berries first, followed by cassis, oak spice, eucalyptus and chocolate sprinkled with allspice. Velvety but fresh on the palate – time in the bottle will be very beneficial – giving it time to meld and smooth out. Very good

For more information on Tarapacá click here
TerraMater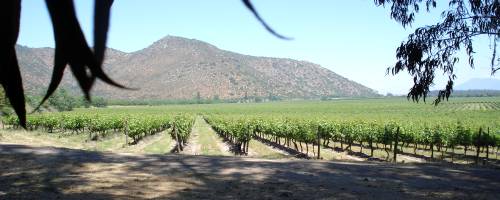 TerraMater vineyards in Maipo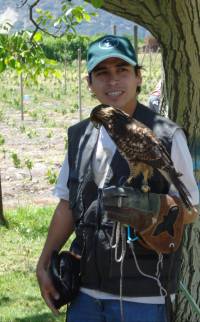 TerraMater, in many ways seems like a young winery but, it is the culmination of a family split, then rebuilt. In 1996, three sisters - Antonieta, Edda and Gilda Canepa - combined their family vineyards and history of winemaking into TerraMater - Mother Earth. TerraMater has three main vineyards in Curico, Maipo and Maule, in total 700 hectares of vines and olive trees. I visited the winery in Isla de Maipo on a another hot, sunny day tasting wine and enjoying a gracious alfresco asado (Chilean barbecue) luncheon in a grove of trees in the 500 hectare Maipo vineyard. You will never starve in Chile...
Like most producers in Chile TerraMater levels of quality and price - starting with the entry level Paso del Sol then Vineyards Reserve, TerraMater Limited Reserve, the Altum Single Vineyard wines, Unusual and their first vintage called Mater (mother) was introduced in 2006. From here, one wonders why so many tiers - but the answer is not so simple. Often different tiers are sold to different countries, depending on that country's consumer needs.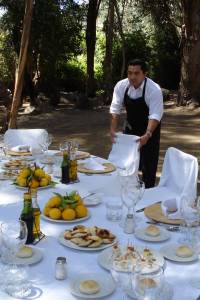 Entry level Paso del Sol may appeal to some and not others - the label often makes a difference to what sells where also. I found this in many wineries in Chile - multiple tiers of which I may only be able to purchase one or two of in Canada.

Right top - vineyard management with wings
Right -preparing for a Chilean asado
Right bottom - asado (barbecue)

TerraMater Cabernet Sangiovese, Maipo Valley, 2006
BC private wine stores about $15 link to review
TerraMater Altum Chardonnay, Casablanca Valley, 2007 is a toasty, buttery Chardonnay with pear compote and pineapple aromas. It encompasses your palate with ripe creamy fruit, loads of tropical citrus and spice and it lingers impressively.
$23 LCBO

TerraMater Altum Shiraz, Isla de Maipo, 2006 has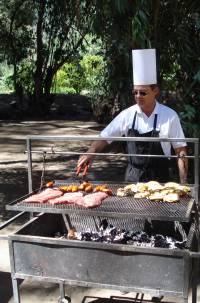 sweet ripe fruit that levitates out of the glass - Black cherry, blackberry, blueberry, savoury undertones, earth and pepper. The palate is spiced, it has coffee and chocolate, layers of black and blue fruit flavours. Its plush and powerful with grippy tannins that linger extensively, while holding tight to spice and dark earthy flavours.
TerraMater Unusual Carmenere-Shiraz, Maipo Valley, 2006 has a gorgeous colour with aromas of dried fruits, balsamico and espresso. I
t is dense and rich on the palate with dark berry fruits, spiced dark chocolate and coffee beans. The texture is velvety and supple with massive structure and powerful lingering tannins.

TerraMater Unusual 'Mighty Zin', Maipo Valley, 2006 has sweet, ripe berries on the nose - raspberry, blueberry, and 'cola' spice (cinnamon, clove, sweet allspice) with an mouth-feel and silky finish spiked with spice and tobacco flavours.

TerraMater Unusual Cabernet-Zinfandel-Shiraz, Maipo Valley, 2005
BC private wine stores about $45 link to review
For more information on TerraMater click here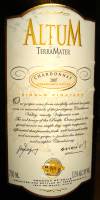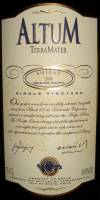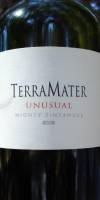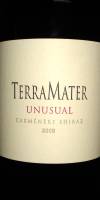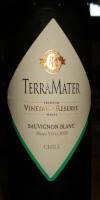 Viña Maipo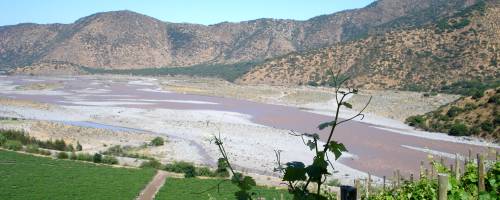 Hilltop at Viña Maipo looking down into the valley and the Maipo River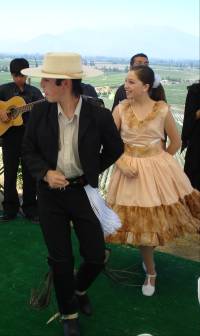 Viña Maipo was purchased by Concha Y Toro,
twenty years after it was first established in 1948.
In 1985 Viña Maipo started exporting to Europe, they were very small then, and by 2003 they were the 3rd largest exporter to the EU. Only now, for the first time, are the arriving on our own shelves. In 2007, in order to compete on multiple levels and provide consumers with more options, Viña Maipo launched their ultra-premium line and their sparkling wine series. They have 700 hectares spread around the Central Valley some of which we gazed upon during our visit to Maipo Town - on a hilltop looking over the Maipo River and valley. Viña Maipo's connection to Maipo Town is obvious by the label depicting the towns church tower and story of how for centuries, locals gather there to pray, which is why their vineyards have always, miraculously, been protected . Local folkloric singers joined us to dance and to sing - introducing us to traditional Chilean entertainment.

right-folkloric dancers, below right -local snacks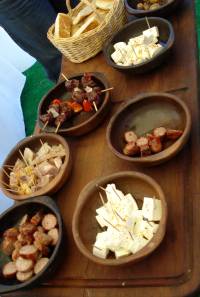 Viña Maipo Reserva Sauvignon Blanc, Casablanca Valley, 2008 is an easy drinking Sauvignon Blanc with nice acidity, peachy citric tones and a pleasantly rounded mouth-feel.
BC $12.95
The Reserva Especial Sauvignon Blanc is available in LCBO stores for $17.95


Viña Maipo Reserva Cabernet Sauvignon, Maipo Valley, 2007 shows cassis liqueur, jalapeno and vanilla aromas. Its velvety, with bright fruit, the finish is smooth but the mid-palate is a bit shallow.
BC $12.95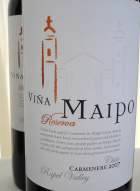 Viña Maipo Reserva Carmenere, Rapel Valley, 2007 has jammy, ripe fruit, pepper, pretty floral notes, cocoa, vanilla and pearl onion undertones. It is smooth and supple on the palate with sweet fruit and savoury flavours that echo the aromas. The finish is quite savoury, the acidity bright and the tannins polished - good value.
BC $12.95

Viña Maipo Gran Devocion Sauvignon Blanc, Casablanca Valley, 2008 is a very attractive Sauvignon with aromas of creamy peaches and crisp apple with tropical citrus and minerals. the palate is fresh, rounded and lively with
nice complexity and sweet fruit lingering on the finish. Lovely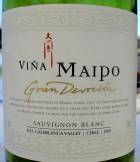 .


Viña Maipo Gran Devocion Cabernet~Syrah, Maule Valley, 2007 Has mouth-watering berry aromas - blueberry, cassis and raspberry - creamy chocolate and espresso with vanilla. Supple and smooth on the palate with balanced acidity and flavours of mixed berries, chocolate, white pepper and coffee. Peppery spices linger on the finish, the tannins are silky.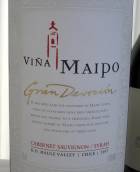 Viña Maipo Limited Edition Syrah, Maipo Valley, 2006 has 3% Cabernet added in to make this tasty Syrah. Aromas of dried, almost sun-baked fruits, espresso, menthol and some juicy berry undertones. The palate shows spiced fruits, silky chocolate and coffee flavours with finely ground pepper. Sweet and smooth. Only 500 cases produced.


For more information on Viña Maipo click here
Undurraga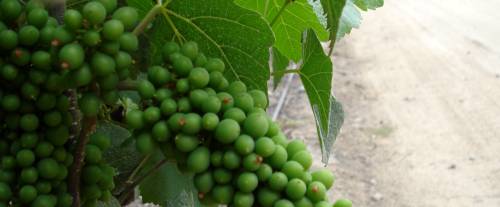 Pinot Noir at Undurraga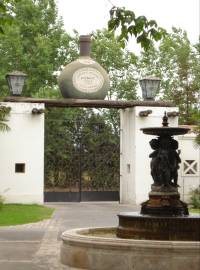 Undurraga is quickly becoming a bubble-house. Their range of sparkling wines is growing and the price/quality ratio is something to be aware of. Unfortunately not much of that bubbly is available here - yet. But Undurraga is also a premium wine house. Yes, they do have multiple tiers of wines starting at the most basic, entry level – inexpensive wines - but I want to look past those to the mid-tier and premium wines. I think this is where wine drinkers need to see Chile's shine. Chile's entry level wines are good – all solid - but the mid-tier wines, the next step up for a few dollars more are well worth the investment.
Undurraga is a lovely estate in Maipo at Santa Ana de Talagante, not far from Santiago. I visited there on my last day of wine touring on the way to finally (after 2 weeks) see the ocean at the port city of Valparaiso.
It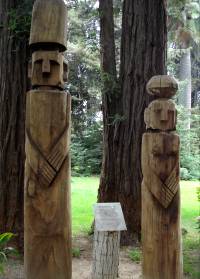 was also the only cool day I witnessed in Chile –
day after day it was blue skies and gorgeous temperatures.
The visit to Undurraga, like all visits in Chile was unique. It's an old estate (1885) but the more recent developments have been massive. Purchased in 2006, a new winemaking team (including the well-know Alvaro Espinoza and Hernan Amenabar) and new management were quickly put in place. New vineyard land was purchased; old brands were polished while new brands (labels) were developed. Those were just the obvious changes. The estate grounds went under some artistic upgrades with a strong nod to the indigenous Mapuche peoples, their ancestors and their beliefs and, the new winery is currently under construction. But the long established underground cellars are quite fantastic.
Traditional Mapuche carvings facing the sunrise.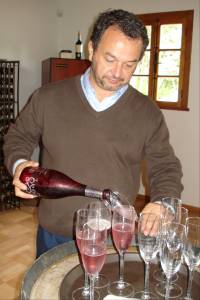 Undurraga Brut, Maipo Valley, NV like most sparkling wines in Chile is not a traditional method – rather a charmat or bulk method of production which is less expensive and less time consuming. The secondary fermentation does not take place in the bottle but rather in a tank, it is then bottled under pressure with the bubbles remaining. Made from 40% Pinot Noir and 60% Chardonnay and has aromas of candied fruits, peaches, honey and fruit blossoms. The flavours are apple and peach – its crisp and fresh with a kiss of sweetness. It's a simple, easy drinking sparkler and perfect patio wine.
Undurraga also makes a Brut Royal with 60% Pinot Noir, a Brut Royal Rose. There are two new sparkling wines coming soon – the Blanc de Blanc and Blanc de Noirs. The only traditional method sparkler they make is called Brut Supreme. Lets hope we see some of these in the near future.

winemaker Hernan Amenabar pouring a fruit sparkling wine that is popular in Chile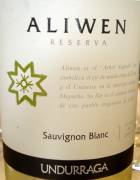 Sibaris Sauvignon Blanc, Leyda Valley, 2008 is a gorgeous example of refreshing Sauvignon Banc from Leyda (a sub-apellation of San Antonio). It presents creamy peach aromas, grass clippings, snappy citrus and a hint of smoky minerality. It is fresh, mouth-watering and zesty with a long, clean finish.


The Aliwen Chardonnay, Curico Valley, 2007 is butterscotch in a glass. The aromas are creamy vanilla caramels, pineapple and melon with undertones of toast, a hint of espresso and sweet, nutty praline. Smooth and surprisingly fresh and clean on the palate nicely balanced between buttery and crisp with flavours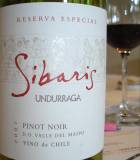 of pineapple, citrus, and warm spice. Yum!

Sibaris Pinot Noir, Maipo Valley, 2007 is always a great bargain. Last year, under its old label (simply Undurraga) it was in my Top 100 of 2008 under $20. Well deserved at under $16.
Sweet aromas – almost candied – cherry, allspice, vanilla and toasted, charred hints with herbal undertones. Fresh blueberry flavours, coffee, toast and earthy tones – fresh and smooth with surprising weight and a spiced tobacco finale.
The current vintage 2006 is $15.99 in BC Liquor Stores

T.H.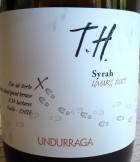 Now this is exciting stuff. As good as the readily available wines are from Chile we wine geeks love a little treasure hunting…
T.H. stands for Terroir Hunter which is an interesting experiment to find the best terroirs for a grape variety and letting the expression in those terroirs speak through the wine. In this case, winemaker Rafael Urrejola has trekked through Chile looking for the best places to make Sauvignon Blanc and Syrah. He has made Sauvignon Blancs from Lo Barca (in SanAntonio only 6km from the ocean), in Leyda (also in SanAntonio) and in Casablanca. His Syrah grapes have come from Maipo and Limari. We tasted the Sauvignon Blanc from Leyda and the
T.H. Syrah, Limari Valley, 2007-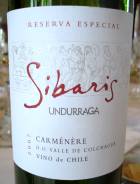 The Syrah is extremely impressive.
The aromas are sweet and smoky, succulent wild berries and bacon fat aromas, chocolate shavings and spice. Plush but fresh – vibrant acidity - on the palate with layers of red fruit, spice, chocolate and peppercorns followed by fine tannins on the finish.

Sibaris Carmenere, Colchagua Valley, 2007 shows juicy berry, balsamico and loads of pretty floral aromas with undertones of chocolate, spice and typical 'green' hints. The aromas are echoed on the palate – its fresh (almost delicate) with great acidity with excellent fruit expression and a plush texture. Delicious.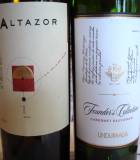 Undurraga Founder's Collection Cabernet Sauvignon, Maipo Valley, 2006 has upfront red berry aromas, ripe and plush, cherries and chocolate and savoury smoked/meaty tones. Its direct, succulent and intense on the palate with cassis liqueur flavours, fine tannins and a long sweet finish. Stunning.

Undurraga Altezor, Maipo Valley, 2006 is a blend of Cabernet (55%), Syrah (18%), Carmenere (15%) and Merlot with aromas of spiced plums and ripe berries, pepper and earth. The lush fruit follows through on the palate, its layered and elegant with cedar, espresso and spice. An impressive wine with power that I would like to revisit in a couple of years.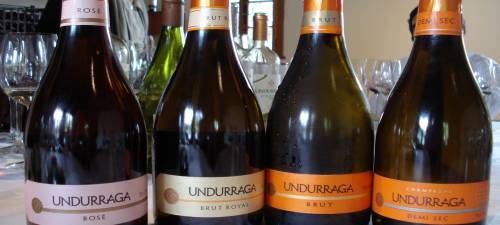 Stay Tuned - Coming Soon
more articles on Chilean wine D.O.s - Rapel Valley, Curico, Maule...
Link to Chile - an introduction
Link to more on:
Aconcagua Valley
Rapel Valley

---