Articles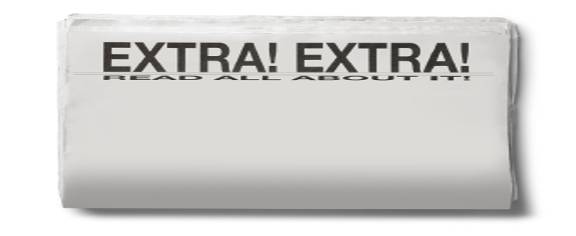 ---
(Re)Discovering Chile - Aconcagua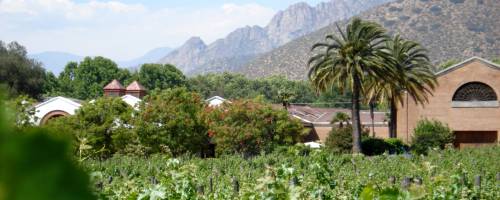 Posted January 8 2009
By Daenna Van Mulligen

Errazuriz is a multi-layered producer. Besides being an highly regarded name world-wide and an important piece of Chilean history, it now encompasses a growing number of labels and sustainable vineyard sites.

The Vineyards
I visited the beautiful, historic Don Maximiano Estate in Aconcagua, 60 kilometers from the Pacific Ocean. This is the original 1870 estate, which is 169 hectares in size and is broken up into six vineyards sites – Max I thru Max VI. These vineyards are planted with Cabernet, Sauvignon, Shiraz, Carmenere, Petit Verdot and Cabernet Franc – typical Bordeaux varieties. The Max III vineyard has been certified organic since 2003.
Planted in 2005, only 14 kilometers from the ocean is the Chilhué Estate. Similar in climate to Marlborough in New Zealand, Chilhué is prudently planted with Chardonnay, Sauvignon Blanc, Pinot Noir and more recently some Viognier and Pinot Gris.
The La Vertientes Estate is 40 kilometers inland – it's a hillside vineyard planted with Cabernet Sauvignon, Shiraz, Sangiovese, Merlot, Carmenere, Cabernet Franc and Petit Verdot with some trial plantings of Viognier, Mourvedre and Grenache.



The gate at the historic Don Maximiano Estate in Aconcagua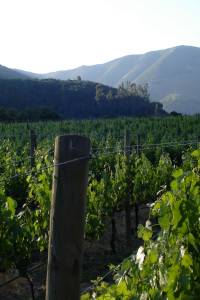 The Seña Hillside Vineyard is 41 kilometers inland, across the Aconcagua River from La Vertientes. The location decided upon in 1999 by teams from both Errazuriz and then partner Mondavi. It is a 350 hectare site nestled in a lush, secluded spot - it's verdant boasts a stream and about 45 hectares of undulating rows of vines. Here, transitional biodynamic agriculture is in full swing – even the rocks are pulled from the vineyard by horse.
In 2009 it will be certified biodynamic.
And finally south just outside of Santiago in Maipo is Viñedo Chadwick planted with red varieties and in Casablanca the Le Escultura Estate provides cooler-climate Pinot Noir, Chardonnay and Sauvignon Blanc.
All of these sites, plantings and appellations may be confusing to wine drinkers who are only concerned about how a wine tastes (that is the end game after all). But what they do is allow producers to chose the best locations suited to the best varieties so they can make the best possible juice. Base of the Seña Hillside Vineyard
And Errazuriz is certainly doing an impressive job.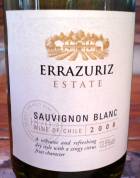 Here are some interesting tasting notes on wines you may not have tried before- tasted November 17 2008
Errazuriz Single Vineyard Sauvignon Blanc, Aconcagua Valley, 2008 comes from the Manzanar Estate vineyards near the ocean. This is an excellent Sauvignon with loads of complexity. The aromas are pomelo and pink grapefruit, asparagus and shoots with spicy green pepper and fleur de sel aromas. Fresh and minerally, with citrus and herbs – the salinity carries through onto the palate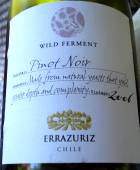 Errazuriz Wild Ferment Pinot Noir, Casablanca Valley 2006 comes from Le Escultura vineyards. As the name suggests natural yeasts are used in this wine, they are believed to give complexity to the final product. Cultivated yeasts are used far more frequently because they're easier to control in the winemaking process. It presents sweet, berry-cherry and floral aromas, bright and juicy with leather, woodsy, mountain stream and mineral notes. Fresh strawberries, pepper and spiced tobacco flavours appear on the palate, it's medium-bodied with berry and spice flavours lingering on the finish.
The 2007 – is cherry red in colour with aromas of candied berries, forest floor spices and sweet cedar.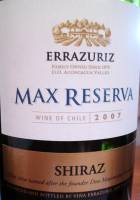 It showed Gamay characteristics with fresh, juicy red fruit, spice and tobacco with a hint of toast and fine tannin on the finish. 2007 was a cooler year than 2006.

Errazuriz Max Reserva Shiraz, Aconcagua Valley, 2007 is from the Max I, II and V vineyards. The intensity of this wine was impressive. Liqueur like aromas – raspberry and black berry, it's perfumed with crushed dark flowers and sweet and savoury undertones. Rich dark fruits on the palate, coffee and allspice linger with perceptible tannins.
From the Arboleda Series of Wines
Arboleda is a young boutique winery named after the groves of native Chilean trees that grow in the vineyards.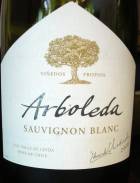 The grapes come from various vineyards in Leyda, Casablanca and Aconcagua
Arboleda Chardonnay Casablanca Valley, 2007 has noticeable toasty aromas, vanilla, brown-butter, roasted nuts and fleur de sel undertones. The palate concentrated with tropical and grilled fruit flavours, citrus zest, saline and a long, spiced, buttery linger.
Arboleda Sauvignon Blanc, Leyda Valley, 2008 is reflective of the gorgeous Sauvignon Blancs I tasted all over Chile. It's herbaceous and snappy with mineral, gooseberry and citrus rind with bold aromas of jalapeno jelly. The palate presented pretty pink grapefruit, pineapple and gooseberry fruits, lip smacking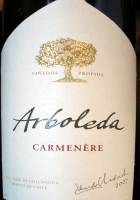 and focused with a slightly hot finish.
Arboleda Carmenere, Colchagua Valley, 2007 is what I love about Carmenere – typical herbal or 'green' notes that support juicy blackberry and black current aromas, bittersweet cocoa and spice. Meaty and spicy on the palate it showed jalapeno and ripe fruit, pepper and licorice. Powerful flavours and ripe tannins – very good.
From the Icon Series of wines all from the original Don Maximiano Estate in Aconcagua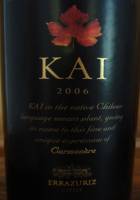 Errazuriz Kai Carmenere, Aconcagua Valley, 2006
This wine was one of the top 5 Carmeneres I tried on this trip to Chile. The first vintage was 2005 so it is just being introduced. Made from 87% Carmenere with 9% Petit Verdot and 4% Shiraz its an epiphany on the palate. Vibrant mixed berry, pepper, leather and espresso aromas with an earthy core. Powerful and plush on the palate, sweet and juicy with lingering coffee flavours and ripe tannins at the tail end.

Errazuriz La Cumbre Shiraz, Aconcagua Valley, 2006 presents enticing aromas of wild berries, blueberries and pepper with an earthy core, sweet spices and crushed dark flowers. It is juicy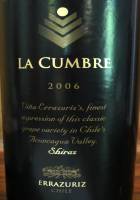 and bright on the palate with more sweet spices, chocolate and some savoury layers. Powerful and intense – I would love to re-taste this wine in couple of years.

Errazuriz Don Maximiano Founder's Reserve, Aconcagua Valley, 2006 is 82% Cabernet Sauvignon blended with Cabernet Franc, Petit Verdot and Shiraz. Like the other icon wines it is intense and powerful – the aromas were sweet cassis and floral with allspice and menthol. It showed fantastic acidity, ripe and juicy fruits, with intense wild-blueberry flavours and sweet ripe tannins on the finish.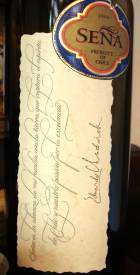 Seña, Aconcagua Valley, 2006 is just over one-half Cabernet Sauvignon with Merlot, Cabernet Franc, Petit Verdot and Carmenere from the Seña Hillside Vineyard .
This decadent icon wine first made an appearance in 1995
and is an elegant reminder that the worlds best need not come only from the old-world. Plush chocolate covered cherries, ripe red berry, vanilla, espresso, spice and licorice, sweet – liqueur like intensity on the nose and palate. Exotic, sweet and rich Turkish coffee, spices and cloves, creamy berry fruit – absolutely opulent.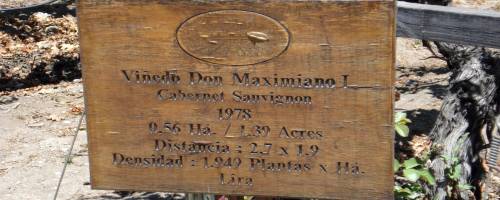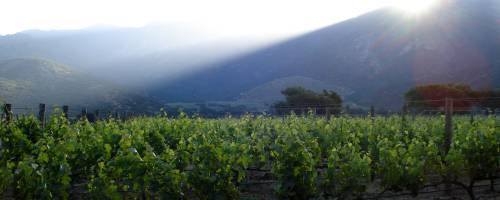 The Don Maximiano Estate - Max I vineyard (top) The Seña Hillside Vineyards at sunset (above)
To read an intro into the wine regions of Chile click here
To read about the wines from other regions:
Maipo - click here
Rapel - click here

---