Articles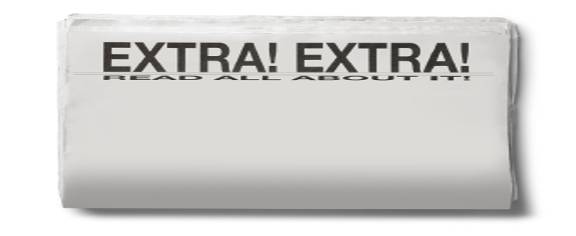 ---
(Re)Discovering Chile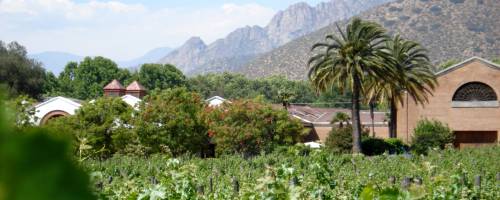 Posted January 7 2009
By Daenna Van Mulligen

You can never really get lost in Chile, the magnificent Andes Mountains are always within view, and are always east. And, if you head west, into the sunset, you'll find yourself at the Pacific Ocean – in very little time.
So it's curious that while visiting a country with more than 4000 kilometers of coastline, it took me two weeks to find my way to the Pacific Ocean - especially when I was never more than 150 kilometers from it.

Anyone who has held a globe or viewed a world map has probably noted Chile's organic slice of the South America pie. Bound by 4300 kilometers of the Pacific Ocean from its northern Atacama Desert south to the Patagonian Ice Fields (next stop Antarctica) and hemmed in to the east by the Andes Mountains, Chile is a geographical anomaly. So based on the fact that vineyards tend to be anchored inland, and most of my travel was north to south, perhaps dodging the ocean was not so difficult after all.
When you travel long distances you want to utilized your time and see as much as you possibly can. My time in Chile was maximized, never rushed. Although I didn't see every one of the grape growing regions, I did acquire a comprehensive understanding and a new appreciation for this stunning country.

Chile's Wine Producing Valleys from the North to the South


Looking out over the biodynamic vineyards of Seña in Aconcagua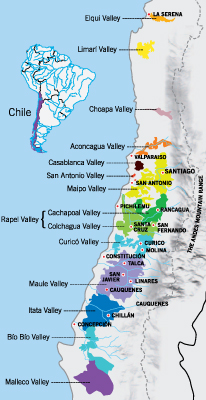 Like most places in the world, the word 'region' often confuses people when interchanged with appellation or a specifically demarcated wine producing area (AOC, DOC, DO etc.).
So to clarify first. Chile has four actual wine producing regions, which constitute a D.O. (Denomination of Origin); Coquimbo in the north, Aconcagua, Central Valley and the Southern Region. Within these regions are sub-regions. These are what we generally mean when we discuss a wine from a specific valley in Chile.
Of course within sub-regions there are often even smaller distinguishable appellations – intrinsically more interesting due to their unique terroir and microclimates - but often a bit in-depth.
If you look at a map of Chilean wine producing D.O.s (Denomination of Origin), you'll notice they are focused around the Central Valley and the capital city of Santiago. But newer vineyards are popping up – in the north and in the south – driven by new technology and a better understanding of terroir.

In the north,
Elqui and Limari are creating a buzz.
The most northern, Elqui Valley sits just below the Atacama Desert, about 500 kilometers from Santiago. The desert provides a long, dry season with typically cool nights – grapes love cool nights after sun tanning all day long. Here Cabernet Sauvignon is the most widely planted variety by far with meager pockets of Merlot, Chardonnay, Carmenere, Sauvignon Blanc and Syrah.
Wines you may recognize from this region - Falernia

Below Elqui, about 400 kilometers north of Santiago, is the Limari Valley. Traditionally known for its Moscatel grapes used in the production in the Chilean favorite distilled liquor called Pisco, you will now find elegant Syrahs, Sauvignon Bancs and Chardonnays taking a foothold in the calcium rich soils. This minerality definitely shows in the wines. And, although Cabernet Sauvignon vines still outnumber other varietals in Limari, the times, they are a-changin'.

Wines you may recognize from this region – Casa Tamaya and Maycas del Limari.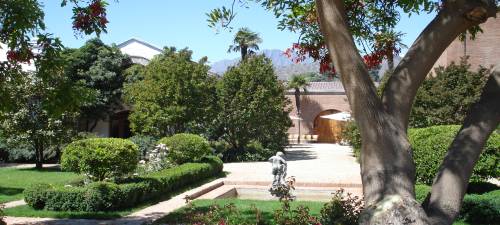 Gardens at Errazuriz

Aconcagua Valley is a far north as I traveled, and what a trip. Aconcagua is, for all intents and purposes, Errazuriz. That isn't saying that there are no other producers here but it was Don Maximiano who pioneered the region in 1870 when most others were growing their grapes in Maipo – around Santiago. Recognizing the quality of terroir in the Aconcagua he imported vines from France – the beginning of a wine story that continues to make history with his grandson, (now the fifth generation) Eduardo Chadwick. Not only is Errazuriz's famed Seña the first icon wine of Chile but in the last decade the premium wines of Viña Errazuriz have gone head to head with some of the greatest wines in the world – Château Margaux, Château Lafite and Château Latour as well as Solaia, Tignanello and Sassicaia - and kicked some Euro butt.
Aconcagua's unique and stable, cool-dry climate make this a region greatly suited to organic and biodynamic viticulture. The region is small and quite scattered. It weaves its way in odd swaths of land from the city of Los Andes at the base of the Andes toward the port city of Valparaiso on the Pacific. Aconcagua is also home to the highest Mountain peak in the Western Hemisphere – Mount Aconcagua.
Wines you may know from this region – Errazuriz, Seña, Arboleda
to read more on these wines/wine producers click on the name above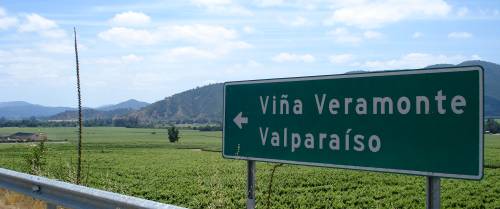 In the Casablanca Valley

Below Aconcagua is Casablanca.
Right now, Casablanca seems to be the darling consumers are focused upon – perhaps the romance of the name, but hopefully because we are finally starting to understand the differences in terroir – and what unique characteristics a region brings to a wine. Whereas every region north of Casablanca (and most of those south as well) have more Cabernet Sauvignon planted than any other grape, in Casablanca Chardonnay and Sauvignon Blanc rule. Only seventy-five kilometers from Santiago, it is considered a cooler climate – close to the Pacific with fog and often poor sandy soils that more suited to maintaining desirable acidity in these varieties.
Casablanca is a circular region, about 4000 hectares in size, about seventy-five kilometers west and a bit north of Santiago.

Wines you would recognize from Casablanca – Veramonte, Vina Mar, Loma Larga, Morandé, Casablanca and Casas del Bosque.

Directly below Casablanca, between Santiago and the Pacific Ocean, is the San Antonio Valley. Anchored by the port city of San Antonio, like Casablanca this cool climate region does well with grapes that respond well to higher acidity. The vineyards in San Antonio, and it famous sub-appellation Leyda, are become renowned for their elegant Syrahs, Sauvignon Blancs and Pinot Noirs.
Wines you may know from San Antonio – Matetic and Leyda.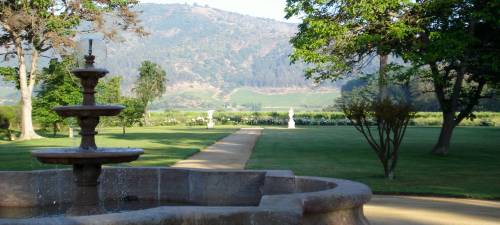 Tarapacá - the Estate
The most densely packed, and the most recognizable of the DO Valleys is Maipo.
Maipo attaches itself to Santiago on the east, drifting above and below the city while ebbing and flowing in a south-westerly direction toward the ocean. Here is where you truly begin to recognize the differences in terroir not just north and south (as one would suppose in a sylph-like country like Chile), but east to west. The eastern regions closest to the Andes have harsh, rocky colluvial soil compositions made up of millennia of mountain decomposition. These higher vineyard sites receive warm daylight sun and cool nights for balance and complexity. The mid-valleys gather more heat - sandwiched in the middle – with less cooling breezes from the Pacific and they are more arid. The valley soils are comprised of mineral run-off from the melting Andes snow caps and smooth stones (alluvial soil) from old river beds. Of course the maritime clime near the water is again different, more moisture and fog – the soils, although fertile, are often sandy. In Maipo these regions are recognized as Alto Maipo (at the base of the Andes), Central Maipo (in the valley base) and Pacific Maipo.

Wines you may know from here – Cousiño Macul, Santa Carolina, Valdivieso, Concha Y Toro, Haras de Pirque, Carmen, Santa Rita, Terra Mater, Baron Philippe de Rothschild, De Martino, Tarapacá and Undurraga
Read about some of these wineries here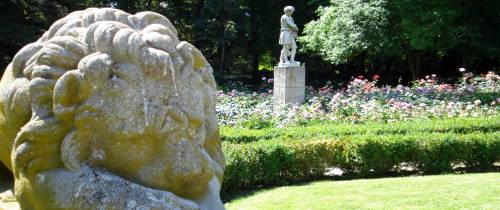 Gardens at Santa Rita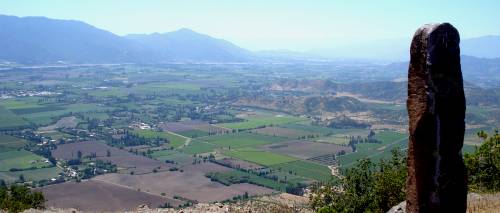 View over Colchagua from Luis Felipe Edwards mountaintop vineyard
Rapel Valley is actually broken into two sub-appellations – Cachapoal and Colchagua. In the Rapel the heat is immediately obvious and drip irrigation is common. Taking advantage of higher temperatures for ripening and tannin structure, red varieties abound. Cachapoal is the more northerly, and easterly of the two appellations (only about 60 kilometers from Santiago) but both have a similar breakdown of vine plantings – predominantly Cabernet Sauvignon followed by Merlot and Carmenere.
Colchagua is roughly double the size of Cachapoal and rolls across Chile from the Andes, almost to the Pacific. Like Maipo Valley Colchagua enjoys three diverse terroirs – the Andes, the Valley and the Pacific. It was in the Valley of Colchagua that we wove our way up steep mountain slopes in four-wheel drive trucks, for nearly half an hour, to vineyards at 1000 m above sea level at Luis Felipe Edwards. The planting and irrigation systems are fantastic, the slopes treacherous but the views – stunning. And it was also here that the spring sun baked. The temperatures during my visit rose above 36 degrees which made hats essential while touring various vineyards,

Wines you may know from Cachapoal – Anakena, Morandé
Wines you may know from Colchagua – Casa Silva, Orgánicos Emiliana, Cono Sur, Montes, Casa Lapostolle, Ninquén, Estampa, MontGras, Caliterra, Terra Andina and Luis Felipe Edwards link here to read about the wineries of Rapel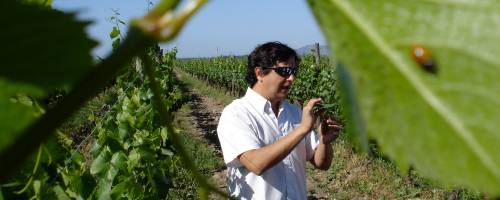 Learning about biodynamic viticulture at Cono Sur from winemaker Matias Rios
Curicó Valley begins just under Cachapoal and runs south through central Chile with an arm of land which reaches toward the ocean. It is the third largest wine growing valley in Chile and is located just under 200 kilometers from Santiago. Curicó also has more Sauvignon Blanc vineyards than any other region in the country, but that number is still far less than its quantity of Cabernet Sauvignon vines.
Wines you may know from Curicó - Miguel Torres, Valdivieso, Echeverria, Aresti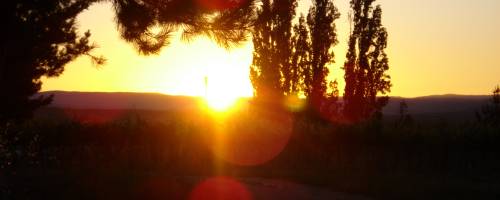 Sunset at the ranch winery of J.Bouchon
Maule Valley is a sizeable DO (Denomination of Origin), the largest by far encompassing 31,000 hectares of vines. This is an old region; some vineyards are up to 200 years old. But the region fell out of favour, perhaps for vineyards closer to Santiago. But there does seem to be some revitalization here. Grafting noble varieties onto gnarled Pais vines (Pais is a native red grape variety) has been attempted, the addition of modern irrigation and replanting bush or overhead (pergola) trellised vines with newer noble varieties and training systems. But despite the changes in the Maule, Pais still runs a close second to Cabernet in total planted vineyard hectares. And Pais is not an easy grape to love. It's a vigorous, high yield, thin-skinned grape that manages well without irrigation but is recognized more as a jug wine variety. Even the premium Pais I tasted while in Chile was difficult to like – it was quite harsh, chewy in fact and lacked real finesse or elegance.
Wines you may know from Maule – Botalcura, Calina, Terranoble, Cremaschi Furlotti, Gillmore Estate and J. Bouchon.
Despite the size of the Itata Valley (nearly 10,500 hectares of vines) the odds are you haven't heard of it. Planted primarily with Muscat of Alexandria and Pais this is fantastically the oldest new world wine region in the new world. Spanish colonists settled here and planted vines some 450 years ago. It's still a very traditional region which is changing and modernizing, slowly. Other plantings include; Cabernet Sauvignon, Chardonnay, Cinsault, Carignan and Semillon.
It seems as though Cono Sur has single handedly put Bio Bio Valley on the map with its cold- climate Gewürztraminers and Rieslings that are made from their vineyards here. There is growing interest in this DO (Denomination of Origin), for Sauvignon Blanc, Chardonnay and Pinot Noir as well. Its not only cold here, but wet – thus creating some pretty interesting challenges that can be worth the slow-ripening, high-acid, final product. Located some 600 kilometers south of Santiago, the Bio Bio and the Malleco Valleys are home to some of the most southerly vineyards in the world.|
And finally, the Pacific Ocean...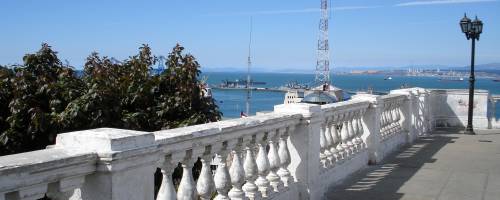 Valparaiso
The best ways to see Chile...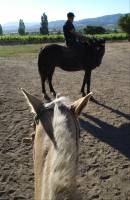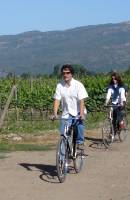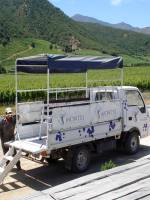 More on the wines and producers of Chile from:
Aconcagua - click here
Maipo Valley - click here
---