Articles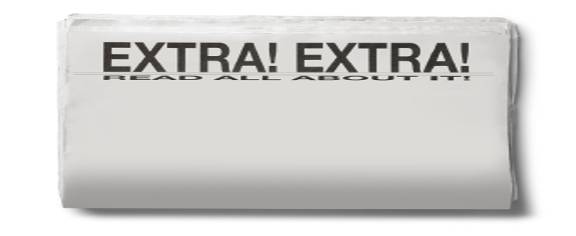 ---
Portugal is knocking - Beiras, Estremadura & Ribatejo
Posted - Nov 13 2008
By Daenna Van Mulligen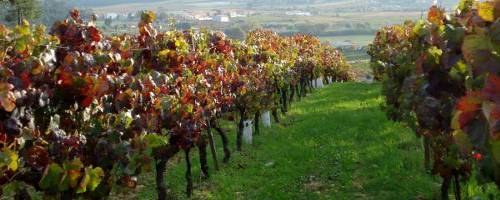 Luis Pato vineyard in Bairrada
Portugal is knocking.
I suggest we answer.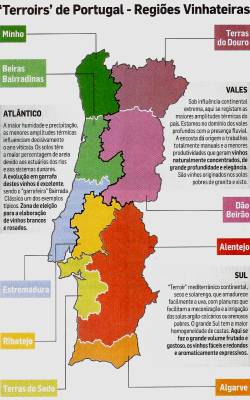 Douro and Port are familiar in our wine vocabulary – for good reason - but what about the rest of Portugal? What of Bairrada and Dão, Estremadura and Alentejo, Algarve and Ribatejo? Diverse and distinctive each, but well-known wine journalist, author and enologist Anibal Coutinho advocates placing these Portuguese regions into three unique categories; the Valleys, the Atlantic and the South. His conviction is based upon similarities in terroir. Coutinho is Portuguese; he knows the wines of Portugal intimately and is a consummate supporter of them. He has been writing books and reviewing Portuguese wines for the past four years – handy guides to the best wines and value wines in Portugal, he also makes wine and writes weekly columns. I joined Coutinho and a group of international journalists, after my tour of Bairas and Estremadura, in the small, historic city of Beja, in Alentejo. With Beja as our base, we toured more wineries and participated in the annual wine festival Coutinho's map showing Atlantic, Valley & South
ViniPax – Wine and Sensations from the south of Portugal. Coutinho is an integral part of ViniPax and is nurturing it into a larger event each year. The name ViniPax is a blend of Vini (wine) and Pax Giulia which is the historic Roman name of Beja.
Although still in its infant stages (next year will be its third) ViniPax could some day prove to be one of the most important wine events of the Iberian Peninsula.
(more on ViniPax and Alentejo coming soon)
What does Portugal have to offer besides Port? Where do I begin? Perhaps in the Atlantic regions, in the north, in Minho with Vinho Verde's crisp white, spritzy, food friendly wines or in the north-central Atlantic Bairrada (within Beiras) with the indigenous red varietal Baga or the whites Bical or Fernão Pires. Below Bairrada, another special region along Atlantic Portugal, Estremadura, encompasses Lisbon and has now officially changed its regional name to Lisboa. In Estremadura I loved the fresh, floral white Arinto wines. Of course there is also the valley region of Dão (another important DOC of Beiras), a large chunk of terroir below the famed Douro Valley. Douro, where traditional varietals like Touriga Nacional, Tinta Roriz (aka Aragones), Tinta Franca, Tinta Barocca, Sousão and Tinta Cão are made into luscious table wines and the celebrated fortified Port wines. Then there's the warm south with Ribatejo (soon to be merely Tejo) in central Portugal just east of Estremadura, or the arid flatlands of Alentejo where the stunning white Antão Vaz is stealing the show and Alicante Bouchet holds great promise side by side with Trincadeira, Aragones and Castelão.
Along the bottom of Portugal is the Southern region of Algarve and rolling around the south-Atlantic coast is Terras do Sado - both of which are immerging wine regions. I could start anywhere but I will take you on the same route I took after landing in the dramatic, ancient city of Lisboa.
I promise you now – the varietal names are confusing but I guarantee you'll appreciate them all.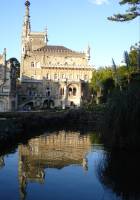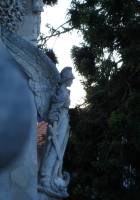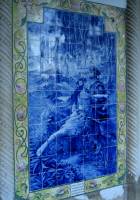 Palace Hotel Busaço and Convent above Luso in Bairrada, stunning Azulejos (hand painted tiles)
Beiras - Atlantic and Valley Region
Within the broad boundaries of Beiras, which flows from the Atlantic and stretches across Portugal to the Spanish border in the east are the DOCs of; Bairrada, Dão, Beira Interior and Távora-Varosa.
In the DOC Barraida, the indigenous tough, tannic red grape Baga and the whites Bical, Maria Gomes (aka Fernão Pires) and Siria (aka Roupeiro) shine. I stayed at the Gothic Busaço (Bussaco) Palace on the forested hilltop above the town of Luso. The protected Busaço Forest rises above Luso, which is known for its drinking water and for healing, therapeutic spas. It is also nearby, in Mealhada where eating suckling pig is not just the mainstay, it's the culture. The high acidity Baga as well as the crisp Bical, and Fernão Pires grapes in still or sparkling (espumante) cut through the fattiness of the young meat which is purchased from favoured caterers and restaurants in the area. But the cheeses from around Beiras are also delicious with the wines. Queijo da Estrela, a gooey, flavourful sheeps milk cheese was a particular favorite of mine.
East of Bairrada, in the much larger DOC Dão the prominent red varieties are Touriga Nacional, Tinta Roriz (aka Tempranillo in Spain, aka Arogonez in Portugal) and Alfrocheiro . And the favoured whites are Bical and Encruzado.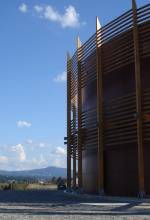 Quinta do Encontro
Our first stop was nearby in S. Lourenço do Barrio, where the new 35 hectare Dão Sul property of Quinta do Encontro dominates a hilltop over the area. Built to resemble an oak barrel with staves, this round winery draws together elements reminiscent of corkscrews and bottle necks in every aspect. Dão Sul also has properties in the Dão, Duoro, Alentejo, Estramadura and even one in Brazil but in order to save time we tasted as many wines as we could from each property without leaving the contemporary comfort of Quinta do Encontro.

Quinta do Encontro Bical, Bairrada, 2007 – super fresh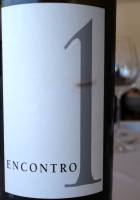 and creamy aromas minerals and honeycomb, peach skins and white floral notes. The palate echoes the aromas – both creamy and crisp with lime juiciness and a mouth-watering finish. Fresh and easy.
Quinta do Encontro 'Encontro 1', Bairrada, 2007 is the top white for QdoE on this property. It's a 50/50 blend of Bical and Arinto (Arinto appears throughout Portugal). Tropical fruit notes – pineapple and melon – honeysuckle and spice. The flavours echo the aromas, the palate is rich and buttery. A great balance of richness and freshness from six months of lees battonage and barrique ageing.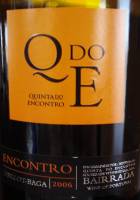 Quinta do Encontro Encontro Merlot~Baga, Bairrada 2007 is Encontro's easy-to-drink red made with a higher percentage of Baga. It has aromas of saddle leather and plums, black current and farmyard hints with fresh cracked pepper. On the palate – plush fruit, peppery spices with good acidity.

Quinta de Cabriz Encruzado Dão, 2007 – The indigenous white varietal called Encruzado has creamy honey and bright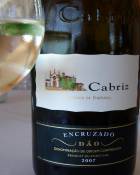 fruity – melon and citrus – as well as floral aromas. Softly oaked with a creamy character due to lees battonage and oak barriques the palate is fresh yet slightly toasty and nutty, the acidity s rounded and the finish spiced.
Quinta de Cabriz Reserva Dão, 2005 uses a base blend of Touriga Nacional, Tinta Roriz and Alfrocheiro. The aromas are sweet and chocolaty, with allspice, ripe berries and cherries followed by rustic earthy/leathery undertones. Supple on the entry featuring ripe, extracted fruit, the mid-palate grows more powerful and the texture become a bit dusty and spicy, the finish shows fine, lingering tannins.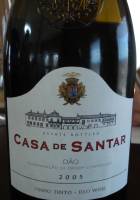 Sociedade Agricola De Santar S.A 'Conde de Sabugal' Douro, 2007 is made from 100% Muscatel. It has a lovely peachy tint with pretty floral, honey, grapey and peachy aromas, minerals and musky undertones. The palate shows creamy fruits with a hint of spice and zest, a zippy finish with a not-unpleasant bitter finale.
Sociedade Agricola De Santar S.A 'Casa de Santar' Dão, 2005 is the most traditional of the Dão Sul properties. The base blend in Touriga Nacional, Tinta Roriz and Alfrocheiro and the aromas are dark and earthy – dark berries,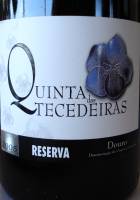 peppercorns, a hint of green vegetal, dark floral, sweet cocoa and toasty hints of the back end. Silky on the palate, elegant and fresh with dense, liqueur-like flavours and finely ground pepper lingering on the finish.
Quinta des Tecedeiras Reserve, Douro, 2005 is a gorgeous wine with sweet ripe briary berry aromas, mint chocolate and allspice. It's intense and rich on the palate with espresso, chocolate, camphor and spice. It's both powerful and opulent with ripe tannins that fasten to your palate. Oddly enough I tasted this wine paired with eggs and spinach (something that you would never assume would work) and it did – very nicely.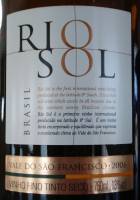 ViniBrasil 'Rio Sol',Vale do São Francisco Brazil, 2006 is a blend of Cabernet and Syrah. The Vinibrasil property is 200 hectares in the hot northern Vale do São Francisco. In fact, because the year round heat (the vineyards here are between 9˚ – 10˚ Southern Latitude), the vines are harvested twice a year shortening their life span and therefore the need to replant more often. But this wine shows off with fresh, ripe berry aromas, unique toffee and candied nuts and velvety chocolate. Opulent on the palate, spiced, sweet berries, balanced old world tannins and acidity with new world fruit expression. Dense, quite powerful and delicious Rio Sol is just being released to the world.
Quinta des Tecedeiras LBV Port, Douro 2001 of course a meal with a wine from Douro would not be complete without tasting a Port. This particular fortified wine spent four years in a stainless steel tank then two years in barrel before being bottle in 2007. It was highlighted by sweet dried fruits and spice aromas. Liqueur-like intensity with lovely brightness, dried fruits and pepper on the palate – thick, warm and sweet, it paired well with a crème brûlée topped with heaps (honestly) of cinnamon.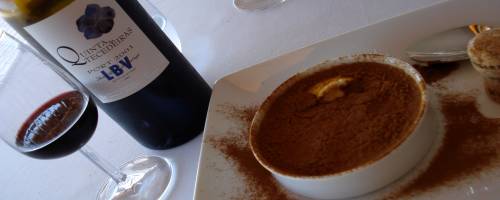 crème brûlée topped with heaps of cinnamon paired with LBV Quinta des Tecedeiras Port

Aliança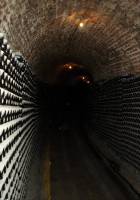 Down the road from Luso is Aliança, which up until recently was known as Caves Aliança. It had been a family winery since 1927 but was bought by the company Bacalhoa in 2007. They make espumante (sparkling wines), still wines and brandy. Their impressive cellars in Bairrada (circa 1923) hold millions of these bottles and barrels as well as three bottling lines in the winery above. They bottle approximately 104,000 bottles of sparkling wine each month and they have vineyards under different quintas and labels in the Douro, the Dão, Bairrada, Alentejo and Beiras. The winery here also has an amazing 7000 capacity barrel cellar full of Brandy aged for seven to forty years.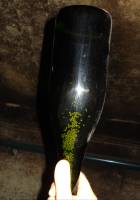 Aliança Bairrada White, Bairrada, 2007 is a blend of two local varieties Bical and Maria Gomes (aka Fernão Pires) with bright floral and mixed tropical and orchard fruit aromas. The palate shows juicy lime and pear, spice and citrus zest – the acidity is softly rounded. Fresh.
Aliança Bairrada Reserva Red, Bairrada, 2006 is a blend of Jaen, Touriga Nacional and Tinta Roriz with dark floral and rich dark fruit aromas with a hint of chocolate shavings. Its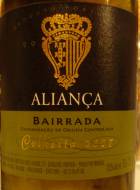 ripe and rounded on the palate with good power, solid fruit, coffee ground and toasted oak flavours followed by polished tannins.
Aliança Rose Bruto, NV is a blend of Baga and Touriga Nacional. It has lovely peach skin and smooth berries; it's off dry and bright with a creamy mousse and firm structure. It pairs very well with salted, roasted nuts.

Quinta da Terrugem Red, Alentejo, 2006 shows dense,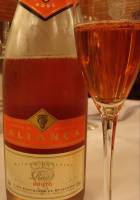 ripe fruit on the nose with a lush palate of cassis and blueberry, spice, vanilla, cloves and black pepper on the finish. The finish is supple and made for the consumer palate. A blend of the Tinta Roriz and the popular Alentejo grape variety Alicante Bouschet.

Quinta Dos Quatro Ventos Douro Reserva Red, Douro 2006 is a blend of Touriga Nacional and Tinta Roriz. The aromas are lovely and bright - dark flowers, mixed berries, iodine, cedar and spice. Supple on the palate – fresh creamy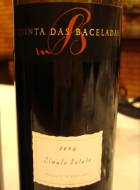 fruit strokes your tongue followed by mocha and pepper – harnessed power with impressive elegance.
Quinta das Baçeladas Red, Bairrada, 2004 is an earthy Cabernet Merlot blend with mixed currents, graphite and gravel aromas. Velvety and ripe on the palate with loads of juicy fruit and peppery spices and finally polished tannins on the finish
Vista TR Vinho Regional Red, Beiras, 2005 – The TR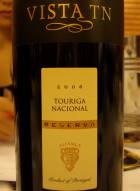 stands for Tinta Roriz of which comprises 90% of this wine (the rest is Touriga Nacional). The 2006 was a bit closed on the nose but it gave up some red fruit and chocolate notes.
The palate is smooth and juicy with berries and some dusty, earthy textures. The tannins are fine but drying. The TR is available in BC - to read my review for the most recent vintage 2004 click here.

Vista TN Vinho Regional Reserva Red, Beiras, 2006 like the TR spells it out for you. This wine is made from Touriga Nacional from around Beiras (which means it does not fall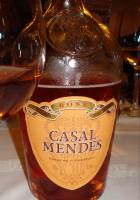 into the DOC of Bairrada). Its sweet vibrant berry aromas are more obvious than the TR and its palate it powerful and masculine (typical Touriga Nacional) with grapey purple fruit flavours supported by char and coffee - the tannins are ripe but grippy.
Available in some regions in Canada – represented by PMA
And just for fun
Casal Mendes Rose Espumante, NV this coral pink sparkling spells fun – it's sweet and juicy with candy floss, banana and strawberry aromas. It has good acidity which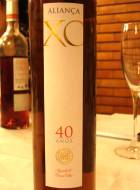 offsets some of the sweetness and tastes of berries and candied citrus zest. Made from Baga.
for more information on Alianca click here
Independent Wine Growers Association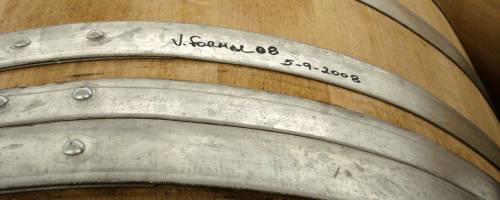 barrel in in the Luis Pato cellar
Our next stop was at the modern, art gallery styled winery of Luis Pato on the Quinta do Ribeirnho in Amoreira da Gândara on the western border of Bairrada. Pato is a compact, droll, mustached man who has a passion for the Bairrada grape – Baga. The Pato winery was to be our meeting point for four of the six members of the Independent Winegrowers Association. The IWA came to fruition only a few years ago, developed in hopes of promoting their products (locally and internationally) more effectively. The members hail from different regions and produce more than 50 different styles of wine as a whole. All produce estate grown wines which they bring together regularly for events and tastings. The IWA includes Casa de Cello, Domingos Alves de Sousa, Luis Pato, Quinta do Ameal, Quinta de Covela and Quinta dos Roques.
The reviews from these producers follow below.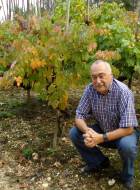 Luis Pato IWA
In Portuguese, Pato means 'duck' and is pronounced more pat... with a soft drag on the 'o' rather than Pat-O. Pato's daughter Filipa is also a winemaker and has quite a name for herself not only in blending wines but in molecular winemaking by using cryoextraction. To make her and her fathers dessert wine FLP she freezes the grapes and used the cryoextraction to remove water from the grapes thereby intensifying the juice (like icewine).
Luis Pato in his 80 yr old Barossa Baga vineyard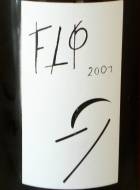 The FLP (Filipa and Luis Pato) is a blend of Bical (50%), and equal parts of Cercial and Sercialinho (a cross between Cercial and Alvarinho). Its fresh, low alcohol, not too sweet with good acidity and a creamy texture. Only 3000 bottles for export only.
Luis Pato Vinhas Velhas White Wine, Bairadda, 2007 is a blend of Bical, Cercial and Sercialinho made in 50% second use oak and the rest in stainless steel. It is fresh but creamy with tropical fruit, minerals, citrus and spice. Rounded on the palate but showing nice acidity. A good partner to fish and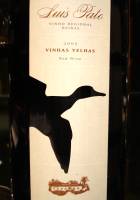 cheeses.
Luis Pato Vinha Formal White Wine, 2000 is an aged Bical that was fermented and aged in new Allier French oak. The aromas bear striking similarities to an aged Riesling – lime zest, honey and petrol with savoury-mushroomy characteristics and a hint of vanilla. The flavours are savoury and foxy as well with wild honeycomb and aged mushroomy tones. An interesting wine, more traditional than modern in style.
A trio of bubbly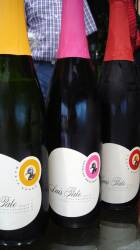 Luis Pato Espumante Maria Gomes is a very refreshing sparkling white – very pretty with floral and tree fruits and a fresh moussy palate.

Luis Pato Espumante Touriga Nacional is pretty in pink with aromas of berries in cream and spices. Good Touriga Nacional typicity but in a refreshing sparkling package with a full moussy palate that will pair with roasted meats, vegetables or perhaps chocolate…

Luis Pato Espumante Baga has a bit more sweetness than the Touriga Nacional and is very intriguing. Tobacco, earth and cherries, a full moussy texture and clean finish. Perfect paired with the local delicacy of suckling pig but would also be good with Christmas turkey, ham or dense, oily fish.
The Luis Pato Espumante Maria Gomes and Espumante Baga have both just arrived in BC. Look for them in private wine stores for about $20-$25.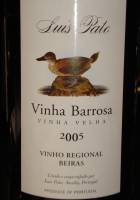 Luis Pato Vinhas Velhas Barossa, Beiras, 2005 is Pato's top wine made from an 80 year old vineyard called Barossa. There was no 2006 nor was there a 2007 made but the 2008 was in barrel. The aromas are fresh berries and pine/eucalypt notes. The mixed and pine reappears on the palate with pepper and spiced chocolate, its direct and concentrated on the entry and with time the mid palate will round out and the powerful grip of tannin will ease. Pato recommends drinking this wine between 8-15 years when the tannin sweetens.

For more information on Luis Pato click here
Casa do Cello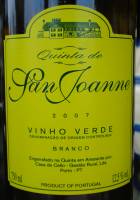 IWA
Patricia Magalthães, the soft spoken enologist (the second female enologist I met that day) from Casa de Cello arrived with red wines from Casa do Cello's Dão estate of Quinta da Vegia and whites from their northern Minho estate of Quinta de SanJoanne. Four generations have contributed to Casa de Cello which is now overseen by João Pedro Araujo. Casa de Cello is 14 hectares located very near Amarante in Minho where they produce still and sparkling Vinho Verdes as well as Vinho Regional Minho wines.
Quinta de San Joanne White, Vinho Verde, 2007 is a blend of two grapes, Avesso (gives structure) and Loureiro (aromatics). Typical, bright, clean aromas – green apple,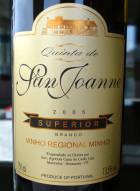 citrus and minerals. Light and fresh in the mouth with a tart, crisp finish. Perfect with white fish.

Quinta de San Joanne White, Superior, Minho 2005 combines Alvarinho and Malvasia Fina to make this richly aromatic wine – vibrant citrus, honeysuckle, peach skin, petrol, minerals and honeycomb – reminiscent of Riesling. The palate features round acidity on the entry, crisp flavours and a snappy finish.

Porta Fronha Red, Dão, 2006 is a blend of Tinta Roriz and Touriga Nacional with black cherry and dark floral aromas with earthy notes and wild berries.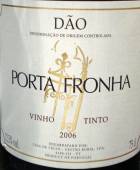 Sweet spiced and earthy
on the palate, cocoa beans and tobacco. Smooth and dry with a rustic tilt and good acidity with fine, drying tannins on the finish.
Quinta de Vegia Red Reserva, 2005 is made from Touriga Nacional and Tinta Roriz and has primary purple fruit aromas - blackberry and blueberry with sweet cedar and tobacco. Rich and supple with ripe berries and chocolate on the entry followed by a dense, plummy finish with ripe tannins.
For more information on Casa do Cello click here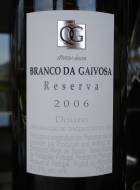 Alves de Sousa IWA
The Alves de Sousa family has been making wine and growing grapes in the Douro for generations. Like many, the grapes and wine were sold to major Port houses. Now produced under their own label Alves de Sousa. I thought these wines were superb, powerful and ripe – structured wines that North American consumers will love. Their estate in the Douro is called Quinta da Gaviosa – the wines are made by Domingos Alves de Sousa and now his son Tiego. Tiego, a handsome, soft spoken young man joined us as we tasted through the IWA wines, his dedication to his family business and winemaking was evident not only in his purple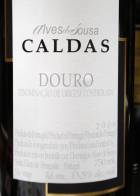 stained hands but in his words.
Alves de Sousa Branco da Gaviosa Reserva, Douro, 2006 is an aromatic white (branco) blend of Malvasia Fina, Gouveio and Arinto. Ripe tree fruit aromas, exotic flora, minerals and honey notes with wonderfully integrated oak components. Despite seeing close to a year in new French oak the fruit shines on palate and nose, its smooth and lush with a spiced/buttery finish.
Alves de Sousa 'Caldas', Douro, 2006 is an entry-level blend of Tinta Baroca and Touriga Nacional a rustic mixture of leather, mixed berry and cherry with peppery spices.
There are powerful tannins on this youngster but it also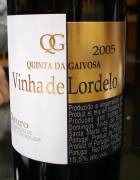 shows good acidity and fresh spiced fruit.
SAQ for $14.85
Alves de Sousa 'Caldas Reserve',Douro, 2005 is primarily Tinta Roriz and has a bright ruby-purple hue and juicy fruit aromas of cherry and blueberry. The palate is sweet, concentrated and supple with lush fruit and wood spice flavours.
Alves de Sousa Quinta da Gaviosa 'Vinha de Lordelo' Douro, 2005 is from a 90+ year old vineyard and is a field blend of Sousão, Tinta Amarela, Touriga Nacional and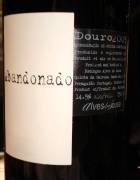 most likely 'others'. It has bright, exotic aromas of red fruits, coffee and iodine, sweet cedar, tobacco and minerals. Super ripe and smooth on the palate, concentrated fruits and vanilla with an excellent, lingering spiced finish.

The Alves de Sousa 'Abandonado' Douro, 2005 hails from 80+ year old vineyards and is a field blend of Tinta Amarela, Touriga Franca, Tinta Roriz and others… It also spent 12 months in new Portuguese oak (something I noticed was being used sporadically around Portugal). Dense in colour with aromas of sun-warmed berry aromas – blueberry and blackberry – tar and meaty, charred notes, sweet spices and purple flowers. Decadent, concentrated ripe fruit and chocolate
with toasty/char flavours on the finish.
An excellent wine – in need of decanting.
The Alves de Sousa wines are recurrently represented in the SAQ stores.
I have word that BC and Alberta may be receiving some in spring 2009.
For more information on Alves de Sousa click here

Quinta dos Roques IWA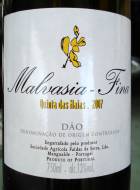 Quinta dos Roques is located in the hamlet of Abrunhosa dos Roques in the Dão DOC. Luis Lourenço was a teacher of math before becoming a winemaker – in both you have to know your numbers. His voice projects like a man who is used to having to talk over others – perhaps from his years of teaching or perhaps to be heard by his in-laws, the Roques de Oliveira family who planted their new vineyards in the 1980s. Choosing traditional red varieties such as Touriga Nacional, Jaen, Alfrocheiro and Tinta Roriz and whites like Encruzado, Malvasia Fina, Bical and Cercial the family sold their grapes to the co-op. It was under the influence of Luis they decided to build a modern winery which was so successful that they purchased a second estate named
Quinta das Maias.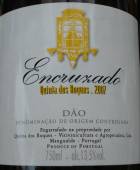 The Quinta das Maias Malvasia Finca, Dão, 2007 has very pretty floral aromas, honey and pear-apple. Clean and fresh on the plate – rounded with honey tones and crisp fruits. Easy drinking wine that will pair well with fresh cheeses and light starters.
Quinta dos Roques Encruzado, Dão, 2007 is a combination of honeysuckle, ripe tree fruits, minerals, oak vanillin and honey. Creamy and slightly buttery on the palate it's nonetheless fresh. Zippy citrus and bright fruit with spice,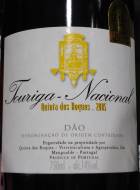 rounded acidity and a clean finish.
$22.60 SAQ 2005 vintage
Quinta dos Roques Touriga Nacional, Dão, 2005 is filled with lush fruit aromas, purple flowers, sweet tobacco and iodine with some minty notes. Supple and ripe on the palate – purple berries, vanilla and sweet cocoa. A very nice wine.
$30.25 SAQ 2003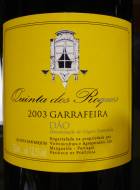 Quinta dos Roques 'GarraFiera' Grand Reserve, Dão, 2003 has bright cherry and plush berry aromas, iodine mint and loads of fragrant floral notes with sweet cedar and vanilla. Ripe, creamy berry fruit, chocolate and spice flavours with a silky texture, fine tannins, bright acidity and a delicious lingering finish. A blend of Touriga Nacional, Alfrocheiro, Tinta Roriz and Tinta Cão
$33 SAQ 2003 vintage
Some of the Quinta dos Roques wines may be available in Ontario.
For more information on Quinta dos Roques click here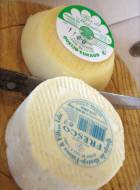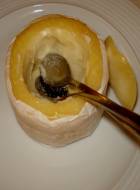 fresh cheese lands on your table as soon as you sit at Adega Vila Verde with local olives and Portuguese bread, and soft sheeps milk cheese called Queijos de Azeitão in Terras do Sado


Lisboa (formerly Estremadura) - Atlantic Region
Lisboa is a long narrow region which rolls along the Atlantic coastline from Lisbon, encompassing Leira until it butts up against Beiras. The DOCs are; Carcavelos in the southernmost corner, Colares seaside, upward it's Bucelas, Alenquer on the eastern-central Lisboa border, Torres Vedras to its west, Lourinhã and Óbidos mid region and finally Encostasde Aire. Lisboa (Estremadura) falls into Anibal Coutinho's "Atlantic Region" philosophy. Here white grapes like Arinto, Fernão Pires (aka Maria Gomes) and Alicante Branco succeed in the milder maritime climate and reds like Castelão (aka Periquita) as well as a little Trincadera (especially toward Lisboa's neighbor Ribatejo). Here the food focus is fish – close to the ocean of course – sardines, sea bass and eels, fish stew and deep fried foods and something I saw very frequently in winery restaurants and in small local tascas (eating place) duck in rice (arroz de pato). All good with fresh wines with bright acidity…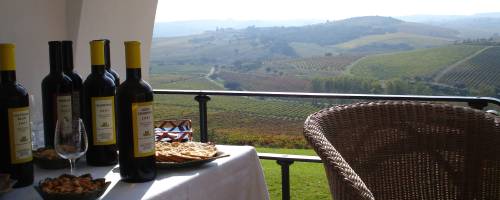 view of the vineyards from Quinta da Boavista
Casa Santos Lima
Casa Santos Lima is a mere 45 minutes drive from Lisboa (depending on the traffic) in the DOC Alenquer. It is a large family owned company that owns seven neighboring quintas (estates) covering just under 300 hectares – 200 of those are under vine. I visited the stunning Quinta da Boavista (beautiful view - which it truly) where the 3 million bottles of Santos Lima wines are produced annually. I tasted an amazing collection of 30 (out of a total 43) wines here – made with 30 different traditional and non-traditional varietals geared toward the export market.
A few of those I tasted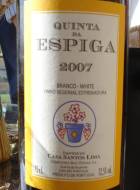 Casa Santos Lima Quinta da Espiga, Estremadura, 2007 is a crisp blend of the white varieties of Fernão Pires, Vital, Arinto, Moscatel and Sauvignon Blanc. Aromas are spring blossoms, honey and pear/apple fruit. It's smooth and fresh with creamy orchard fruits and rounded acidity. Very easy drinking.
BC private wine stores about $15
Casa Santos Lima Palha~Canas, Estremadura, 2007 blends Fernão Pires, Arinto, Chardonnay and Vital has clean mineral and citrus with honey and floral notes. It's crisp and fresh with primary mineral and citrus flavours reflecting the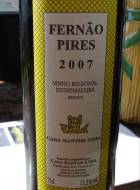 chalky soil the grapes are grown in. Good food wine – fish, salads and soft cheeses.
Casa Santos Lima Fernão Pires, Estremadura, 2007 is one hundred percent varietal and is crisp, straight forward white fruit aromas with citrus and minerals. It has a silky entry with a clean, softly rounded palate. Very fresh.
Casa Santos Lima 'Eximus', Estremadura, 2007 is a young wine but very easy drinking with sweet ripe berry fruits, leather and loads of peppery spices. Medium-bodied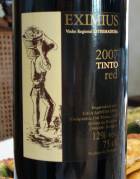 and quite bright on the palate it lingers with smoked spices. A good flavour profile made from a blend of Castelão, Tinta Miúda, Camarate and Cabernet Sauvignon.
Casa Santos Lima Quinta das Setencostas, Alenquer DOC, 2006 stands out with its rich aromas – jammy mixed berry fruit, exotic spices and vanilla. Creamy fruit on the palate, round and spiced with lovely structure and a peppery finish. Balanced, medium-full bodied with a polished finish. Castelão, Camarate, Tinta Miúda and Preto Martinho.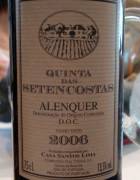 Casa Santos Lima Castelão, Estremadura, 2007 shows loads of summer berries – blueberry, raspberry and blackberry, vanilla and allspice with minty nuances – a very quaffable wine.

Casa Santos Lima Alfrocheiro, Estremadura, 2005 has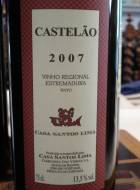 creamy aromas – field berries, vanilla and sweet spices. The palate is more reserved than the nose with red fruits, spice and minerality. It shows good acidity and is medium-bodied
making it a good food wine with grilled sardines, pork or duck.
BC private wine stores about $22+

Casa Santos Lima Sousão, Estremadura, 2006 is a very extracted colour with intense aromas of black fruits and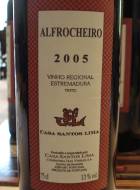 chocolate with chalky minerality. The flavours are dried fruits and spice with a peppery finish. Seems quite hot on the
palate compared to some of the other reds – at 14% alcohol.
BC private wine stores about $24+
Casa Santos Lima 'Touriz', Estremadura, 2006 blends Touriga Nacional, Touriga Franca and Tinta Roriz to make this appealing red. It features ripe red berry and cherry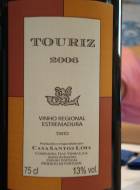 aromas with earthy, dark undertones and spice and vanilla. It is silky and ripe on the palate – layers of fruit, leather, tobacco and spice that lingers on the finish.
Some of the Casa Santos Lima wines are available in several regions across Canada including Quebec, Ontario and British Columbia
For more information on Casa Santos Lima click here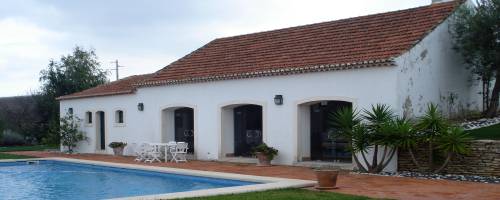 Quinta de Chocapalha
Quinta de Chocapalha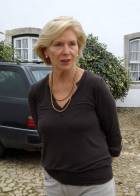 Quinta de Chocapalha is situated near Casa Santos Lima in Alenquer. But in contrast, Chocapalha is a small hands-on family winery with limited production. Alice and Paulo Tavares da Silva purchased this estate in the 1980s from the Duff family – decendants of a Scottish aristocrat named Diogo Duff who received it in the 1800s. Paulo, a very tall, retired Portuguese naval officer and his chic Swiss-born wife Alice live at the estate near Aldeia Galega where they oversee daily operations. Their on-site winemaker Diego Sepulveda is managed by their daughter Sandra Tavares da Silva who is a recognized winemaker at Quinta Vale Dona Maria in Douro and the only female winemaker included in the "Douro Boys". Sandra's husband Jorge Serodio Borges is also a winemaker in the Douro. Alice Tavares da Silva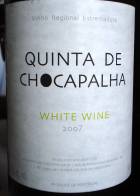 Quinta de Chocopalha Fernão Pires, Estremadura, 2007 has fresh citrus and mineral aromas, lime zest and riper white fruits. Zippy and clean on the palate with an almost oily texture and mouth-watering finish.
Quinta de Chocoapalha White, Estremadura, 2007 is a blend of Arinto, Voisinho and Vital with lovely creamy honey, apple blossoms and orchard fruit aromas. Fresh with bright fruit, mineral and honey flavours and snappy acidity.
Quinta de Chocoapalha Vinha da Palha Rose,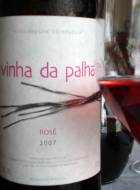 Estremadura Rosé, 2007 is made with Touriga Nacional and Tinta Roriz. It has an appealing fragrance of strawberries and spices and flavours of mixed summer berries, tobacco, citrus and spices. Crisp and dry – a consummate food wine to be paired with anything from seafood and salads to cheese and white meats.
Quinta de Chocoapalha Red, Estremadura, 2006 blends 40% Tinta Roriz with Castelão, Touriga Nacional, Syrah and Alicante Bouschet. Very ripe black fruit – plums and berries – with sweet spices and violet undertones. Fleshy and rounded on the palate – smooth and elegant with dark,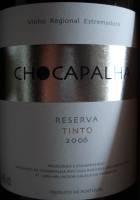 earthy and peppery flavours with some savoury notes and powerful, roasted coffee bean flavours on the finish.
Liberty Wine Merchants BC about $25

Quinta de Chocoapalha Reserva Red, Estremadura, 2006 is very fragrant with floral aromas, ripe black fruit and juicy purple berries. Luscious and silky on the palate with chocolate, vanilla, tobacco, violets and cedar box spices. Power meets elegance with ripe tannins and a drying finish. Very, very good.
Liberty Wine Merchants BC about $45
For more information on Quinta de Chocoapalha click here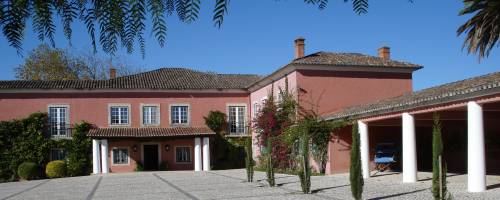 Quinta da Romerio
Quinta da Romerio
Quinta da Romeiro is in the DOC Bucelas in Lisboa (Estremadura). It's one of seven quintas owned by Companhia das Quintas which is one of the largest Portuguese wine and spirits companies. It is a lovely historic estate with pink stucco buildings said to have been built as a royal house in 1703. In fact the Duke of Wellington stayed here and used it as a base during the Peninsular War campaign. The bottling from all seven estates is done here on this 80 planted hectare estate. Companhia das Quintas is able to focus on the strengths of each region and each quinta and diversify their portfolio by playing upon these strengths. The quintas are spread around in; Alentejo, Beiras Interior, Bairrada, Douro, Terres do Sado and Estremadura. Here in Bucelas Arinto is the queen – where the milder climate (due to its valley location between to the Atlantic ocean and the wide Tagus River estuary) allows for slower ripening and high acidity.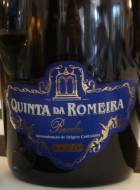 The Quinta da Romeira Espumante, Bucelas, 2005 may be the most wonderful sparkling (espumante) I tasted on this trip. Made from 100% Arinto it's perfumed with apples and citrus blossoms, peach skin and almonds with ginger and leesy undertones. Complex and creamy with rich honey and leesy tones, apple and citric flavours, a pleasing mousse and lingering finish.
Delicious.
Prova Regia Arinto, Bucelas DOC, 2007 has lovely vibrant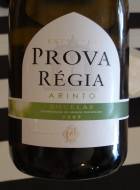 aromas of pomelo and passionfruit underscored by melon. The palate is surprisingly Sauvignon Blanc-ish with grassy, exotic citrus and mineral flavours. Its gorgeous on the palate – fresh and yet creamy smooth with an extended finish. Delicious solo or pair with spinach crepes in cream sauce.

Fronteira, Douro DOC, 2005 is a blend of Touriga Nacional, Touriga Franca and Tinta Roriz. Juicy and jammy with aromas of blackberry, plums and chocolate. Creamy and rich with espresso, chocolate and spice flavours with fine tannins on the finish.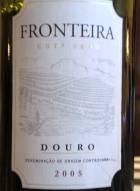 Fronteira Reserva, Douro DOC, 2005 like the entry level Fronteira is a blend of Touriga Nacional, Touriga Franca and Tinta Roriz. Aromas are sweet ripe blueberries, mixed briary berries, purple flowers and a hint of ginger. Smooth and complex with juicy fruits, coffee and pepper – it's supple and concentrated with polished tannins
The Farizoa Selecção do Enologo Borba Alentejo, 2003 blends Trincadeira, Aragonês, Touriga Nacional and Alicate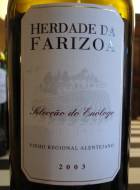 Bouschet into this lovely rich dried fruits and prune aromas, espresso, blackberries and smoky dark earthy undertones. Juicy on the palate with dried cherry, fig and smooth spices in a full-bodied traditionally structures and flavoured wine. Very good.
The 2004 has sweet smoky summer berry and cherry fruit with warm spices and coffee on the nose. Rustic aromas, earthy tones, juicy and bright with ripe, lingering tannins.



Ribatejo - Southern Region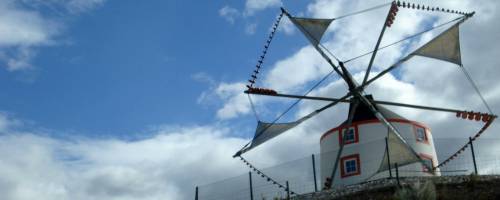 windmill in Estremadura
Although it compares in vineyard size, Ribatejo has less than half the wine production of neighboring Estremadura. Much of the production comes from growers who sell to the co-op and therefore there is more focus on high yields than quality. But there are smaller, more serious producers in Ribatejo who produce whites like; Fernão Pires, Malvasia, Alicante Branco and reds like; Trincadeira, Touriga Nacional and Castelão. There are plans in place to shorten the Ribatejo name to simply "Tejo" - like the name of the River - by next year.
DFJ Vinhos – The New Portugal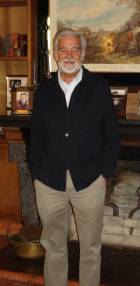 We drove to meet José Neiva Correia at his family estate Quinta do Porto Franco in Alenquer, Estremadura on a supremely blustery October day. But the actual DFJ Vinhos headquarters are on the Quinta da Fonte Bela at an old distillery in Ribatejo. From my previous days experience I thought Casa Santos Lima produced a lot of wines (about 43) so I was floored to see the portfolio of DFJ to be swimming somewhere up around the 70 mark. But, due to time constraints and that fierce headwind blowing across Estremadura I only had time to taste half of them.
DFJ wines hail from vineyards in Estremadura, Ribatejo, Alentejo and Douro and all fall under the chief winemaking skills of José Neiva Correia. Neiva, who has been a winemaker for 45 years founded DFJ Vinhos with two other business partners in 1998 (names beginning with D,F and J), and he also contributes his winemaking skills at Casa Santos Lima. The wines are made to be accessible worldwide, and they are. It's a diverse portfolio with many different labels so I'll pick through a few that I particularly liked… José Neiva Correia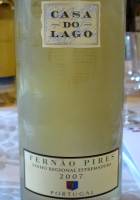 DFJ Monte Alentejano White, Alentejo 2007 is blend of Arinto, Rupeiro (aka Siria) and Antão Vaz and has bright aromas of orchard and tropical fruit with floral tones. Its fresh and really zippy on the palate with flavours of tea with lemon and honey – easy drinking and very interesting.
DFJ Casa Do Lago, Fernão Pires, Estremadura, 2007 is a very aromatic white with honeysuckle, bright citric aromas and stone fruits. On the palate there is a hint of grass clippings, pineapple and melon with crisp apple, citrus and minerals. A wine that is perfect when its young,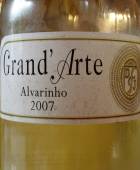 chilled and fresh.
DFJ Alvarinho & Chardonnay, Estremadura, 2007 is a 50/50 blend with creamy/buttery notes, melon and pear compote, blossoms and spice. The texture is smooth, the acidity bright making this a good wine to be paired with creamy sauces.

DFJ Grand 'Arte Alvarinho, Estremadura, 2007 has a very pretty bouquet of peach skin, honey blossoms and minerals.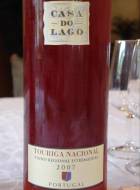 The palate is silky and weighted (different from a Vinho Verde)
but with nice acidity and zesty citrus flavours.
$13.95 LCBO

DFJ Casa Do Logo Rosé, Alenquer, Estremadura, 2007 is a pretty wine made from 100% Touriga Nacional. It's a softend version of TN though with summer berry aromas, floral notes and a fresh minerality on the nose and palate. Delicate in the mouth, dry with flavours of tobacco, berry fruits and citrus. Very good.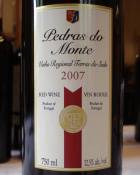 DFJ Pedras do Monte, Terras do Sado, 2007 is made from Castelão and has a nice old world, new world balance. Aromas of black cherry, dark berries and cedar with somewhat rustic leathery, spice notes and vanilla undertones. Fresh fruit on the palate – a hint spritzy - with earthy flavours, tobacco, cedar and spice. A good everyday drinking or dinner wine.
BC $14 2006 vintage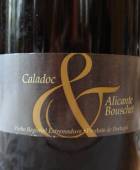 DFJ Caladoc & Alicante Bouschet, Estremadura, 2007 is a 50/50 blend of Caladoc and Alicante Bouchet with a dense purple colour. There are loads of savoury tones here – savoury herbs, bacon fat, and forest floor composty notes with intense dried fruit armomas. Smoky on the palate, more meaty/bacon fat flavours, black cherry and dried fruits with a powerful finish and ripe tannins.
DFJ Grand 'Arte Tinta Roriz, Estremadura, 2005 – Juicy raspberry and sweet blueberry compote, chocolate, spice and vanilla. Lush on the palate, wild berry flavours prevail,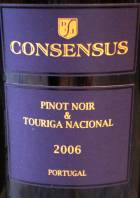 dense but balanced with good acidity and fine grippy tannins on the finish.
DFJ 'Consensus' Pinot Noir & Touriga Nacional, Alenquer, Estremadura, 2006 – Similar to the wines at Casa Santos Lima DFJ is combining local, traditional grape varieties with those that the new world drinkers recognize – Cabernet, Merlot, Pinot Noir, Syrah - this is in hopes of introducing international consumers to these traditional varieties by blending and labeling with varietals they are comfortable with saying and drinking. This is one of the good ones I tasted with its gobs of sweet berry fruit – blackberry and wild blueberry – fruitcake spices and vanilla. Plush on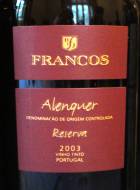 the palate with ripe fruits (bordering on dry fruits) and spice.
Opulent and structured with powerful, ripe tannins on the finish.
DFJ 'Francos' Reserva, Alenquer DOC Estremadura, 2003 – Sweet aromas of blackberries and raspberries with fleur de sel and meaty notes with graphite undertones. Smooth on the entry – flavoured with dark fruits, tobacco, cedar box, pencil shavings, leather and mineral/gravel hints. A blend of Touriga Nacional, Touriga Franca and Alicante Bouschet.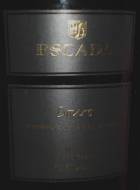 DFJ 'Escada' Reserva, Douro DOC, 2005 blends the traditional Douro varietals of Touriga Franca and Tinta Roriz to make this intense wine. It has creamy aromas – blackberry and black cherry, iodine and sweet vanillin oak and spice. The fruit is somewhat reserved, the power comes in the form of minerality, iodine and sweet oak – it needs time to soften but the structure is certainly there.
More of the DFJ wines can be found in the LCBO

For more information on DFJ Vinhos click here

Did I mention the fabulous bread and olive oil in Portugal...?
Part 2 Portugal is knocking - The South - Alentejo, Terras do Sado - link here

-end-
---