Articles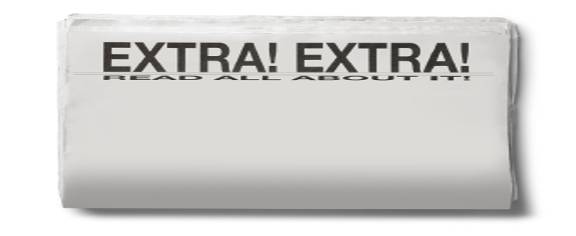 ---
A New Riesling Generation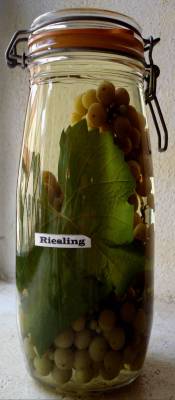 It's time to experiment.
Traditional or modern styles of German Rieslings?
It's all good!

Posted July 17 2008
By Daenna Van Mulligen

Does the thought of drinking Riesling for a solid week make you pause? Or does it make your mouth water in anticipation – even knowing its acidity will have your palate waving the white flag?
Wine weenies love Riesling. Why? Because of its recognizable; honey, apricot, peach, citrus, apple, floral and of course petrol aromas, its refreshing natural acidity - even when its sweet - its natural affinity for various food pairing properties and its ability to age. We've been predicting the Riesling renaissance for over a decade (if you say it enough, people will believe it) but if you ask Germany it's already happening as the world increases its consumption of this noble variety.
There are some daunting consumer issues though. First, the German wine labels. Its old news that they confuse the heck out of everyone. Even though German wine labels are the most precise in the world - they not only tell you what the wine is but how sweet it is and what village and region it is from.
But the classification on the labels also tell you its quality level, be it QbA, QmP or the Cru status… (click here for more on the classifications)
It gets confusing – even for a professional.
Then there's the perception of poor quality Riesling grapes in a jar at Armin Diel
"sweet" wines. Wines that people remember from
days gone by – wines that needn't enter into this equation.
I honestly believe, the single most important thing to do is to drink these wonderful wines and not be so concerned about all the labeling details. The more Riesling we drink, the more that will appear on the shelves - quality Rieslings be they dry or off-dry. And, while Germans themselves have moved on to drinking modern, bright, fragrant, dry Rieslings, we, in North America, seem to be stuck in the sweet rut. Not that sweet is bad, but we need to explore the dry Rieslings which pair so well with fresh foods, cheese, seafood and our rich Asian food culture – especially in British Columbia. Keep in mind that dry doesn't mean cheek-sucking acidity and lean fruit, but balanced, well-made fruity wines with soft, mouth-watering acidity.
Recently, I spent seven days touring Germany from the Rheingau to Rheinhessen and then to the Pfalz.Mosel and Nahe – that's a lot of Riesling (with some Gewurztraminer, Pinot Blanc and Pinot Noir thrown in for good measure) to taste. Each region has its own specific terroir, style and charm.

In part 1 I'll lead you through Rheingau .

The Rheingau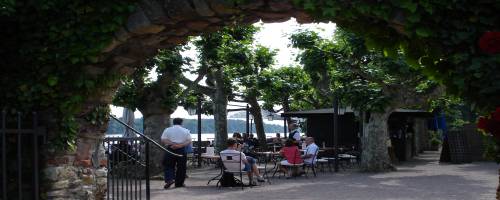 the outdoor terrace at Burg Crass on the Rhein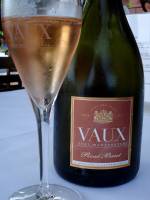 Burg Crass

Coffee and cake in the afternoon may be an integral part of the German lifestyle but cake and wine was deemed a far more suitable way to start a recent tour of Germany. After a red-eye flight from Vancouver (or Toronto) to Frankfurt our small group of Canadian sommeliers and journalists parked our lagged carcasses on a patio at Burg Crass in Eltville. The point was to decompress and to partake in strawberry and apple cake with the local specialties - rosé and sekt (sparkling). Burg Crass is a well known in this part of Germany. Its romantic location on the Rhine River is not far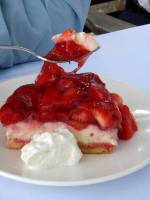 from the city of Mainz, and east of Hattenheim and Erbach and our inn at Oestrich-Winkel. The word burg refers to a fortified town or castle but now it's been partially converted to a modern restaurant and riverside terrace, the perfect indulgence for sunny weekend afternoons.
The Schloss Vaux Rosé Sekt (seen at right) was a delicious, crisp, berry-laden sparkler, perfect for an alfresco afternoon, eating cake, by the Rhine.



Schloss Vollrads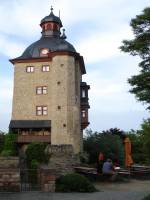 Considered to be the oldest wine estate in Germany, Schloss Vollrads is identified by a stone tower surrounded by a picturesque moat that was built in the beginning of the 14th century.(see right)
The history of Vollrads is fascinating (records show wine sales from 1211) but unfortunately its status (despite attempts to rebuild) had diminished in past decades until the entire site and vineyards were modernized in 1999 by a savings trust after the last family member died in 1997.
All 58 hectares of vineyards are planted with Riesling vines and the wines are now packaged in distinguishable green fluted and scalloped bottles with glass stoppers.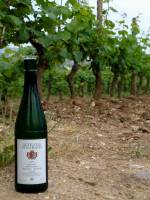 We enjoyed dinner that evening, in the shadow of the tower, on the patio at the estate run Vinothek and Courtyard Terrace- a contemporary glass structure designed to integrate with the ancient stone walls of Schloss Vollrads.
My favourite was the Schloss Vollrads Riesling Erstes Gewächs (click here to see was EG means) 2005 - A ripe wine with unctuous aromas of peaches, flowers and flint. Clean, fresh and off-dry with creamy stone fruit, minerals and citrus.
The Schloss Vollrads wines are currently available in Ontario only.
Click here for the site and more information.

Weingut Künstler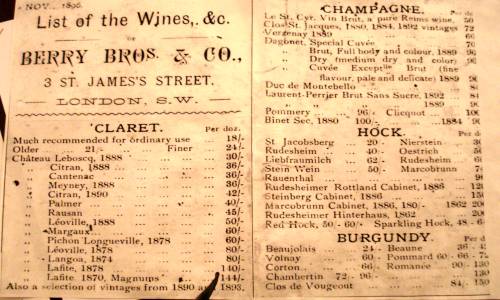 an 1896 document showing the prices of great European wines
The entire Rheingau region has 3000 hectares – 300 of which are in the famed Hochheim area. At one time Hochheim 'Hoch' (Rheingau Rieslings) were as revered and exclusive as those great wines of Champagne, Burgundy and Bordeaux (above you'll see a price sheet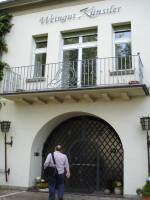 from 1896).
You'll still see wines from this area labeled as Hockenheimer.
Looking at this document I wish that now, the prices of those other great regions listed were as reasonable as those from Germany are.
Here, near Mainz in Hochheim along the Main River, is where you'll find the 30 hectares divided among half-a-dozen vineyards belonging to Weingut Künstler.
Gunter Künstler is a precise man who loves charts and (like his father before him) is primarily a Riesling producer, but he also proudly attributes 15% of his premium Reichestal vineyard to Spätburgunder (Pinot Noir). Gunter led us through his various vineyards - typical, gently sloping Rheingau vineyards – soil types playing to style, varietal and to his premium single vineyard designations.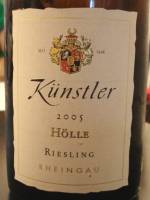 In his Stielweg vineyard, gnarled Riesling vines over 50 years old produce delicious traditional-style Auslese and TBA wines I was happy sample.
I found the modern-style Künstler wines to be clean and crisp, with power and elegance.

The Kunstler Hölle Riesling, 2005 (at right) was powerful - aromas of petrol, stone fruit and white citrus with beeswax, honey and an almost nutty/savoury edge. Ripe and lush with a slightly oily palate this wine was quite stunning.

Click here for the Kunstler website.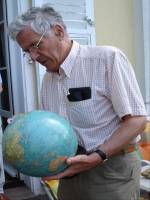 Domdechant Werner
Literally, spitting (wine) distance from Künstler you'll find Domdechant Werner.
Dr. Franz Werner Michel is 75 years old, going on 50. Energetic and trim he is still running his estate with the assistance of one of his daughters. His home is a lovely classical manor on the estate that has been home to generations, including some very small ones who prefer to play in the sandbox in the drive.
Started in 1780, the estate holds 12.5 hectares of classified 'first growth' vineyards (called Erstes Gewächs)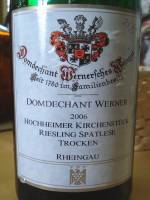 spread between his Domdechaney, Kirchenstük, Hölle and Stein vineyards. The estate produces the modern dry styles and traditionally sweeter Riesling styles with 3% of the vineyards allocated to Spätburgunder (Pinot Noir).

The Domdechant Werner Hochheimer Hölle Riesling Kabinett 2007 is his basic, traditional-style Riesling for everyday drinking has light, fresh aromas, orchard fruits, pear and apple with citrus and mineral notes. It's easy drinking, off-dry with lime zest and a soft mouth-feel.
The 2006 is $19.95 in Ontario LCBO stores

The Domdechant Werner Hochheimer Kirchenstük Riesling Spätlese Trocken, 2006 is a dry Spätlese, crisp,floral and quite earthy with potent minerality.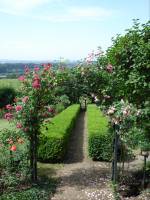 And his Domdechant Werner Hochheimer Kirchenstük Riesling Erstes Gewächs 2005 is a dry Auslese that's clean and minerally with apple and citrus fruit. It shows power, elegance and mouth-watering acidity.
the gardens at the Domdechant Werner estate


To find out more on Domdechant Werner click here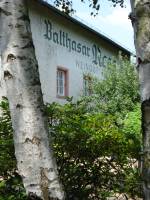 Balthasar Ress
I was excited, knowing that I was going to be visiting Balthasar Ress because Ress are wines I've enjoyed drinking in the past several years. Available in BC, Manitoba and Ontario (for certain), these wines are delicious and the distinctive orange or green labels are very recognizable. Stephan Ress greeted us upon arrival at the old winery with a glass of his wonderful 100% Pinot Noir Balthasar Ress Sekt Blanc de Noirs Rose, 2004 with its fresh fruit, floral and candied berry aromas.
Sadly its not available in Canada.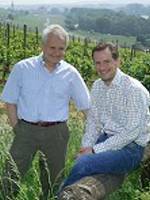 In 1870 Balthasar Ress himself, founded a catering business in Hattenheim which sold its own wine. Stephan is the fourth generation Ress, his son Christian the fifth and as of 1999 the two are co-owners of the company.
The Ress estate holds 42 hectares of vineyards in about a dozen vineyard sites. They have a Vinotheque in the new winery and use the old, 17th century farmhouse, that was the previous winery, for events like weddings and receptions.
The first wine we tasted with Stephan was not actually part of the recognizable orange or green Ress labels but rather the handsome black and silver "Von Unserm" label.
"Von Unserm" means from Unserm, a special estate Stephan Ress and son Christian Ress
which was chosen by Balthasar Ress more than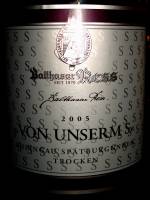 135 years ago.


Balthasar Ress "Von Unserm S" Rheingau Spätburgunder Trocken, 2005 comes from vines that are more than 40 years old with aromas of sour cherries and red berries, savoury herbal notes and leather with hints of wood spice. It's medium-bodied with silky on the entry and flavours of spiced, tart red fruits. The acidity is good and there are some youthful, angular tannins on the finish.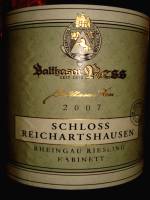 The 2004 Ress Spätburgunder Trocken is available in Ontario at LCBO stores for $14.95

And from the four hectare Reichartshausen vineyard
which is solely farmed by Ress hails the Balthasar
Ress Schloss Reichartshausen Riesling Kabinett, 2007 with tree fruit, citrus and chalk aromas. On the palate it's off-dry, with soft acidity and is very easy drinking.


Balthasar Ress wines, available in BC



Balthasar Ress (orange label) Rheingau Riesling, 2006 - $15.99 in BC
Balthasar Ress Hattenheimer Schutzenhaus, 2005 - the 2006 is a fragrant, floral and honeyed wine with plenty of fresh, crisp tree fruit, mineral and citrus with a lingering finish. $22.99 BC
Balthasar Ress Rheingau Riesling, 2006 (green label) $16+ private wine stores
Schloss Reinhartshausen
Not far from Balthasar Ress, in Erbach, is
Schloss Reinhartshausen.
Tucked in along the Rhein River, sits the castle,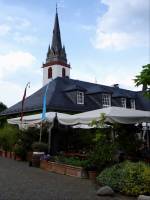 the winery, a lavish hotel, a lovely little tavern/restaurant and a vinoteque.
The estate is the largest privately owned estate in the Rheingau with over 80 hectares of vineyards (almost one-third of those are situated the Mariannenaue Island in the middle of the Rhine a very short distance from the winery itself). Reinhartshausen produces a substantial 30-35 wines, all different, 14 of which we were happy to only taste after a long Riesling day.
The Restaurant at Schloss Reinhartshausen
Reinhartshausen does make a Pinot Noir which is a lean cold-climate style with herbal and tart red fruit and a slightly astringent finish - like most German wineries,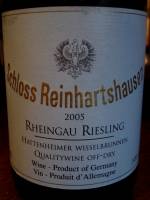 Riesling is their strength.
They also make an entry level screw-cap Riesling called Prinz von Preussen (see availability below), the 2007 is off-dry, easy-drinking with rich fruity aromas and fresh, clean acidity.

A favourite was the Schloss Reinhartshausen Hattenheimer Wisselbrunnen Riesling, 2005 (right) with its rich tropical and honeyed fruit aromas, creamy off-dry palate and fresh, soft acidity. The finish is surprisingly powerful and a tad warm which shows its 14% alcohol.
(This wine is available in Manitoba)

The Schloss Reinhartshausen Erbach Marcobrunn Riesling Erstes Gewächs, 2006 (at right shows the three windows at the bottom of the label which is the symbol for Erstes Gewächs 'first growth') - a powerful dry Riesling with steely minerality and mouth-watering acidity.
Available in BC
Prinz Von Preussen, 2006 - $19+ private stores
Prinz von Preussen, 2005 - $17+ private stores
Riesling Spatlese Erbacher Hohenrain, 2003- BCLDB $29.99
Riesling Auslese Erbacher Siegelsberg, 2003 - $50 private stores
Reinhartshausen Estate Riesling QbA, 2005 - BCLDB $19.99
Hattenheimer Nussbrunnen Riesling QbA, 2004 - $25+ private stores


Schloss Reinhartshausen wines are also available in Manitoba and Ontario
For more information of Schloss Reinhartshausen click here
READ GERMANY PART 2 - Rheinhessen, the Pfalz and Nahe
-end-
---