Articles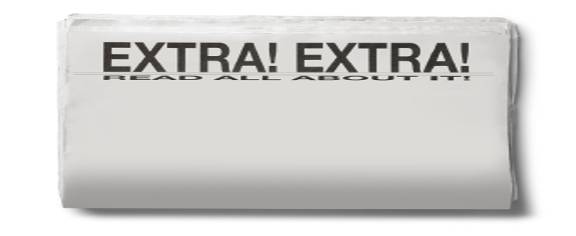 ---
Sauvignon Republic - making me a believer


Posted May 29 2008
By Daenna Van Mulligen

"Wow, what great labels."
That was first comment I made to John Ash – award winning Chef and partner in Sauvignon Republic Cellars during his recent stop in Vancouver. The second was, "So why of all varietals - Sauvignon Blanc?".
Of course the reason I asked was simply because it wouldn't be my first choice. But that's the beauty of wine – there's something for everyone and everyone has their favourite.
Well, partners John Ash (award winning author and chef), Paul Dolan (well known & respected California winemaker & president of the Mendocino Wine Company), Tom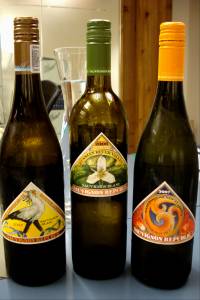 Meyer (owner/president of the Q Shack barbecue restaurants) and John Buechenstein (winemaker, former UC Davis instructor and Culinary Institute of America lecturer) chose their favorite varietal – Sauvignon Blanc for personal, palate and culinary reasons. But then instead of choosing just one region from which to make their preferred white, they looked around the world to the best, classic Sauvignon growing regions. As John explained - those regions were Russian River in California, where Chardonnay, Pinot Noir and Sauvignon flourish, a climate – where fog brings moisture and cool air providing the acidity needed for this crisp varietal. And from Marlborough, New Zealand where perhaps the most aromatically recognizable Sauvignons in the world hail from and South Africa where the grapes for their wine are harvested at very high altitudes on granite and shale soils.
Smartly, the packaging is similar and yet regionally different. Each has a different base colour on the cap and label detail. The Russian River features the white Trillium Flower with green details. The Marlborough Sauvignon Blanc - a swirling aboriginal Maori symbol with orange details and the South African is detailed in brown with the striking, snake-eating Secretary Bird striding across its label.
The theory of terroir (the sense of place – where a wine is grown) is plainly illustrated in these three wines as you taste them side by side. Certainly there are intrinsic characteristics in all varietals, characteristics that will show through no matter where they are grown but I will be the last to argue terroir and the impact it has on a wine. And there is no way to better demonstrate this than by tasting three wines of the same varietal, made by the same winemaker but in different regions around the world.
All are delicious, each is unique,
and all great food wines.
And, once the Euro vs. the greenback becomes a fairer fight I look forward to trying another style of Sauvignon Republic's lip-smacking whites - perhaps from the Loire or Sancerre?
After all, they've made me a believer...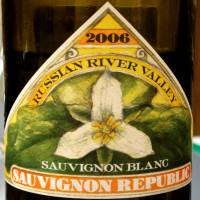 Sauvignon Republic Russian River Valley, California, 2006 -
Slightly reserved aromas – lemon/lime and minerals but it's on the palate that this wine comes to life. Tropical flavours – pineapple especially with ripe peach an almost oily texture, weighted yet refreshing and a lovely linger on the tongue.
$28.00 + BC private wine stores
91 points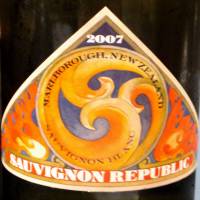 Sauvignon Republic Marlborough, New Zealand, 2007 – Classic Marlborough aromas – assertive grass, passion fruit, asparagus, gooseberry, lemon and snap peas. Mouth-watering acidity with flavours that echo the aromas – nice body with a soft roundness on the palate and lingering zingy, zesty flavours.
$28.00 + BC private wine stores
(the 2007 will arrive this summer)
91 points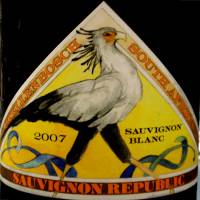 Sauvignon Republic Stellenbosch, South Africa, 2007 – On the nose - obvious minerality from the slate soils followed by herbal aromas with creamy citrus notes. The texture is soft, acidity is bright but not as zesty as the Sauvignon Blanc from Marlborough yet more so than the version from Russian River, the finish is intriguing with a peppery herbal flavour not unlike arugula.
$28.00 + BC private wine stores
(the 2007 will arrive this summer)
90 points
---