Articles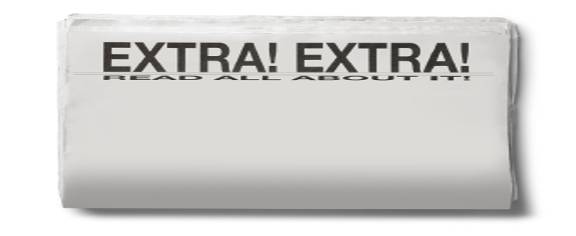 ---
Tuscany 2- Maremma (Grosetto and Livorno)
Posted September 5 2008
By Daenna Van Mulligen

I

Maremma

So what is the Maremma?
In Italiano – Mare - of course tells you it's by the sea. But to be more a little more specific, (although it is an area that's hard to quantify) it's a roughly outlined area along the coast of south western Tuscany that primarily straddles the two provinces of Livorno and Grosetto. The most famed production zone in Maremma being Bolgheri (in Livorno) in the north but it also includes Suvreto (Livorno), Grosetto, Scansano (Grosetto) and then stretches southward into Lazio. Not a highly touristic spot like the well established Chianti and Chianti Classico regions because wineries are far between and not all are set up for visitors but this is where the big wineries are popping up. Land is more plentiful than Chianti and less pricy as well. This is the wild west of Tuscany where its not uncommon to see paddocks of horses and fields filled with wheat and sunflowers.

Livorno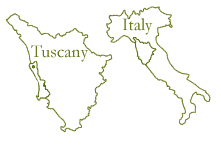 Like Siena and Arezzo, Livorno is both a town and a province within Tuscany. It wraps itself alongside the Tyrrhenian coast of west-central Tuscany.
It is here, in Castagneto Carducci, that Bolgheri sits, near the center of Livorno, close to the coast, like a dream – beautiful properties and near perfect vineyards. It's also a tiny village at the end of a narrow (and famous), five kilometer stretch of road lined with cypress trees. It's quaint and unassuming, yet the amount of power and investment in this small region is quite phenomenal. The kingdom of the Super Tuscans – where names such as Ornellia, Sassicaia, Masseto, Grattamacco, Guado al Tasso…make your palate tremble in anticipation. But there are many more wineries in this region, many we rarely if ever see including the very new Orma ("one wine, one estate" from Tenuta Sette Ponti I wrote about in part 1) a new 5.5 acre estate in Castagneto Carducci and Campo alla Sughera...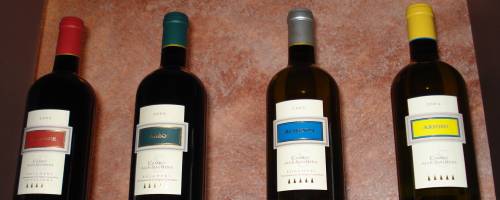 Campo alla Sughera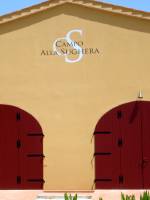 I arrived on a day in late June when the heat was crushing and standing in the verdant vineyards among the sandy, reddish soil was almost unpleasant. This is the terroir that makes the grapes in Bolgheri struggle and produce the structured, powerful wines that have become so famous – calcareous, clay and often sandy soil with very little rainfall. The estate is 20 hectares, 17 of which are planted with Cabernet, Merlot, Petit Verdot, Vermentino, Sauvignon Blanc and Chardonnay. The first vineyards were planted in 1998, the first vintage was 2001, the wines have been on the market since 2004 and the modern winery was finally completed last year. Although they have been gaining attention from wine critics worldwide,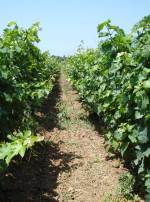 they are still very young and relatively obscure.
Vineyard at Campo alla Sughera
Campo Alla Sughera 'Arioso' Toscana Bianco IGT, 2007 is a delicious Sauvignon Blanc blended with a small amount of Viognier. It has bright, grassy aromas, crisp citrus, passion-fruit and fresh mineral aromas with undertones of sweet herbs, snap peas and gooseberry. The palate has an appealingly creamy texture with peachy flavours on the finish and a clean, refreshing elegance.
Delicious paired with fresh, creamy pecorino with herbs and Tuscan olive oil or caprese salad.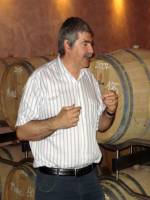 Campo Alla Sughera 'Archenio' Bolgheri Bianco DOC, 2007 blends Sauvignon Blanc, Vermentino and Chardonnay. It has smoky, earthy, minerally aromas with fleur de sel, tart lemon and spiced oak notes. On the palate – brown sugar and crisp white fruit flavours set in a rich, buttery palate.
Great with medium - aged pecorino.
winemaker Giovanni Bailo (from Piedmont)
Campo Alla Sughera 'Adèo' Bolgheri Rosso DOC, 2006 blends Cabernet Sauvignon with 40% Merlot and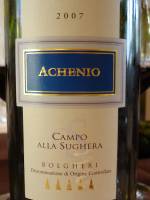 shows sweet fruit – plums, red berries, caramel, vanilla – smoky and sweet aromas. The flavours have good intensity
– red plums and berries, coffee and minerals with fine, soft,
lingering tannins. Pair with Tuscan salami – prosciutto or bresola
LCBO 2004 $35
Campo Alla Sughera 'Arnione' Bolgheri Rosso Superiore DOC, 2005 the flagship wine from Campo Alla Sughera is a blend of 50% Cabernet Franc and Sauvignon,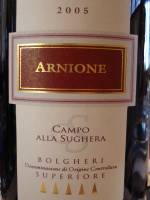 40% Merlot and 10% Petit Verdot. Still youthful and a bit awkward like a teenager it is impressive nonetheless. Dark, rich sweet fruit aromas – plums and blackberries, fragrant
purple floral notes, earth, tobacco and char on the nose. It's plush and yet fresh on the palate, rounded and supple with char, coffee, cedar and lingering spices. The tannins are drying but soft.
LCBO 2003 $65, SAQ 2002 $47.75

For more information on Campo alla Sughera click here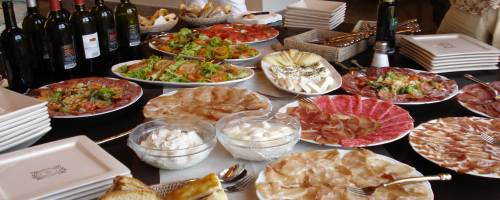 A spread of fresh local pecorino and Tuscan salami at Campo alla Sughera

Gualdo del Re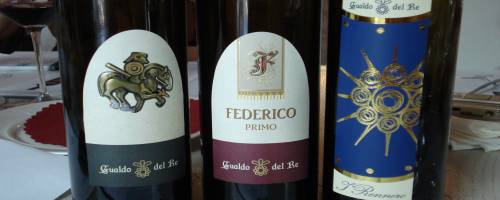 A lineup of wines from Gualdo del Re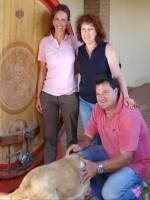 Suvereto is hot. Blocked by the ocean winds by the Island of Elba just off the coast, this small area in southern Livorno is a microclimate rare in most similar geographies.
Nico Rossi and his wife Maria Teresa took over his family property in the 1990s and although thoughtful updates have included a name change (1991 when it became Gualdo del Re) and lovely restaurant/agritourismo, it was the decision to hire a young female enologist ten years ago that may have been their best. Barbara Tamburini is currently one of the hottest young enologists in Italy. This focused and precise winemaker consults for about 20 wineries within Italy. I had the opportunity to meet Barbara three times within several months – Barbara Tamburini, Maria Teresa & Nico Rossi
once in Vancouver where she was a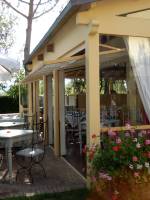 guest speaker at the 30th Vancouver International Playhouse Wine Festival, shortly after at Vinitaly and again during this trip to Tuscany, where at last I was able to taste her wines.
Val di Cornia is the DOC but there is a more specific subcategory which falls under 'Suvreto' which comes only from the approved varietals grown in Suvreto.
Gualdo del Re 'Valentina' Vermentino Val di Cornia DOC, 2006 classic to a Tuscan-style Vermentino which are generally lush but fresh, the Valentina is a lovely wine with golden glints and ripe fruit, honey and floral notes, rounded and clean on the palate with bright acidity, a slightly oily texture and zesty finish.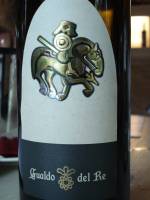 Gualdo del Re 'Strale' Toscana Bianco IGT, 2006 is a rich, lovely Pinot Blanc with bright floral and honey aromas. Creamy white fruit reappears on the palate with hints of spice from 8-10 months in barrique. The finish is zesty and refreshing.

Gualdo del Re 'Eliseo Rosso' Val di Cornia DOC, 2005 is Sangiovese with 20% Canaiolo and shows ripe fruit aromas - sweet cherry/berry and floral aromas. Spiced with fresh fruit and bitter-sweet chocolate flavours with a hint of herbs.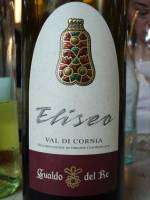 Gualdo del Re Suvreto Sangiovese, Val di Cornia DOC, 2003 is pure Sangiovese with chocolate cherry aromas, rich dark earth and leathery undertones. Full-bodied with dark fruit on the palate with more chocolate and spice that lingers. The finish is powerful the tannins dry and fine.
Gualdo del Re 'Federico Primo' Suvreto Cabernet Sauvignon, Val di Cornia DOC, 2005 is a rich ruby colour with aromas – berries and red plums tobacco, spice and cocoa. The entry is smooth with velvety cherry/berry flavours, the texture mid-palate slightly dusty but the lush fruit lingers throughout with chocolate vanilla flavours on the finish.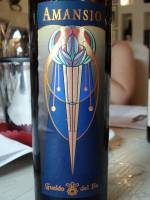 Gualdo del Re 'I'Rennero' Suvreto Merlot, Val di Cornia DOC, 2005 is a intense, plush wine with blackberries, vanilla, sweet black cherries, coffee liqueur and undertones of dark earth. Sweet ripe fruit throughout peppered with spices and a fantastic linger. Delicious!
Gualdo del Re 'Amansio' Aleatico Passito, Val di Cornia DOC, 2005 using dried grapes in the passito method gives this dessert wine its intensity – decadent cherry, fragrant floral, black currant syrup aromas. Stunning, weighty, sweet and dense on the palate yet fresh and fruity.

The Gualdo del Re people have been working with an agency in BC - I'm waiting word on what or if any will become available.

For more information on Gualdo del Re click here

Petra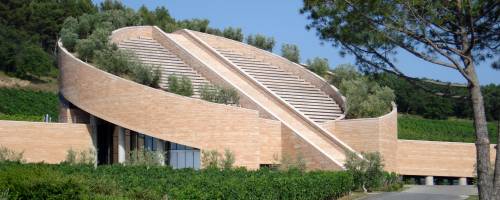 Petra winery a stunning architectural feat


If you build it, will they come?
Maybe, but if you want a lesson in naming a winery that immediately conjures a vision in someone's mind – in this case power – you need only look at Petra. Latin for stone, 'pietra' was so named for the stone upon which the winery was built. Partner to Contadi and the lovely Franciacorta sparklers of Bellevista in Lombardy this jaw-dropping property called Petra is owned by the Terra Moretti group - Vittorio Moretti and his enologist daughter Francesca. Like many large wineries in Maremma the Moretti group went looking for vineyards and ended up here – where land was less expensive and large parcels were available – especially compared to Chianti and Chianti Classico. The open spaces give producers control when planting vineyards - direction, method and varietal as they see fit based on soil and site. But it also allows them to build stunning wineries which are functional objects d'art.
Petra is certainly one of those. Terra Moretti purchased 300 hectares after soil testing in 1997 and immediately they began to plant based on appropriate location by varietal. This region is known for its rare rainfall and constant breezes off the coast, in fact grapes can be left on the vines until January with no rot. And here, the hills of Etruria, in Val di Cornia, are filled with quartz and iron which supplied the need for metal during the Etruscan period. The fences they have placed, up behind the winery at the edge of the forest are to keep the dangerous wild boars away while at the old winery nearby, the Tuscan pigs left to roam are the ones that become dinner.




The deepest part of the Petra cellars built into the hillside behind the winery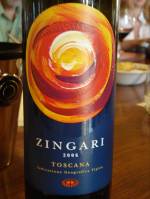 Petra Zingari Rosso Toscana IGT, 2005 is a three way split between Sangiovese, Merlot and Syrah with 10% Petit Verdot and has aromas of sun-baked earth, char, dark fruit with some underlying juicy red berry aromas. Intense, structured and spiced with more sweet fruit on the palate powerful and masculine in style, the tannins are fine and tight.

Petra 'Ebo' Suvreto Rosso Val di Cornia DOC, 2005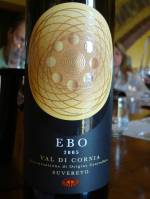 pronounced Ay-bow is one half Cabernet Sauvignon with 30% Sangiovese and 20% Merlot. Loads of red fruit, leather, coffee, dark earthy aromas and dried fruit and spice notes. The entry shows sweet, fresh berry fruit, roasted coffee beans, leather and oak char with soft, dusty tannins on the finish.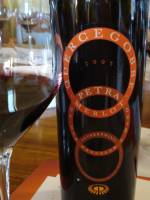 Petra 'Quercegobbe' Toscana Rosso, IGT, 2005 is 100% Merlot has cherry leather and vegetative hints followed by smoked plums, green olives, peppery spiced and underlying meaty tones. The fruit comes across your palate in a fresh, pure wash followed by spice, green bell peppers a hint of raisin then coffee, tobacco and spice. Lush and supple with a persistent finish.



Petra Toscana Rosso IGT, 2004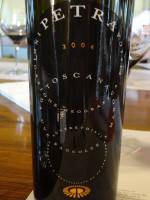 is Cabernet and 30% Merlot with bold, savoury notes, currents, bitter-sweet chocolate, sun-baked earth and a hint of floral on the nose. The sweet current aromas are echoed on the tongue, the palate is smooth and elegant the tannins integrated, the acidity fresh the finish is tapered and lingers with spice.
For more information on Petra click here

If you are travelling to the Grosetto region and looking to be pampered then you may want to check out L'Andana a renovated 16th century summer palace. It has a spa, a cooking school, an Alain Ducasse restaurant called Trattoria Toscana - and bathtubs the size of small swimming pools in the guestrooms.

For information on L'Andana click here

below - breakfast at L'Andana


Grosetto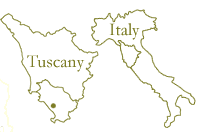 Travelling south from Livorno along the Tyrrhenian coast Grosetto is the major conributer of what we think of as Maremma. The up and coming Scansano is also here as well as Gavoranno and inland a bit more Cinigiano a pretty region with forests and rolling hills – different in topography than the flatter seaside. Here is also where the DOCG of Brunello di Montalcino, and the DOCs of Morellino di Scansano and Montecucco.
Colle Massari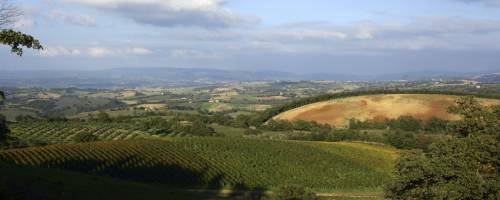 The vineyards of Castello Colle Massari in the Montecucco DOC

The winery of Castello Colle Massari slides into view after you weave along narrow hillside roads in Cinigiano. This DOC of Montecucco feels a bit like Chianti with its picturesque views and lush vegetation.
The winery at Colle Massari although modern, suits the landscape in a way many of the new wineries I visited on this tour did not. In fact, when you're inside the tasting room, you feel you are part of the surrounding hills.
Colle Massari was founded in 1998 and their first vintage was produced in 2000. But, what gives this winery initial credibility is their sister winery Grattamacco, one of the two original Bolgheri Super-Tuscan estates. Grattamacco, now around 30 years old released its first Super-Tuscan blend of Cabernet, Sangiovese and Merlot in 1978. The Grattamacco estate is 34 hectares in Castagneto Carducci (Bolgheri) which includes the organic vineyards and a thousand olive trees.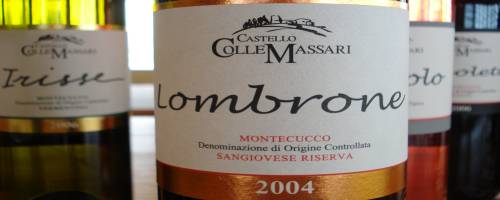 Lineup of bottles at Castello Colle Massari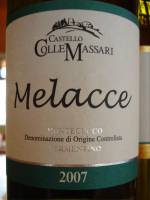 Colle Massari 'Melacce' Vermentino, Montcucco DOC, 2007
is a very pretty wine with warm,sweet peachy aromas,honey, apricots and apple blossoms and a hint of spice. Its wonderfully fresh with apple, pear, exotic citrus fruit and minerals on the palate, the texture is softly rounded.

Colle Massari 'Gròttolo' Toscana Rosato IGT, 2007
is a simple yet refreshing rosè blended from Sangiovese,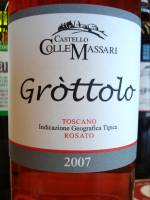 Montepulciano and Ciliegolo. It has a pale ruby/salmony hue with summer berry, red cherry and spice aromas. The flavours are cherry juice, spice and tobacco, its dry but
bright and crisp.
Colle Massari Rosso Riserva Montecucco DOC, 2005 is Sangiovese with 10% each of Ciliegiolo and Cabernet Sauvignon showing aromas of sweet spices, cherries, prune plums and rich dark earth. Its silky on the entry with a full, rounded palate with flavours of coffee, spice and black cherry. The mid-palate dries out, the acidity bright and the tannins are angular and quite chewy.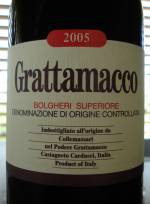 Colle Massari 'Lombrone' Sangiovese Riserva, Montecucco DOC, 2004 is all Sangiovese with intense aromas of cedar, sandlewood, red cherry and floral notes. The entry is silky and sweet, it grows in power but also in
austerity, the acidity is balanced the finish is quite angular and chewy with lingering spice.
Grattamacco Bolgheri Superiore DOC, 2005 65% Cabernet, 20% Merlot, 15% Sangiovese is a delicious blend of plums and sweet berry fruits, leather, coffee and earth. Opulent on the entry, full bodied with sweet, ripe fruit, coffee and cocoa flavours. The mid-palate has good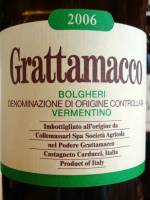 power and the finish lingers while the tannins soften with flavours of dark flowers, tobacco and cedar.
LCBO $89.95 2000 vintage
SAQ 2003 $93, 2001 1.5L $215.

Grattamacco Bianco Bolgheri DOC, 2006 is a 100% Vermentino with soapy, rich aromas – wild flowers, minerals and honey. The palate is almost oily in texture with spices, minerals and pine flavours as well as herbal – fennel and anise seed hints. A very intriguing wine - somewhat reserved but certainly elegant.

For more information on Colle Massari and Grattamacco click here

Rocca di Frassinello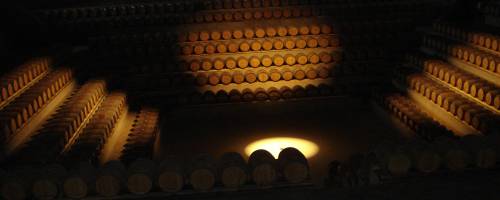 The barrel room at Rocca di Frassinello will hold 2000 barriques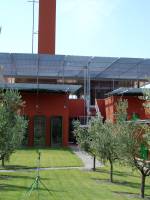 Paolo Panerai, who purchased Domini Castellare in Castellina in 1979, expanded his territory to Maremma where, in partnership with Domain Baron de Rothschild-Lafitte purchased 500 hectares, parcel by parcel. In 2000 the first vineyards were planted, followed later by the architecturally distinct Rocca di Frassinello winery. Despite the youthful vineyards , enologists Christian Le Sommer (Domain Baron de Rothschild-Lafitte) and Alessandro Cellai (Castellare di Rocca) felt strongly about its quality and the first Rocca di Frasinello wine was released in 2004, the second and third label in 2006. The winery itself was designed by world renowned architect Renzo Piano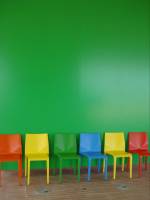 (also designed the Beaubourg in Paris and New York Times offices). Its hilltop location allows gravity fed production from a massive patio, colour-blocked design and simple modern lines. There are still only three wines – the size of this project seems enormous for only three labels - but the wines are truly outstanding. The estate lies within the very young DOC of Monteregio di Massa Marittima.
above right: entrance into Rocca di Frasinello
right: colour blocking design details

Rocca di Frasinello Poggio alla Guardia, Maremma Toscana IGT, 2006 is Merlot and Cabernet with some Sangioveto (Sangiovese). The aromas are enticing fresh cherry and cassis with hints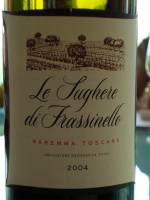 of blueberry it is medium-full bodied with a fresh palate, spice and fine, dusty tannins. This is the third vintage for this wine.
SAQ $22 2005 vintage

Le Sughere di Frasinello, Maremma Toscana IGT, 2005 is one half Sangiovese with a quarter each of Merlot and Cabernet Sauvignon. Classic Bordeaux aromas, cassis, sweet spices, pencil shavings, green bell peppers with earthier undertones. The palate has a bright almost spritzy quality with flavours of red fruits, cherry, cranberry, tobacco and spice. The finish shows fine, spicy tannins.

Rocca di Frasinello Maremma Toscana IGT, 2005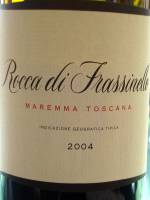 is 65% Sangiovese with 25% Cabernet Sauvignon and the rest Merlot. A beautiful wine sweet currants and cherries, pretty floral notes vanilla and allspice 'cola tones'. Creamy and full-bodied on the palate with velvety fruit, more sweet spices and lingering 'cherry cola-like' flavours with bright acidity. The tannins are very firm and youthful but will soften with time. Quite stunning!
The 2006 will have Petit Verdot added.

If you want more information on Rocca di Frasinello click here

Poggio Morino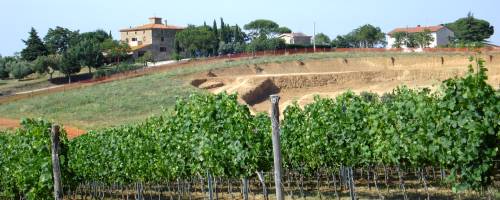 Poggio Morino - Temporary offices in the back ground and the hole that will become the new winery

Located in Scansano in Grosetto, Poggio Morino is a work in progress, a hole in the ground merely waiting for its winery to be built. I visited Poggio Morino on another superbly hot Tuscan day where I was shown around. The current 60 hectares of land were purchased in 2002 by the Lavis Cellar Group based in Trentino, and 50 of those hectares went under vine in 2004.
The remaining 10 hectares will be planted next year and the whole project is to be completed in 2010.
The estate is in the wine production zone of Morellini di Scansano which became a DOCG in 2007, an upgrade that will greatly benefit those in this region.
The wines from Poggio Morino are becoming available now, made at its sister facilities until the completion of the winery. The wines will feature the approved varietals of Sangiovese (primary grape), Merlot, Cabernet Sauvignon, Petit Verdot and Syrah. Keep an eye out for them.

For more information click here
Looking for Tuscan wines to drink?
Terralsole Is owned by Mario and Athena Bollag. He moved to Tuscany 25 years ago and she is a musician from California. Each bottle of Terralsole is colourful work of art. The juice is delicious and the wines are certainly worth seeking. I met Mario at Vinitaly in April 2008 and again a couple months later as he passed through Vancouver.
Look for the wines in Private wine stores in BC and the following is available in BC Signature Liquor Stores...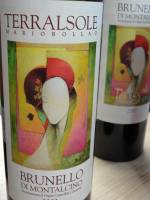 Terralsole Brunello di Montalcino DOCG, Tuscany, 2003 - made from 100% Sangiovese Grosso, this gorgeous wine will be a great addition to your cellar. Upfront sweet, ripe cherry aromas, earth and espresso notes. Silky on the palate with bright acidity showing creamy fruit, coffee, spiced vanilla and licorice with soft, drying tannins on the finish.
92 points
BC $89.99
(The 2000 vintage Brunello is $67 available in LCBO stores
The 2001 is available is$ 75 in SAQ stores)

Gabbiano Chiantio DOC, 2006 is a bargain Chianti, light weight with fresh cherry and strawberry aromas, tobacco, leather, cedar and spice. fresh, light and spiced on the palate - easy and simple.
88 points
BC private wine stores LCBO $13.95, SAQ $14.75

Melini Chianti Classico DOCG, Tuscany Italy, 2006 is another bargain Chianti available across Canada. Smoked cherry aromas, leather, clay and dark floral notes. Simple, rustic flavours on the palate - smoothly textured with spice, tobacco and red fruit. The acidity freshens, the finish shows dusty, dry tannins.
Good value spaghetti wine.
87 points
$13.- $15 BC, AB, ON, Que



Donatella Cinelli Colombini, 'Leone Rosso' Toscana IGT, 2004 - Sangiovese and Merlot combine to make this tasty 'Super Tuscan' style blend.
Classic rustic Sangiovese aromas - saddle leather, sweet cherry, earth and red berry notes with undertones of smoke and roasted coffee beans. The palate has more assertive fruit than on the nose - good acidity and flavours hinting at black cherry, spice, leather, cedar and sun-baked earth with fine drying tannins on the finish.
90 points
$24.99 BC (also available in Alberta - price NA)

To Read Tuscany part 1 - Sienna and Arezzo click here
---