Articles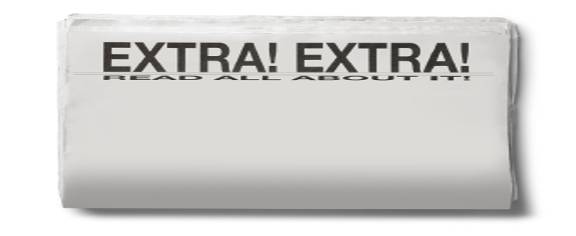 ---
Tuscany Siena & Arezzo
Posted - August 28 2008
By Daenna Van Mulligen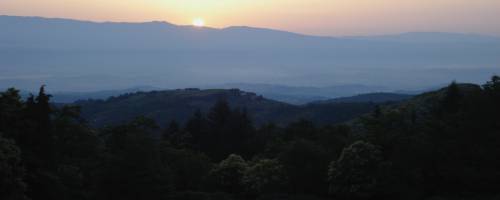 Sunrise over Chianti Classico from the Coltibuono Abbey (Badia a Coltibuono)
If you were offered a romantic getaway to any Italian wine region of your choice, which would you choose? I'll bet the vast majority of you would say Tuscany.
Perhaps because it's long been the focus of travel excursions, cooking schools and even Hollywood. Perhaps because we all know where Chianti comes from? We've all seen the images; lush rolling hills, villas and grapevines intersected by winding, meandering roads. Those images haven't been doctored; in fact they are more breathtaking in reality. Each bend in the narrow road brings a more stunning vista and each stop has you wondering if you could just pack it in and find a villa in need of repairs, al la Diane Lane in "Under the Tuscan Sun".

I spent several days in Tuscany in the heat of June - it was thorough and enchanting – beginning in the province of Siena in Sarteano we traveled to Montepulciano and Gaiole in Chianti to to Castellina in Chianti and then to Arezzo. To the unbelievable picturesque hilltop city of Volterra in the province of Pisa, to Livorno to Bolgheri and Suvereto then finally to Grosseto to Castiglione, Cinigiano, Gavorrano and Scansano.
I visited tiny wineries, wineries attached to ancient castles and abbeys as well as modern, massive, architecturally celebrated wineries.
One does not necessarily make better wines than another - just different.

Siena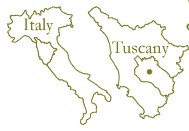 Siena is known as the heart in what was the land of the Etruscans. Tuscany is just one part of the ancient Etruscan civilization of Etruria which also included pieces of the central Italian regions of Latium, Emilia~Romagna and Umbria. Siena is a beautiful, ancient city but it's also a province with over 30 sub-regions or communes. Chianti Classico - which is a designated DOCG region - sits above the city of Siena, an oblong chunk of land that stretches up towards Florence encompassing part of Chianti Classico.

Le Buche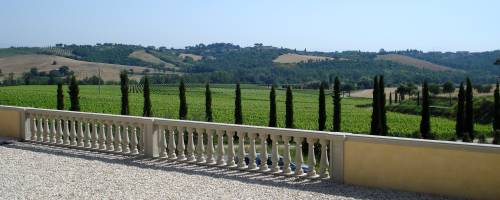 Looking out over Le Buche the estate - from the winery of Giuseppe Olivi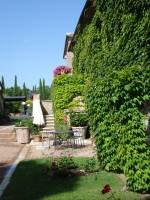 Sarteano sits in the southern portion of Siena,
about 70 km south of the city of Siena.
Here is where you'll find Le Buche's newest addition - a winery called Cantine Giuseppe Olivi. Besides producing wine and olive oil, Le Buche – the estate also has a beautiful agritourismo called La Sovana. Transformed from a farmhouse in 1986, La Sovana was designed to represent traditional Tuscan style and flavour with a restaurant serving local cuisine, cozy suites and a gorgeous pool set in the rolling countryside of Siena.

La Sovana agritourismo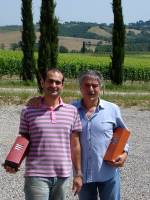 Giuseppe Olivi and his son Ricardo (at right) have recently built a new winery with enough rooftop solar panels to sufficiently power the entire facility. In the hot Tuscan sun, solar panels make perfect sense. In 2002 they planted 30 hectares of vineyards with Cabernet Sauvignon, Merlot, Petit Verdot, Sangiovese and Syrah. Which makes their first vintage – the 2005 - young, burly and a bit clumsy but full of promise – promise which is starting to show in the 2006s I tasted.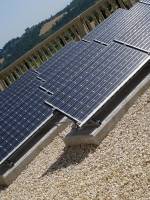 Giuseppe Olivi Le Buche, 2006 is an IGT blend of 50% Cabernet Sauvignon and Franc with the other half being Sangiovese. Medium-full bodied with plums and sweet cherry aromas leather and sun-baked dark earth – good intensity on the palate with coffee and chocolate, leather and pepper with a dusty texture and young tannins – needs time.

solar panels at Giuseppe Olivi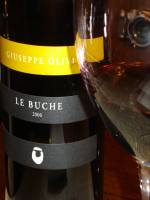 Giuseppe Olivi Tempore, 2006 is an IGT blend of 60% Merlot with 40% Cabernet Sauvignon with robust, spiced cherries, sweet chocolate notes and earth. On the palate it has powerful, grippy tannins and loads of solid fruit but truly needs a few years to come together. The 2006 Tempore of this wine was softer, the tannins less dominant the fruit juicier.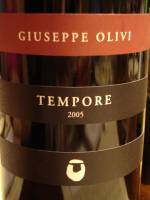 Giuseppe Olivi Momento, 2005 is a masculine and profound 50/50 IGT blend of Syrah and Sangiovese – aromas of dark berries, black pepper, sun-baked earth and leather with spiced cocoa. Silky on the entry, dusty mid-palate to finish showing black berry/cherry and plums, more cocoa and loads of spice and pepper. The tannins are youthful and sturdy but rounded not angular. The 2006 Momento showed fresher, plumy fruit, loads of spice but less ridged backbone and more in sync than the 2005.
These wines are not currently available in Canada

For more information about Le Buche and Giuseppe Olivi click here


Badia a Coltibuono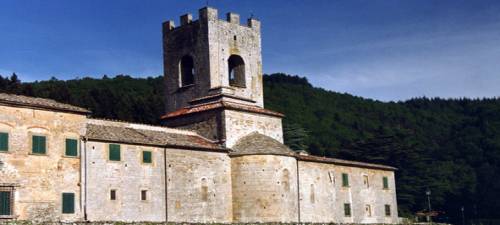 Badia a Coltibuono (Coltibuono Abbey) is a magnificent 11th century abbey surrounded by lush forests in Gaiole in Chianti – in the north eastern part of Siena.
It is also within the picturesque Chianti Classico DOCG. The abbey was built around 1051 by a sect of ten Benedictine Monks who procured thousands of acres and planted the first vineyards in what is now the upper Chianti region. In 1846 it came into the hands of the Giuntini family who purchased the mountaintop Abbey and its massive land holdings as a summer house. Over the decades they began to modernize and restore the abbey, the villa and its estate to their current status - an inn, a restaurant, a cooking school, the underground cellars and the nearby winery
.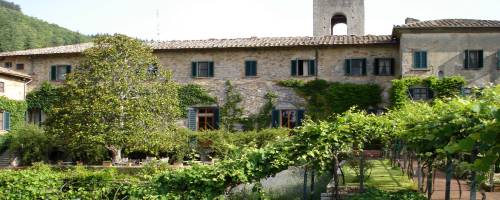 The Italian Gardens at Badia a Coltibuono
Emanuela Stucchi Prinetti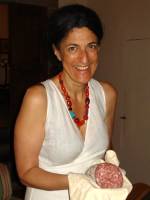 And the history continues – the current family is four siblings whose name, Stucchi Prinetti is famed for manufacturing Italian bicycles early in the 20th century and their mother Lorenza de' Medici a descendant of the Medici family of Florence. Emanuela Stucchi Prinetti – the only female of the four siblings – manages Badia a Coltibuono, Paulo runs the on site restaurant, Roberto currently runs the nearby Castello di Meleto (see below) and the youngest, Guido, follows in his mother Lorenza's footsteps teaching cooking classes for vacationers and looks after the villa. The winery is a short drive away in Monti in Chianti – is the antithesis of Badia a Coltibuono – a modern architectural structure.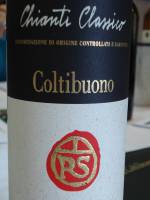 They also produce a delicious Vin Santo, a
Grappa di Sangioveto and two organic Tuscan olive oils.
The wines fall under two labels – Badia a Coltibuono
and the more commercial Coltibuono.

Badia a Coltibuono Chianti Classico DOCG, 2006 is an organic wine with aromas of kirsch, and summer berries with violets and spice. Sweet fruit flavours on the entry followed by dark chocolate, coffee and drying angular tannins on the finish.
LCBO $26.75 - 2004 vintage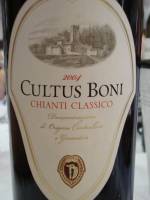 Badia a Coltibuono Cultus Boni DOCG, 2004
is a blend of 80% Sangiovese, with Ciliegiolo, Merlot and Colorino made to be more modern than the Riserva. It has quite intensive aromas of saddle leather, cherry, earthy-mushroomy "Sangiovese" notes and strawberry balsamic. The palate shows sweet fruit on the entry with an earthy but smooth texture and flavours of coffee, bittersweet chocolate and spices with a dry, tight finish.
Available in some regions in Canada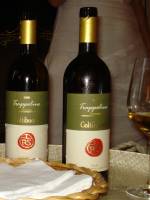 Badia a Coltibuono Chianti Classico Riserva DOCG, 2004 is a powerful wine – very classic in style and traditional to the family. In fact, it was the only wine the estate produced until the 1980s. Now only the best grapes go into this wine. It's somewhat reserved on the nose right now showing earth, sweet cherry/berry and dark floral notes. On the palate it's intense and silky showing bittersweet chocolate, cedar, spice, espresso and herbal flavours. The tannins are very persistent.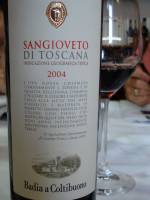 Badia a Coltibuono Sangioveto IGT Toscana, 2004 Sangioveto is the indigenous name for Sangiovese in this region and it is produced only in the best vintages. Made from organic grapes macerated for extended periods it's ruby in colour with darker, almost brown glints and aromas of cherries, mushrooms, saddle leather and violets. The palate is silky with juicy red fruits, sweet spice, cedar, oak and dark chocolate on the finish. We tasted the 1994 Sangioveto at dinner the evening prior and it was a beautiful wine with dinner – soft, engaging but still bright.
Available in some regions in Canada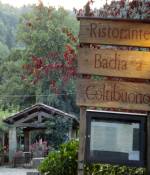 Coltibuono Cancelli Toscana Rosso IGT, 2006 is a blend featuring Sangiovese and has a dark ruby/purple colour with mixed dark berry aromas, floral and spice. In the mouth it has a smooth texture with clean, bright fruit, spice, cedar dust and earth and minerals. Rounded tannins on the finish.
Available in some regions in Canada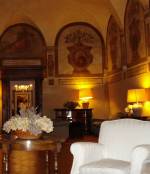 Coltibuono Chianti Classico DOCG, 2006 is 100% Sangiovese with a bright ruby colour and aromas of red berries and cherry, leather, forest floor and spice. Creamy fruit on the palate – hints of blueberry, cranberry and cherry. It's soft in the mouth with balanced acidity, it's medium-bodied with dry, soft tannins on the finish.
BC Liquor Stores $22.95
t

The refectory inside the villa at Badia a Coltibuono
with Frescos of Benedictine Monks

For more information on Badia a Colitbuono or Coltibuono wines click here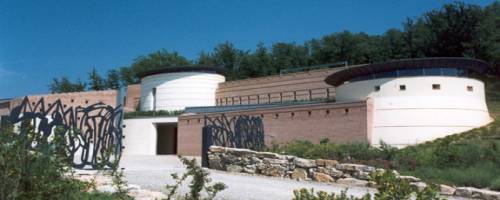 The modern winery of Badia a Coltibuono
Castello di Meleto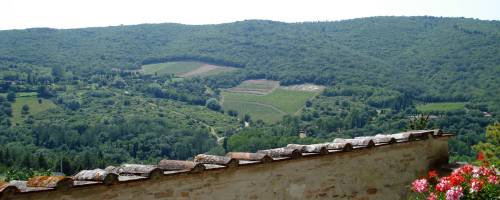 View from Castello di Meleto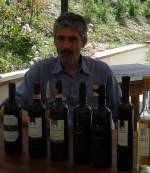 It's an interesting segue as I take you from the Badia a Coltibuono (an abbey) owned by the Stucchi Prinetti siblings in Gaiole in Chianti to Castello di Meleto (a castle) which employs one of those siblings. Roberto Stucchi Prinetti, whose focus is enology and after working in California has a good working understanding of the US market. Whereas Badia di Coltibuono is situated high up in a lush forested area, Castello di Melito sits high up on a hillside overlooking open valleys with almost unimpeded views of its 1000 hectare estate. And to make matters even more interesting, the Castello di Meleto was, at one time, Roberto Stucchi Prinetti
owned by the Benedictine Monks of the Coltibuono Abbey.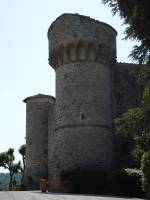 The castle, which had been owned for centuries by the
Ricasoli family, was sold to Viticola Toscana in 1968.
It is open to the public, tours can be organized, you can visit the gardens, the wine store and you can even reserve one room in the castle to stay. And, before you maneuver the steep drive to Castello di Meleto you can stop at the base to dine at the Fornace – modern and traditional with delicious cuisine. The whole estate is in the process of a series of improvements – its image, labels and marketing focus - which is why they've hired Roberto. They produce red wines (with a focus on Sangiovese, Merlot, Colorino
and Cabernet Sauvignon), one rosé, grappa and a
vin santo under attractive labels.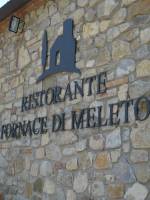 Castello di Meleto - tower

Castello di Meleto Rosso Toscana IGT, 2006 is an 80/20 blend of Sangiovese and Merlot with sweet plum and cherry aromas, bright violet/lilac notes with undertones of leather, char and smoked meat. It has bright acidity on the palate with flavours of fresh berries and red plum skin backed up with earthy tones. A great pairing with pecorino cheese with fig relish.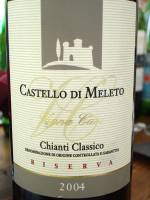 Castello di Meleto Chianto Classico DOCG, 2005 is a blend of 90% Sangiovese with Colorino and Merlot. The aromas are sweet black cherry and ripe plum, dark flowers and kirsch. It is smooth and juicy on the palate with loads of lingering spice and quite grippy tannins that soften with food. Lovely paired with spaghetti tossed in ricotta and radicchio sauce topped with pecorino.

Castello di Meleto Chianti Classico Riserva "Vigna Casi" DOCG, 2004 is a blend of 85% Sangiovese with Colorino and Merlot. The aromas are sweet red berries and cherry with spice. The palate is juicy with sweet, fresh fruit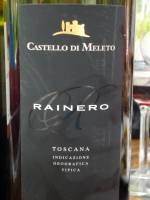 and spice, the palate is supple and the tannins are well
integrated. A very nice pairing with gnocchi in
sage butter and pecorino cheese.
SAQ $28.60 – 2003 vintage

Castello di Meleto Fiore IGT Toscana, 2004 is a lovely blend of 25% Sangiovese and the rest Merlot. Richly aromatized with plums and ripe cherries, sweet cederbox notes, exotic spices and licorice. Fresh, elegant and mouth-filling with bright fruit and spice. Pair with al forno (oven roasted) vegetables or pecorino and artichoke soufflé.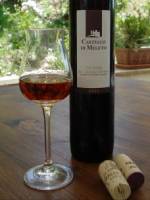 Castello di Meleto Rainero IGT Toscana, 2003 is equal parts Sangiovese, Merlot and Cabernet Sauvignon a "Super Tuscan" style wine that is intense and elegant showing bright cassis, chocolate cherries, espresso and a suggestion of plums – the fruit and spices are sweet, the tannins supple.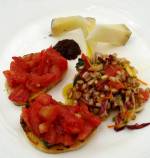 Castello di Meleto VinSanto del Chinati Classico DOC, 2004 is blended with 4% of 60 year old VinSanto – kind of solera-style - but otherwise made traditionally with dried grapes of Trebbiano and Malvasia del Chianti. This stunning example has aromas of Tawny Port with coffee, spiced nuts and caramel. The texture is thick – almost syrupy with a clean palate and bright acidity.
Delicious!
right: what goes with Tuscan wine? Tuscan Food

For more information on the wines of Castello di Meleto or to visit click here

Colombaio di Cencio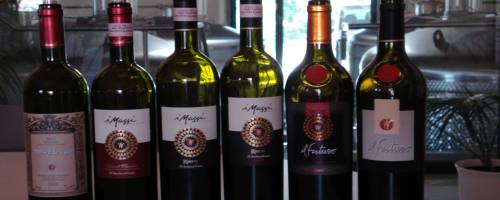 a lineup of wines from Colombaio di Cencio in the Chianti Classico DOCG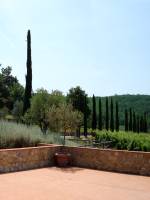 Just minutes away from the winery of Badia a Coltibuono is Colombaio di Cencio, a winery who has been producing bold, structured wines in Gaiole in Chianti since 1995. Set in this ancient wine growing region, the winery and cellars are modern, set on a hilltop that looks out over the 25 hectares of Cabernet, Sangiovese, Merlot, Petit Verdot, Chardonnay, Sauvignon Blanc and Pinot Gris that they harvest. The new winery, tasting room and cellar were built over two years from 2005-2007.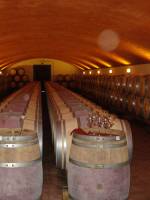 Colombaio di Cencio Monticello IGT Toscana, 2005 is Colombaio's entry level wine with about 60% Cabernet,50% Merlot and 10% Sangiovese with sweet juicy fruit – cherries, red berries, spice and rich earth. It's creamy on the palate with bright acidity and fine, drying tannins.

Colombaio di Cencio 'I Maggi' Chianti Classico DOCG, 2005 is solely Sangiovese, aromatic and spicy with cherry/berry aromas. The palate shows red fruit – strawberry, cranberry, cherry, chocolate, vanilla, coffee and sweet spices.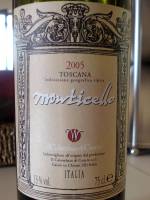 Colombaio di Cencio 'I Maggi' Chianti Classico Riserva DOCG, 2005 is made primarily from Sangiovese with 5% Merlot. The nose shows opulent, ripe aromas – blueberry and raspberry, vanilla, sweet spices and dark floral notes. Plush on the entry, mouth-filling and juicy with red berry and cherry flavours and ripe tannins on the finish.

Colombaio di Cencio 'Futero' IGT Toscana, 2005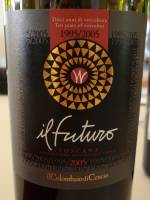 celebrates Colobaio's 10th anniversary with half Cabernet Sauvignon, 40% Merlot and 10% Sangiovese. The aromas are plush and plummy with cherry and blueberry hints, allspice and espresso. It's creamy on the palate with kirsch and spiced coffee liqueur flavours – nice acidity, balanced, structured and weighty on the tongue with a smooth finish.
($62 SAQ 2001 vintage)

These wines are not widely distributed in Canada


Castellare di Castellina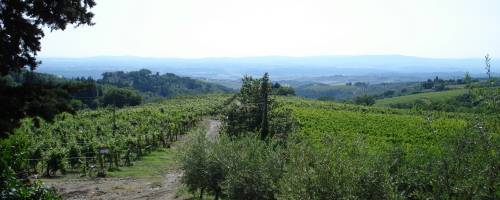 Castellina is a town is located in the middle of Chianti Classico in the most north-central part of Siena - west of Gaiole in Chianti (Castello di Meleto and Badia a Coltibuono) and Radda in Chianti. It is a stunning part of Tuscany where every turn in the road brings a more impossibly exquisite Tuscan view.
Castellare di Castellina is a small, quaint winery perched on a hillside that looks down upon the surrounding vineyards. Founded 100 years ago it was purchased in 1979 by Paolo Panerai. There are now 27 hectares of planted vineyards ( three being planted) of Sangiovese, Canaiolo, Malvasia Nera, Merlot and Cabernet as well as Chardonnay, Sauvignon Blanc, Trebbiano and Malvasia Bianca. For twenty-five years this small winery produced ward winning wines before they embarked upon an expansion – like Tenuta Sette Ponti they expanded to Maremma – there they bought 500 hectares of land and in partnership with Domain Baron de Rothschild-Lafitte built the architecturally inspiring Rocca di Frassinello (more on this later) and most recently Paolo Paneri built Feudi del Pisciotto in Sicily.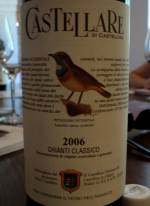 Domini Castellare di Castellina's recognizable wine labels are feature native birds and flowers – each illustrates a different one including their olive oil, vinegar and grappa. They have the look reminiscent of an antique birders book. On our way to the magnificent walled hilltop city of Volterra we stopped in to taste these wines…

Castellare di Castellina Chianti Classico DOCG, 2006 blends 5% Canaiolo with Sangiovese showing creamy fruit and aromatic floral notes – elegant on the nose and palate it tastes of sweet ripe cherries, spice and earth. It's silky on the palate with fine drying tannins.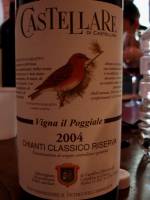 Castellare di Castellina Chianti Classico Riserva DOCG, 2004 is Sangiovese with 15% Malvasia Nera and has aromas of smoked black cherry, leather and char-grilled meaty notes. The palate is velvety with sweet fruit flavours, floral tones, spice and cedar. The tannins are fine and drying.


Castellare di Castellina I Sodi Di S. Niccolo, IGT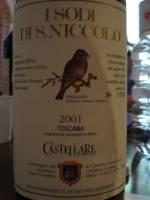 Toscana, 2001 is the most celebrated and award
winning wine from this domain blending Sangiovese and Malvasia Nera.
The words I Sodi mean 'hard soil' representing rocks to maintain heat at night in the vineyards yet allows the water to run through to the roots. Two years in the bottle follow two years in barrique it features sweet red cherries, saddle leather, farmyard notes and spice. The sweet cherries return on the palate with vanilla and spice – the texture is silky the tannins fine and drying.



La Calonica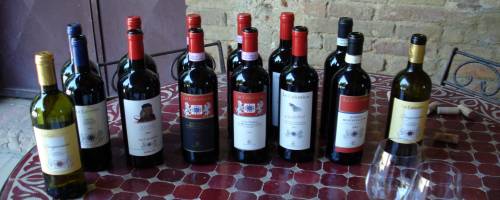 a lineup of La Calonica at the winery in Montepulciano, Siena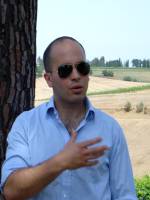 Purchased by the Cattani family in 1972, the estate is located in the commune of Montepulciano which is in the eastern portion of Siena. Their estate is 50 hectares in total, with the house, winery and vineyards in the DOCG of Nobile di Montepulciano as well as vineyards in the newer DOC of Cortona – located in the nearby province of Arezzo (see below). Planted primarily with Sangiovese di Montepulciano the Cattani's have also planted Sauvignon Blanc, Cabernet Sauvignon, Canaiolo Nero, Merlot and Syrah. The labels are very traditional the coat of arms on the label combines the gryphon of Montepulciano and the lion of Cortona.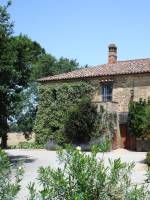 Giovanni Cattani
La Calonica Cortona Sangiovese DOC, 2006 from the very good 2006 vintage is a blend of 85% Sangiovese (as required) and 15% Syrah. It features aromas of cherries and prune plums, spice and leather – there is a sweet power to the nose that is echoed on the palate. Sweet creamy fruit – prune plums and berries - pepper and cedary spices, a velvety entry, bright acidity and drying tannins on the finish. It also pairs very well with local aged pecorino cheese and wild boar salami.


La Calonica - the estate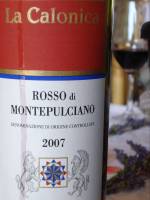 La Calonica Rosso di Montepulciano DOC, 2007 is a blend of 90% Sangiovese and 10% Canaiolo Nero with aromas of juicy sour cherries, earthy, minerally with blueberry notes. Creamy on the palate with bright fruit and acidity, nicely spiced with fine tannins on the finish.

La Calonica Vino Nobile di Montepulciano DOCG, 2005 is a blend of Sangiovese, Merlot and Canaiolo Nero - it has bright red fruits, floral and spice and a smooth palate with fine tannins. This wine pairs extremely well with spiced
pomodoro (tomato) sauce on pastas or on bread.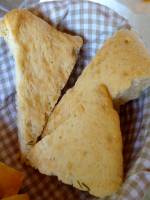 La Calonica Vino Nobile di Montepulciano Riserva DOCG, 2003 is a similar blend to the non-riserva but with the addition of a bit of Mammolo – the 36 months total of barrel then bottle age shows well with rich, sweet fruit and floral aromas that become creamy fruit on the palate. Lush on the entry, rounded fruit flavours and soft spice on the finish – the tannins are fine and the palate is still fresh and youthful. Pairs well with salted Tuscan flat bread (right)
with herbs, wild boar and firm cheeses.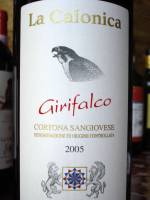 La Calonica Girifalco IGT, 2005 is a blend of Sangiovese 70%, Cabernet Sauvignon 20% and 10% Merlot is a nose full of fruit aromas – raspberry and cherry, leather, vanilla and sweet spices. Silky on the entry with ripe fruit, chocolate, earth and more sweet spice and pepper. Fresh and youthful - the tannins are quite powerful.
($34.75 SAQ)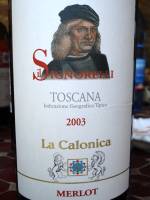 La Calonica Signorelli IGT, 2003 is 100% Merlot with rich dark fruit aromas, plums in chocolate and sweet herbal notes. Plush on the palate, rounded with ripe fruits, dark earth and leather. An excellent wine with loads of spice on the finish, approachable tannins but would greatly benefit from more time in the bottle.
These wines are not widely distributed across Canada
For more information on La Calonica click here


Arezzo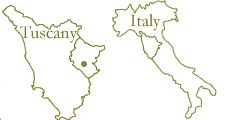 The province and city of Arezzo are located east of Siena, along the border of Marche. The DOC/DOCG of Chianti Colli Aretini falls within the Arezzo region which means that Sangiovese must make up at 75 to 100% of the grapes in the wine to be called Chianti DOCG by law.

Tenuta Sette Ponti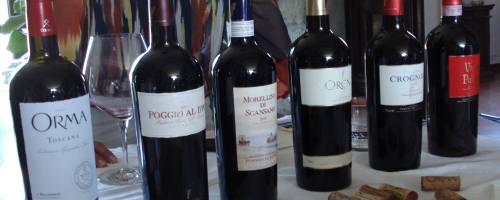 Line up of wines at Tenuta Sette Ponti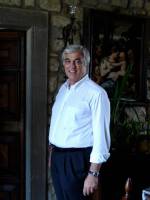 This famous wine house is located in the province of Arezzo, west of the city of Arezzo and about an hour south east of Florence. Owned by the very distinguished Antonio Moretti - a name synonymous with Florence and fashion – the estate has been in his family since his father purchased in from Princesses Margherita and Maria Cristina d'Aosta in 1950. Sette Ponti is named for the seven (sette) bridges (ponti) that cross the Arno River in the span between Arezzo and Florence. But wine is also just one piece of the Moretti empire which also includes, fashion, race horses, cattle and pigs raised in the production of rare Tuscan salami.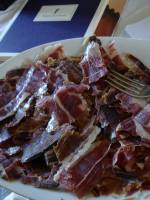 The estate's oldest vineyard was planted by its previous owner, the Count of Turin in 1935 and 35 plus hectares were planted in the 1960s by Antonio's father. Today there are around 50 hectares of cultivated vineyards on the more than 300 hectare property. But there are other properties as well – 15 hectares planted on 45 hectares in Maremma called Poggio Al Lupo, Feudo Maccari – 50 hectares in Noto on the southern tip of Sicily and the newest and smallest property "Orme" in Bolgheri.
Right top: Dott. Antonio Moretti,
Right bottom: Cintasenese - Tuscan pork salami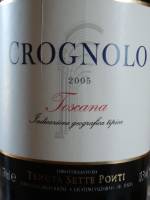 Tenuta Sette Ponti 'Vigna di Pallino', Chianti, DOCG, 2006 is the entry level wine from Sette Ponti made from 100% Sangiovese it shows ripe red fruit, coffee, leather and spice although easy to drink it has a strong backbone and bright acidity.

Tenuta Sette Ponti 'Crognolo' IGT Toscana, 2005 is predominantly Sangiovese with about 10% Merlot.Its rich ruby in colour with plum and cherry fruit aromas, saddle leather and smoky, meaty notes. Lush and supple on the palate, fresh fruit and spices, licorice and some coffee flavours on the finish and tannins are powerful but velvety.
($ 44.90 BCLDB, $34 SAQ, $29.70 LCBO - 2004 vintage)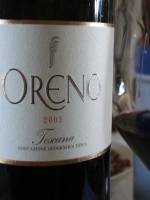 Tenuta Sette Ponti 'Oreno' IGT Toscana, 2005
Perhaps the most famous of the Moretti wines, the Oreno is a Super Tuscan style blend of Cabernet Sauvignon, Merlot and Sangiovese. It is an elegant wine with a dense ruby colour and aromas of cherries, purple berries, smoked spice, and char with undertones of rich earth and leather. It's silky smooth on the entry, mouth-filling layered flavours of cherries, ripe plum and currants and chocolate the tannins are powerful, lingering and dry. A gorgeous, structured wine that will age beautifully.
($77.95 LCBO, $66 SAQ)

Click here for more information on Tenuta Sette Ponti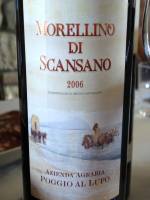 Poggio al Lupo – Maremma which is in the province of Grosetto (coming in part 2)

Poggio al Lupo Morellini di Scansano, Maremma DOC, 2006 is primarily Sangiovese (Morellino is the indigenous name for Sangiovese in this region) with a bit of Alicante. Amazing aromas of cherries and fleur de sel, smoked meat and mineral notes with juicy fruit, minerals and a lovely saline character to the palate – smooth and soft texture and rounded soft tannins.
($21.55 SAQ)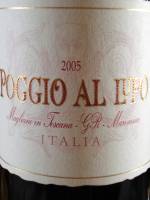 Poggio al Lupo, Maremma IGT, 2006 is a blend of 72% Cabernet, 21% Alicante and 7% Petit Verdot with wild aromas - wild raspberries and blueberries, leather and game, smoke and dark roasted coffee beans. The palate is dense with lush berry/cherry flavours smoky and rich with a spiced finish it is elegant, supple and fruity and has a surprisingly feminine component after the wild, earthy tones it throws off.
($51.00 SAQ 2004 vintage, $75+ BC private stores -2005)

Feudo Maccari – Sicily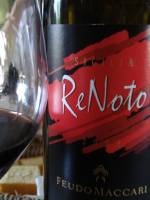 Feudo Maccari 'Re Noto' IGT, Sicilia, 2005 is primarily the delicious indigenous grape Nero d'Avola with a bit of Syrah. The entry level red from Feudo Maccari is what the Italians like to call a glass wine. The aromas are simple, sweet summer berries - raspberry and blueberry that return on the palate enhanced with allspice, minerals and earth. It's extremely easy quaffing laden with sweet spice and fruit.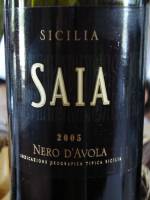 Feudo Maccari 'Saia' IGT Sicilia, 2005 is 100% Nero d'Avola with aromas of dark fruit and berry scented soap with spice, minerally earth and undertones of char-grilled meats. The palate is full-bodied and shows ripe mixed berries and spice flavours – smooth.
($25.85 SAQ $45+ BC private wine stores)


Feudo Maccari 'Mahâris' IGT Sicilia, 2005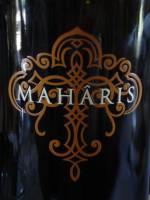 is a stunning blend of Nero d'Avola, Cabernet Sauvignon and Syrah. It emits fragrant floral, earth and ripe dark fruit and red berries. Supple and lush on the palate with sweet fruit, chocolate and roasted coffee beans, and sweet smoked allspice. A powerful wine with ripe, rounded tannins.
Look for the wines of Feudo Maccari in select private wine stores in BC and Alberta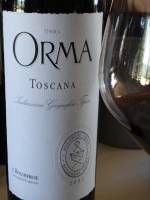 Orma Toscana IGT Bolgheri, 2005 the first vintage of this wine I first tasted during Vinitaly in early April 2008 was showing even better two months later. It's a Super Tuscan, a blend of equal parts Cabernet Franc and Merlot with 20% Cabernet Sauvignon add structure. The aromas are intense red berry – orange peel, black cherries, and sweet smoky aromas. Full-bodied on the palate with silky fruit, spice, chocolate, tobacco and cedar and fine, drying tannins on the finish. This is a superb new offering from Bolgheri that promises to get better with age and hopefully with each progressive vintage.
The 2005 should be arriving in Canada soon

Want to drink wine from Tuscany?
How about these...



Campo di Sasso "Insoglio del Cinghiale" IGT, Bibbona Italy, 2006

From Bibbona, north of the famous SuperTuscans of Bolgheri and south of the stunning walled, hilltop city of Volterra comes this powerful red blend.
The colour is intense ruby - nearly black with warm aromas - cherries in vanilla, plums and dark floral with rustic notes of saddle leather, earth, tar and sweet spices. Full-bodied and powerful with loads of acidity it arrives silky on the entry with supple fruit...
BC $42.99
read the entire review...



Ruffino Il Ducale, IGT Toscana, 2004

Carpineto "Dogajolo" IGT Toscana, 2004

Cecchi Chianti Classico DOCG, 2005




Antinori Peppoli Chianti Classico DOCG, 2004

Podere Guado al Melo Bolgheri Rosso IGT Toscana, 2002

Frescobaldi 'Santa Maria' Morellino di Scansano, 2005

Luce Della Vite Lucente, IGT Toscana, 2005


Fonterutoli Badiola IGT Toscana, 2005 - this has always been a terrific value IGT made primarily from Sangiovese. Black cherries, vanilla, leather and rich dark earth with undertones of plums and roses. Smooth - quite luscious on the palate with sweet fruit and spice, hints of licorice, rounded tannins and bright acidity to pair with food. Delicious!
BC $19.99




Coming next: Tuscany - Grosetto and Livorno