Dec 30, 2014
Arrival: An Immersion of Wine, Food & Culture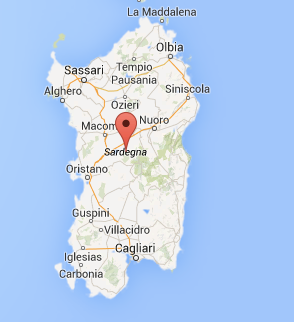 It's difficult to be enthusiastic about getting on a bus for a two-hour drive to visit a winery after nearly
20 hours in transit from across the world.
Especially when a shower and a nap seemed the most civilized route to take.
From Vancouver I flew to Toronto where I took a train from terminal one to three and boarded an Alitalia flight to Rome. Upon arrival I again changed terminals and was directed to my next flight, to Alghero, on the northwestern side of the island of Sardinia.
It was a balmy 27 degrees and I was overdressed.

It was a quick hour long flight, across the Tyrrhenian Sea.
A driver was waiting and away I went to Cantina de Gallura, mid-way across the island in the hill town of Tempio-Pausania, where the winery's Director of Enology waited.
My education on Sardinian wine, food and culture was about to begin.
(Map: Google Maps)
Second Wind

The wine world is small.
This is something I have discovered time and again over the years.
You run into people you know all over the world, often completely unexpected. As it turns out, the enologist for this Gallura co-operative, Dino Addis and I had met several years prior, when we were judging wines at VinItaly. My Italian had improved about as much as his English.
Luckily we had a translator.
Cantina Gallura

In Sardinia, although there are a few other white varieties and several other red varieties planted, Vermentino (white variety) and Cannonau (red variety) are by far, the most important.
Vermentino finds its best expression in the granitic soils (photo: above right) of Gallura, the most northerly part of the island in the province of Olbia-Tempio. Meanwhile I was told, Cannonau is best in the south, when planted in sandy soils.

I've was not disappointed by the Vermentinos I tasted, unless it seems they have been muddled by oak ageing.
Overall they are pristine, floral, redolent in crisp yet ripe fruits with a seam of minerality and often a hint of the sea's salinity and a touch of bitter almond. These wines need to be discovered.
As a side note, Vermentino is also known as Favorito, in Piedmont (the next stop on my trip) and Cannonau is the Sardinian name for Grenache or Garnacha. Long one of my favourite varieties, the cooler granite soils of Gallura showcase the pure fruit expression of this pretty variety – and the acidity is extremely attractive.

That first stop at Cantina Gallura was the eye opener.
I'd tasted these two Sardinian varieties before, but there's one thing I've learned over the years - you don't really know them at all until you've
physically seen where they've come from.

Wine:
The entry level Vermentino di Gallura DOCG (Vermentino is the only DOCG here) Piras was as fragrant as expected, crisp fruit, honey, saline, mineral and citrus with plenty of floral notes to support it.
In the blink of an eye (or the first whiff) my exhaustion was gone and I welcomed a second wind.
Next came Gemellae Superiore "Canayli" 2012 even more complex and intriguing, the superiore wines are the top tier of Vermentino DOCG. It showed dominant floral notes highlighted with pine, saline and tropical fruits. The palate was zesty and substantial with good length.
Next yet, the "Genesi
" Vermentino di Gallura Superiore is a wine that will benefit from decanting. It shows its age and oak contact has given it a spicy character with honey and caramel and flavours of saline and wild herbs. It has an oxidized character that some will appreciate more than others.
Finally, the Zivula Moscato 2011 Passito (dried grapes) with barrique age was apricot in colour with Muscat notes, honey and orange peel with sweet vanilla and peach jam rounded out with Mediterranean garrigue – called macchia in Italy.
Macchia is a fragrant combination of indigenous plants: mirto (myrtle), ginepro and corbezzolo (small spiky skinned tree fruits that go from green to yellow to orange and ripen to red).
A 20-Course Sardinian Dinner

Dinner that night began around nine pm. It was at a local restaurant in Tempio-Pausania. It looked like a family restaurant and with it being Sunday night there were large tables gathered over long, late dinners.

The restaurant Hotel Ristorante Bar Pizzeria, Il Melograno da Claudio, despite its simple demeanor turned out to be an incredible experience, a showcase of classic Sardinia dishes.
These dishes included plenty of traditional Sardinian flatbread called pane carasau, cracker thin and equally crisp, it is found at every table and in every tasting room. Another version topped with olive oil, salt and rosemary called pane guttiau was even more delicious. A wheel of Pecorino de Sardo with chipped shards was served with multiple types of local jam and a delicious spreadable cream cheese made from shee'ps milk (I purchased two jars, which came home with me).
Layer upon layer of seafood, local mushrooms, pizza, cheese, salami and crisp vegetables rolled out of the kitchen. The table was overflowing with plates and dishes, the servers spooning up additional delicacies to the increasingly awed and waistline-expanding guests.

To
ny Aspler did a wonderful job of capturing some of the dishes from that night...

"We started with a magnum of Gallura Brut 2011 (Vermentino), a Charmat sparkler. All the dishes included the local flat bread called carasau, very thin and crisp. A variation is made with olive oil and rosemary. We started with wild boar prosciutto on carasau, followed by orata (sea bream) marinated in almond milk with myrtle berries and red pepper corns. Then the dishes kept arriving: oysters, swordfish carpaccio, tuna tartar with black mushrooms, shrimps, botago salad, razor clams, marinated calamari, fregole pasta with clams and artichokes and powdered fish roe and a plate of octopus.
Then a whole dorade baked in salt and delivered flaming to the table. The accompanying wines: Cantina Gallura Vermentino Canayli 2013, Genesi Vermentino 2013 in magnum, Balanjana Bianco Colli del Limbara Vermentino 2010 (wood aged). With a dessert of baked goods, Cantina Gallura Moscato di Tempio Spumante. Finally, a digestif, Mirto di Sardegna Tremontis Liqueur and grappa. Got to the hotel in Olbia (called Hotel For You) to check in at midnight."

A Fresh Start

The next morning, somehow, I was able to rise early enough for a short run from Hotel For You out along the naval port before a quick
trip to the outskirts of Olbia found me at Cantina delle Vigne
di Piero Mancini – a company established in 1965 by Piero Mancini.

Piero Mancini

Alessandro, Piero's son, now runs the business and greeted us for a short tour of the winery and a tasting.
Piero Mancini was a dentist with a passion for wine and vineyards but sold his grapes to the co-operative rather than bottle his own wine. Alessandro (right) convinced his father to change directions in 1987 and they built the winery in 1989.


They use 80% estate fruit in their wines and produce 1,300,000 bottles per year. Exports are only 10% of the total production and 70% of the production is white wine. Grape varieties include: Vermentino, Chardonnay, Muscato (whites) Cannonau, Merlot, Cabernet Sauvignon and Pinot Noir (reds).

Wine:
I tasted the Piero Mancini Vermentino di Sardegna, 2013 a straightforward and citrusy white with mineral, lemon and bitter almond flavours rounded out with a zesty finish.

The Vermentino Superiore DOCG 'Cucaione' 2013 showed more complexity and weight with tangy fruit and an oily texture.

Mancini Primo Vermentio di Gallura DOCG Superiore, 2013 was aged (20%) for 4-5 months in older French barriques. Richer on the palate due to the aging it follows similar mineral, bitter almond, lemon, floral and
white grapefruit characters. The charmat sparkler, Vermantino di Gallura is a spumante with good freshness, floral and citrus notes followed by a zesty palate. The 12 grams per liter residual sugar surprised me, the lively acidity of the Vermentino balanced it nicely.

Piero Mancini Monica di Sardegna, 2012 gave me my first taste of this other red Sardinian variety. Black raspberry, purple wild berries and sweet spices gave way to a rustic palate. It's a country wine, made for food and it paired well with the pecorino cheese served alongside.



Piero Mancini 'Falcate' Cannonau di Sardegna, 2013 had been aged 6 months in large barrique had a slightly rusty colour with lovely floral and wild purple fruits on the nose. Fine toasted spices and cocoa rounded out this juicy and exuberant red.
Finally, alongside a perfect selection of almond (amaretti) biscuits, the Cucaione Moscato di Sardegna 2014 was a fresh and lively offering with white raisins, stone fruits, honey and citrus peel flavours.

Cantina Pedres

My next stop was at Cantina Pedres, just down the road in Olbia.
A family run winery, also of the name, Mancini, I was greeted at Cantina Pedres by Giovanni Mancini his wife and daughter. Pedres owns 45-hectares of estate vineyards and the company is a
family effort, which also includes Mancini's two sons.

They produce two levels of wine, classic and elite, which consist of Vermentino, Cannonau, Sangiovese, Syrah, Cabernet Sauvignon and Merlot. Roughly 40% of their production goes to export.

Pedras Brut Vino Spumante is a charmat sparkling made from 100% Gallura Vermentino. It is a charming fresh and floral wine with hints of tropical fruits, honey and mineral.

Pedras Vermentino di Gallura DOCG Superiore, 2013 led with tropical fruits, pretty floral, honey and citrus peel. It has a creamy weight and attractive bitter almond finish. Very nice focus and pristine character.

Pedras Cannonau di Sardegna, 2012 offered espresso, wild purple berries, chocolate, leather and sweet spices. On the palate, excellent acidity, fleshy berry flavours, tobacco and spicebox with fine, textural tannins across the palate. It is also excellent with pasta pomodoro.

Pedras 'Muros Colli del Limbara' IGT, 2012 is a four-variety blend (Merlot, Syrah, Cabernet and Sangiovese) from estate Gallura vineyards. Very good complexity here, with a certain firmness and notes of leather, black fruits, mocha and spice. It has time yet; it's still quite youthful but has very good balance and structure. Good with roasted meats but equally tasty with penne pomodoro and firm cheeses.

A Diversion on the Emerald Coast

Later, a lovely drive along the north east coast of Sardinia, from Olbia along the 20 kilometer stretch of the Costa Smeralda (emerald coast) to the winter-vacant village of Porto Cervo, where the uber wealthy play had me refreshed.
My journey continued and as day turned to night I arrived at my destination, inland from the sea, about one hour north of Olbia, the Gallura-based Vigne Surrau.
Sociatà Agricola Surrau

Deemed a "place where art would merge with nature", the Surrau estate (named for a nearby valley) is home to an incredibly modern inspired space. It is a stunning place to dine, shop, taste wine and a view artworks in the attached gallery. The winery below can be viewed from the tasting room and in the summer months, movies are played under the stars between winery and vines.